As you probably noticed in our last blog on how to use Instagram, there's so much more to sharing those small squares of our lives on our devices than we could have ever hoped for! Here at Plann, our mission is to make sure you know exactly what to do to get the most out of Instagram and master your marketing message!

So, let us take you on a bit of a walkthrough, with a look at some more of what makes Instagram such a unique social media marketing tool for your business or personal use.
Here's what you can do:
Image Editing 
Not only can you take photos directly from within Instagram (open the camera or upload a pic direct) but using Instagrams library of over 40 preset filters you can custom edit them too look amazing, or adjust the effects manually too. This is like having a mini photo studio right in the palm of your hand. Why does this matter? Because a filter can literally make or break your post and a great edit can make an average photo look fantastic. Upload your pic, tap next, then have a play with the filters.
Hot Tip:
We like to turn them right down, and then increase to find a happy place from there. Also, tap 'edit' to manually adjust the effects, crop, rotate and more, which will really make your edit pop!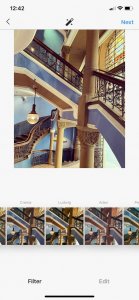 Location Tagging 
Also known as Geotagging. If you don't know how to add your location to your Instagram post – lean in closer. Geotagging is literally the bee's knees for social media marketing as it allows users to search for posts by location, or to locate specifically where you posted from. This feature is great if you want to increase your reach beyond hashtagging and elevate your promotion of a particular place like a cafe or restaurant or show off that visit you took to an iconic destination (like Australia). Simply tap 'Add Location' when you go to post your pic, then find your location (you can be as specific or as broad as you like) choose it or customise it from the options available and hit share. You can even take a look and see other users posts from that location too. Great for inspiration for pics you might never have thought to take!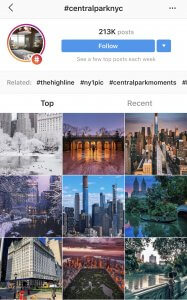 Private Messaging 
You can send direct messages (DM's) to other Instagram accounts. Simply tap the little paper aeroplane looking button, then the + and select who you'd like to send a message to. Then you can choose if you'd like to message one person or a bunch of people. You can send a text on its own (like you can with SMS) or a photo or video, like an Instagram story! You can even choose whether you want that video to stay in the chat, playback or disappear. Spooky!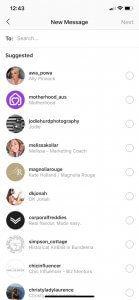 Commenting 
The comments section on Instagram is an awesome place to have a conversation. And an awesome place to read what other Instagrammers are saying. There are even entire profiles set up to celebrate certain comments such as our favourite: @commentsbycelebs. An ode to the power of comments in itself. To comment on a post tap the speech bubble and share your 2cents. You can even tag other users in comments or add hashtags to a thread too. If you're more private you can disable comments for a single post or all your posts. Simply go to your profile, tap one of your own pics, hit the three dots in the upper right hand of your picture and select 'turn off comments'. You can turn them back on at any time too, the same way.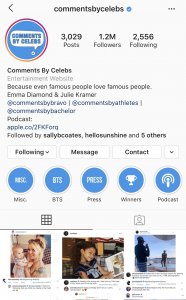 Mentions 
To mention another user on Instagram type @ followed by their username. e.g. "Nice grid, @plannthat." When you mention another user they will get a notification in their feed that they've been mentioned. You can also do the same to up to 10 users in your stories. Their username will appear with an underline and each user will get a separate notification that they've been mentioned. 
Push notification 
"What is a push notification?". I'm glad you asked. Instagram can send you a notification, kind of like an SMS in that an alert appears on your screen when the app is not open. This feature notifies you when someone likes or comments on your posts, or mentions you. You can switch off push notifications or customise them to suit by going to settings, notifications and adjusting how you like.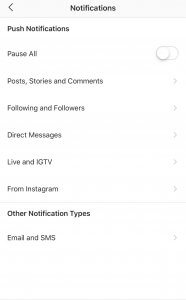 Group Messaging 
To start a group chat on Instagram just head to the messages section (the paper plane) and select all of the people's usernames that you want to join in the chat. You can then tap their names and also name that chat, e.g. "Kristy's surprise birthday party" (or something just as fun) and get chatting to your people! You can also add more members at a later date if you need to. Just hit 'add people' at any time. Oh and you can exit a group chat that you don't wish to be in by tapping the name of the chat you want to leave, then hit 'leave conversation'. "Bye Felicia".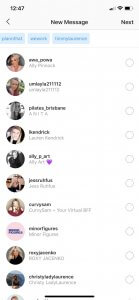 Hashtags 
The illusive hashtag can no doubt get your post more views due to the fact that using a hashtag categorizes your post into a group of posts also using that same hashtag. You can add up to 30 hashtags to a post and doing so will get your posts a much higher engagement rate than not using a hashtag at all. Simply pop a # (pound key, hashtag symbol) in front of the word you want to set as your hashtag. E.g. #nofilter #plannthat #icecream. Your hashtag will make your post discoverable to people who don't follow you, but who do look at that hashtag, which is a great way to grow your following. If hashtags are your thing, you'll be so excited to know that you can create your very own custom sets of hashtags on Plann and have them ready to simply copy and post at posting time (we've thought of everything).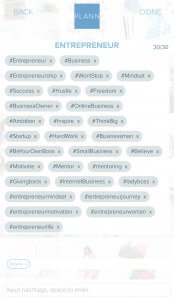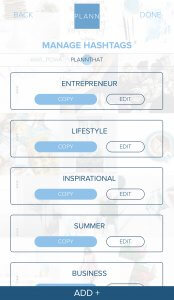 And there you have it, ladies and gentlemen, these are the squares of our lives – we might as well get really good at doing them! 
Let us know your most used feature of Instagram and Plann in the comments below! 
Happy Plann'ing!