A brand spanking new Instagram Stories update has been released, and this one is a doozy!
The Instagram update will allow brands and accounts that have been mentioned in someone else's Instagram Story to repost that photo or video directly to their Instagram Stories without having to screenshot + upload + repeat.
Hallelujah!
Instagram Story Mentions are going to be welcomed with outstretched arms by both small and large businesses as it is by far the easiest way to share user-generated-content on Instagram.
Which, if you didn't know, UGC is one of the *absolute best* ways to show that your brand really is the shizzle without having to do all of the convincing yourself.
Instagram Story Mentions will also be so flipp'n helpful for personal Instagram users who share snaps and videos of their group of friends in Instagram Stories.
Just by mentioning the people in their Instagram story (maybe it's at a wedding, party, or event) they will have the option to share that glorious photo or video with their own Instagram community in a flash.
Woop woop!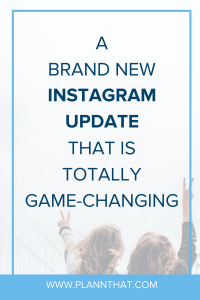 But How Do Instagram Story Mentions Work?
As soon as you have been mentioned in someone else's Instagram story you will be sent a direct message from that account with the pieces of content you've been mentioned in.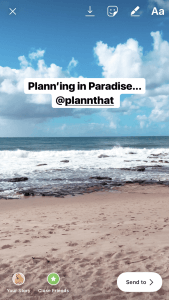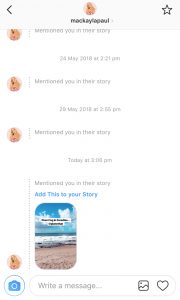 You'll be able to take a look at the photo or video, and from there, you can decide if you want to add that juicy bite-sized content to your Instagram Story.
When you click 'Add This to Your Story' the content will show up in your Instagram Stories as a sticker that can be rotated and repositioned as you please.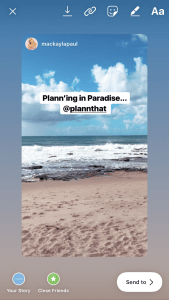 From here you can add invisible Instagram hashtags to your story to increase views, and you can also add stickers, GIFs, and anything else you can dream of!
When your Instagram followers see your story, the original Instagram account that shared the content will have their username appear. That username will be clickable, meaning that people watching your reposted story can still go and have a look at the original Instagram poster's account.
PRO TIP: If you want to have your Instagram Stories shared by the brands and accounts you're mentioning, you need to have a public account.
Are You Ready to Try This Out?
If you are the owner of a business and you want to encourage your Instagram community to start tagging you in their Instagram Story videos and photos, here's a few ideas for how you can ask them to do just that in a really fun and authentic way.
Host a competition with the entry method including creating an IG story with your product or during/after having a service completed by your brand

Add a line of text to the back of your business cards asking to be tagged in Instagram Stories for a chance for them to be featured on your account, or better yet, for the chance to win a monthly surprise prize draw

If you're looking for influencers or brand reps to work with, create a campaign and ask that people who'd like to be considered create a fun Instagram Story introducing themselves and talking about why they love your brand
Now if you're a personal Instagram account user, here's when you may want to tap your friends or family on the shoulder to mention you in Instagram Stories:
At your wedding – have a cute chalkboard sign!

At a networking event – have it on the powerpoint slides!

At your birthday party – tell everyone in the Facebook Event description!
Want to Get Shared By Your Fav Brands on Instagram?
The first step is to create some amazing content + start mentioning those brands in your stories!
On that note, make sure that after downloading the Plann app for Instagram Scheduling, Strategy and Analytics that you take a screenshot of your Plann grid and share it with us by mentioning @plannthat in your Instagram Stories.