Want to put an end to scrambling for ideas and creating posts on the fly? Why not take a more proactive approach by tapping into the benefits of social media scheduling?
With the power of strategic content scheduling, you can regain control of your social media strategy and enjoy a smoother, more efficient workflow.
We've put together everything you need to know about the benefits of social media scheduling, plus we've got you covered with seven of the best ways to stay on top of your strategy with social media scheduling.
What Are The Benefits Of Social Media Scheduling?
One of the biggest advantages of scheduling is the ability to plan and organize your content in advance. Mapping out your content calendar gives you a clear view of your upcoming posts, so you can make sure they align with your marketing objectives.
Say goodbye to manually posting throughout the day or logging in at odd hours just to ensure your posts go live. Instead, dedicate specific time slots for content creation and scheduling. This focused approach allows you to streamline your workflow and maintain consistency in your posting schedule.
Plus, consistent posting builds trust and establishes a reliable online presence, which can help increase your reach and organic growth. With strategic scheduling, you can make sure that your content reaches the right people at the right time, expanding your audience and fostering meaningful connections.
7 Ways To Streamline Your Strategy With Social Media Scheduling
When it comes to bringing your social media strategy to life, having a streamlined approach can take the guesswork out of posting.
Want to know the best way to bring structure and consistency to your content? Let's take a look at seven of the best ways to make your social media efforts more effective and efficient.
1. Develop Content Themes And Pillars
These are one of the most essential components of a streamlined social media strategy and you've probably already heard a thing or two about them: content themes and pillars.
But what exactly are they? Let's break it down:
• Content themes represent broad topics or categories relevant to your brand
• Content pillars are specific subtopics within each theme
Having well-defined themes and pillars allows you to create a cohesive narrative and provide value to your audience consistently, and they'll make sure that your content aligns with your brand messaging and objectives.
Not sure how to identify and implement content themes and pillars effectively? A handy tip is to start by creating a thought map of your brand identity and target audience. You might want to map out your brand values, your mission, and the interests of your audience.
Then, determine the overarching themes that resonate with your brand and break them down into specific pillars that represent key subtopics.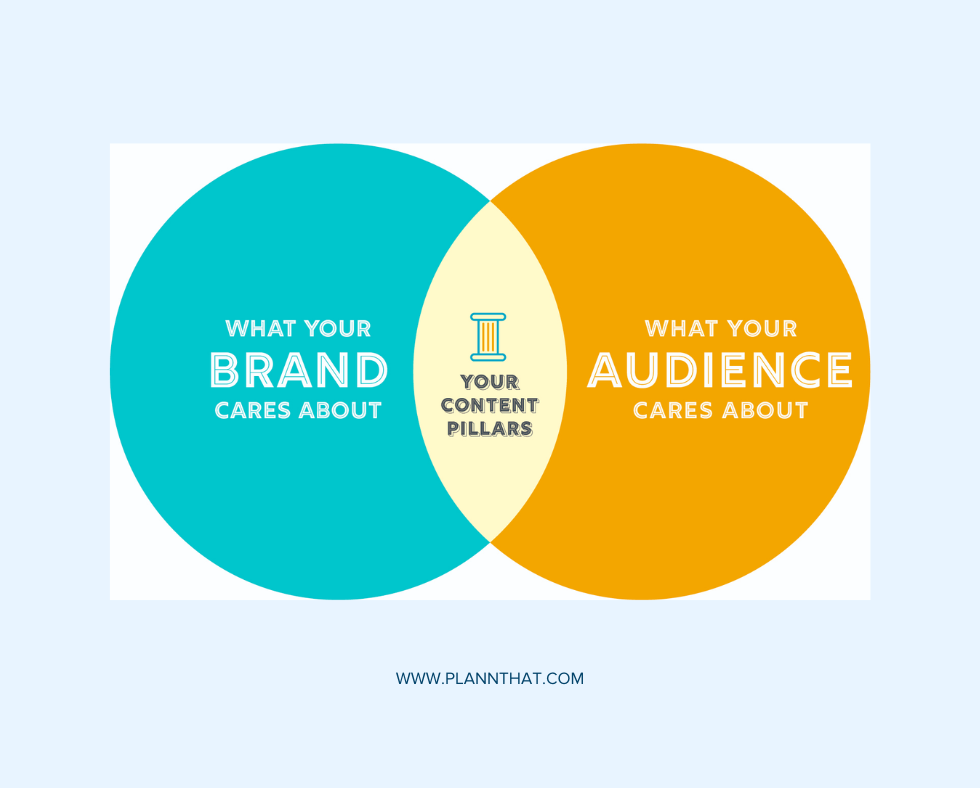 2. Plan In Advance And Batch Content Planning
Want to say goodbye to the stress of last-minute content creation? Taking the time to plan ahead allows you to focus on delivering quality and engaging posts to your audience.
One of the quickest ways to do that is with batch content planning and execution. This time-saving technique can streamline and simplify your approach to social media.
It's easy to feel like content creation is a disjointed process. But batch planning is a great way to get a little more control over your content. Batch planning is a three step process:
1. Brainstorming and planning multiple post topics
2. Shooting visuals or creating graphics
3. Last but not least: writing captions
Want to tap into this systematic approach so you can optimize your resources and ensure a consistent flow of high-quality content? Plann's Content Calendar will help you map out your content with ease, with drag-and-drop content themes along with hundreds of caption prompts.
3. Use Graphic Templates To Fast-Track Your Content Creation
Have a great idea but not sure how to nail the execution? Templates provide pre-designed layouts and elements that you can easily customize to match your brand's visual identity.
Templates are great for creating a visually pleasing and cohesive feed, plus they'll help you save valuable time and effort that would otherwise be spent designing each post from scratch.
Want to know how to maximize the benefits of using templates? Play around with customizing them to align with your brand's specific needs. Add your brand colors, fonts, and logo to the templates to infuse them with your unique brand identity.
Don't be afraid to make adjustments and modifications to make sure the templates suit your content objectives and resonate with your target audience.
Psst… did you know you can whip up your best designs right within your Plann workspace thanks to our Canva integration? Talk about a total game-changer!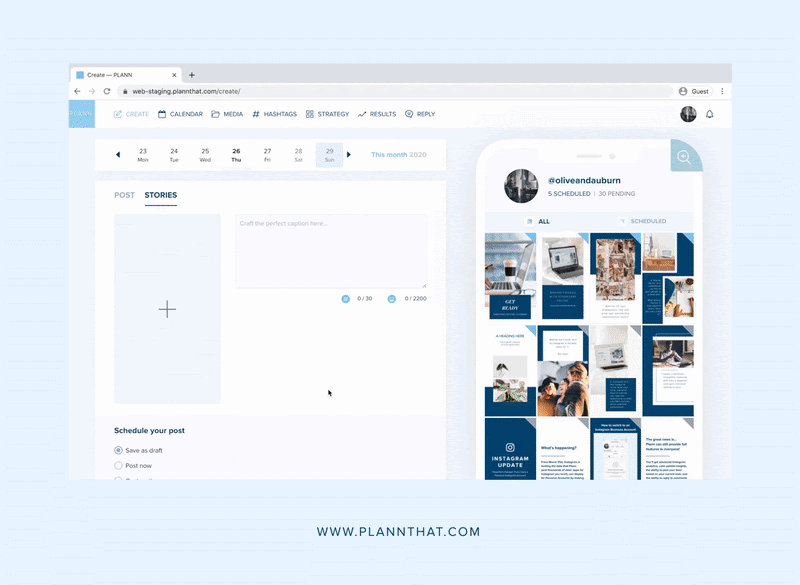 4. Harness Hashtag Sets And Collections
By now you're probably well aware of how hashtags help social media content become more discoverable and help expand your reach. But you might not know just how important it is to get the right hashtags, and how banking your hashtags can streamline your process and increase your reach.
The first step is to make sure that you're only using relevant hashtags, this will help you connect with a like-minded audience. It's best practice to have a mix of popular and niche hashtags to increase the chance of your content being discovered.
The secret to making sure you use the right hashtags every time? Creating and maintaining banks of relevant hashtags for different content categories. Plann's Hashtag Manager will keep your hashtags up to date and curate a bank just for you.
That means, organizing your hashtags based on themes, industry-specific terms, or content types. This allows you to easily access and use them whenever relevant content is created, saving you time and effort in researching and typing out hashtags repeatedly.
5. Look For A Tool That Offers Caption Starters And Post Ideas
Looking for a social media scheduling tool but not sure which features to keep an eye out for? Tools that offer caption starters and post ideas will help you simplify your social media strategy.
Look for platforms that provide caption starters and post ideas, as these features can help your content creation by sparking creativity and saving time.
Caption starters serve as prompts or templates that kickstart your caption writing process, and can be helpful in overcoming writer's block and finding inspiration for engaging captions. While post ideas will help diversify your feed and keep your audience interested.
Ready to unlock a world of possibilities for your content creation? Plann's Done-For-You Caption Templates are a curated collection of prompts and suggestions that will inspire your creativity and make sure that you always have engaging content at your fingertips.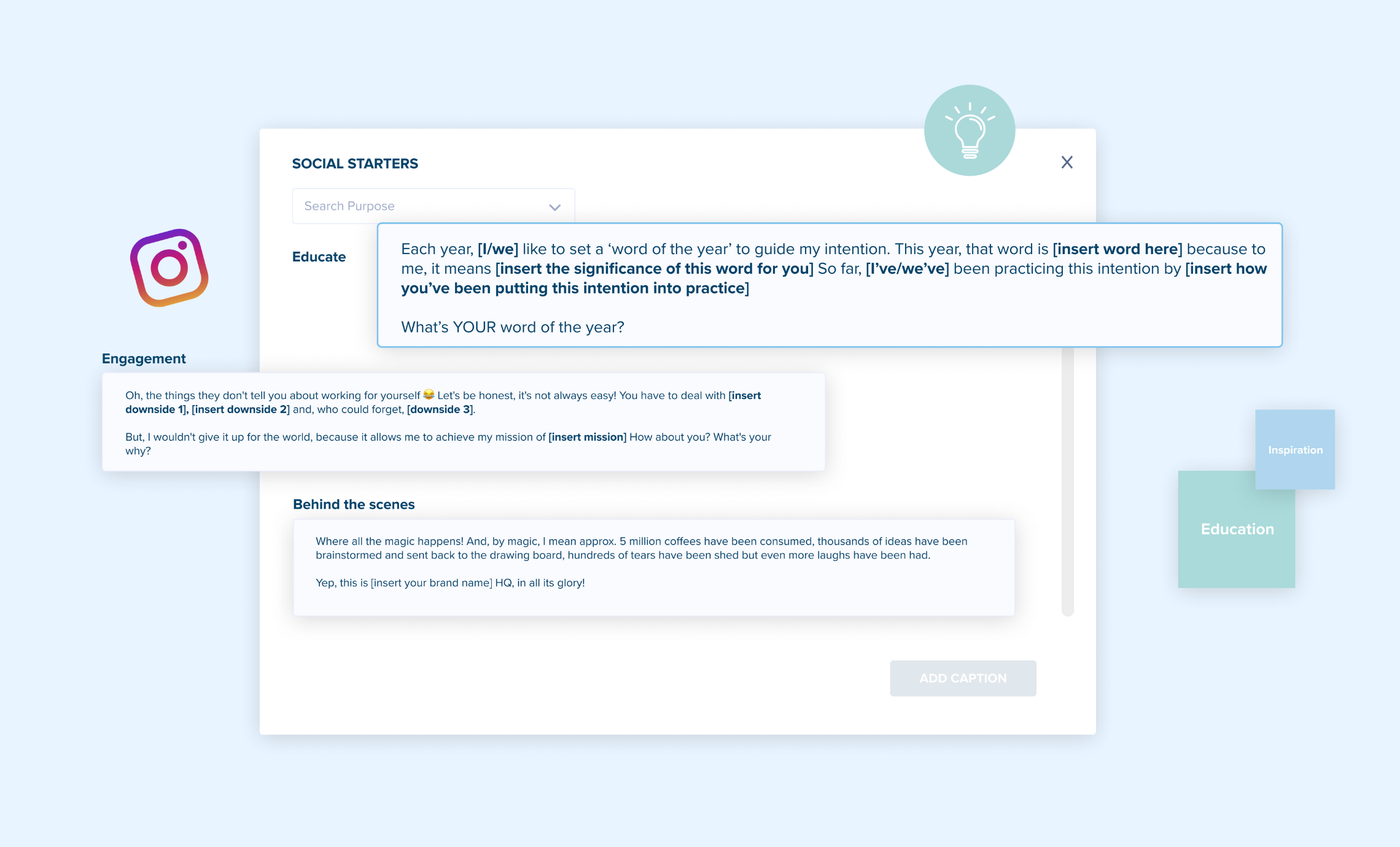 6. Put Everything On Autopilot With Auto-Posting
Auto-posting is a game-changer when it comes to social media content scheduling. It allows you to schedule and publish your posts automatically, without the need for manual intervention.
That means you can set up your content in advance and let the scheduling tool take care of the rest, ensuring that your posts are published at the designated times and dates.
Instead of manually logging in and posting at specific times, this hand-free approach allows you to plan and schedule your content in one go, saving you from the repetitive and time-consuming process of manual posting.
Ready to put everything on autopilot? Plann's Auto-posting feature means you can schedule your content in advance and trust that it will be published at the right time, every time, even when you're busy or away.
7. Work Smarter, Not Harder With Cross-Posting & Repurposing
Want to breathe new life into your social media presence and get more out of your content? Reposting involves resharing or reusing existing posts from your own feed across different social media platforms, extending the lifespan of your best-performing content.
It's a smart way to optimize your content efforts and make the most out of your valuable assets.
Plus, reposting also helps you maintain a consistent posting schedule, especially during periods when you might have a shortage of fresh content, keeping your feed active and relevant.
With Plann's cross-posting feature you can simplify the process of repurposing your content. You can easily select, customize and schedule posts for repurposing across multiple channels, saving you time and effort.
Ready to simplify your social media strategy?
Are you looking for a comprehensive social media management tool that can help you simplify your strategy with social media content scheduling? Look no further than Plann.
From tapping into an effective hashtag bank, to planning your content in advance, to repurposing posts across multiple platforms, Plann provides the tools and insights you need to succeed.
Go on, and redeem your 7-day free trial of Plann Plus. If you don't like it, keep using Plann for free!