Having a social media strategy sounds great. It gives you a sense of certainty and stability, when so often, social media offers very few of those things. In this article, we're going to explore the makeup of an effective social media strategy and some common mistakes (that you'll recognize straight away.)
A good social media strategy is structured and easy to implement…Do you know those planning sessions where everyone gets excited and motivated and starts coming up with great ideas?
They are amazing!
Then, when it's time to implement and the adrenaline is gone (usually 10:30 am on a Tuesday) the stuff that was really important suddenly seems like too much work and then managers move priorities around and the whole thing goes back to 'the way we used to do it.' which, because of time restraints is now deemed to be 'fine.'
Good strategies work when they're easy to implement and are supported by everyone. Don't set unrealistic goals, because your
> First goal should be delivery
> Second should be awesome content
> Final one should be a series of high fives
Wait, delivery first?
The reasons delivery is at the top of the list is that too many social media practitioners create great content that is never seen by anyone. It's like growing a tree in a basement, but in this metaphor, the basement is if you don't publish your content…or forget it.
You know what I mean….it isn't restrictive On Monday we do this exact thing and on Tuesdays this thing and…it stops you from being creative and from your audience's point of view you may start to appear predictable.
Not because you do the same things each week, but because your content will start to have the same 'feel.' A good social media strategy is easily explainable From the look and feel to the nuts and bolts of the tactics, you should be able to share your plan quickly and have it make sense.
Why? Because if it's hard to explain then it will be hard to do. A good social media strategy is all about the audience You've heard this before, but do you use it?
Do you know your ideal user and what they want to see? It saves sooooo much time and effort when you're creating things for a specific person, rather than just 'making something' because the schedule says you should.
A good strategy will change based on science keep an eye on your metrics. So dull, but you're wasting your precious time if you don't see beyond the vanity metrics and look for actual engagement. Then double down on the content that works, test out different types of content when things don't create the buzz that they should and before you know it, you'll have tactics that work.
So how can Plann help…. we've got super-nifty tools like
Strategy where you can define your different posts and drag and drop them around your grid. So, if you need to make changes you don't need to feel restricted – just drag and drop and you're good to go.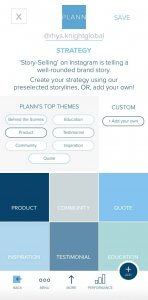 Check your results!
Our performance tool lets you know what posts work well, the best times to post and even your colour palette according to results…so cool.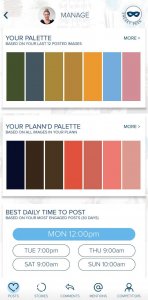 Manage your hashtag sets and media and…all the things
You can keep everything in one place, refer back to it and always have something to post. With built-in stock images, there's never a day you'll be completely content-free!