Recently, team Plann was finally able to make an announcement that we've been waiting for FOREVER. No, it wasn't that international travel is back on the cards, or that everyone in the world is being gifted a free car, Oprah style. But, we would argue that it's equally exciting!
Our big news is that Plann now officially supports auto posting for business accounts. Yep, you better believe we pulled out the champagne and confetti for this one, big time!
Now, what does this mean for you, exactly? Well, it means you'll no longer have to manually post your Instagram grid posts when you get a notification. All you have to do is schedule, set and forget your socials, and they'll automatically be published! That means you can go on vacay, off the grid without social media coverage or just take a nap, and your socials will still work their magic!
Cool stuff, right!? But, if you're used to manually posting your Instagram posts, we understand that it might feel like you're navigating unfamiliar territory. It may feel kind of like sending your kid off on their first day of school and not knowing what's going to happen once they walk through those gates! How will your social media post go, once it's out in the big, wide world without you? It's all so new and exciting, but also a little unfamiliar.
The good news is, we've got you sorted. In this article, you'll find tips for setting yourself for auto posting success — so that you feel calm, confident and totally in control of what you're posting.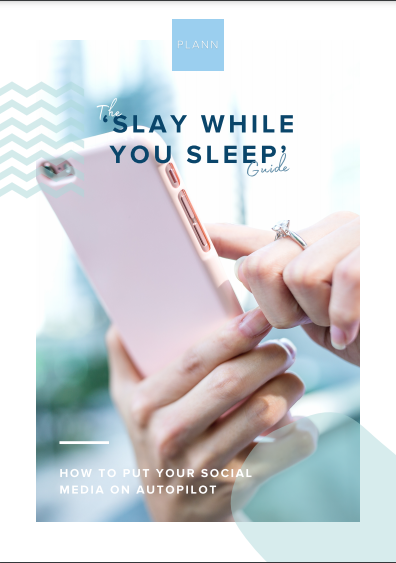 Set up auto posting on Plann
First things first, it's time to get you set up to auto post.
If you've been with Plann a while, we'll ask you to turn on auto posting. When you open your account on Plann desktop, you should see a pop-up asking if you want to turn on auto posting.
Missed the pop-up? No problem. Head to 'Settings' and then 'Your Brands. 'If your Instagram account is eligible (remember, it needs to be a business account), you'll see an option beside your Instagram account name to toggle auto posting on and off.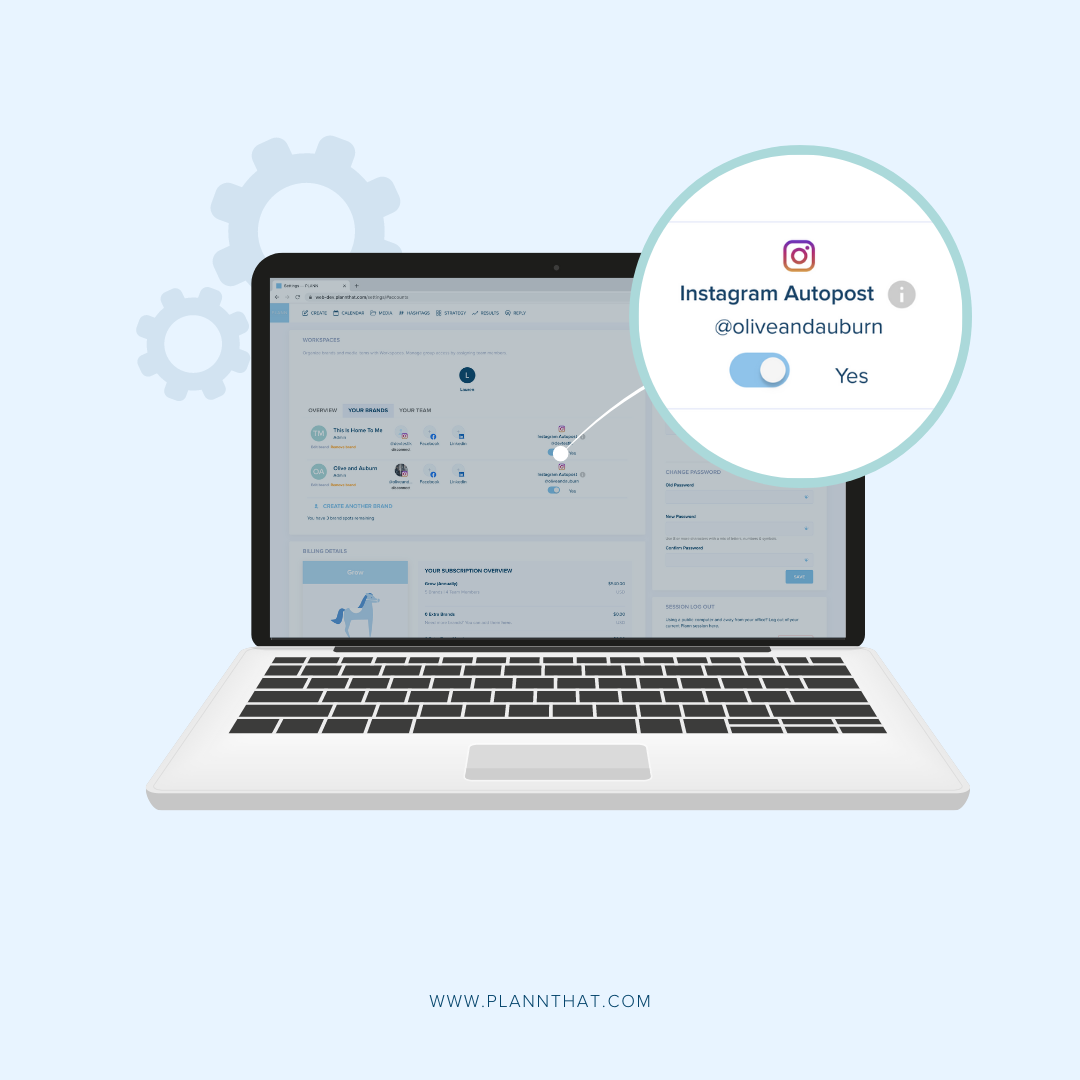 If you're new to Plann, we'll by default have auto post turned on for you and you can choose to turn it off, in the same settings above.
Once you've got auto posting set up and ready to go, here's how to do it!
Step One: Schedule a post for the future that meets Instagram's auto post requirements.
Step Two: Once you've chosen a time to post, you'll see a new 'A' icon appear in the top right hand corner of images or videos in your grid.
Step Three: Plann will publish your post to Instagram for you and send your device a notification once it's live
But wait…won't auto posting tank my engagement?
You may have heard through the grapevine that using third-party tools to auto post your social media content is seriously bad news for your engagement. The good news is, that rumor has been debunked! Studies have shown that that suggests that Instagram penalises creators for posting through a third-party tool. However, what does affect your reach and engagement is your behaviour around posting. If you're posting and ghosting (ie. just posting your content but not engaging with other accounts), that can seriously limit the potential of your content. So, even if you're auto posting, be sure that you're still making some time for engagement — and perhaps make sure to engage immediately before and after your more important posts.
Check your current posts are auto post appropriate
If you have posts scheduled for the future, the moment you turn Instagram auto posting on it will automatically post to Instagram for you without you having to do anything. But, this means that before you flip the switch on auto posting, you'll want to make sure you're happy with all your scheduled posts going up automatically.
If you have any posts in the works that you particularly want to do manual engagement around, or that are a bit on the controversial side, you might just want to double check that you're happy for them to auto post. You'll get a notification that it's gone up, anyway, so you can always jump in and give it a quick eyeball once it's live.
Dip your toe in the water
Have you already got your manual posting repertoire down pat? No problem, you don't have to take the leap completely if you've already got a good thing going! You can always use auto posting to just automatically post a few of your posts (such as if you're going away for the weekend, or have a particular day coming up), and manually post the others. We're all about giving you flexibility and options!
Just make sure to go into Plann switch off the auto posting on those posts that you want to manually post, instead.
Don't forget your hashtags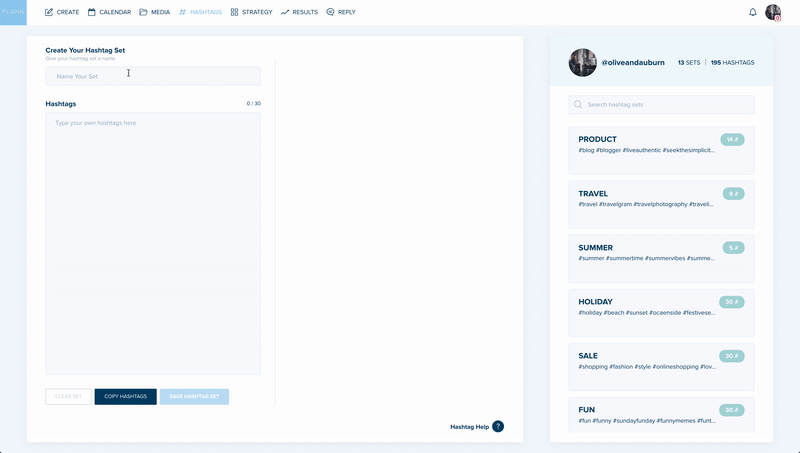 The beauty of auto posting is that it allows you to truly set and forget your socials, so you can spend your time doing other things. But, if you're used to putting your hashtags in the first comment when you post, you may need to slightly adapt your strategy. Otherwise, you will have to manually go in to add your comment on your post, which kind of defeats the purpose!
Instead, you can add your hashtags at the bottom of your caption, so that they automatically post with the rest of your content! Luckily, we've made this super easy for you! You can click the hashtag button (underneath your caption box) and select the pre-saved set you want to import. Plann will magically import in the hashtag set into your caption (and add space so it's not glued to your amazing caption!
Find your optimal times to post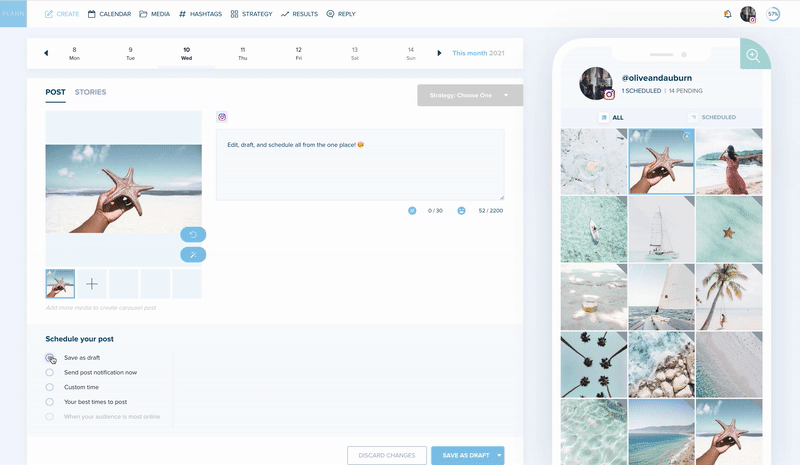 One of the best things about auto posting is that it makes it easy to experiment with different times to post your content! If you're previously been limited to posting your content on your morning or evening commute or lunch break because that's when you have time (and not necessarily because it's the best times to post for your audience), this will open up a whole new world of opportunity for you!
When you go to schedule a post in Plann, you'll see two, AI-powered options (as well as 'post now' and 'custom time') These are 'your best times to post' and 'when your audience is most online.' The first option is based on data about your best-performing posts, while the second is based on data about when your audience is active. By choosing one of these, you can optimize the performance of your posts — even while you're fast asleep!
Batch and repurpose your content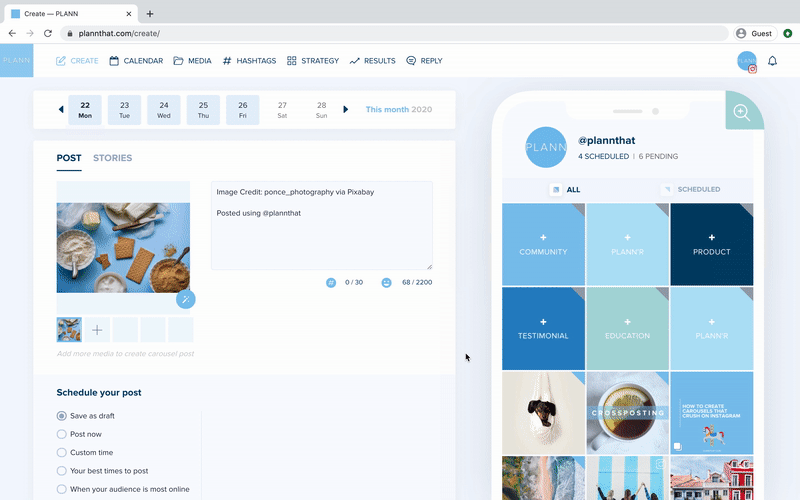 Did you know that we already have auto posting for LinkedIn and Facebook, too? So, this means you can easily and automatically cross-post your content across all three platforms!
When you're creating a post on Instagram, you can click on the
'save for draft' button, which will show a drop-down menu. Select 'recreate for Facebook' or 'recreate on LinkedIn' and that post will automatically show up in your create tab for that platform. From there, you can schedule to auto post at your time of your choosing on those platforms.
Not sure on the optimal times to post for Facebook and LinkedIn? We've got you covered with this guide to the best time to post on every social media platform.
Need more help streamlining your socials?
Get the guidance and accountability you need to put your socials on auto pilot. our next Plan with Plann session! Plann's Social Media Manager, Greta Rose, along with Plann CMO, Karina May, will lead this action-focused community session on slaying (and selling!) on your socials while you sleep.
Learn how to gain yourself hours back of valuable time by making the most of Plann's powerful scheduling features, including the just released new auto posting functionality! As always, there will be plenty of time for questions, too!
Discover how to take advantage of auto posting to it's seamlessly built into your workflow

Create pre-saved hashtags & magically maximize your reach & visibilty

Cut down your creation time with cool Canva templates and learn how to repurpose, recycle and reuse your best posts
Ready to start auto posting?
Instagram auto posting has the power to automate and streamline your social media strategy, and give you back more time for working ON your business, not in it. By following the tips in this article, you can set yourself up for auto posting success!
Log into Plann or start your free trial to start putting your socials on autopilot today