It can be the most awkward thing ever to promote on Instagram when you are worried about coming across as sleazy, desperate or downright blunt!
So, what do you do?
It's a bit of a dilemma – you need to promote your products, services and latest offers on Instagram because you need to get ROI (return on investment) for all the effort you put into your account. But, you can't promote too often or else you'll bore your audience to tears.
Today we're going to walk you through a few techniques we use to keep our promotional content sleaze-free.
Enjoy!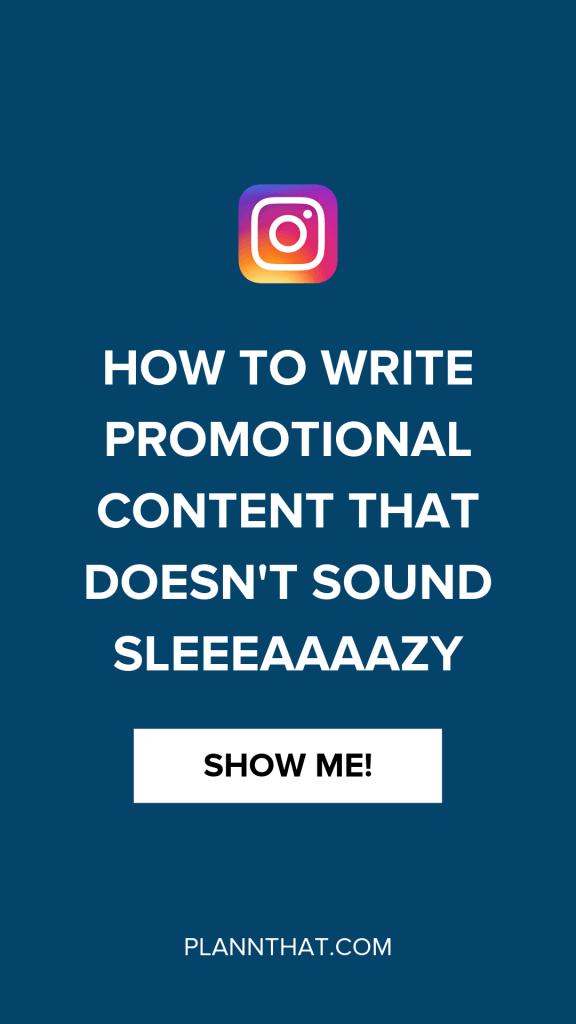 How to Promote on Instagram Without Feeling Sleazy
You aren't a used car salesman, are you?
[If you are I am very, very sorry!]
You don't have to push for the hard sell or bully your Instagram followers into buying your products – that strategy is never going to work on Insta, let alone social media!
Instead, there are two things you need to master:
1. Your Content Strategy
2. Promotional Copywriting
Dun dun dun…
Let's get started with your content strategy:
We recommend breaking down *what* you post on Instagram into four different content categories to make it easy to create a strategy that works.
Educational – Tips and tricks, sharing the truth behind an industry myth
Promotional – Talking about your latest offer, promoting a new service/product
Motivational – Sharing client results, before and afters, testimonials
Conversational – Asking questions, telling a story about yourself or your biz
Here's a breakdown of how much content from each category you should post to your Instagram grid in a week:
Posting 4 pieces of content to the grid a week:
1x Educational, 1x Promotional, 1x Motivational, 1x Conversational
Posting 5 pieces of content to the grid a week:
2x Educational, 1x Promotional, 1x Motivational, 1x Conversational
Posting 6 pieces of content to the grid a week:
2x Educational, 2x Promotional, 1x Motivational, 1x Conversational
Pro Tip: I recommend posting more Educational content than anything as that tends to be the most valuable type of content for audiences of a service-providing business. However, if you run an e-commerce or product-focused business or blog, you should focus more on Conversational content.
By following along with a content strategy that has variety, you'll not only increase the power of your promotional posts – your audience are likely to become more engaged! What a bonus!
Now for the promotional copywriting:
Writing captions that are blatantly promoting your stuff can feel really gross, but don't freak out!
After providing your Instagram followers with so much value through your educational, motivational and conversational content they will really *want* to know what you have to offer them.
Here's a few writing tips you can put into practice to create promotional captions that help you to increase sales without feeling like a grub!
– Explain your latest seasonal offer or promotion like you are talking to a friend
– Keep your promotional captions short – 1-3 paragraphs max!
– Share one of the benefits of your product/service when promoting it
– Leave the 'book now' / 'shop this look' call-to-action for the very end of your caption
– Set up a Linktr.ee link as your IG bio link to make it easy for people to take action
– If you're going to say 'selling out fast' give some context with a story
Here are some examples of flipp'n fantastic promotional posts on IG:
Want some more business tips like this? Let us know! Send us a DM on Instagram at @plannthat and we'll make sure to whip something up.