Looking to get your mitts on an Instagram content calendar that isn't as boring as waiting for a dentist appointment? Well, have no fear because Plann is here!
We've whipped up an absolutely awesome 31-day Instagram content calendar that will set you up for success for the month of March.
You could also use these content ideas across other social media platforms like Facebook, and you could even use these ideas for months to come if you only want to pick and choose from each week.
Ready to dive into this game-changing content plan for Instagram?
Let's goooo!

The Instagram Content Calendar
Click here to download the content calendar to your device.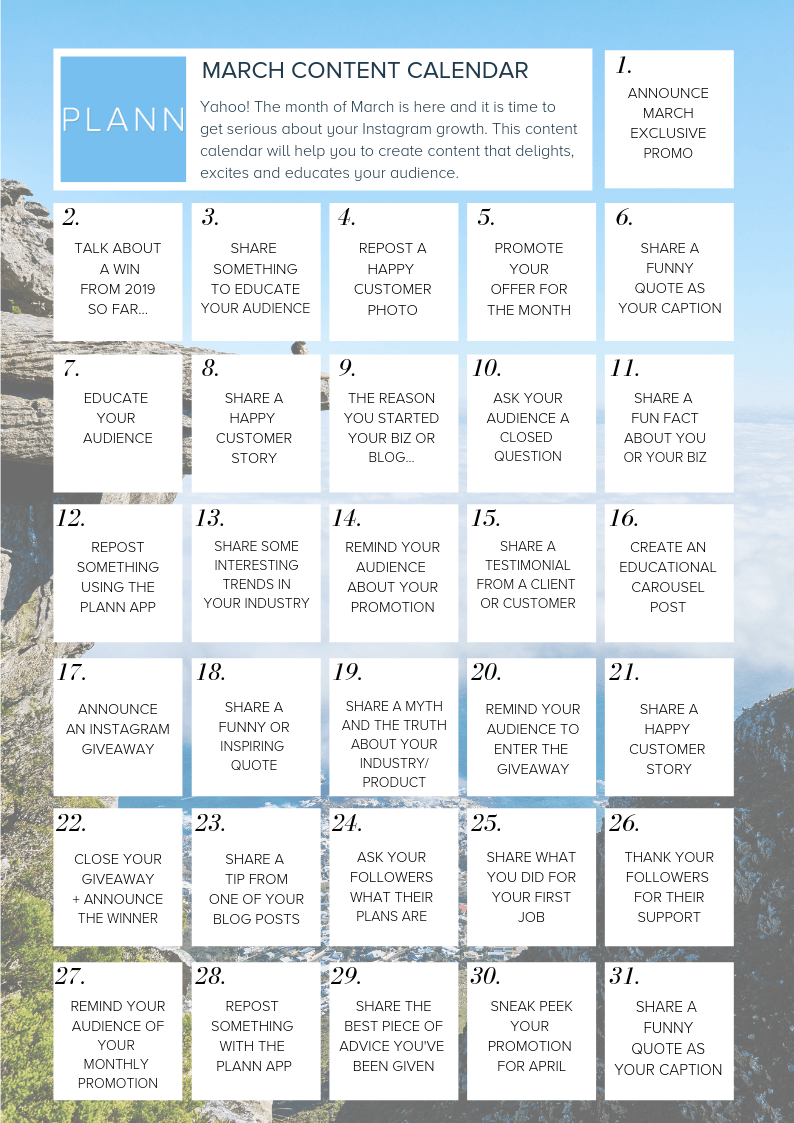 We recommend printing it off and sticking it in your diary, on your wall so that you can look at it when scheduling your content for the month or week ahead.
This calendar was designed with businesses in mind, but if you are a blogger or are just having fun with Instagram there will still be ideas here that apply to you!
3 Tips To Make The Most Out Of This Calendar
If you really want to make this content calendar 10,000x more effective, answer the following questions to give your content strategy an extra boost.
1. Choose one product, service or offer that you can use as a seasonal promotion to entice new potential customers to make the leap:
EXAMPLE: Spring Dresses or Spring Facial Treatment
2. Choose three areas of your business that you will educate your audience on during the coming month.  (Psst – it helps if it relates to your offer!!):
EXAMPLE: Your ethical supply chain, your story of founding the brand, the charity that a percentage of your proceeds supports
3. Finally, select a method that you can implement to upgrade the quality of your Instagram content this month:
✔ Professional photography (headshots, team photos, physical store snaps)
✔ Stock image library subscription (we recommend Jana Bishop and Wellness Stock Shop)
✔ A lightbox or other photography equipment to take your own product snaps
✔ New campaign imagery (studio, model etc)
BONUS!
Okay, so I knooow I've already given you so much extra work to do to make this content calendar thing work really well for your brand (#sorrynotsorry). But, I have one more bonus tip that you might just love.
At Plann we have two hashtags – #plannthat #planncalendar. If you use those hashtags on your Instagram posts while following the content calendar we'll be sure to shower you in love, Instagram likes and comments.
Can I get a woop woop?!
You may even find that through these hashtags you can connect with other global businesses and bloggers who love your work just as much as we do. Who is going to say no way to networking? Not me.
Aaaand there you have it!
You are well and truly ready for a flipp'n amazing month ahead. Feeling keen?
If you need any more tips on engagement strategies, photography and editing tips or want to know more about how to use Plann, we have heaps more hands-on blog posts to help you out.