It's the question on everyone's lips – what on earth does the Instagram Algorithm actually want us to post in 2019?
Oh how our lives would change if we had all of the answers in our back pocket!! Well… actually…let me check that back pocket.
*Rummaging around* Huzzah! We have the answers!
Now all you need to do is download Plann for us to reveal these secrets of the Instagram Algorithm to you… Just kidding! Here's exactly how you can master the Instagram Algorithm in 2019.
But y'know, if you feel like downloading the snazziest Instagram Scheduling, Strategy and Analytics app on the planet…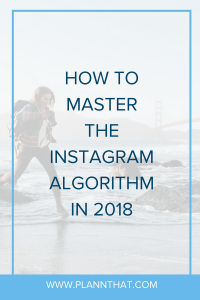 The first thing you need to know before we delve deep into the 2019 Instagram Algorithm is what Instagram really wants from us.
Instagram didn't just create the social network out of the goodness of their hearts. The purpose of this rainbow-branded app is to monetize.
But how can you monetize and ask brands to pay to advertise if you don't have users that actively use the app?
This is the thing you must remember – Instagram rewards accounts that can keep their audience engaged and who make their followers stay on the app longer.
Well, here are a few ideas for you sweet cheeks!
REPLY TO COMMENTS QUICKLY
Want to keep your followers (and potential followers) coming back for more of your sweet sweet Instagram posts? You need to make sure that you respond to the lovely comments that they leave on your images + videos!
Seriously – would YOU keep hanging out with someone who never responded to your questions or compliments? Heck no!
So, in knowing this, what are the ways that we can use the Instagram Algorithm to our advantage and keep our audience interested?
The beautiful thing about Instagram is that it is a social network; meaning that it is the perfect place for you to get social and be chatty with the people that you meet on the 'gram.
We know this tip may seem too simple to affect the 2019 Instagram Algorithm. But trust us, it makes a bucket-load of difference!
POST CURATED PHOTOS + VIDEOS
There's a reason why those Instagram Influencers have such large, engaged followers; they all have curated Instagram grids that are so 'them'. Their followers fall in love with their aesthetic, the quality of their content, and of course their personalities!
So, if you want to get the most out of the Instagram Algorithm in 2019, you better run out there and find your signature Instagram grid-style and start owning it.
PSST -> We have over 60+ professional filters in our app that can help you to create a consistently stylish Instagram grid.
HOST INSTAGRAM LIVES FROM TIME TO TIME
If you are scared of going 'Live' on Instagram, try not to worry too much! Sure, it takes practice. But once you've got the hang of them, Instagram Lives are a great way for you to connect with your Instagram followers and have really authentic conversations.
Maybe you want to have a chat to your followers about an idea you have, or you just want to do a fun Q&A so your new followers can get to know you better.
Either way, make sure to hint at your Live Video on your Instagram Stories and even your Instagram Feed a day or so before you go Live. That way, you can get the most people possible online at the same time as you!
MAKE USE OF INSTAGRAM STORIES REGULARLY
A sure fire way to keep your followers entertained between Instagram posts is with the power of Instagram Stories.
You can do so much with Instagram Stories, including one of our favorite things… games!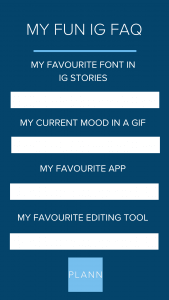 Here are some other quick ideas for Instagram Stories that will help you to master the Instagram Algorithm in 2019:
* Behind-The-Scenes with your team, office, or even a photoshoot for the 'gram

* Q&A series answering questions from one of your Instagram feed posts

* A recipe for your favourite snack

* An Instagram Story poll for what kind of content you should create for the 'gram
PLAY AROUND WITH DIFFERENT HASHTAGS
If you want to gain some new followers + increase the engagement on your Instagram posts you really need to experiment with your hashtags in 2019.
Ideally you should have about 3-4 different 'sets' of 30 hashtags that you rotate between, however you can definitely have more sets if you want! The more the merrier.
By doing this, you'll be sharing your content with people who may not have found your account otherwise. This of course is going to help you to get your numbers up and make the Instagram Algorithm happy.
PSST -> You can organize your hashtags into (unlimited) sets with the Plann app, and give the sets a name. Huzzah!
So, there you have it lucky duck – the secrets to the Instagram Algorithm in 2019.
Now go forth and grow your Instagram account like a boss. Don't forget to share this blog with your other Instagram-loving friends!