Instagram is the gastronomic centre of social media.
Open the app at any given time, and you'll find dozens of posts featuring mountains of parmesan on delicious bowls of pasta, gigantic salad bowls with sweet balsamic vinegar, and sizzling salmon steaks topped with grilled slices of lemon.
In short, it's the mecca for any restaurant's marketing strategy.
When done right, you can lure hungry hippos from all over your city and the world.
Case in point: Those famous Instagram cafes in Bali where travelers line up to get photos of their gastronomic adventures against gorgeous backdrops.
Ready to supercharge your restaurant's Instagram marketing strategy and get a slice of the action?
Follow these Instagram marketing tips for restaurants, and you'll have customers following their stomachs from their feed to your door.
6 Best Instagram Marketing Tips for Restaurants
Master The Art of Food Photography
You don't need to hire a photographer or invest in the fanciest DSLR camera.
With your smartphone, good lightning, and following some basic photography rules, you can whip up an irresistible feed.
Here's how:
• Create a Flat Lay: A bird's eye view of your food is always a hit on Instagram. Set the table with statement ornaments and furniture (e.g. flowers, eye-catching fabrics and textures) and stand on a chair to nail the shot. Want some more tips? Watch this in-depth flat lay photography tutorial

• Use Natural Lighting: Set your food next to a window. It diffuses the light and creates beautiful, soft light. Avoid photographing your dishes in direct sunlight. It will create harsh shadows and won't show your food in the best light

• Use the Rule of Thirds: Don't stick to front and centre photos. Place your dishes at different points of intersection by using the rule of thirds. It creates more eye-catching and intriguing images. Here's a detailed tutorial on using this compositional technique.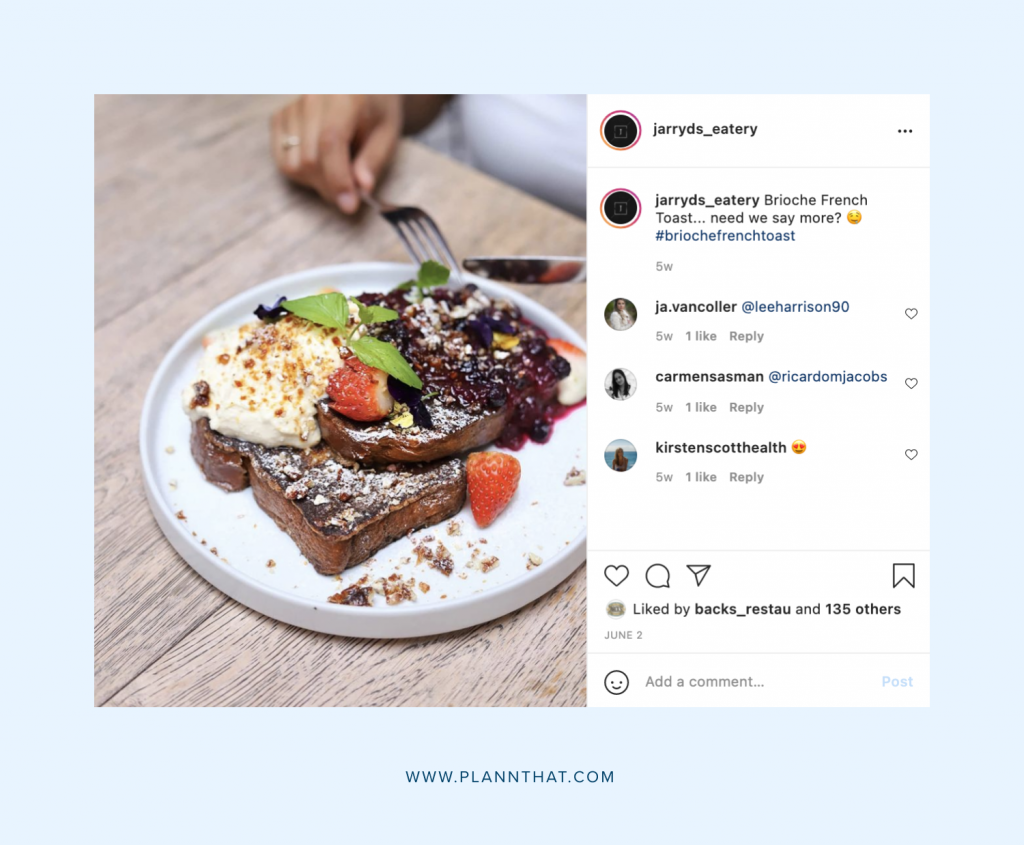 Create Buzz By Partnering With Food Influencers
Back in the day, restaurants would rely on reviews from magazines and newspapers. Or, if you had the money, you'd promote your restaurant with an ad.
In today's digital landscape, influencers give brands a new (and more affordable) way to reach customers.
Do some research, and find food bloggers who have an engaged audience. For example, if you're a vegan restaurant, you want to partner with influencers who follow a plant-based diet.
Some of the ways you can work with food influencers include:
• Hosting a private tasting event to show off your menu: Offer small plates of your staters, mains, and desserts

• Offering a trade exchange: Provide a delicious meal in exchange for a permanent feed post on Instagram

• Buying a paid collaboration package: Most influencers sell bundles of content creation services e.g. 5 Instagram Stories, 2 Feed Posts, and 1 Reel for a set price.

• Co-hosting a competition together. This is a great way to generate buzz about your restaurant, expose yourself to the influencer's audience, and gain new followers at the same time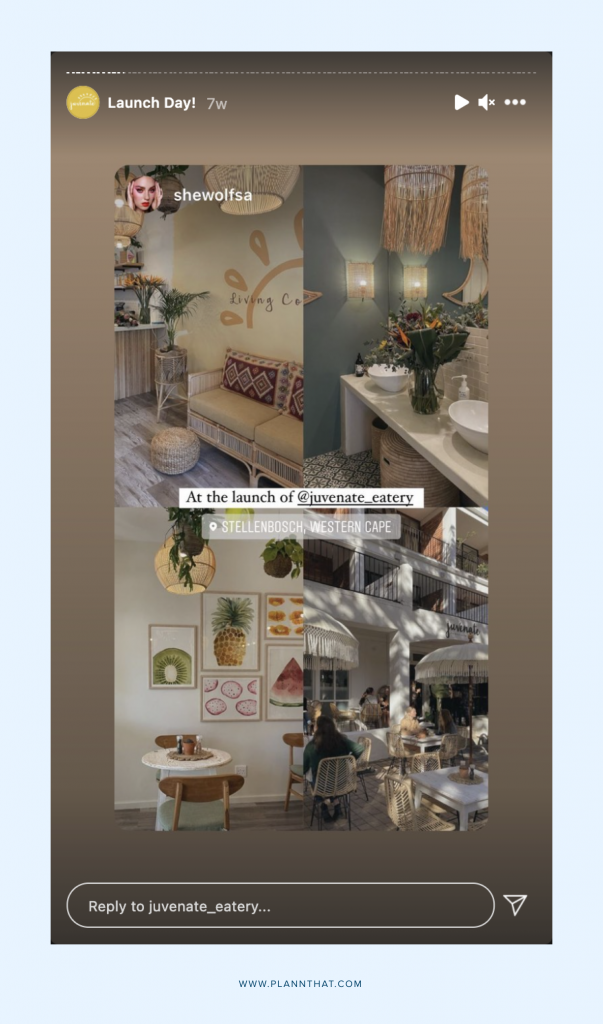 Crowdsource Content for Your Restaurant's Instagram Feed
One of the biggest struggles of staying consistent on Instagram is creating content. When running a restaurant, it's not always easy to find the time to grab a few photos, write a caption, and repeat every day
The solution?
Use crowdsourced content, aka your tagged pictures
Go to the 'Tagged pictures' tab on your Instagram profile. You'll see images users have posted while eating at your restaurant.
You can also check your geotag location on Instagram for even more user-generated content!
• Screenshot your favorite ones.
• Upload them to your Plann account.
• Bulk write your captions, and schedule your posts!
Tip: Always tag the user who created the content! It's proper Instagram etiquette, and users will most likely share your most, giving you another dose of publicity.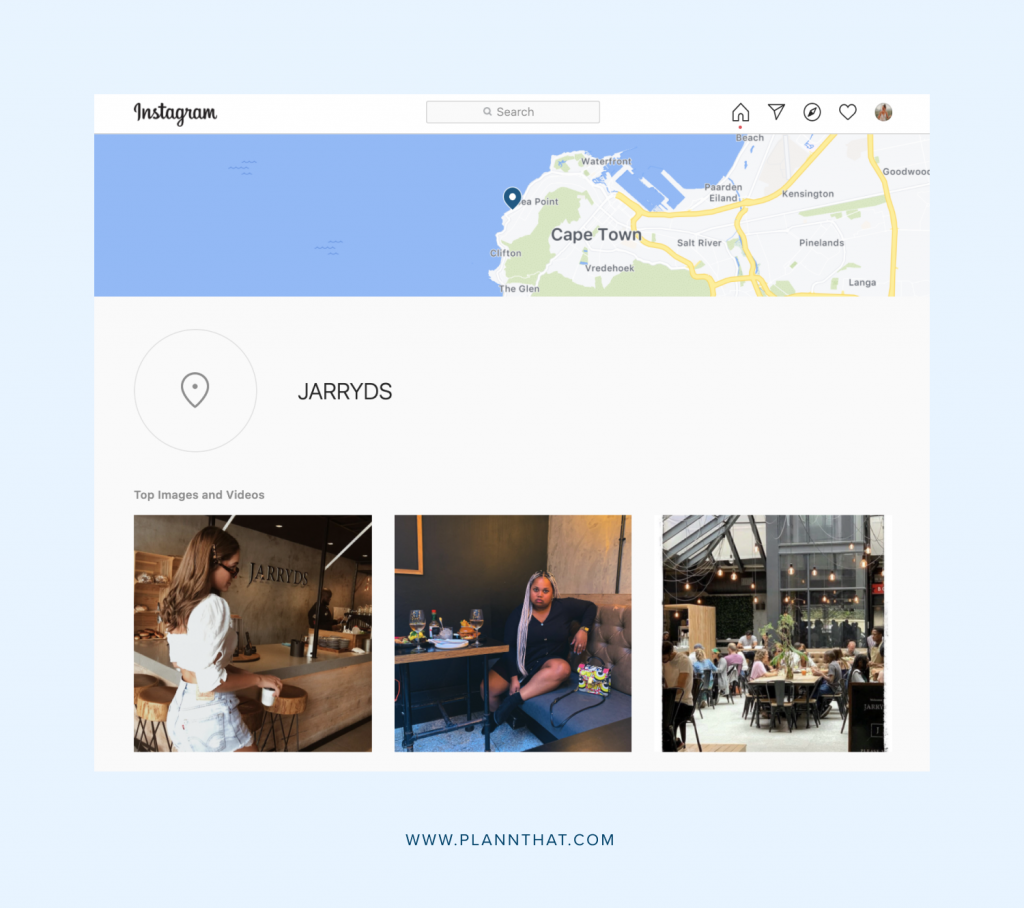 Use All The Features on Instagram to Maximise Your Reach
If you want your Instagram marketing strategy to succeed, you need to use all the features.
Why?
Not only will it help you reach more people, but Instagram likes it. You're rewarded for using the latest features the app has worked hard to roll out
The next time you're about to post, make sure you've done the following:
• Add a geotag: Whether it's your restaurant's geotag or a general location tag like 'Melbourne'

• Use hashtags: Do your hashtag research to get your content in front of the right people. For example, if you run a cafe, some of the cafe hashtags on Instagram you could use are: #cafedesign #cafehopping #cavevibes. Follow these hashtag research tips to find the best ones for your restaurant

• Use a strong call-to-action (CTA) in your restaurant Instagram captions: What do you want your followers to do next? Tell them to share your post, tag a friend, make a reservation etc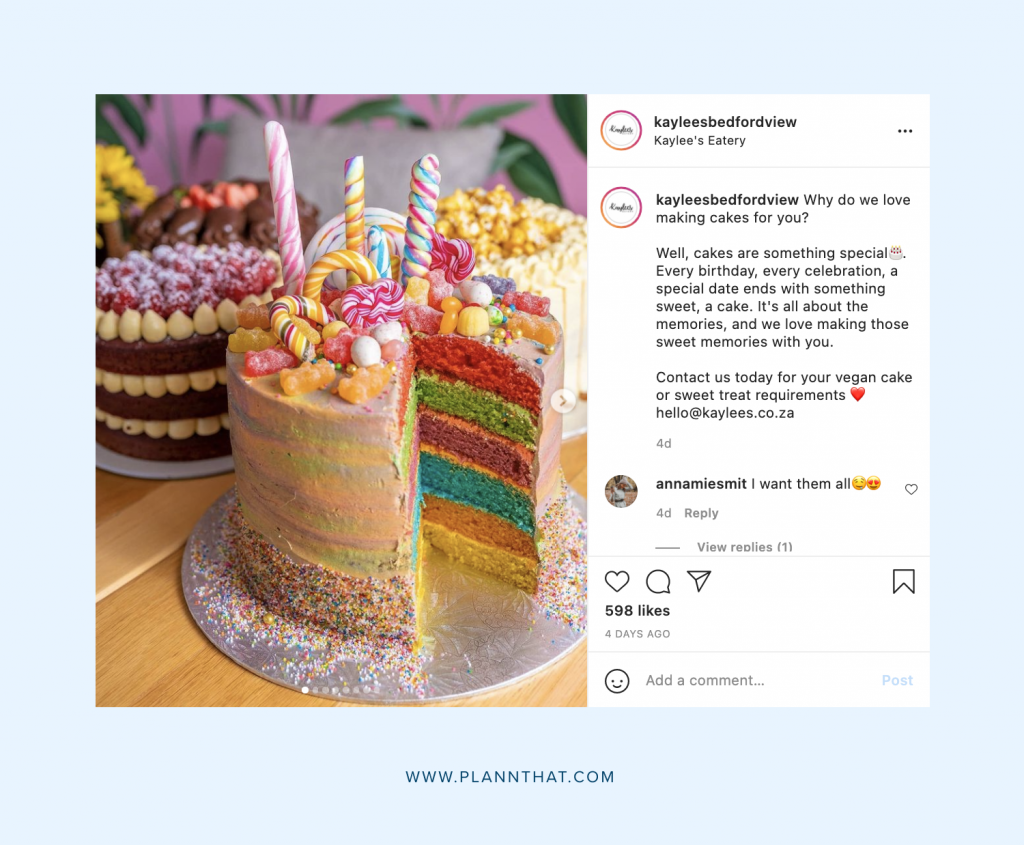 Ace your bio
Your Instagram bio will be the first port of call for potential patrons to get the lowdown on your restaurant and food, spruce up your restaurant's Instagram bio with the following tips:
• Add a 'Book Now' button: This feature lets users seamlessly book a reservation by syncing with approved partners like SimpleBook

• Add your website: If you don't have 10k followers, your only link is in your bio (until the story link sticker is rolled out to everyone) Put your website here to encourage people to check out your restaurant

• Add keywords: What keywords are related to your brand? Are you a fully raw vegan eatery? Make sure you say that in your bio name. It's searchable and can help your customers find you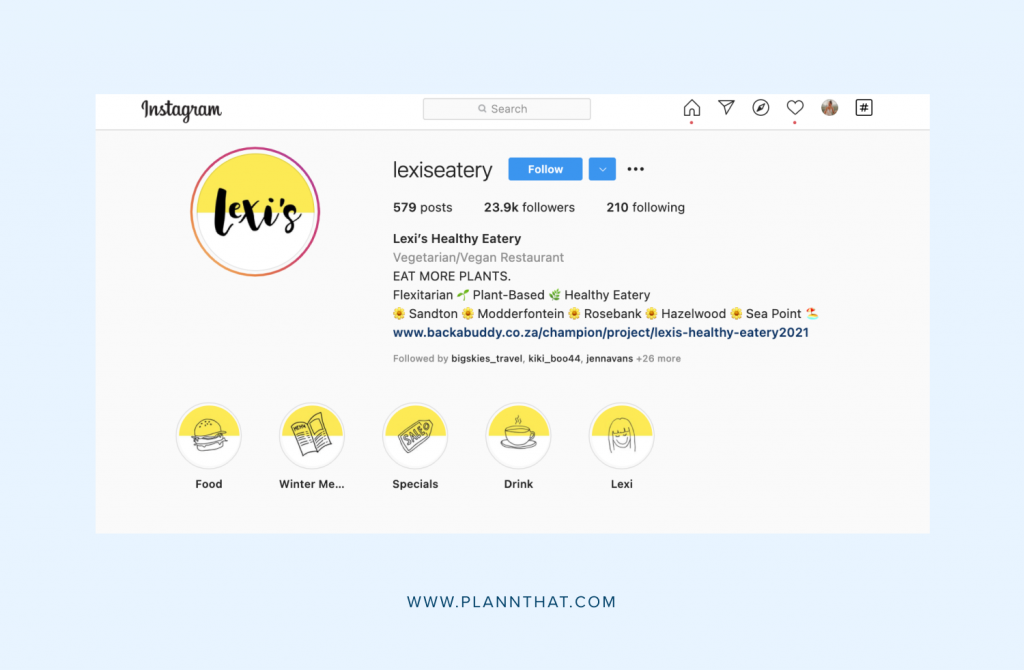 Take Advantage of Instagram Reels
Instagram wants to compete with TikTok and is pushing Reels and video content above static photo posts
How can you create Reels for your restaurant? Here are some ideas:
• Show how you plate your food
• Do a slideshow of your new menu items
• Give a BTS tour of the restaurant
• Show your baristas making coffee
• Create quick recipes for your audience to follow
For some out-of-the-box Reels ideas for restaurants, have a look at the Starbucks account. The brand creates fun Reels like "What's your summer aesthetic?" while showing off their newest drinks.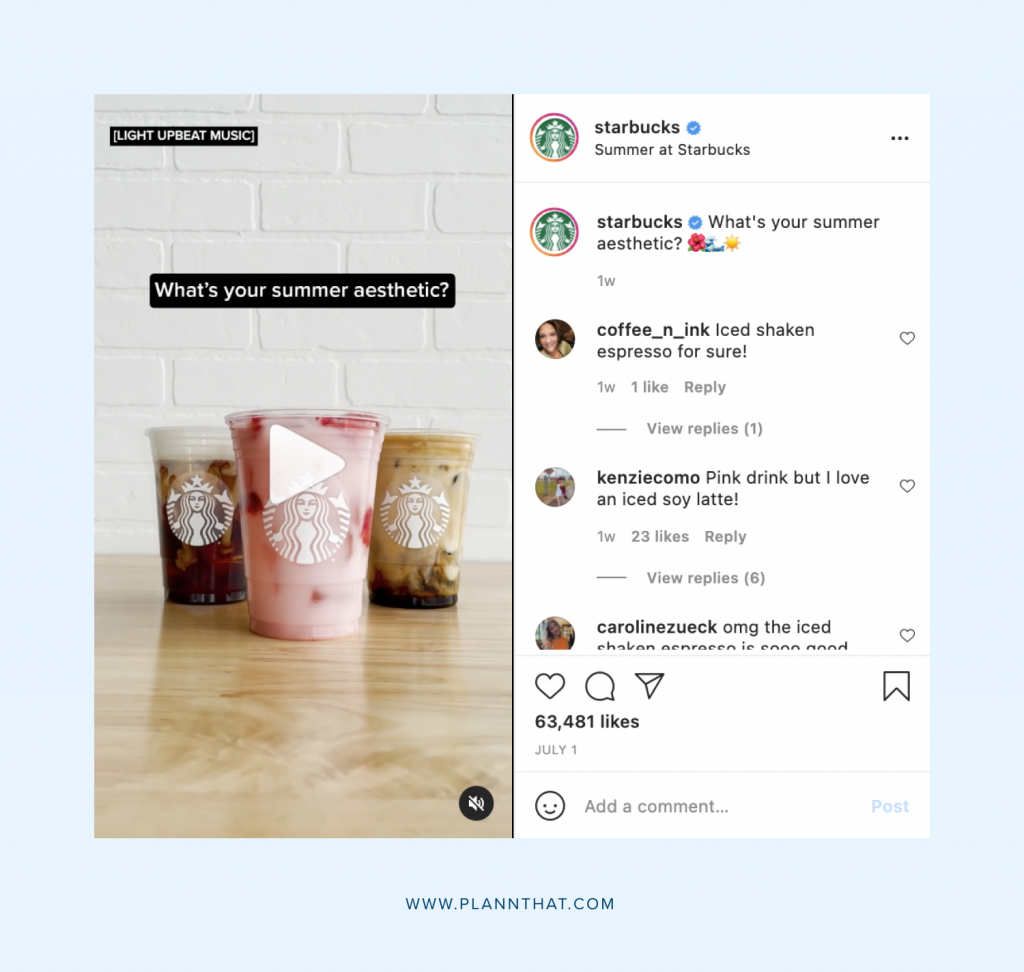 Start Plann'ing a Instagram Strategy for Your Restaurant
Sign up for a free Plann account today. You'll get access to features like:
• A content calendar to plan your feed posts and Instagram Stories in advance
• Content bank where you can save all your photos until you need them
• Analytics and information like the best time to post for your audience
By following these Instagram tips for restaurants and combining them with a consistent content calendar, your restaurant business is set up for success!