Rain tapping on a windowsill…. That first sip of coffee in the morning… they're some simple pleasures that make our everyday lives a little brighter. But, at the top of that list is definitely flowers. From bright botanicals to romantic roses, a bouquet of gorgeous blooms never fails to put a smile on our faces!
And given that flowers are such a visual delight, it's no surprise that many talented florists use Instagram to showcase their masterpieces. We're proud to report that many of these use Plann to grow their accounts and attract adoring customers!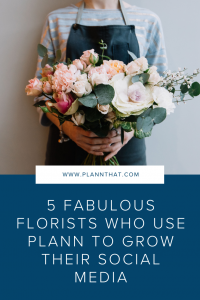 Whether you're looking for inspiration for your Mother's Day gift or just want to brighten up your feed, here are 5 fabulous florist Plann'rs who deserve a follow.
Botanicals by Emco
Why display flowers on your dining table when you can wear them in your hair? This UK-based business specializes in floral hair accessories handcrafted from polymer clay and mixed media. Their delicate hair clips and crowns are literally fit for a queen. Plus, they're the perfect, long-lasting alternative to fresh flowers! We're obsessed.
Fave Plann feature: "Being able to store hashtags and draft content descriptions. There are days when I am so busy designing and creating products that writing hashtags or content descriptions can be a challenge. Other days words seem to flow naturally and that is when I draft my content descriptions and hashtags, saving it all in the app for use when required."
Fave flower: "The night blooming lily. I first saw them one evening when I was in Bali and it was the most mesmerising thing as they seem to glow in the darkness of night."
Follow @botanicals_emco
Flower Casita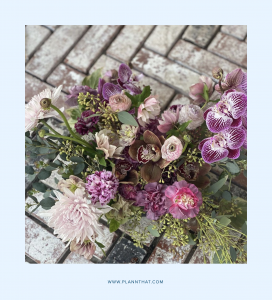 Tali of Flower Casita, has a true knack for bringing different colors and textures together and crafting a bouquet that just looks so put-together. Not only that, but she makes it look super easy (even though we're willing to bet it's anything but!) We love that Tali has branched out from just selling blooms in her San Francisco studio, also holding community events and workshops. Her feed never fails to inspire!
Follow @flower.casita
Bloombox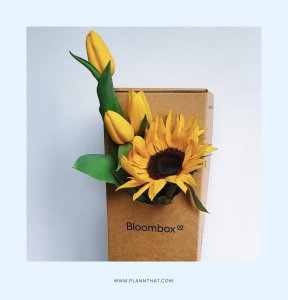 The only thing better than getting a bunch of fresh blooms? Getting them delivered to your door, every single week! That's exactly what this Aussie business does, partnering with family-run farms to bring flowers to the recipient — every week, fortnight, or month. Genius! The coolest part is, they get to play the florist, with 3 to 6 flower snippets delivered alongside arrangement instructions. Their Instagram account is also a goldmine for floral inspiration and styling tips, so definitely worth a follow.
Follow @bloomboxco
Santa Florita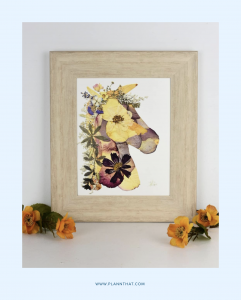 Another awesome way to turn flowers into a keepsake memento? Pressed flower art! Denise from Montreal-based studio Santa Florita has perfected this art, transforming blooms into painting, homewares, bags, and more. They're the perfect gift for when you want to buy something a little more unique than flowers for a special occasion.
Fave Plann feature: Post scheduling
Fave flowers: Impossible to choose! Peonies and roses for bouquets, and pansies and hydrangeas for pressing 🙂
Follow @santa.florita
Olala Fleur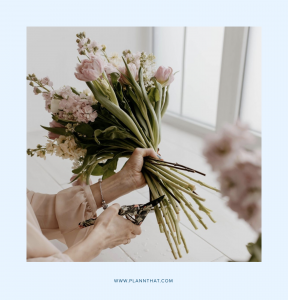 Can you imagine having your own personal florist? So fancy! Well, Olga from Olala Fleur makes that a reality with her unique business. She picks out bespoke, seasonal flowers for her clients to make their homes more cozy and beautiful. She's also on a mission to serve up self-care through the power of stems, with her flower therapy services. This account is an absolute must-follow when you're in need of a little pick-me-up.
Fave Plann feature: That I can pre-prepare post and caption and hashtags, and Plann will post it in a needed time I use the free version of Plann at the moment as it's so useful compared to other apps,but thinking abut the full version of Plann in the future.
Fave flowers: Hard question, love all flowers! Every flower has its own beauty. Every season I have my favorites: Spring: Island poppy, Summer: Dahlia, Autumn: Chrysanthemum, Winter: Hellebore
Follow @olala.fleur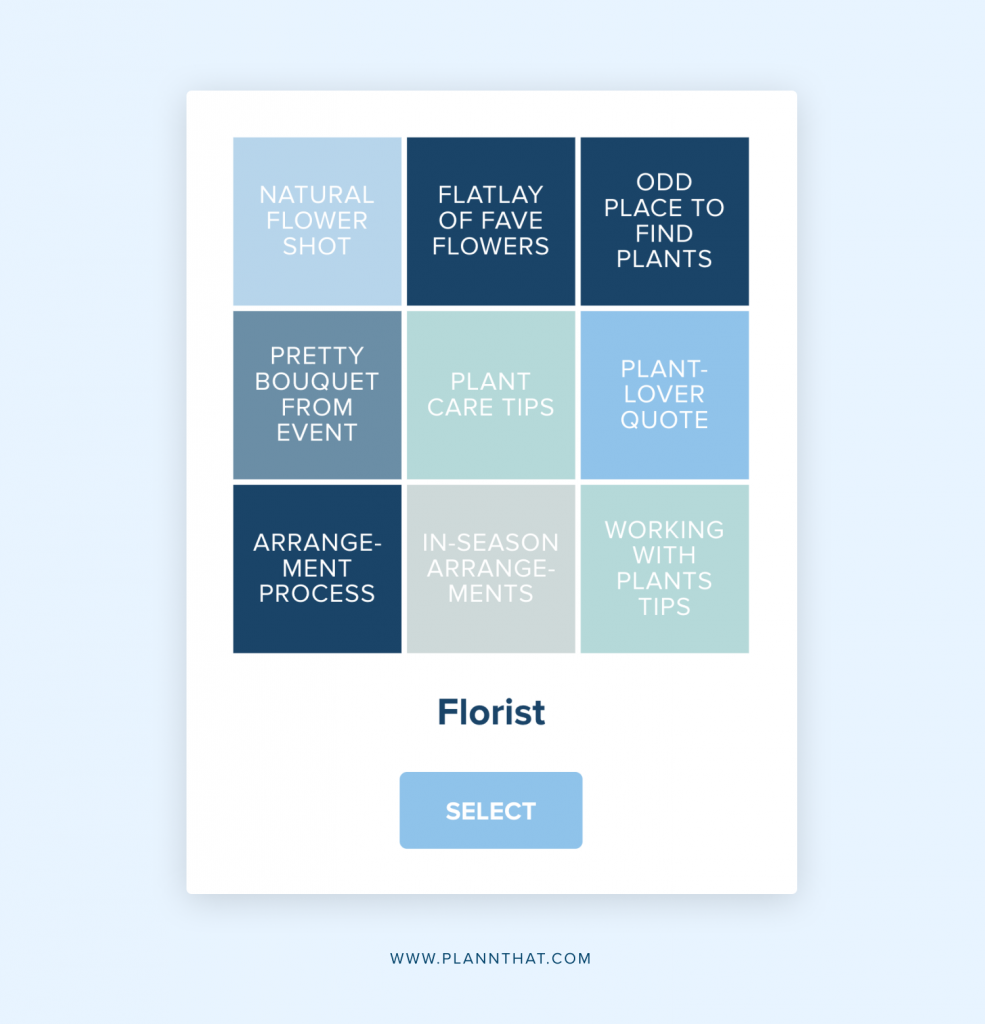 Psstt… we have done-for-you strategies designed specifically for florists, found inside our content prompts tool in Plann!
Ready to plant the seeds of a solid strategy, water with great content and nurture with consistent engagement? Start your free trial of Plann today and watch your socials blossom.