I'm feeling great for a Tuesday! I woke up before my scheduled alarm and the cup of coffee I just had is pretty much making me superhuman, soooo . . .
I was browsing through the comment sections of my previous blogs and I saw a recurring theme: a lot of you have days where you need to wrack your brains for Instagram content ideas.
I feel you, folks. I have those days, too.
There are moments where even the most savvy and creative among us get stuck for inspiration. To help break through the wall, here are 30 Instagram content ideas that are easy to customize for your brand. Use 'em all and you have a whole month of content to get the ball rolling.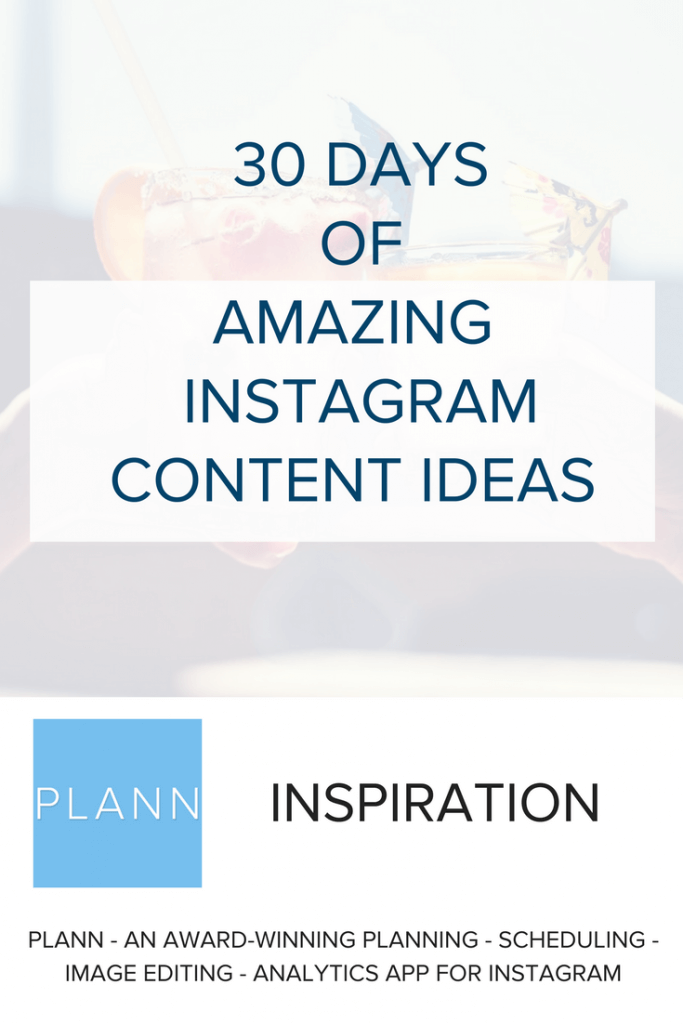 Take a day and you've got your Instagram content calendar sorted and scheduled — happy days!
Psstt… want to never run out of content ideas again? Check out this video!
1. A Photo Of Your Team
Your followers would be interested to see the wizards and witches behind your amazing brand.

2. What You Love To Do When You're Not At Work
Do you like hiking on weekends? Inclined to cozy up with a book? Lie on the beach all day? Hang out with friends? Whatever your flavor of chill, giving a glimpse of your personal life is always a treat for your followers.
3. Your Go-To Coffee Place
Because who doesn't love coffee? (Wait, don't answer that meant-to-be-rhetorical question. Cafés serve tea, too. So still relevant.) Also, if I live in your neighborhood, I'd be excited to bump into you while getting my caffeine fix.
HACK THE INSTAGRAM ALGORITHM: TIPS & TRICKS TO GROW YOUR ENGAGEMENT
4. The View From Where You Work
I always envy those people who sit in an office with a window with a view of the sea, cityscape, park, or mountain vista. Lucky enough to have an Instagram-worthy view? Gift your followers and post it.
5. A Quote That Feels Relevant To You At The Moment
Share whatever gives you all the feels right here and now. Chances are, you'll connect with quite a few of your followers, too.

6. A Regram From Your Community
Show your community members that you pay attention to them by regramming their posts.
7. Shout Out To A Business You Admire
Give a nod to a business or brand you look up to. Don't forget to tag them. This increases engagement and account visits.
8. Answer Your Most Frequently Asked Question
Answering FAQs about your brand could help clear any confusions and hesitation on the part of potential customers.
9. Share A Post That Worked Well In The Past
… no, it's not cheating!
This is actually the whole concept behind #tbt and #flashbackfridays.
HERE ARE SOME AMAZING INSTAGRAM STORIES IDEAS FOR WHEN YOU'RE FEELING STUCK.
10. Celebrate Something!
A birthday, a milestone, or a little win. Celebrate good times, c'mon!

11. Run A Contest
A great way to increase engagement is to run a contest. You can do it in any number of ways, but one of the most popular is by encouraging your followers to regram or repost your content.
12. Repost A Photo Of Your Product Taken By A Follower
Giving them a shout out to let them know you are paying attention to them and that they are important to you.
[clickToTweet tweet="What do you do when the well of inspiration dries up? #instagramtips #contentideas " quote="Even the most dedicated and savvy Instagrammer can falter after weeks or months of faithful posting."]
13. Your Current Read
Whether it's a newly-released bestseller or a classic, a good book is always welcome.
14. Capture The Pleasures Of A Quiet Evening Alone
Some appreciate it more than others, but if you do it right, it can be very photogenic and thus, Instagram-worthy. Light a candle, pour some wine, show off the edge of a bubble-filled tub.
15. Post Holiday Content
Whether it's Fourth of July or National Lipstick day, find a way to relate it to your brand and post it with the holiday's hashtag.

16. Your Favorite Beauty Treatment
Sheet masks are popular and hilariously Instagrammable. If you don't mind poking gentle fun at yourself, you'll get skin-enhancing benefits while also gaining appreciative eyes on your feed.
17. A Treasured Collection
Most folks have more than one of something. Have vinyl records from way-back-when? Got My Little Pony figurines you just can't bear to part with? They're a perfect excuse for a cleverly-photographed post, and may bring a whole new crew of followers your way.
18. A Dessert You Can't Resist
Share a photo since you can't share the calories. Make it look as scrumptious and tempting as possible!
19. Behind-The-Scenes Of Your Latest DIY Project
Don't be afraid to show your challenges and even the small failures: it makes the project more relatable.
LEARN HOW TO CREATE CUSTOM INSTAGRAM STORIES HIGHLIGHT COVERS
20. The Breathtaking Sunset
Sure, it's a cliché, but sunsets are indeed a beautiful reminder that tomorrow's another day.

21. Partner Brands And Collab Sessions
It's fun and increases engagement.
22. Products Being Used
Humanize your brand and your product. Selling skincare products? Take a break from the pretty flatlays and put that facial scrub on then snap and post.
23. Latest Company Or Industry Event You Attended
Hey, it's a perfect excuse to show yourself off at your made-up, dressed-up, gorgeously fancified best.
24. Announcements
You can use texts on photos for added emphasis.
25. Fun Facts
Everyone enjoys a "did you know?" post every now and then. Make it informative and entertaining.
26. Your Recent Travel Photos
Are you fortunate enough to be able to leave town now and again? Showcase your recent #travelgoals and #ootds.

27. Account Takeover By A Successful Influencer
One of the best ways to increase followers whether through actual posts, stories, or livestream.
28. A TV Series You May Be Binge Watching
It's always nice to meet another fan, especially now that John Snow actually knows something and the North still remembers. (Where are my Game of Thrones folks at?)
29. Your Highlight Of The Month
Share your brightest and most memorable moment of the month.
30. Bloopers
It's good to be able to laugh at yourself. It's better when others can join in.
Ready To Have Some Fun?
Now that you're bursting at the seams with Instagram content ideas, it's time to start planning and start scheduling your content calendar.