If you've ever thought to yourself 'I wonder what is a good Instagram Engagement rate…' today you are going to be jumping for joy.
Instagram engagement rate is something that everyone should care about because it is a great indicator of the quality of your content and your relationship with your Instagram audience.
If you're an Influencer, brands who would like to work with you will be keeping a close eye on your engagement rate before they reach out to you for a sponsored post.
More on the business-owner end of things? Your Instagram engagement rate is still very important. It will let you know if you need to put more effort into building relationships with your audience. This is by doing things like responding to comments on your posts and engaging with your follower's content too.
Let's get right into the goods and find out what is a good Instagram engagement rate.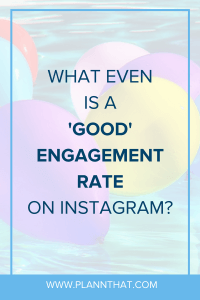 WHAT IS A GOOD INSTAGRAM ENGAGEMENT RATE? 
Instagram recently reached the milestone of 1 billion Instagram users across the world. And if that doesn't blow your mind, we don't know what will!
With all of that competition on the platform, it is no surprise that the average Instagram engagement rate is around 3%. Seems low right? Not really!
So, what is a good Instagram engagement rate? Something to keep in mind when you do find out your Instagram Engagement rate is that the more followers you have, the lower your engagement rate tends to be.
This is because if you have a large following, you are likely to have had your Instagram account for a few years. Over time, some followers may stop using Instagram. Or they may create new Instagram accounts and drop off from engaging with your content.
If you have a smaller following, let's say under 1000, your engagement rate will tend to be higher. At this point, you need to weigh up the benefits of a high engagement rate and having a high Instagram follower count. Both are important if you want to be considered an Influencer. They're also important if you want to attract new customers to your business.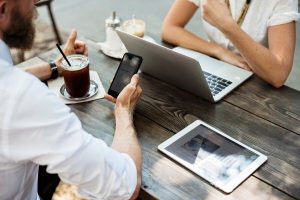 HOW CAN YOU CHECK YOUR INSTAGRAM ENGAGEMENT RATE? 
One of the easiest ways to keep up to date with your Instagram engagement rate on each post to ensure that you are consistently improving is by using the Plann app.
You can download Plann for free on iPhone and Android devices (and soon, you'll be able to use Plann from your desktop!) and use the app to review your Instagram Analytics including engagement rate, best performing hashtags and best times to post each day of the week.
How nifty is that?
If you'd like to see Plann analytics in action, take a peek at this blog post.
SO, HOW CAN YOU IMPROVE YOUR INSTAGRAM ENGAGEMENT RATE? 
Now isn't that a juicy question?!
If you have taken a peek at your Instagram engagement rate and desperately want to grow it and make it rain with engagement allow us to share all the secrets.
1. Change Up Your Hashtags – If you use the same ones all the time, you are going to notice that after a while you just won't get any cut-through. We recommend having 3-4 different hashtag sets on rotation throughout the month.
2. Engage with Others – Spend 10-15 minutes or more per day going through hashtags. Leaving genuine, heartfelt comments on other Instagrammer's content. This will help you to build relationships with new potential followers.
3. Engage with Your Community – Spend 10-15 minutes or more per day going through the list of people who liked your previous Instagram posts. Leave them some nice comments on their profile. You're more likely to have them come back to see future posts if you build a friendly relationship on Instagram!
4. Use Instagram Stories – If you really want to amp up your engagement rate we recommend using Instagram Stories. Use this to tease about what you'll be posting to Instagram before your new content goes up. Build the excitement, share a snippet, and then when it is published, let your audience know with a quick story.
For more tips on how you can improve your Instagram Engagement rate, check out this blog filled to the brim with goodness.
AND REMEMBER 
Engaging with your community is just about to get a whole lot easier! We're about to launch our desktop version of the Plann app where you'll be able to discover new in-depth analytics and more!