Easter is right around the corner, and that means it's time to start getting creative with your social media content.
This holiday season offers a great opportunity to have fun with marketing and reach your audience in new, engaging ways. Cleverly curated content could mean big things for your brand in the weeks and months to come!
By planning effectively for Easter, you can use the holiday as part of your overarching marketing strategy. No opportunity is wasted when it comes to building your audience and growing your brand.
So, what can you do to diversify your Easter-themed content on social media? Turn to Plann, of course! Here are a few of our most egg-cellent ideas.
Get Creative with Easter-Themed Visuals
The perfect place to start is with your visual content on social media. Now is the perfect time to dust off your design skills and include eggs, bunnies, and baskets in your social media assets.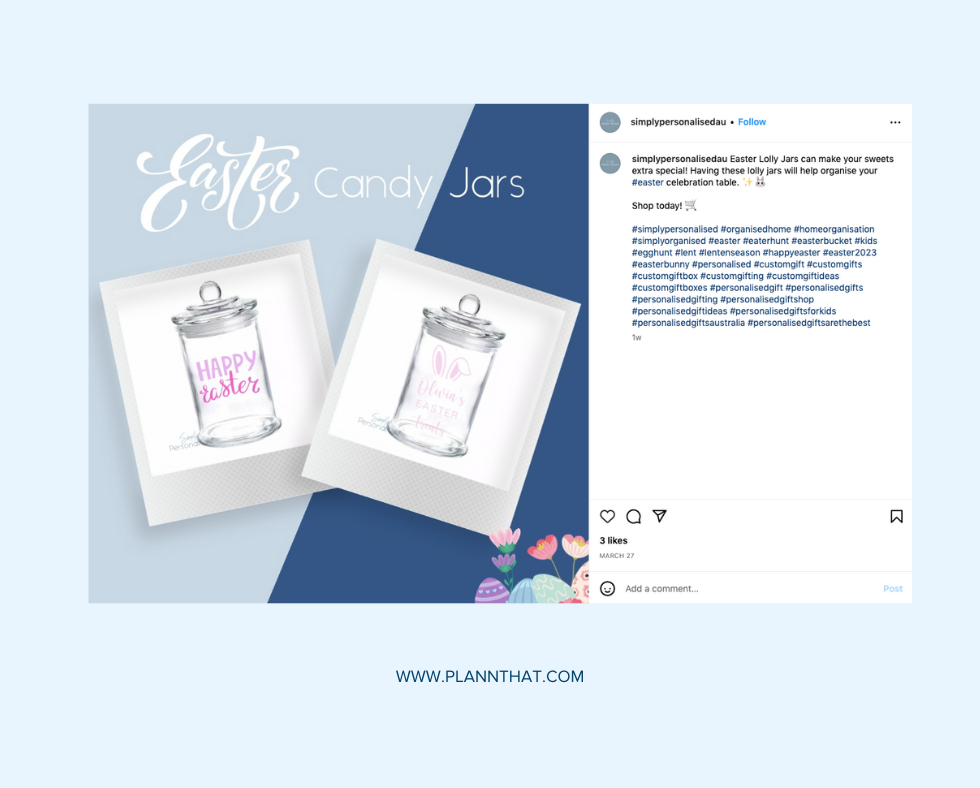 Whether you're simply wishing your audience a happy Easter break or offering something special tied to the season, effective design can be powerful. It can improve your professionalism and even offer a credibility boost that supports your brand goals.
By crafting visual content that features Easter symbols and ideas, you can capture your audience's attention with something that is timely and impactful. Just remember to stay on brand by leveraging your own brand fonts, colors and your logo.
Share Easter Stories and Traditions
Consider sharing your personal Easter stories, experiences, and traditions with your audience. This is a great way to build brand relationships and personal connections with your followers.
When you share your personal Easter stories, you can find unique and innovative ways to humanize your brand, all while highlighting the value you can offer. Win-win! This helps with marketing your offering as well as fostering long-term community growth.
The more you use anecdotes and personal storytelling to connect with your audience, the more effectively you will begin to establish brand loyalty.
This Easter season, why not mix things up by sharing a few of your favorite annual Easter traditions!
Collaborate with Influencers
Next, try your hand at influencer collaborations! Working with influencers in your niche can help you promote your Easter content and reach a wider online audience.
From running a seasonal marketing campaign to simply teaming up for a single post, influencer collaborations can be the key to fast, effective social media growth. That's not to mention an engagement boost that could take your accounts to the next level!
The best way forward is to reach out to influencers (and micro-influencers) who have audiences you know will love your brand and what it can offer. From there, you can work together to create great Easter content that will reach multiple audiences at once.
Make your collaborations extra special by giving your partnership an Easter flavor, whether that's promoting an Easter product or running a flash sale over the long weekend.
Run Easter-Themed Contests and Giveaways
What about a contest or giveaway? Easter provides a chance for you to offer a freebie that gets people interested in and engaged with your brand.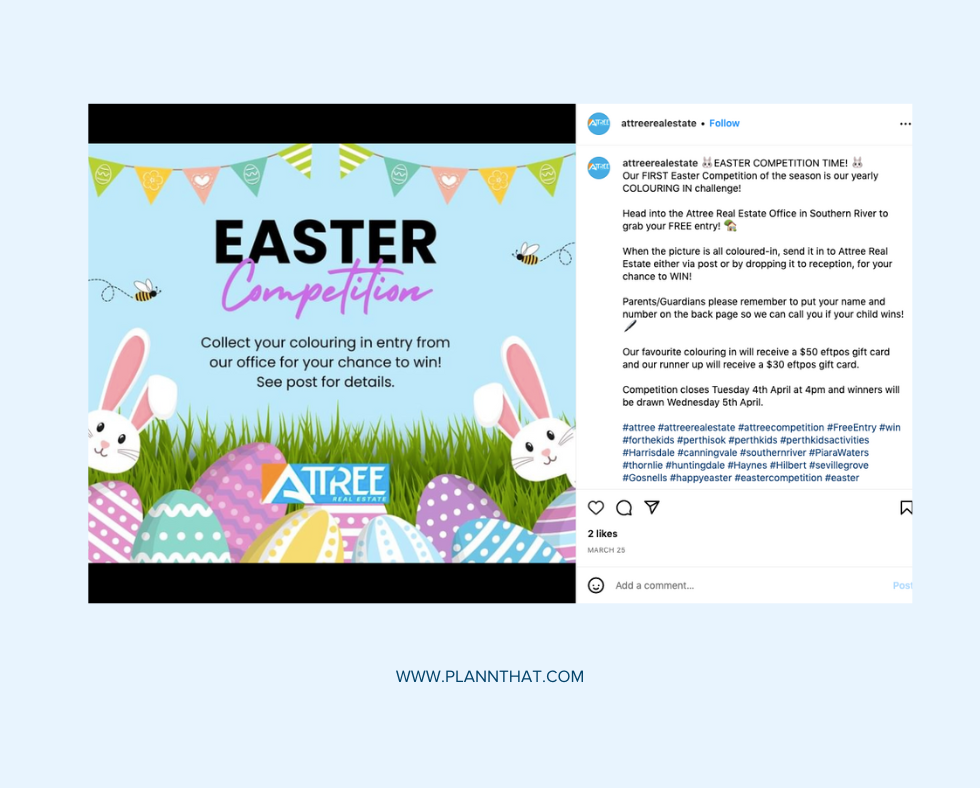 Consider giving away a prize to celebrate Easter 2023, and use this as a lead magnet for social growth and build incredible community engagement. Offering a free prize gives people a reason to care about your brand and engage directly with your content.
If you are clever and strategic about the content you produce, you can even use an Easter giveaway as an opportunity to stockpile user-generated content you can share now or later in the year. Talk about a smart way to save time on your content creation!
Don't Forget to Include a Call to Action
No matter what kind of content you're creating, a clear call to action is always non-negotiable. Make sure you include one with every piece of Easter content!
Whether you're requesting feedback, driving sales, or directing traffic to your website, a good call to action tells users how to interact with the content you share. This helps people take action and engage with your brand.
At Easter, an effective CTA might link to an Easter-themed product you sell or tie into a seasonal promotion. Alternatively, you might simply ask your audience to share their Easter traditions or plans.
Utilize Easter Hashtags
Hashtags remain powerful on social media, and the holidays allow you to access a whole new selection of highly visible tags.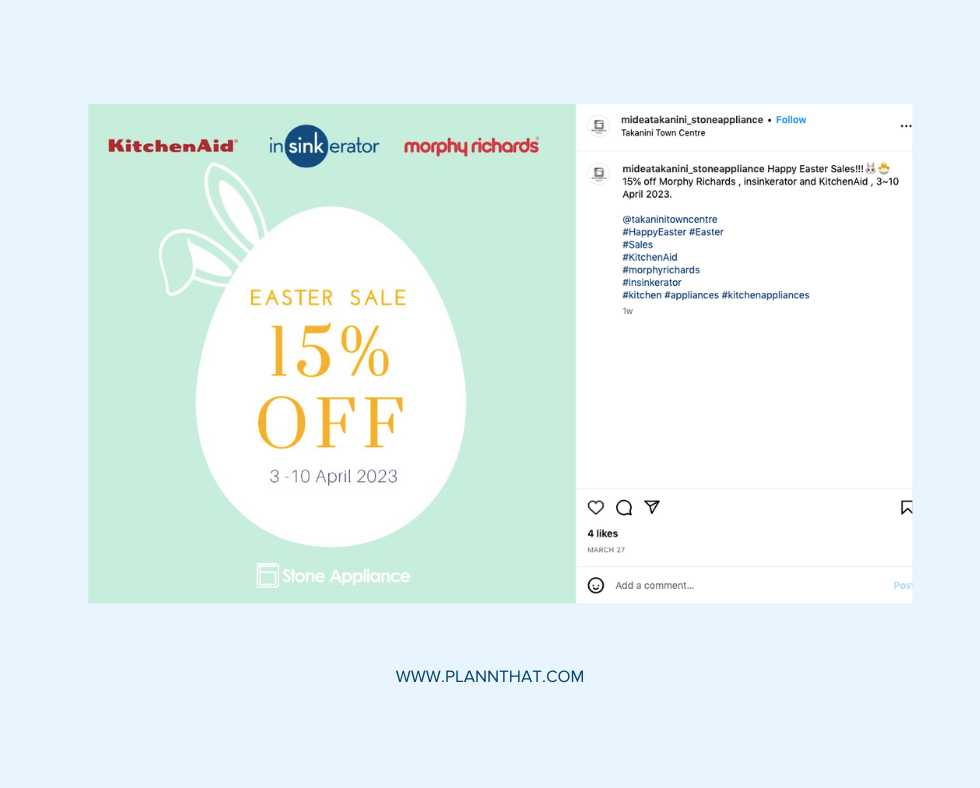 When you share Easter-themed content on social media, don't be afraid to include a few hashtags that relate closely to the season. #HappyEaster. #EasterBunny. #EasterEggs. The options are limitless.
Choosing the right hashtags can help your content reach more people online, even finding users who might not otherwise connect with your account. The best-case scenario is a great follower boost – the perfect holiday gift!
Analyze Your Results
Finally, check back and review your results! Unfortunately, it's not enough to post and run. When you share Easter-themed content on socials, you need to stick around to check on performance.
Using in-built social media metrics tools or the in-depth audience analytics offered in Plann, look for insights into how well your Easter content works across your accounts. Identify patterns relating to reach, engagement, and other insights. Consider likes, comments, shares, views, saves, and more.
Remember, your account performance data can have an important role in influencing future content creation. When you understand your audience and what people want for you, you can plan to produce content that resonates with users.
Plann ahead for the Easter season
The best way to ensure you get the most value out of your Easter content is to plann ahead. This way, you'll be prepared to chase great results.
Ready to start planning your Easter content calendar already? Perfect! Get started today by signing up for a free 7-day trial of Plann Pro, and create Easter content that wins the attention of new audiences.