Ever had that experience of watching a friend make a post on Instagram, and they turn around and do some cool trick you had no freakin' idea you could even do!? Your mind is BLOWN and you're left wondering if you're actually just a total Instagram novice after all? Yep, it happens to even the most tech-savvy amongst us!
The Instagram platform is so comprehensive and ever-changing that it would be rare to find someone who knows about every single feature — with the possible exception of influencers, the Instagram team and your cool, 15-year-old niece. And that's half the fun of it, isn't it? Stumbling across the cool new tricks you can use to create content that's even more and fun engaging.
That's why we've rounded up 10 cool Instagram hacks you may not know about (or have forgotten) that you can experiment with in self-iso.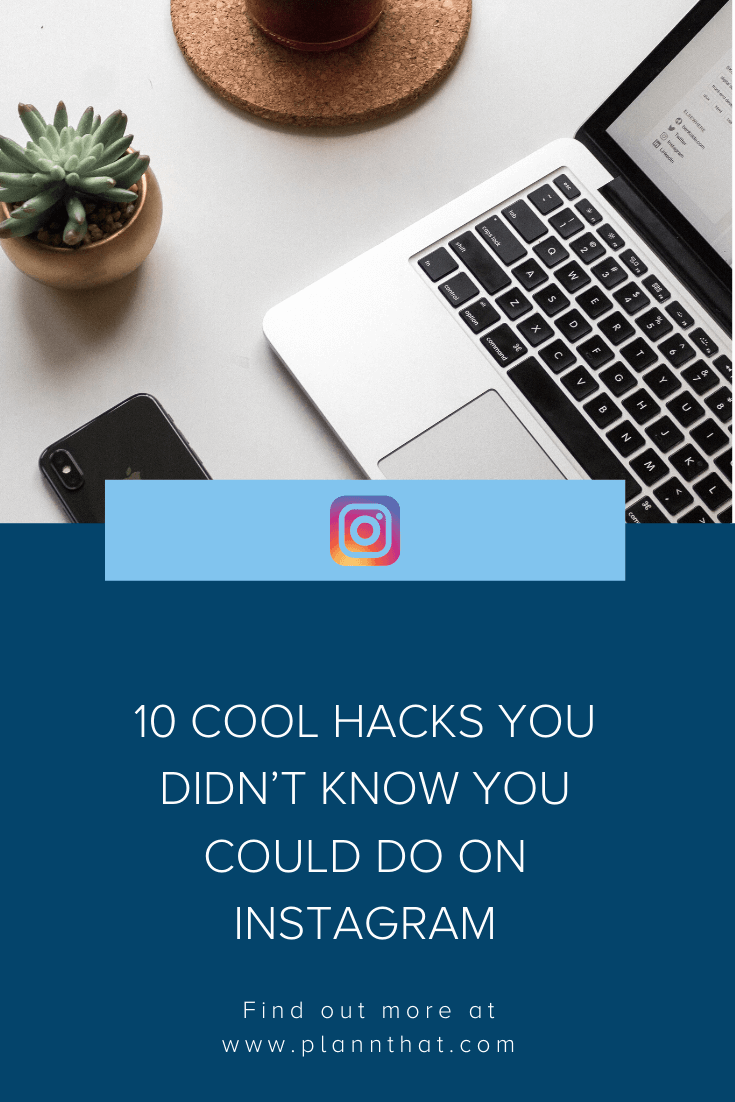 1. Change the background color on your sticker
Have you been forever using the 'purple text on white background' default on Instagram stories location or mention stickers because you didn't think you had another option? Same here, up until a month ago! Turns out, you can simply tap on the button to switch it to a few other, more aesthetically-pleasing options like clear and rainbow. This is one that you're likely either like "yeah, duh" or "I can do WHAT!?" — there is no in-between.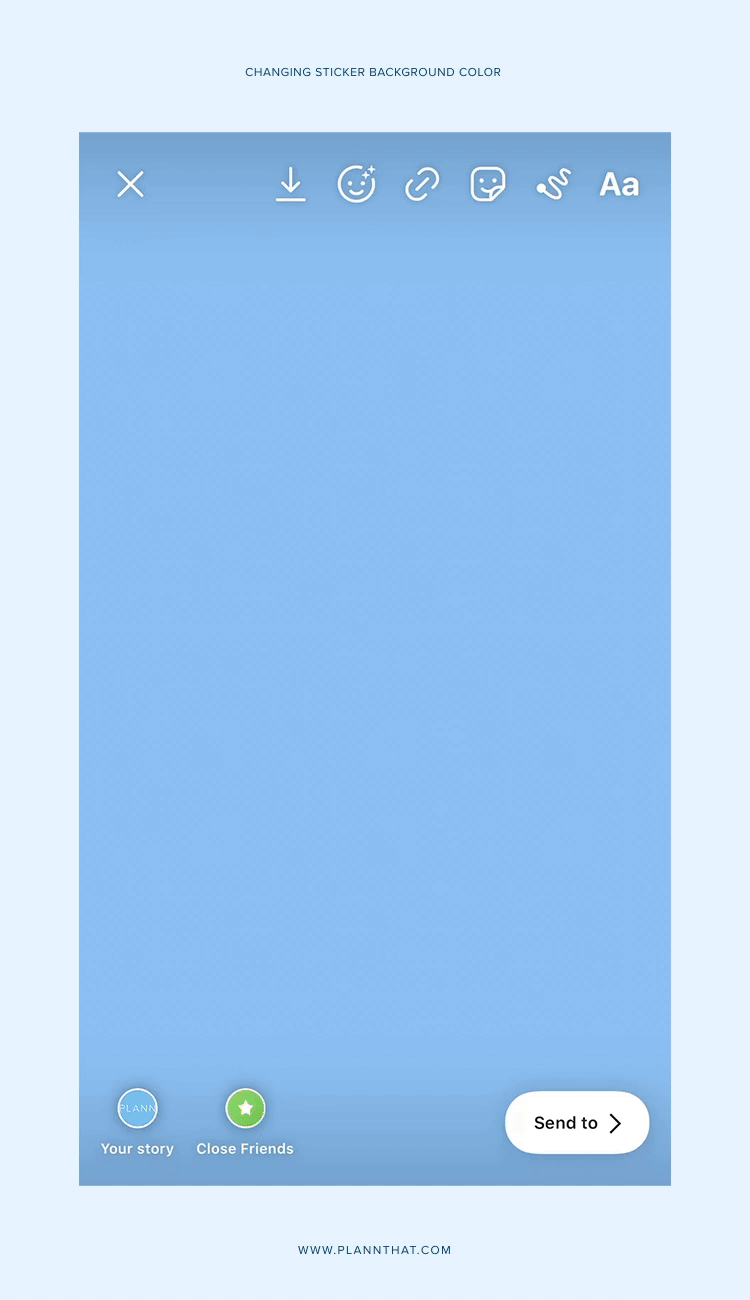 2. Add a drop shadow to your text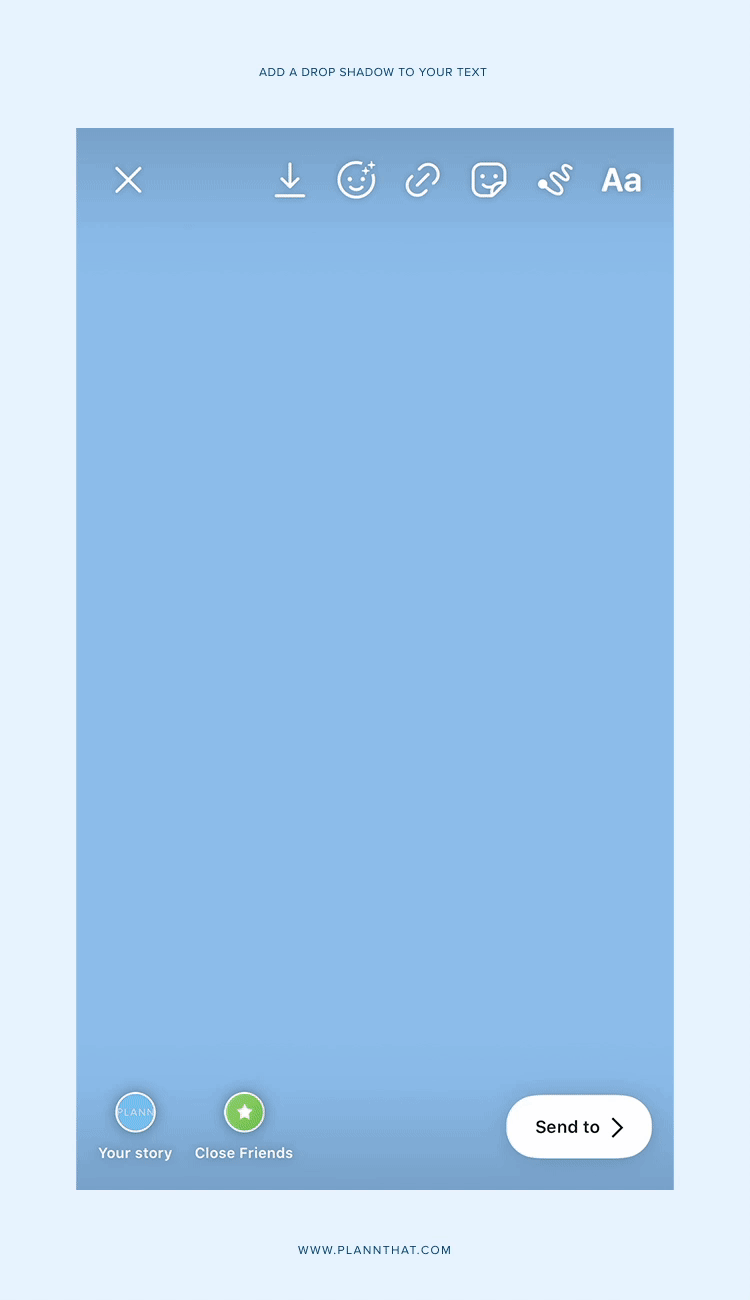 Want to add a bit more pizzaz to your Instagram stories text? Adding a drop shadow is a perfect way to make the text 'pop' and look a bit less blocky. You do this by simply writing two captions of the same size but different colors, and layering one behind the other. Look at you go, you're creating ART!
3. Add line breaks to your captions
Hands up if you've ever been personally victimized by the formatting in Instagram captions? Yep, if you're trying it break it up into dot points, your captions likely look about as chaotic as a grocery store when a new batch of toilet paper has just arrived. It's a lot easier to get the captions to look how you want them using a scheduling app like Plann. But, if you're posting on the fly, there's also a simple hack you can use to get line breaks in your caption.
All you have to do is open your phones keyboard settings and find text replacement. Then, copy and paste the space between the below brackets and set a text replacement you'll easily remember, like 123
[⠀⠀⠀⠀⠀⠀⠀⠀⠀]
Now when you type 123, it will add the line breaks to your captions!
4. Adjust your text box with the slider on screen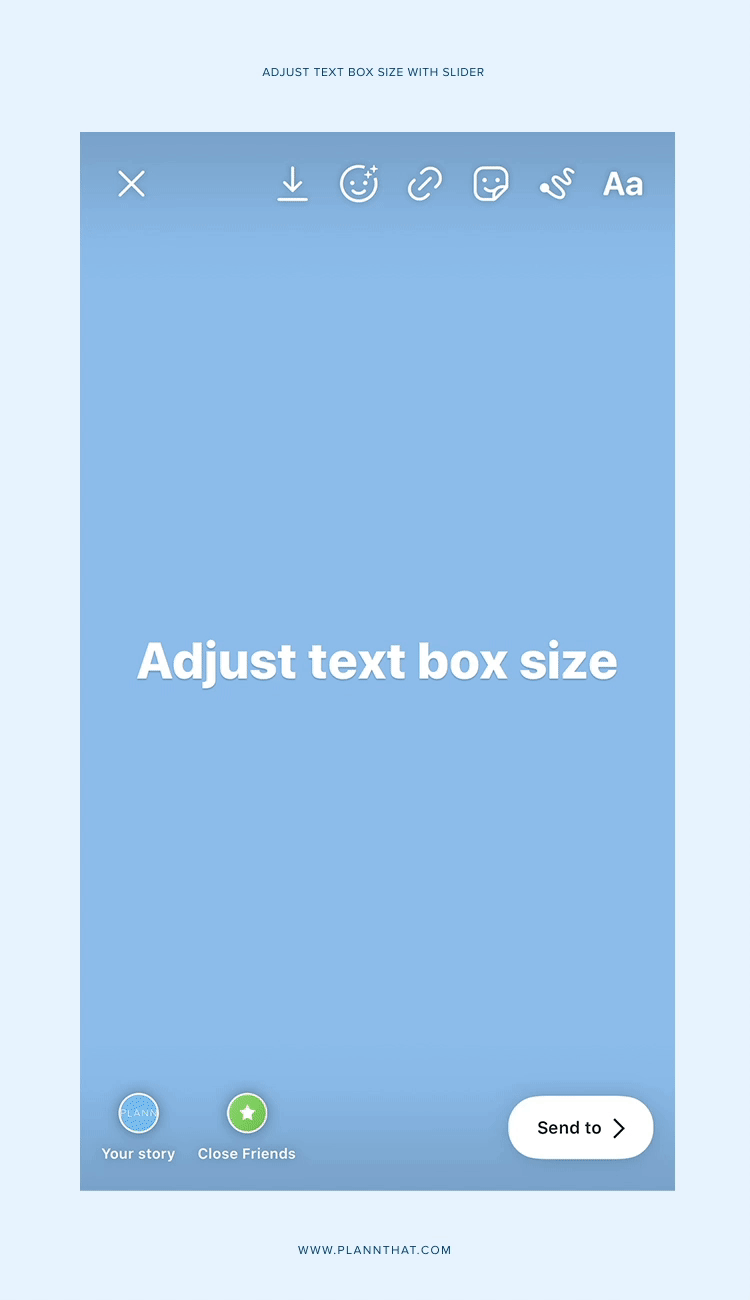 Those text blocks in Instagram stories can be slippery little suckers, right? It can hard to control the pinch to get juuuuust the right size. But turns out, you can ditch the pinch! When you add the text, a slider pops up on the left-hand side and you can simply move this up and down to adjust the size. What have we been doing our entire lives!?
5. Share a music playlist on Instagram stories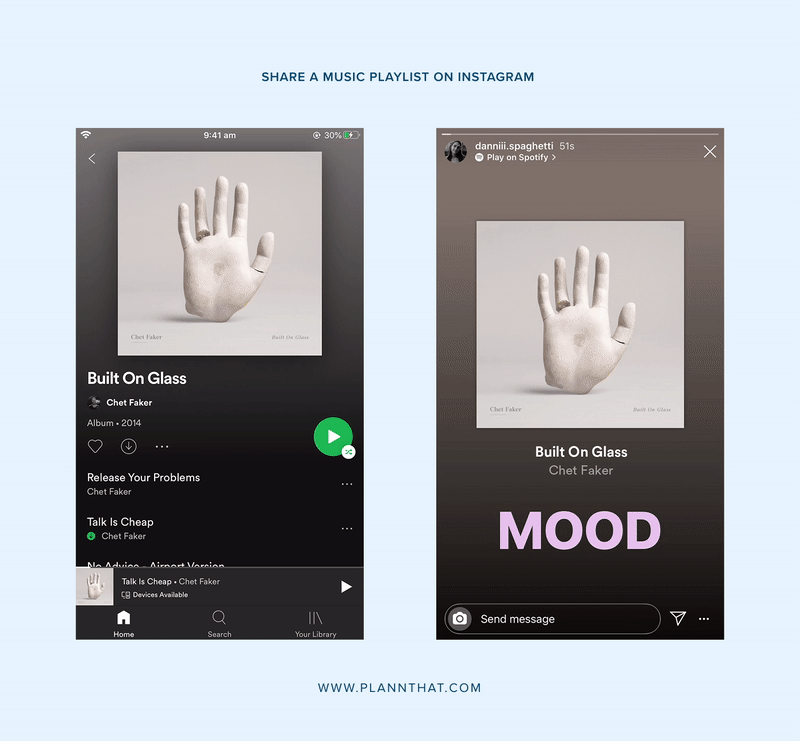 Okay, so you likely already know that you can share music on your Instagram stories. But did you know your could share entire playlists and albums if you're on an iPhone? You just find the playlist you want, click 'share' and select Instagram stories! Perfect for if you want to share your self-iso survival tunes with your followers.
6. Erase some of your Instagram story to pique interest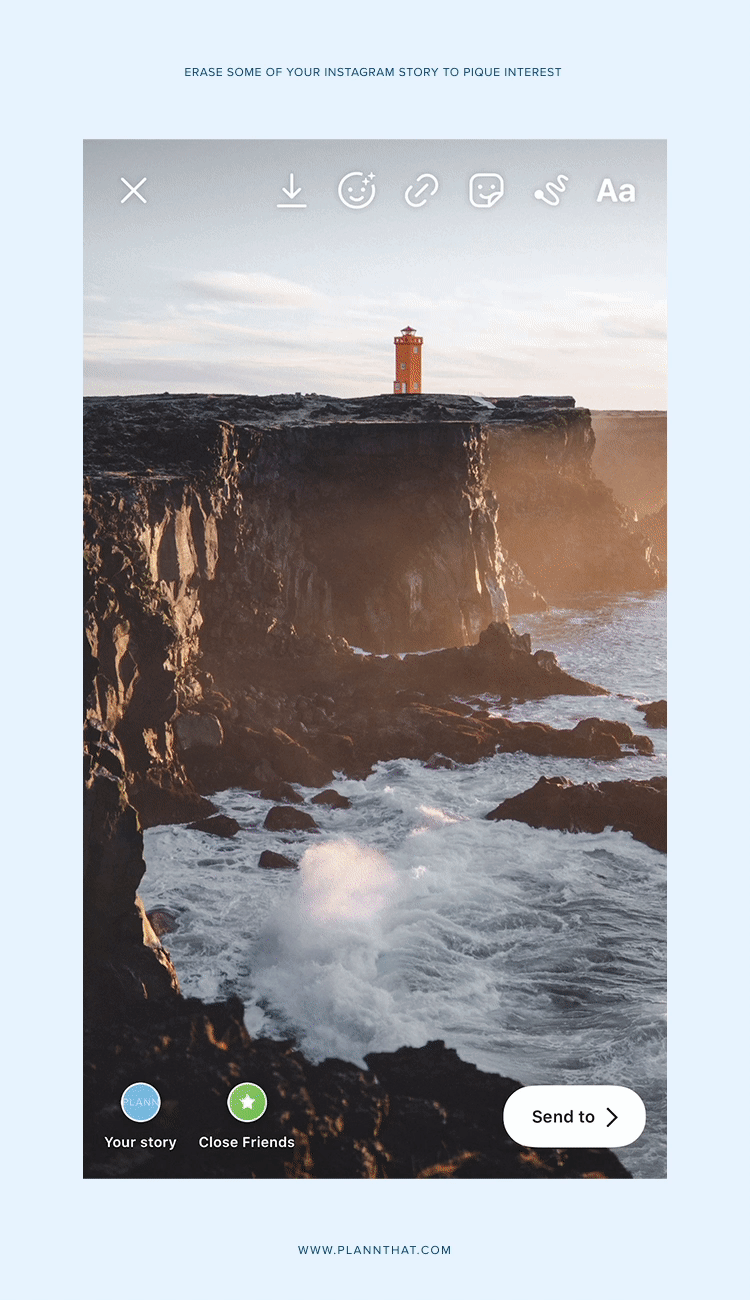 Wanna know a cool way you can entice your followers to keep watching your Instagram stories? Upload a pic to your Instagram stories, tap the pen icon and select a color. Then, tap a hold for a few seconds until the entire screen is filled with color. Then, select the erase tool and carve out a little peekaboo window so the viewer can see some of your photo, but not all of it. In a text box, you can encourage them to keep swiping to see what you've got in store. Ooh, so mysterious!
7. Make your bio search-friendly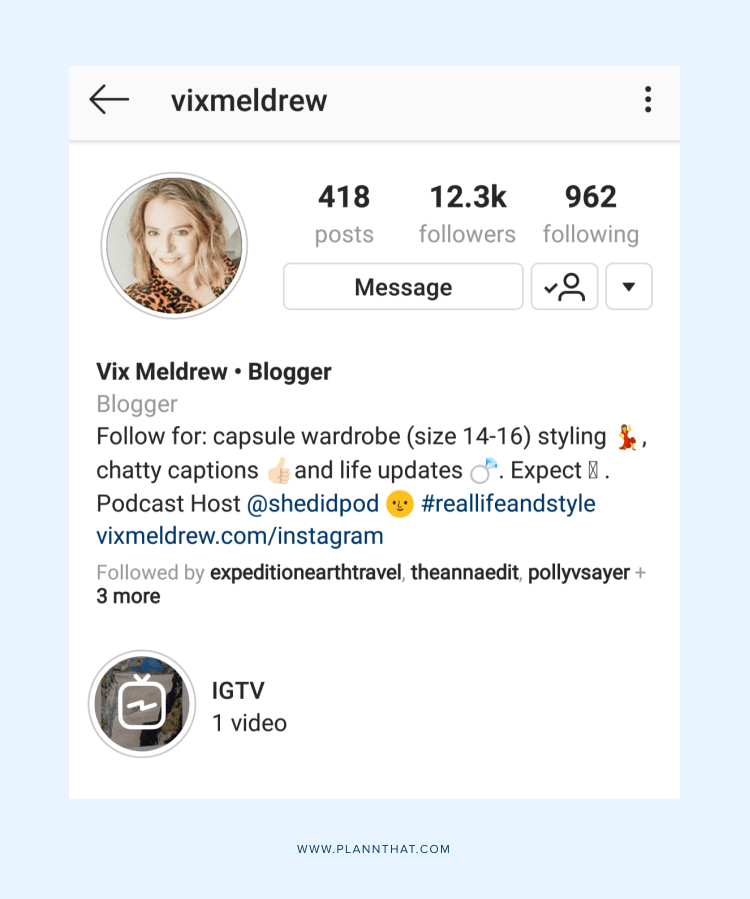 Did you know that the 'name' section in your Instagram bio can actually be powerful tool to increase your reach? That's the little one liner-that sits at the top of your Instagram profile right under the logo. Turns out, it's actually searchable, so if you optimise it the right way (for example, if you're an ethical fashion blogger, you could have 'your name – fashion blogger) to help get your account found by new followers who are interested in that topic. Cool, right!?
8. Change the alignment of your bio
Ever seen those accounts that have those quirky, off-centre Instagram bios and wondered how the heck they did it? It's actually pretty simple! Log into your Instagram account on your computer (it's less fiddly) and edit your bio. Copy the space between the arrows below — not the arrows themselves:
>>⠀⠀⠀⠀⠀⠀⠀⠀⠀<<
Then paste the spaces you copied above before each line of text. Add or delete spaces to align further right or left. Voila, you've got yourself an Instagram bio that's sure to stand out against the pack!
9. Add feed posts easily to your stories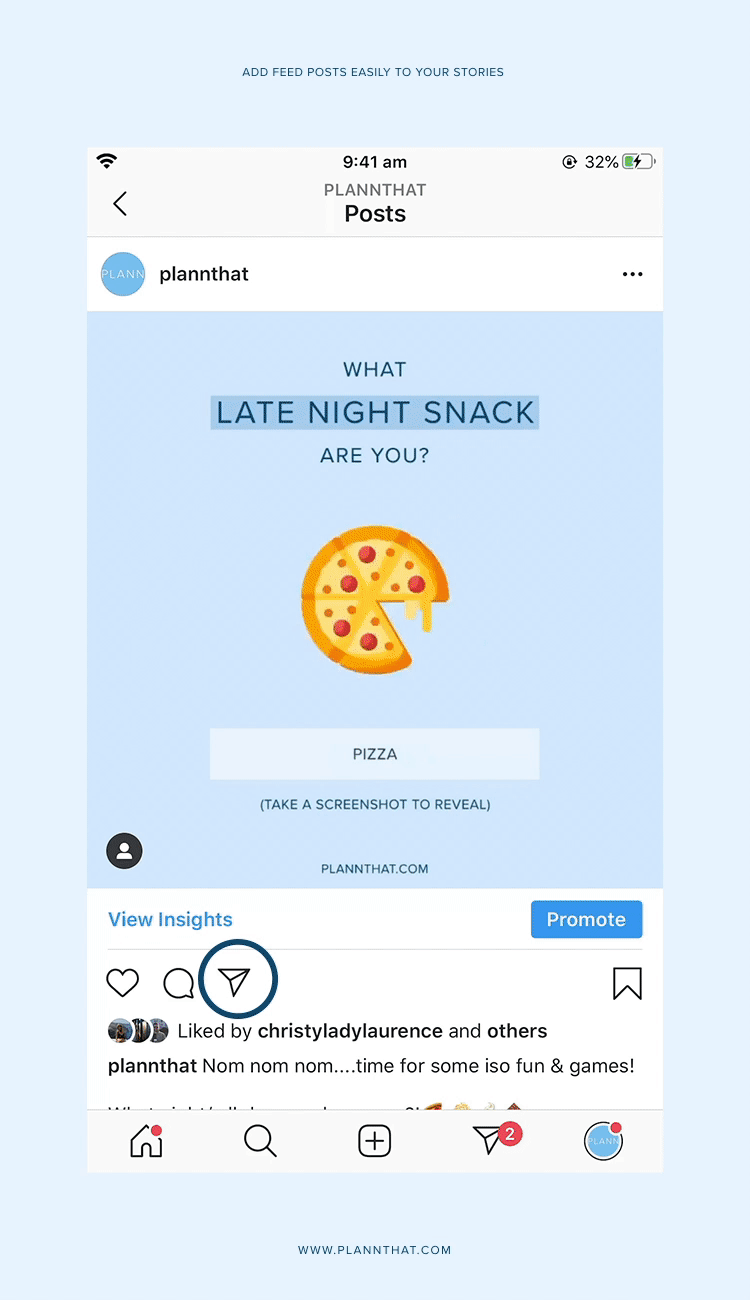 There's a good chance you already know how to do this one, but if not — prepare to wonder how you ever lived without it! You can very easily share either your own Instagram feed posts or other people's to your Instagram stories just by clicking the little arrow button as if you were going to forward the post to someone else, and then select 'add post to your story'. Then, you can tap on the photo to change the layout. It's a super handy tool for re-posting user-generated content, and for broadening the reach of your feed posts.
10. Monitor your Instagram mentions
At Plann, we've created our own easy way to monitor your Instagram mentions. In our 'reply' tool, you can see posts you've been tagged in and easily respond to them.
Not on Plann yet? Start your free, 7-day trial today!