Instagram is more than a casual image-sharing platform.
It's an undeniable marketing tool.
A chance for you to define your brand identity, attract your dream audience, and curate an aesthetic Instagram feed that generates sales on autopilot.
With features like Shoppable Posts, it's more important than ever to treat your page like an e-commerce store that captures your brand's unique identity and positioning.
Posting an image of your product against a white background won't cut it.
You need to visually demonstrate your brand personality, capture attention, and show your audience what your product will look like in their lives.
To help you out, we've compiled a list of five brands nailing their Instagram aesthetic and what you can learn from each one.
1. Bohindie Stream
Bohindie Stream is a celestial-inspired jewellery brand from the United States. Its founder, Briana Ali, made the first collection from her dorm room in college and has since expanded to her designs sold in countless stores worldwide.
Part of the brand's success lies in its Instagram strategy and curating a brand aesthetic that attracts Bohindie's bohemian-loving customers.
Whether it's close-up shots of the product or lifestyle imagery, there are always common threads that tie Bohindie's content together:
• Romantic
• Feminine
• Golden tones
• Muted color palette
• Use of crystals
This all comes together to curate an Instagram feed and a signature brand personality that sells the product.
Action Step: How can you visually display your brand identity? What key elements can you rinse and repeat that will tell your story and appeal to your target audience?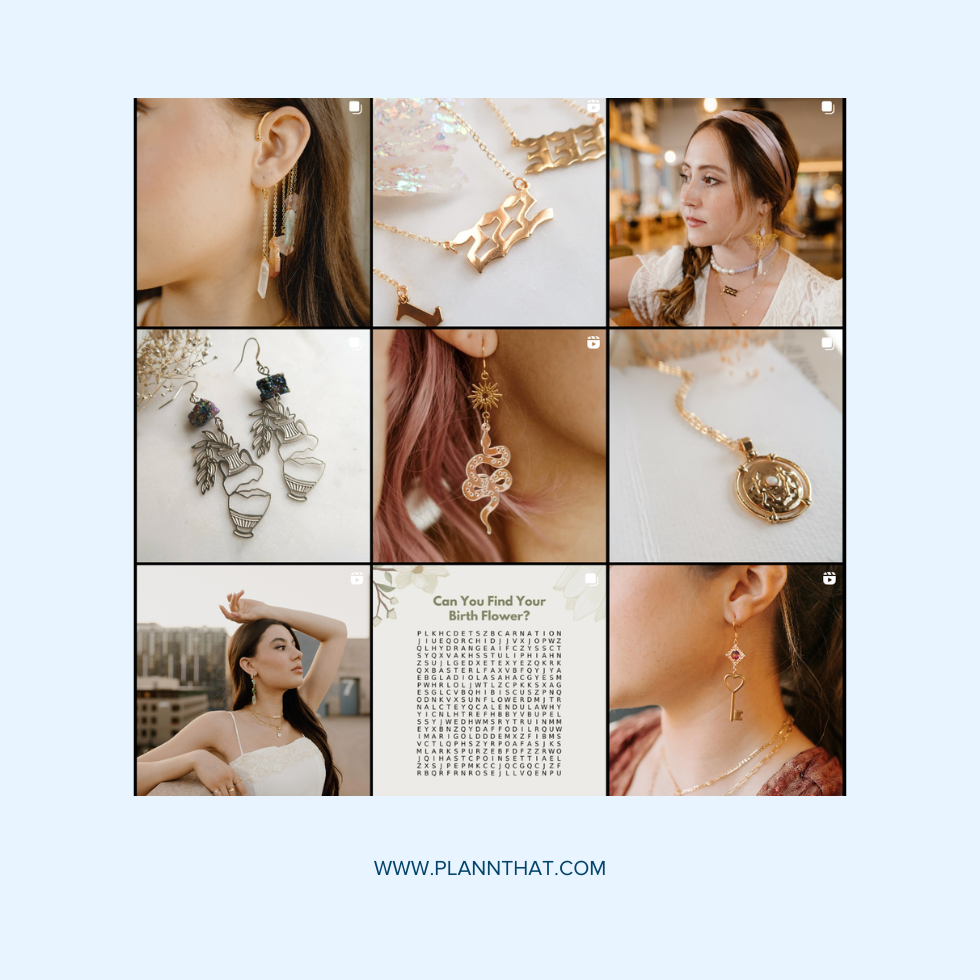 2. Tala
Tala is a sustainable activewear and active-inspired brand by Forbes 30 Under 30 Grace Beverley. Its mission is to disrupt the fast fashion industry by supplying eco-friendly alternatives that deliver on performance, fit, quality, and style.
One of the brand's cornerstones is creating stylish pieces to wear at the gym, the airport, or on a coffee date with the girls.
This is reflected in the brand's Instagram content and neutral color palette. Scroll through their feed, and you'll see plenty of inspiration for styling Tala pieces, from flat lays to user-generated content or "how to style" Reels. Each image or video is based around a look that emotes an elegantly casual vibe that is also minimalist and effortless.
As Tala is an online-only e-commerce brand, curating an enviable, cohesive Instagram aesthetic has a ripple effect on its bottom line. It helps the user imagine what each item would like in their wardrobe and how it can seamlessly fit into their day-to-day life.
Action Step: What's the vibe of your brand? How can you use your Instagram photos and Reels to sell the lifestyle of your product or service?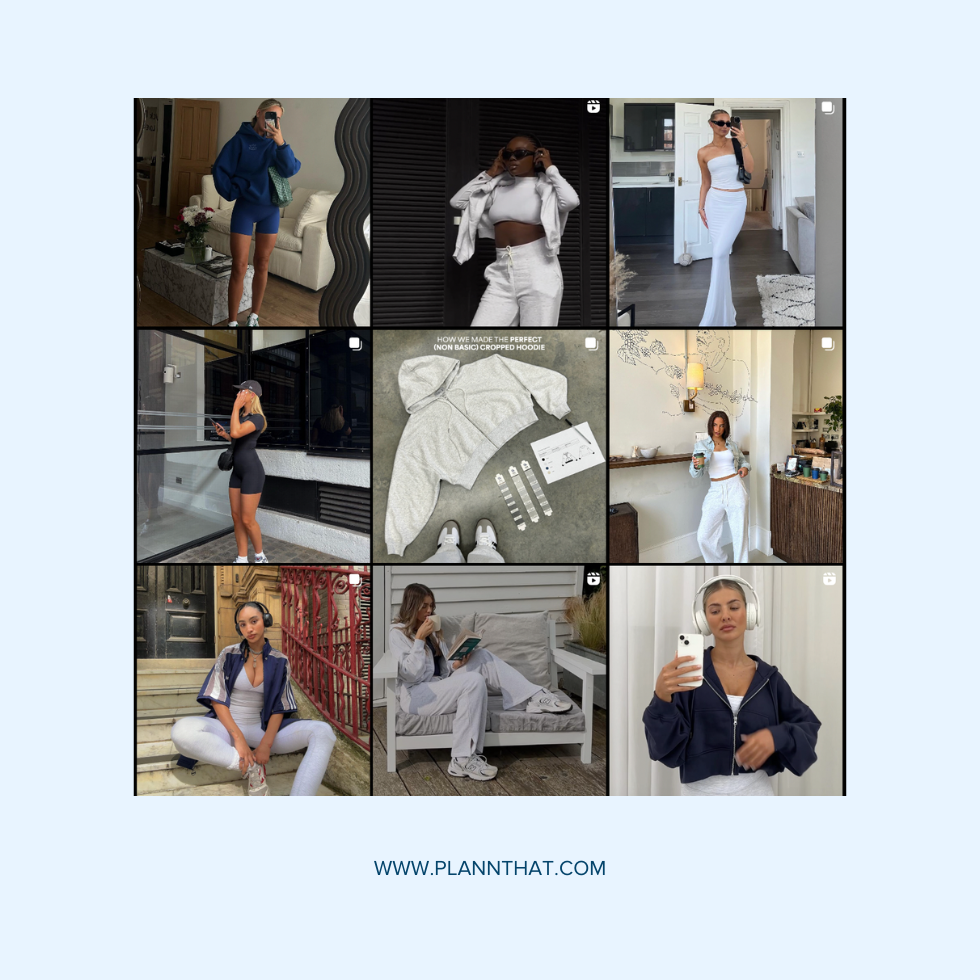 3. La Bruyere Farm
La Bruyere Farm is an Instagram aesthetic success story. After its unique dome cabin went viral on the app a few years ago, finding an available booking is nearly impossible, making it one of the most in-demand Airbnbs in South Africa.
But what made this destination become such a romantic getaway hot spot?
Beautiful, high-quality photos that create an emotional reaction.
Scroll through La Bruyere's Instagram page, and you'll mainly find Golden Hour snaps when the property looks its best.
Why this time of day?
Golden Hour adds a romantic, dream-like quality to images. For an Airbnb selling to couples, those are the kinds of emotions you want your brand aesthetics to evoke.
Action Step: Think about the time of day when you're creating content for your brand. Golden hour, blue hour, and twilight hour will affect the hues in your photos and the mood it creates.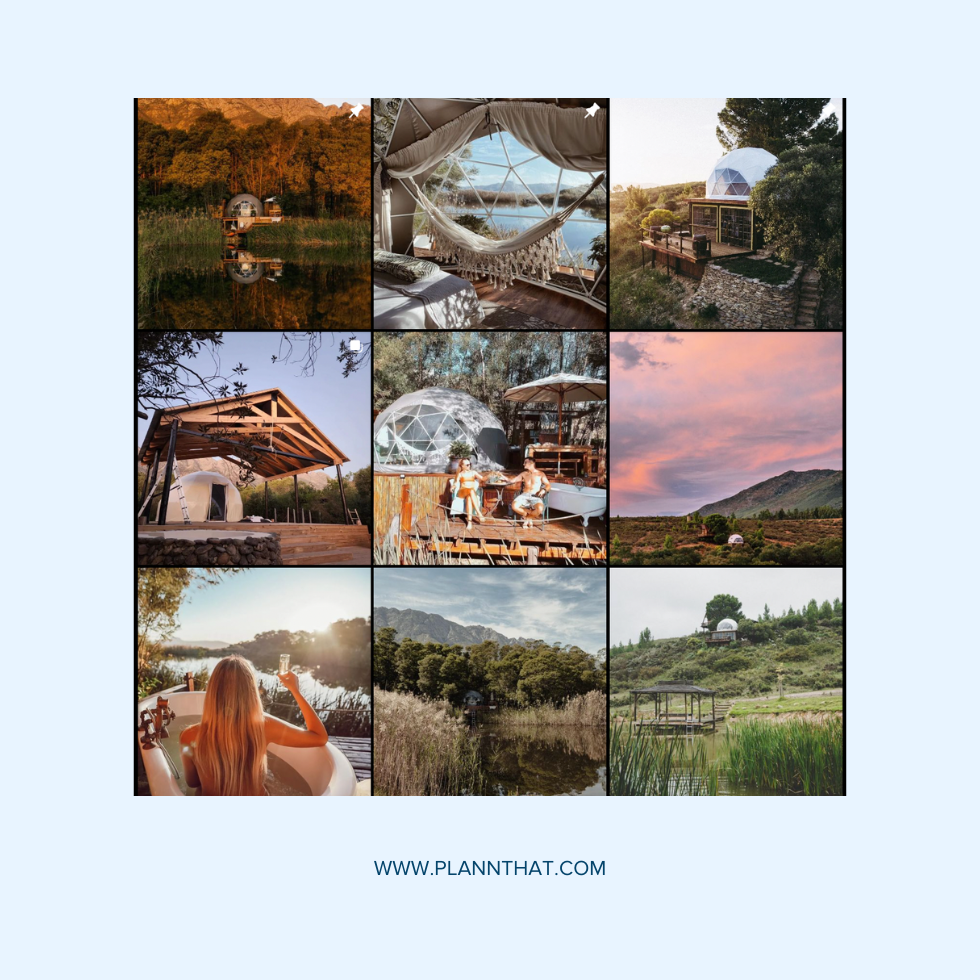 4. CoStar Astrology
A lot of the examples you see on Instagram aesthetic posts are usually heavily lifestyle-focused, like food, fitness, clothes, or jewellery.
But what if you're an app or service provider that doesn't fit into one of those boxes? Can you still create an aesthetic Instagram feed?
Yes, you can!
Take a page out of Co-Star's book.
The astrology app uses artificial intelligence to generate your astrological birth chart, provides daily horoscopes, and lets you compare your chart to your friends.
How does that translate to a unique Instagram aesthetic?
1. Co-Star sticks to its strict brand color palette of black and white.
2. Its daily Instagram posts are text-based memes making playful jabs at star sign stereotypes.
The result? Co-Star doesn't need to invest much time into its content creation. The strategy reinforces the brand's identity, and the structure of the posts increases their virality.
Action Step: Will cohesive templates work for your Instagram page? If you're a text-heavy brand like Co-Star, how can you infuse your brand personality into the posts and make the content shareable?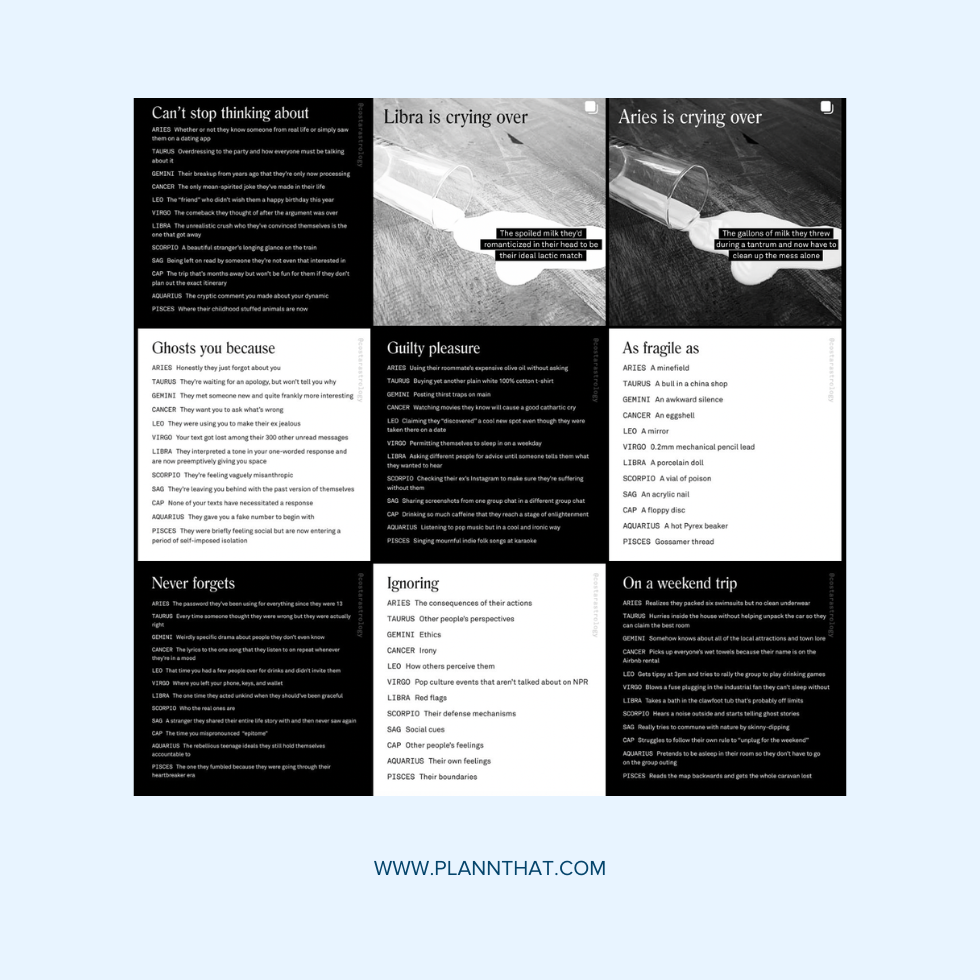 5. The Beach Bums
Are you a fan of the salt, sun and sand? The Beach Bums is the lifestyle brand for you.
Based in Cape Town, South Africa, the luxury beach accessories brand is all about instilling a sense of chill vibes into its customers' lives.
Sticking to a hazy, sundrenched color scheme (think muted greens, faded blacks, and warm undertones) and minimalistic images highlighting the best parts of the summer season:
• Sandy beaches
• Beautiful weather
• Gorgeous natural scenery
What's great about their brand's Instagram aesthetics is it shows you don't need to rely on having people in your lifestyle imagery.
Most of the pictures feature the products in beautiful places, and that's enough to tell a compelling story. It's showing, not telling users, why the product is great and is a must-have for the beach-day-all-day-everyday summer season.
Action Step: Get creative with your product placement, and use your brand colors to tell a captivating story.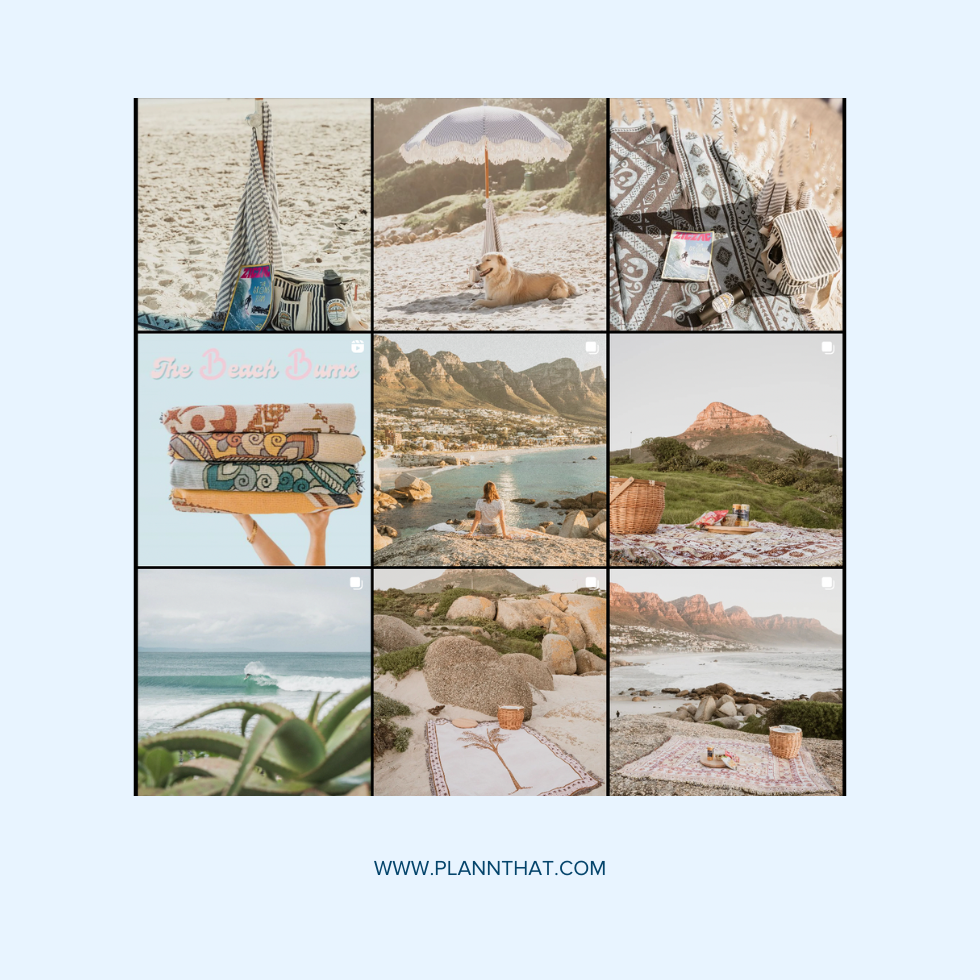 Curate Your Instagram Aesthetic with Plann
Each of these five brands are excellent examples of the small things you can do to take the aesthetic of your Instagram account to the next level.
It's not enough to post pretty pictures to grow your brand. You want to use visual storytelling techniques that support your brand identity, build a loyal social media following, and help you sell more products.
Ready to give your Instagram feed a makeover? From mapping out your strategy, and designing your graphics to repurposing your content, you'll find everything you need inside Plann.
Go on, and redeem your 7-day free trial of Plann Plus. If you don't like it, keep using Plann for free!