Whether you're participating in our 9 Days Reels Challenge, have never made a Reel before but want to start, or have tried previously with less-than-stellar results… you likely have the same question on your mind 'How the heck am I meant to make this whole Reels thing work for my business?' 
After all, Instagram's short-form video feature is incredibly trend-based, and what performs well on there changes at the speed of light. And sure, it's easy to do a cute dance to a trending song if you're an influencer and that's your thing… But, how are you meant to tie that into the product or service you sell without feeling like you're just being silly for the sake of being silly?
The good news is, Instagram Reels are not just for people who are too young to know that Lenny Kravitz isn't just 'Zoe Kravitz dad' Nor is it only for influencers or content creators! Reels are a bonafide business tool, and one that has the capacity to turbocharge your reach and get your offering in front of the exact people who need to see it. 
So, if you're ready to throw in your Reel and see which customers bite, read on for 5 of the best ways to use this content form in your marketing strategy as a business.
1. Show off your product or service in action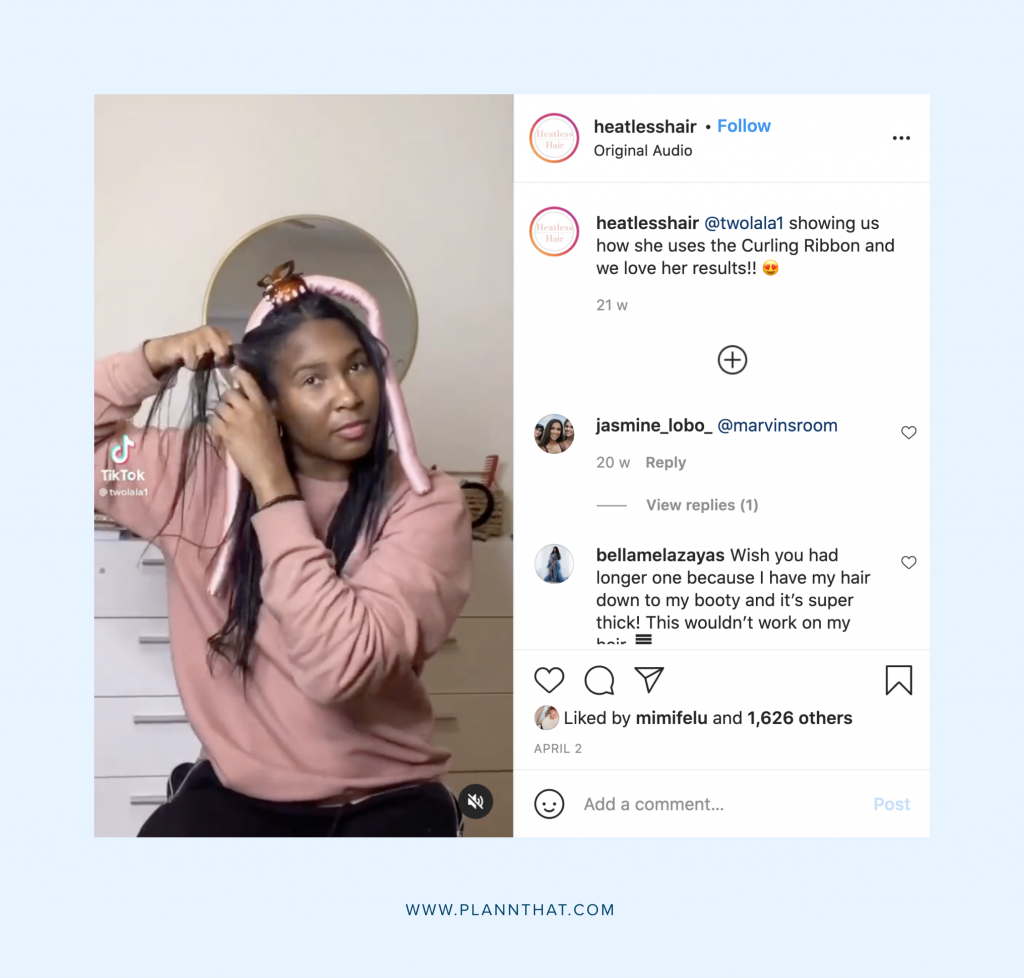 In a world where we're all constantly bombarded with thousands of ads per day, the unfortunate reality is people get sick of being told about how amazing your product or service is. What's far more effective is to show them how your offering will solve their problem… and Reels are absolutely perfect for this.
Perhaps you have some user-generated content (videos that customers have made of your product that show your product in action) that you could turn into Reels. Don't have any? Consider gifting your product to some micro influencers in your niche, in return for them creating Reels. Video testimonials work perfectly for Reels too. 
If you have the time or budget for content creation, you could consider making some stop motion videos of your product or service in action, as these make attention-grabbing Reels.
One brand that has nailed the art to use Reels to show not tell is Heatless Hair. They often make bite-sized videos showing off the results of their hair curling ribbons. They rarely have to actively talk about why their product is so amazing, as the results (and rave reviews from customers) do the talking for them. This strategy resulted in them going viral on TikTok and selling out their product within hours.
2. Speak directly to your target audience

One of the best things about Reels is that they have a knack for finding the exact right person who needs to see them (what can we say, the algorithm works hard!) 
One excellent Reels strategy is to call out the exact person your video is for, and tell them what you think they need to hear. Say, for example, you make haircare products for girls with knotty hair. You could start your video for 'This is for all the girls out there whose hair seems to knot up, no matter what they do.' This will make the viewer stand up and think 'Ooh, this video is for me — I'd better pay attention.' 
Then, provide them with a solution to their problem! These types of Reels work best if you pretend you're talking to a friend, as it gives it a more intimate feel that builds connection, without them feeling like they're being sold to. Then, once you've built that connection, you can position your product as the solution.
Don't forget to also use hashtags and key phrases in your caption that are tailored to your audience, to give the algorithm a little helping hand in showing your content to the right people.
3. Show the person behind the brand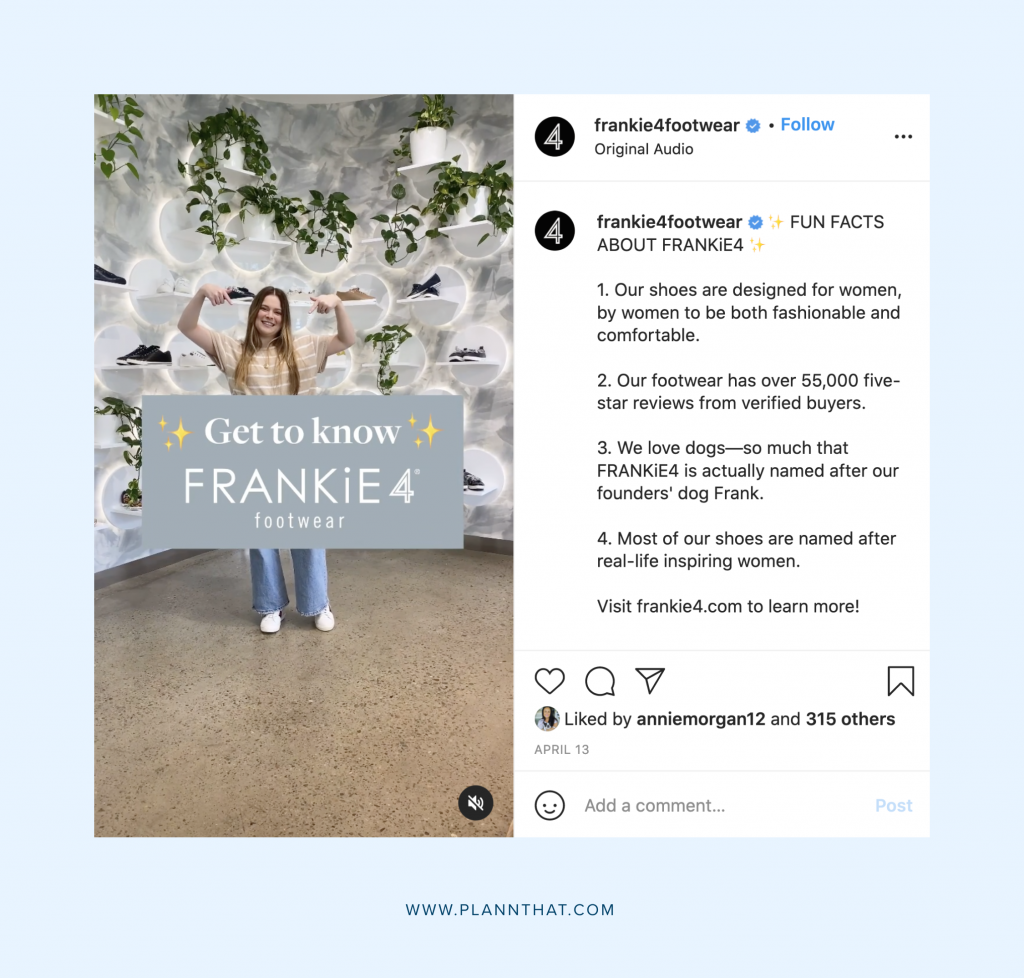 We've said it once, we've said it a billion times (if not more!) People fall in love with the person behind the brand… so, give them a chance to! Tell them a story from your life, whether it's a personal struggle you've dealt with, or the journey of starting your business. People love to hear the journey from where you started 
One easy way to do this is to share a series of photos, then record a voiceover on top!  You can do this by recording your video or adding your images, then pressing and holding the microphone button as you speak. Another great way to give your followers a glimpse into your journey is with the 'where it started, and how's it going' trend. You can use this to show how your business has changed from the early days to now, or even how you've pivoted during COVID-19.
4. Answer FAQS (and address objections)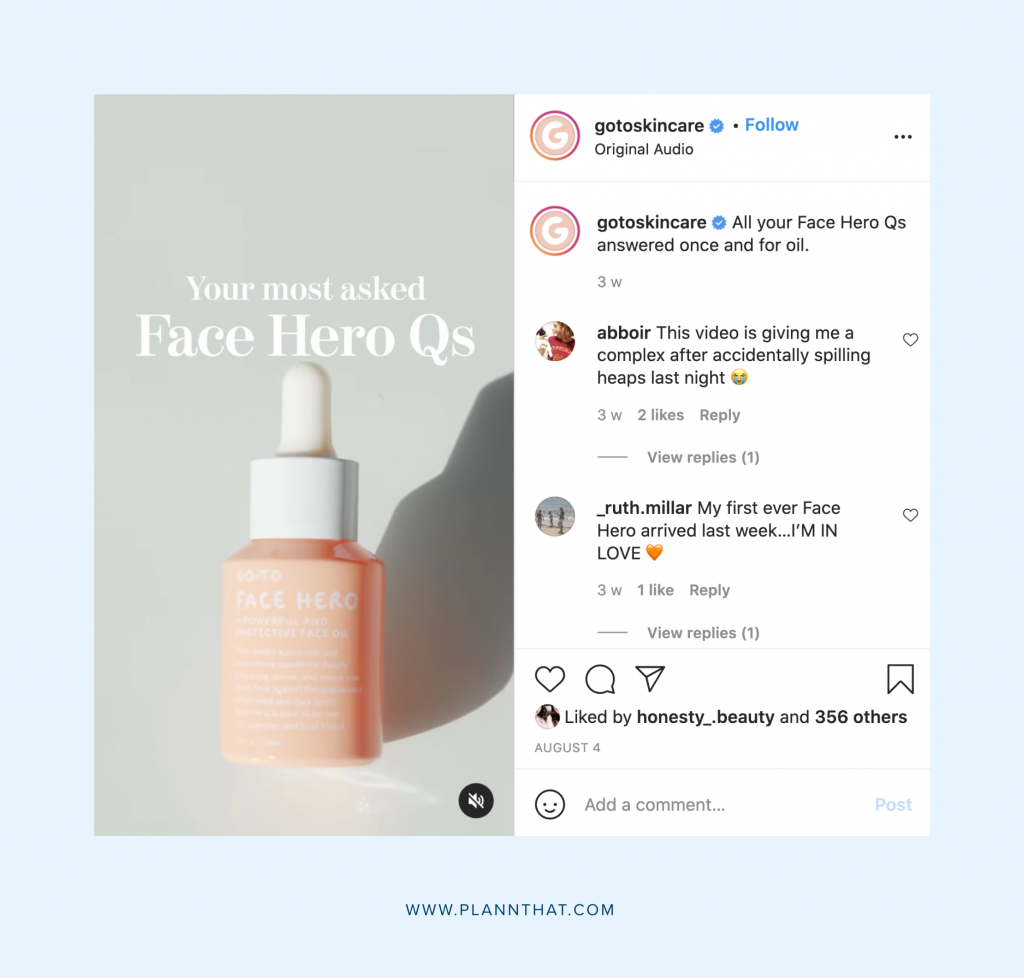 The purpose of an FAQ page on your website is to proactively address the customer objections that prevent them from buying your product — before your audience actually has a chance to ask them! But did you know that you can use Reels to achieve the same purpose, in a far more engaging way?
FAQ videos are a  popular Reels idea for businesses, because they're quick, easy and effective. Simply think of some questions you're often asked about your product or service, and pop on camera and answer them! You can do this in a simple, face-to-camera video… but if you want to make it more entertaining, trending sounds like the 'Magic Bomb' dance, or the 'Yes, No' song are a great soundtrack for your FAQ Reel.
5. Share thought leadership tips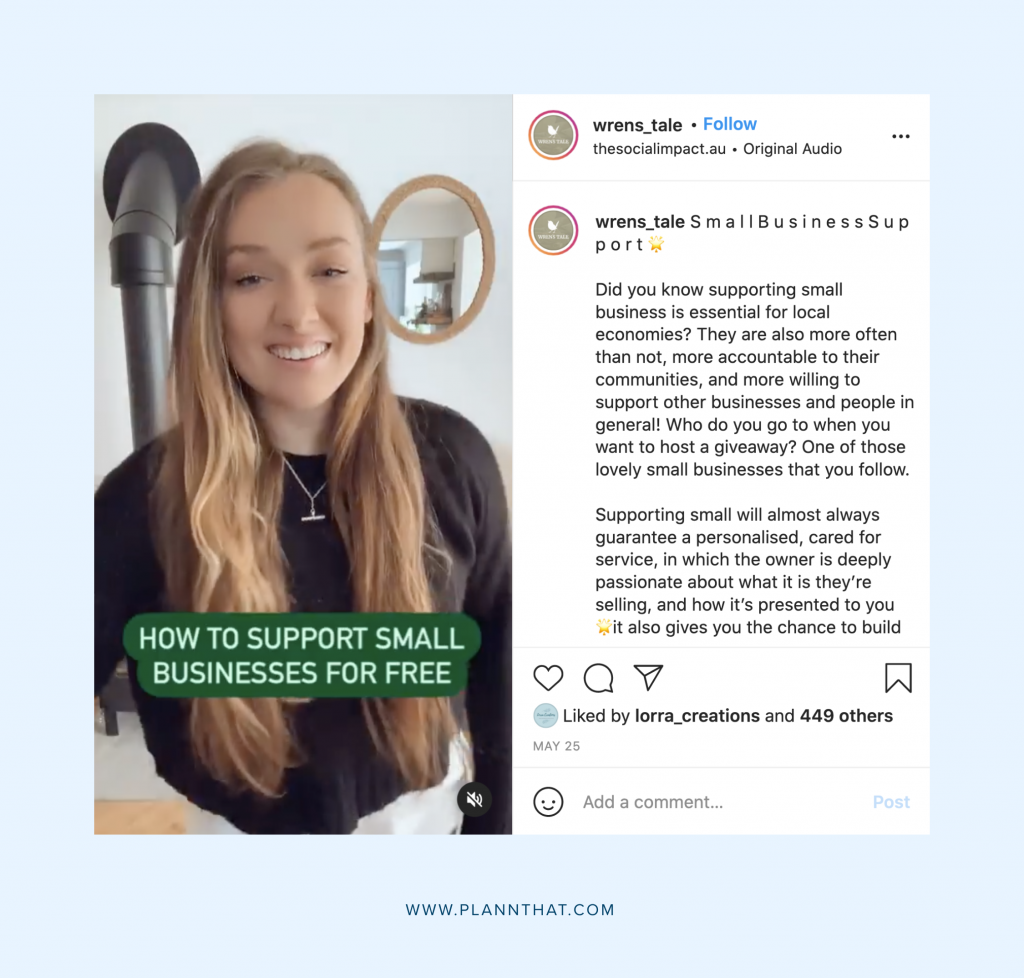 What's the number one rule of selling? Always serve, serve, serve, before you sell! It's important to warm your audience up by providing them value before you whip out your sales pitch. Providing actionable tips is one of the best ways to do this. After all, who doesn't love tips!? 
You can give your audience a quick win by giving them just one hack that quickly solves a problem for them, or you can provide a series of tips on one topic (almost like a carousel in video form)  There are so many great sounds on Reels that make for a great soundtrack for tips videos — think, anything that has a rhythmic beat that you can use as a prompt to make the words appear on the screen.
Oh, and don't think that just because you're not a 'personal brand' that this strategy won't work for you. Sharing valuable tips can be a great way for traditional businesses to show they care about their audience beyond just taking their money. Just take Wren's Tale, for example. This online homeware store quickly climbed to 10,000 followers by creating helpful Reels for small businesses that weren't even directly tied to their product.
Reeling to have a crack at short-form video as part of your marketing strategy? It's not too late to join in on our Reels Challenge, and stay accountable to post 9 days in a row! We've even given you all the content ideas for each day of the challenge, so all you need to do is show up, film and posy!
Level up your Instagram posting strategy with Plann 
Start planning, scheduling and auto-posting with Plann. Go on, redeem your 7-day free trial of Plann Plus. If you don't like it, keep using Plann for free!