Looking for Instagram Reels strategies to turn your videos into viral masterpieces?
You're in the right place!
Reels are the best way to grow your Instagram account and snag a spot on the covered Explore Page.
Once you do, your view and follower count skyrockets, making it easy to hit the 5-figure following milestone and attract your niche to your account.
Ready to Reel yourself onto the Instagram Explore Page? Here are some of the best ways to increase your Instagram Reels views count.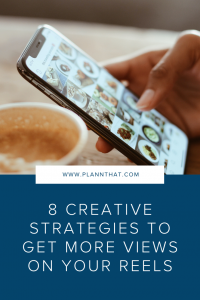 8 Creative Instagram Reels Strategies
Besides creating engaging content, posting consistently, and sharing your Reels to your Stories, here are some other strategies you can use.
Use Trending Sounds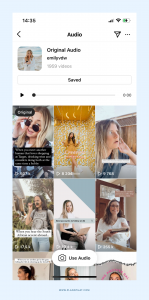 Want to go viral on Instagram Reels? Hop onto those trending sounds.
When lots of users interact with a particular sound, the Instagram algorithm takes note and adds more of the same videos to their feed.
This boosts your chances of gaining more views and potentially a couple of new followers.
Not sure what's trending? Check out how many people have used a sound and how many views it's getting by tapping on it at the bottom of any Reel.
Put Your Niche Twist on Trends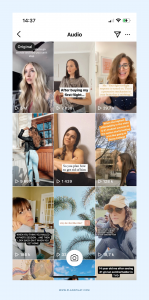 Speaking of trends, don't create the exact same Reel as someone else.
One of the best Instagram Reel strategies to increase your views is to put a niche twist onto a Reel.
For example, there is a popular sound that started in the fitness niche which says, "Is this friends? Are we friends? Oh, you're about to be my friend."
So what happens if you're not a fitness influencer? Think about how you can relate this sound to your niche. 
For example, if you're in travel, you could use it for what it's like when you hear your accent while abroad.
By relating trends back to what you do and how you serve your audience, it helps you think out of the box, stay on brand, and still have fun on Reels.
Think of Your Hashtags as SEO for Your Reels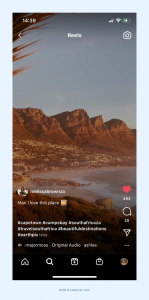 With no Instagram Reels insights (yet), hashtags are a powerful way to get Instagram Reels views and help the algorithm understand your content.
Think of it like SEO (search engine optimisation). The algorithm will look at the hashtags you are using, analyse it, and serve your video to the relevant audience.
For example, using hashtags like #southafricatravel and #wowsouthafrica tells Instagram your post is about South Africa and would serve the content to users based in the country.
Tip: Don't use broad and generic hashtags. Stick to hyper-relevant hashtags.
Remember Your Captions SEO, Too
Instagram recently rolled out keyword search in a few countries, meaning the app is taking its first steps to become a robust search engine. 
Your captions are full of keywords, so when you're Plann'ing your content, be intentional about the words you're using and linking them back to your niche.
For example, if you're a food account that tracks down delicious bagels worldwide, you'll want to make sure you're using keywords related to that in your captions to start building the right topic associations with your account.
What does this mean for your Reels view count?
The better the algorithm can recommend content to the right people, the more views you'll get.
Use The Remix Feature
You know what Instagram LOVES?
When you use its new features.
Remix is the latest Reels feature for the app to roll out, and it's an easy way to grow your following and Instagram Reels view count.
How does Remix work?
It's essentially a dupe of TikTok's duet feature. 
You can record a video response to an existing Reel. It's a great way to collaborate with your creators and flex your creative muscles.
When should you use the Remix feature?
It's totally up to you, but Remix is a good format for reactions, dance collaborations, and challenges.
Add Subtitles to Increase Your Instagram Reels View Count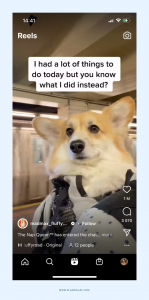 85% of video on Facebook is watched with no sound. 
Zero. 
Zip.
If so many people have their sound off, how do you get your message across and capture their attention?
With subtitles.
It will help you reach more users, which means more views on your Reels, and it makes content accessible for people with hearing difficulties.
Plus, when you have text on your screen, it forces people to read, increasing your retention rate.
For example, if you're giving tips about managing your time as a busy creative, some people may need to rewatch to take in all the information.
Use Multiple Cuts and Seamlessly Loop Your Reels
Okay, Plann'rs. Here's a secret hack for you, so take note! Reels views hack is something not enough people are using in their content.
The trick to hooking your viewers and getting them to watch your entire video is by using multiple cuts.
How many cuts should you use?
Cut your footage every two to three seconds.
You can use a cut to:
• Change the camera angle
• Introduce a new scene
• Add a pre-recorded clip
• Add in a transition
It will make your Reel more interesting to look at, which equals a higher retention rate and viewer count!
Tip: If you want to 'trick' your viewers into re-watching your Reel, try to edit your footage so it seamlessly repeats. Viewers won't know the video has ended and will keep watching until they realise they've seen the entire clip.
Kickstart Your Engagement
Besides retention rate, hashtags, and trending music, there are three other factors the Instagram algorithm takes into count: Comments, likes, and saves.
These three things build your engagement metric and tell the algorithm how much your audience enjoys your content.
How can you get the ball rolling?
By kickstarting your engagement.
After posting your Reel, leave a comment with a question to get people to engage.
When writing your caption, always include a call-to-action. Tell your audience to double tap, comment, or save your Reel.
Lastly, tease your Reel in your Stories. Share it and write text which entices people to view the entire post.
For example, if you're a business coach and your Reel is about something you disagree with in your industry, you can write text like: "Read the caption to see why I believe this is false and what you should do instead."
Start Plann'ing Your Reels
The best way to grow your Instagram account in 2021 is with Instagram Reels. 
Follow these tips for exploding your Instagram Reels view count, and you'll become a force in your niche, reach new audiences, and quickly monetise your influence.
Sign up with Plann today and start Plann'ing your Instagram content.