The festive season is one of the happiest times of the year!
You've got to:
Find a delicious Thanksgiving turkey stuffing recipe
Research your end of year holiday destination
Wrap a never-ending pile of presents
Play peacekeeper with the family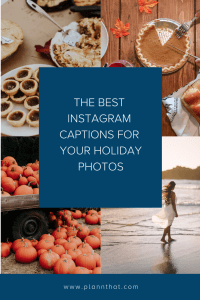 With so much on your plate, the last thing you want is to spend hours agonizing over the perfect caption for your Thanksgiving, Christmas, Holiday and Travel pictures.
To help you sleigh the festive season and keep writer's block at bay, save this handy list of the best Instagram captions for your holiday photos!
Beach Holiday Captions

Funny Beach Holiday Captions for Instagram
Girls just wanna have sun
How to get a beach body: Take your body to the beach 👙
All I needed was a little Vitamin Sea. 🌊
I'm a better person when I'm tan
Find me under the palms 🌴
Hair up. Sunnies on. World off.
Life is better in flip flops
Beach Quotes for Instagram Captions
"Because there's nothing more beautiful than the way the ocean refuses to stop kissing the shoreline, no matter how many times it's sent away." – Sarah Kay
"She loves the serene brutality of the ocean, loves the electric power she felt with each breath of wet, briny air." – Holly Black
"I could never stay long enough on the shore; the tang of the untainted, fresh, and free sea air was like a cool, quieting thought." – Helen Keller
"To go out with the setting sun on an empty beach is to truly embrace your solitude." – Jeanne Moreau
"The cure for anything is saltwater: sweat, tears, or the sea." – Isak Dinesen
"You are not a drop in the ocean. You are the entire ocean in a drop." — Rumi
"Every time I slip into the ocean, it's like going home." — Sylvia Earle
"Live in the sunshine. Swim in the sea. Drink in the wild air." — Ralph Waldo Emerson
"The sea, once it casts its spell, holds one in its net of wonder forever."– Jacques Cousteau
"If there's a heaven for me, I'm sure it has a beach attached to it." — Jimmy Buffett
Festive Season Captions

Witty Festive Captions
Ready to sleigh the holidays
Gonna go lay under the tree to remind my family that I'm a gift
Dear Santa, just leave your credit card under the tree
From the window to the hall 'til Santa decks these halls
My jeans keep telling me: "No more Christmas cookies", but my leggings are like: "We got you boo!"
The tree isn't the only thing getting lit this year
But first, let me take an elfie
Don't get your tinsel in a tangle
Cute Festive Captions
'Tis the season to sparkle!
Tell me what you want, what you really really want – Santa
What happens under the mistletoe, stays under the mistletoe.
May your days be merry and bright
We're just like a bunch of candy canes: sweet and slightly twisted
I'm only a morning person on December 25th
Today's to-do list: snuggle up by the tree with a mug of hot cocoa
Jolly Festive Captions
I'm dreaming of a white Christmas
It's the most wonderful time of the year
Eat, travel, and be merry.
It's starting to feel a lot like Christmas
Oh, Christmas isn't just a day, it's a frame of mind.
Christmas isn't a season. It's a feeling.
I'll be ho-ho-home for Christmas

Festive Captions Inspired by Movies
"Christmas isn't just a day, it's a frame of mind." —Miracle on 34th Street
"The best way to spread Christmas cheer is singing loud for all to hear." —Elf
"What if Christmas, he thought, doesn't come from a store. What if Christmas, perhaps, means a little bit more?" —How the Grinch Stole Christmas
"Merry Christmas, ya filthy animal." —Home Alone 2: Lost in New York
"Just remember, the true spirit of Christmas lies in your heart."

—The Polar Express
"If you look for it, I've got a sneaky feeling you'll find that love actually is all around." – Love Actually
"It's not what's under the Christmas tree that matters but who's around it."

— Charlie Brown
"I don't think Christmas is necessarily about things. It's about being good to one another."

— Carrie Fisher
"I will honour Christmas in my heart and try to keep it all the year."

— Charles Dickens
"At Christmas, all roads lead home." – Marjorie Holmes
"The best of all gifts around any Christmas tree: the presence of a happy family all wrapped up in each other." —Burton Hills
"Christmas is like candy; it slowly melts in your mouth sweetening every taste bud, making you wish it could last forever."

—Richelle E. Goodrich
"Christmas waves a magic wand over the world, and behold, everything is softer and more beautiful." —

Norman Vincent Peale
Thanksgiving Captions

Funny Thanksgiving Captions for Instagram
Thankful, blessed, and too full to be stressed
Let's give 'em pumpkin to talk about.
May your turkey be moist and may no one use that word to describe it
Happy Thanksgiving! Remember to set your scales back 10 pounds this weekend
The dad jokes are plucking hilarious today.
Because you know I'm all about that baste
Nobody puts gravy in a corner
They see me eating, they hatin'
Thankful, blessed, and mashed potato obsessed
Eat, drink, and be thankful
Casserollin' into dinner with my love.
Sentimental Thanksgiving Quotes for Instagram
Gratitude is the attitude
All good things come from gratitude
The secret to having it all is knowing you already do
Grateful for small things, big things and everything in between
Thanksgiving Quotes for Instagram Captions
"You can't have Thanksgiving without turkey. That's like Fourth of July without apple pie or Friday with no two pizzas." —

Friends
"It wouldn't be Thanksgiving without a little emotional scarring." —

Friends
"I come from a family where gravy is a beverage." — Erma Bombeck
"Do you know what I dream about when I dream about Thanksgiving, which is often? I dream about eating so much deliciousness that all the blood rushes to my stomach, and I pass out at the table. Please don't deny me that." — Seth Cohen
"Thanksgiving just gets me all warm and tingly and all kinds of the wonderful inside." — Willard Scott
Start Plann'ing your holiday photos
You've snapped a billion photos but not sure which ones will actually look good in your grid?
Sign up to Plann to drag and drop your posts (and stories) to see which ones look the best!