It may seem crazy to organise your Christmas marketing plan early, but as they say, the early bird gets the worm!
While you may just be the type to leave all the Christmas shopping to the week of, you've got to know that there are probably quite a few people who buy from you who like to be super duper organised and are already making their shopping lists as you read this blog.
Those early birds? They're already on the lookout for cool Christmas gift ideas and amazing Christmas marketing offers from their favorite brands.
There's a reason why the department stores get their Christmas sections set up in October… They know the secret about marketing and planning!
What is a marketing plan you ask? Keep on reading to learn our best tips for organising your Christmas plan early, trust us, this will save you a bunch load of time.
#WorthIt

1. It's Competitive
Christmas time can be really competitive for business owners of all sizes – everyone is trying to sell their limited edition, Christmas-specific stock and they're on a time crunch. Yay!
When it comes to selling your Christmas gift ideas, you'll be competing against the cool Christmas stock that the department stores, major shopping centres, online retailers and handmade stores have to offer.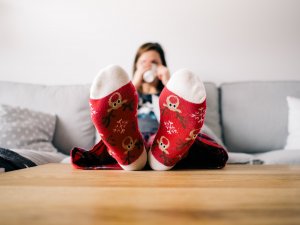 2. You're Probably Busy
Let's be real here – business owners like yourself usually have families to plan Christmas-day festivities for too!
You've got your own Christmas shopping list and recipes to master, so why stress yourself out even more by having to throw together some last-minute marketing stuff or by stress-spending your cash on Facebook ads?
3. Your Team Need Time
If you've got a wonderful team of in-person peeps or a virtual assistant who is your right-hand person, you've got to remember that they'll need some time to get up to speed on what your Christmas offers and gift ideas are.
Be kind to them and organise your Christmas marketing early!
4. Your Audience Are Planners
Even if you are the type to leave Christmas shopping to the last minute, your audience may not be. They might like to plan a couple of weeks or even a month in advance to save stress and manage their own cashflow.
By organising your Christmas marketing early, you'll be helping your audience, and they'll be even more likely to come back and check out what you're selling next Christmas too.
PSSST -> Here's some info on outsourcing your Instagram marketing!
5. Christmas Shipping Cut-Offs
Ooh, now this one is a HUGE factor for online stores! If a lot of your customers are overseas, you really need to make sure you plan your Christmas marketing early so that you can sell enough stock before your shipping cut-off dates.
Now, what the heck does that mean? Well, a shipping cut-off date is a date by which all of your international (and national) orders need to be sent out so that they arrive in time for the big day.
You can usually find out your shipping cut-off times from your chosen postal service.
Phew! Now that was a whole lot to go through, we know, but we're doing it for you!
At Plann we're all about making your life on Instagram as stress-free as possible, and for us, that comes down to having a plan in place.
You can use the Plann app to create a content strategy, research and choose hashtags, discover your best times to post on Instagram and more.