500 million people use Instagram Stories every day. That's a lot of potential to hook in your ideal client and turn them from casual lurker to raving fan.
So what's the key to creating inspirational stories on Instagram?
Storytelling.
It's the essential ingredient to marketing, and Instagram Stories is a powerful medium for telling deeper stories and connecting to your audience.
Below, you'll find eight accounts that are a gold mine for Instagram Story inspiration and using the platform to add value to their viewer's lives.
8 accounts to follow for Instagram Story inspiration
Stuck on what to post? Here are six incredible women who can teach you a thing or two about creating Instagram Stories your audience will love.
Seafolly is an Australian swimwear brand with half a million followers on Instagram.
Wowzers!
How does the brand use Instagram Stories to create hype around its collections? By showing the behind-the-scenes of photoshoots and giving viewers a sneak peek at upcoming collections.
This builds anticipation for the launch and creates a connection with the audience.
How to use this strategy for your Instagram Stories:
• Show what goes on in your business daily, e.g. brainstorming sessions or a team lunch
• Show your audience how you make your products or services
• Explain how you onboard new clients
• If you're a personal brand, share your to-do list and what goes on in your life behind the scenes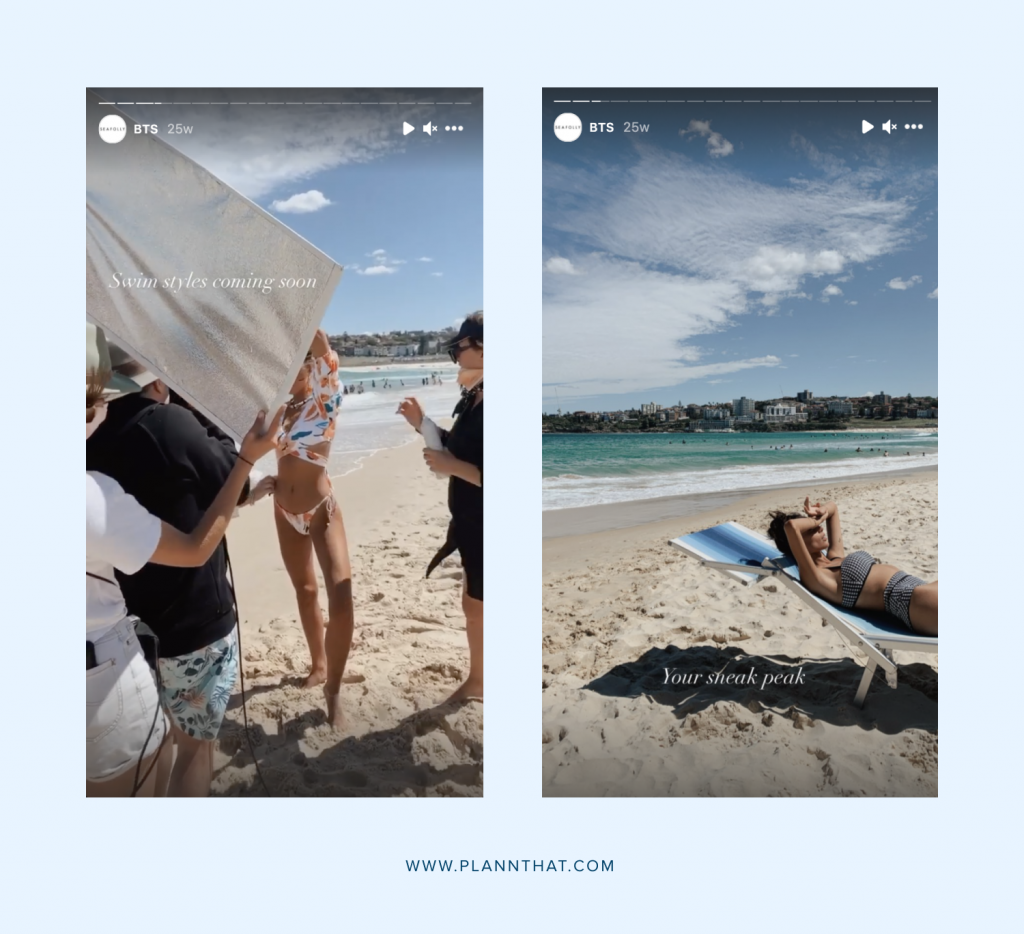 One of the best ways to use Instagram Stories to sell your products or services is this: Show your audience what it's like to work with you.
Jenna does an excellent job at this by sharing live coaching sessions she's hosting onto her Stories and encouraging people to sign up. She also has a highlight of her coaching sessions on her profile and shares testimonials from people who joined the event.
For people on the fence about signing up for one of her programs, it gives them a glimpse into her thought process and the value she provides to her audience.
How to use this strategy for your Instagram Stories:
• Film a Story answering a question in your DMs or something your clients ask you about all the time
• Create free webinars and invite your audience to join on Storie
• Promote yourself shamelessly by sharing every time you land a podcast interview or are asked to speak on a panel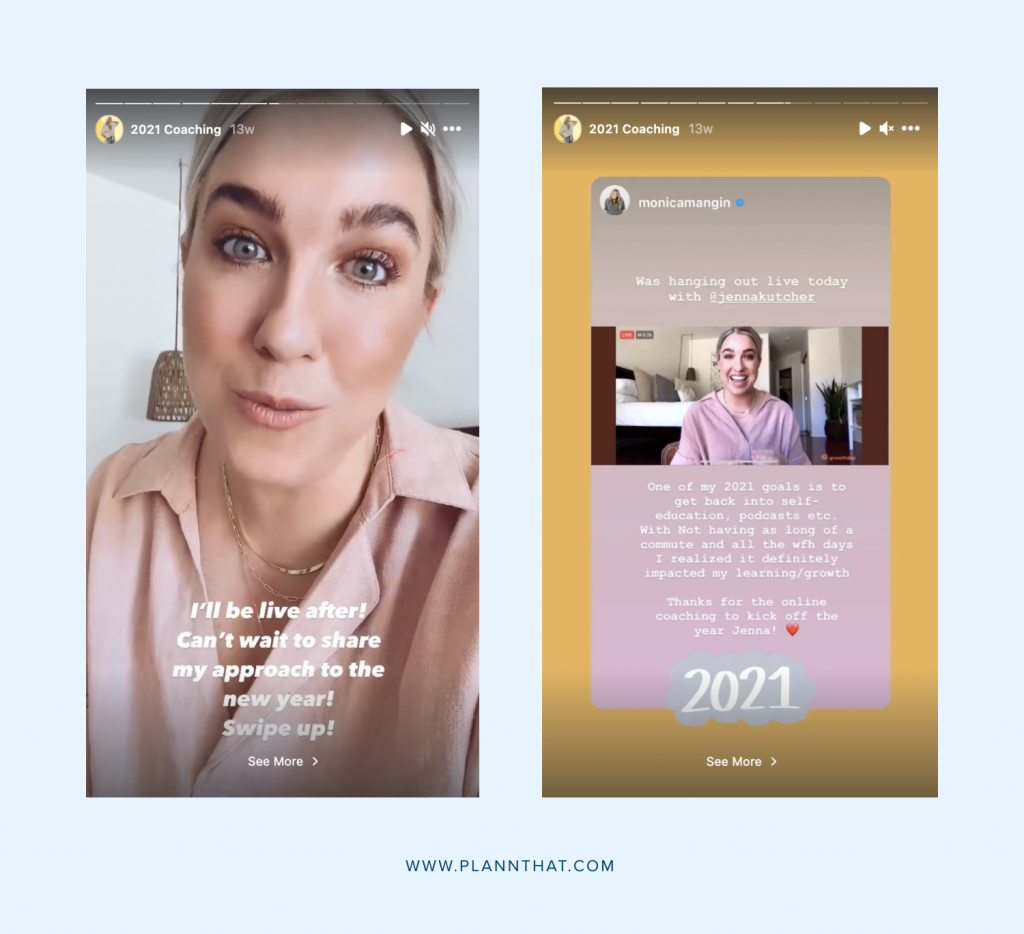 Christi Lukasiak is a whizz at helping her audience look amazing and put together outfits that scream "hire me!" and "I am fabulous, darling!".
Take a page out of her Instagram Stories inspiration handbook, and educate your audience. You don't need to wait for Reels or an Instagram Feed Post to drop some pearls of wisdom.
Case in point: Christi's "Zoom Tips" series. She shared how not to dress for a Zoom interview and how to put together an outfit that will help you land the job.
How to use this strategy for your Instagram Stories:
Brainstorm a list of quick wins you can share on your Stories. For example, if you're a travel blogger, you can share your favourite tool for finding cheap flights or create a travel hack series.
If you're a vegan chef, share a tutorial on whipping up a delicious smoothie or educating your audience about the misconceptions of a plant-based diet.
As long as you're educating your audience and not making it about yourself, you're on the money.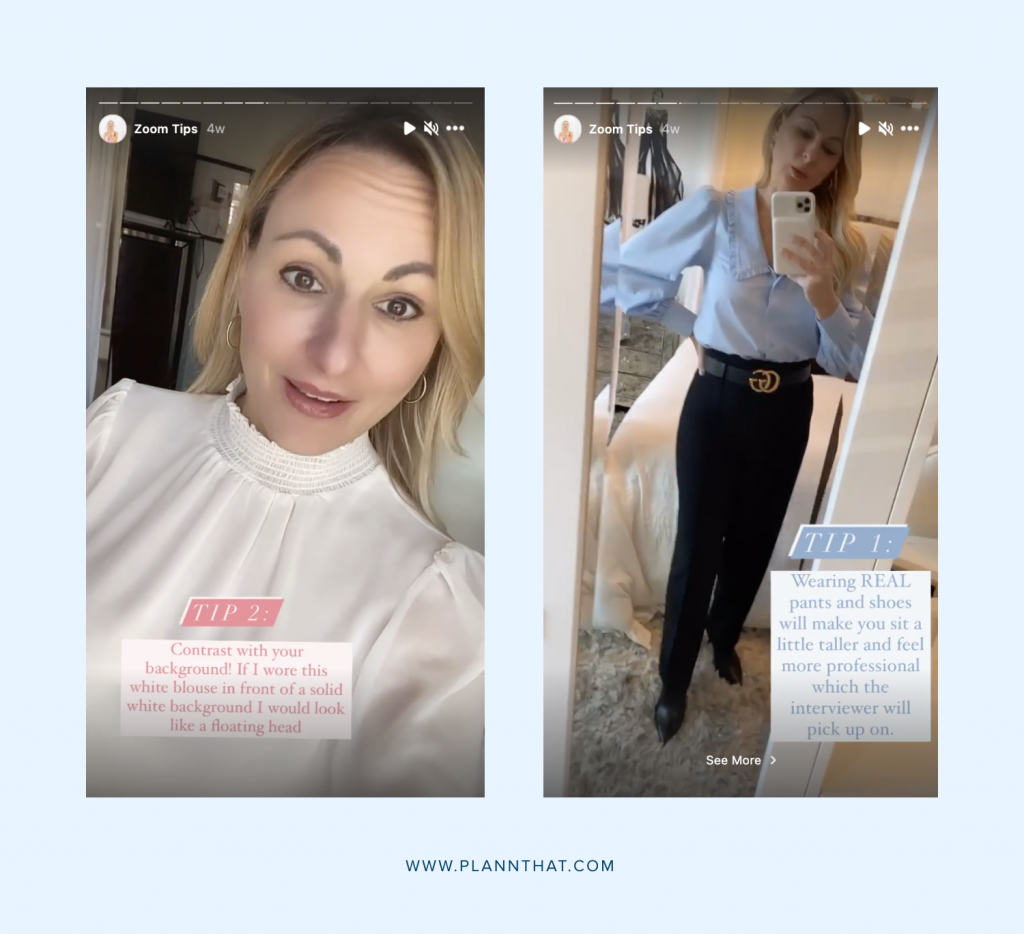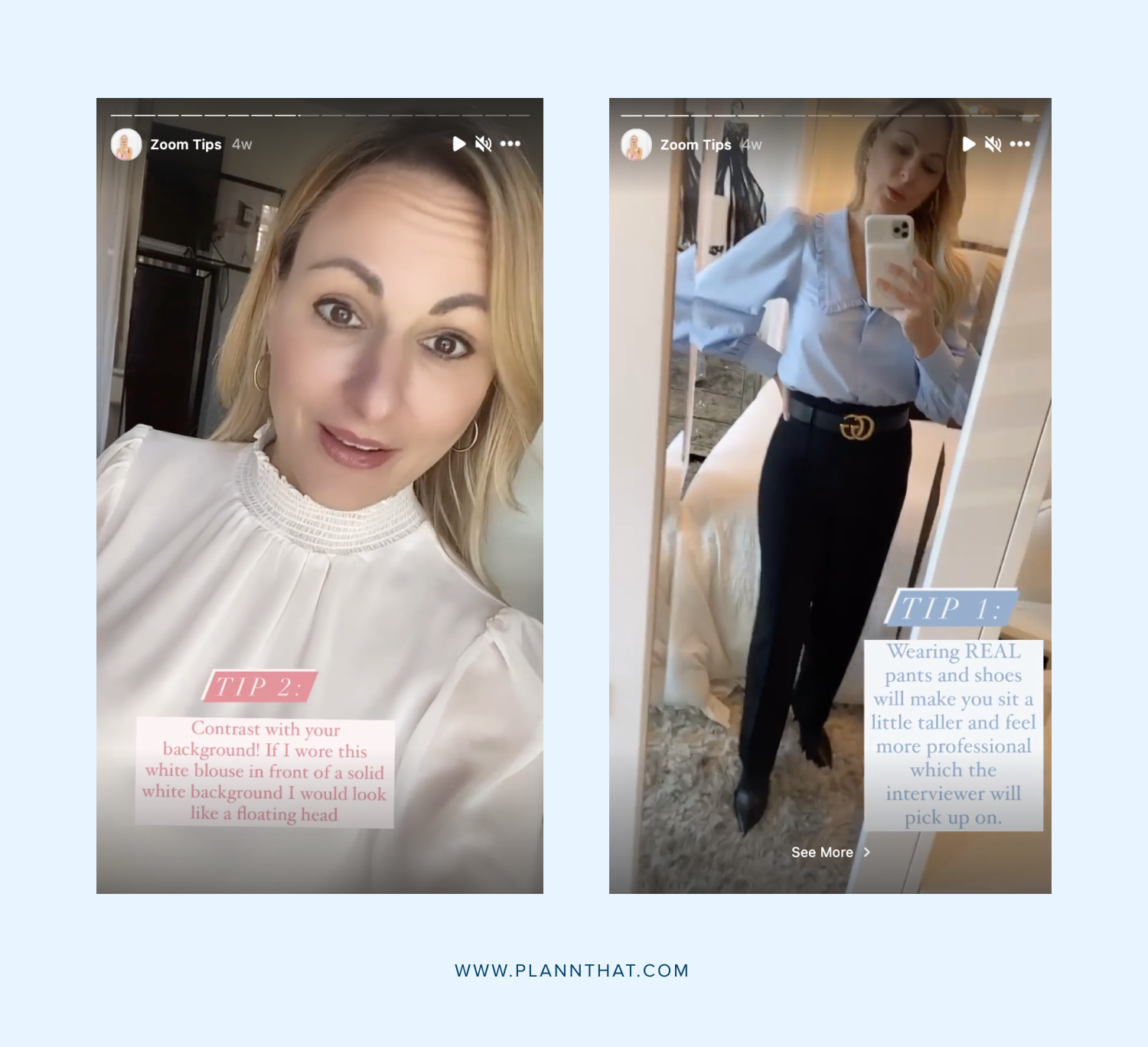 Negar is the visionary behind Inner Vibration, an empowering self-help brand. She is the queen of keeping it real on stories, and we love her for it! From her hilarious, relatable memes to her vulnerable posts about the realities of business, she is a master at drawing her followers into her world. Negar is also a reminder that not all of your stories have to be perfectly branded graphics. Through her raw and perfectly imperfect approach to stories, she's managed to rapidly skyrocket her Instagram growth within a matter of months.
How to use this strategy for your Instagram Stories:
• Go for volume, posting multiple memes and funny observations throughout the day
• Don't be afraid of the 'reshare' button — just be sure to also add your own take when you're reposting others' content to your stories
• Let go of the need to have every story look 'perfect' — instead focus on the impact you can make on your followers' lives
• Go live on stories often — this is one of the best ways to cultivate connection with your audience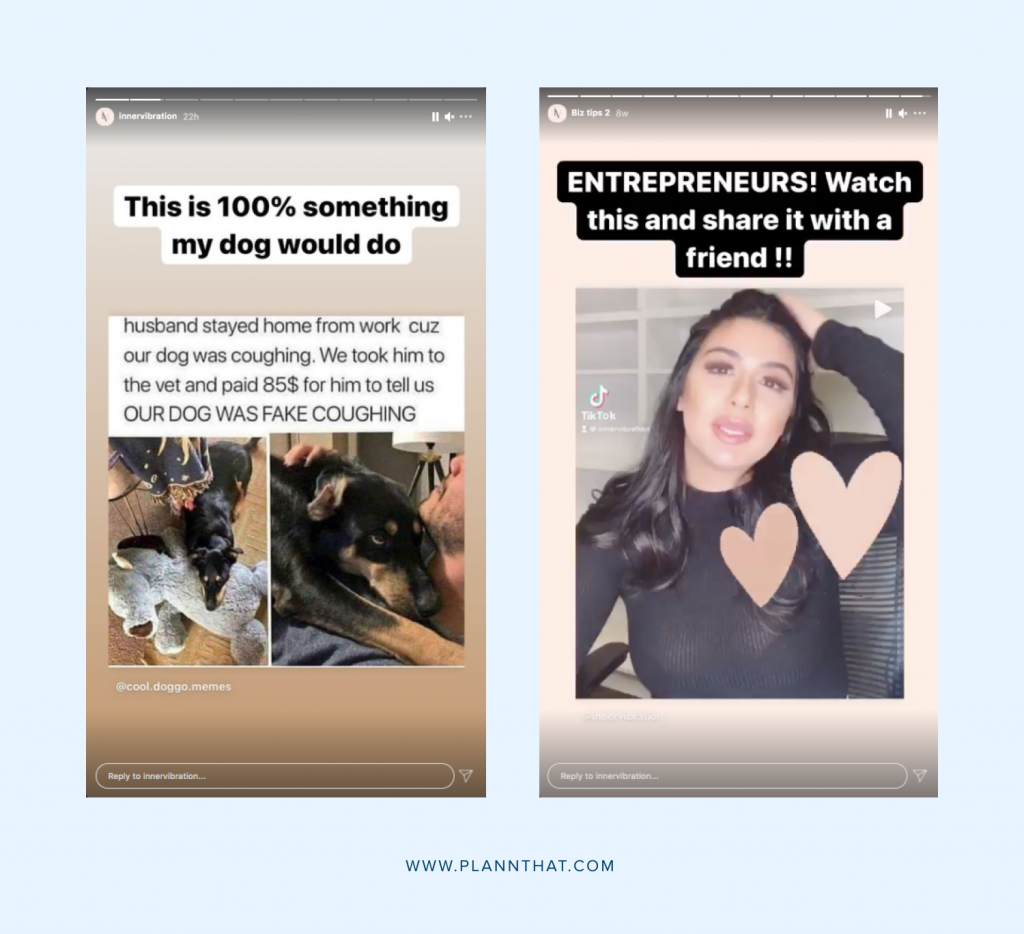 Carla Biesinger is a globe-trotting business mentor. She helps women find freedom in their lives by starting and building a profitable online business.
Carla uses her Stories to sell her coaching services by sharing her clients wins. Not only is it great to shout out your customers, but it gives you something more valuable: social proof.
By adding her testimonials to a Highlight, Carla can instantly help potential clients overcome the obstacle of: "Okay, but does this course/mentorship actually work?"
As humans, we want to know our investments are a good choice, and when we see other people succeeding with the thing we want to buy, it makes it that much easier to click on "add to cart" button.
How to use this strategy for your Instagram Stories:
• Create a Google Form and send out a testimonial questionnaire to your past clients. Use Canva to create cute designs to share your client wins on • Instagram Stories
• Always re-share your shoutouts from clients (don't feel shy about bragging!)
• Create a highlight for your testimonials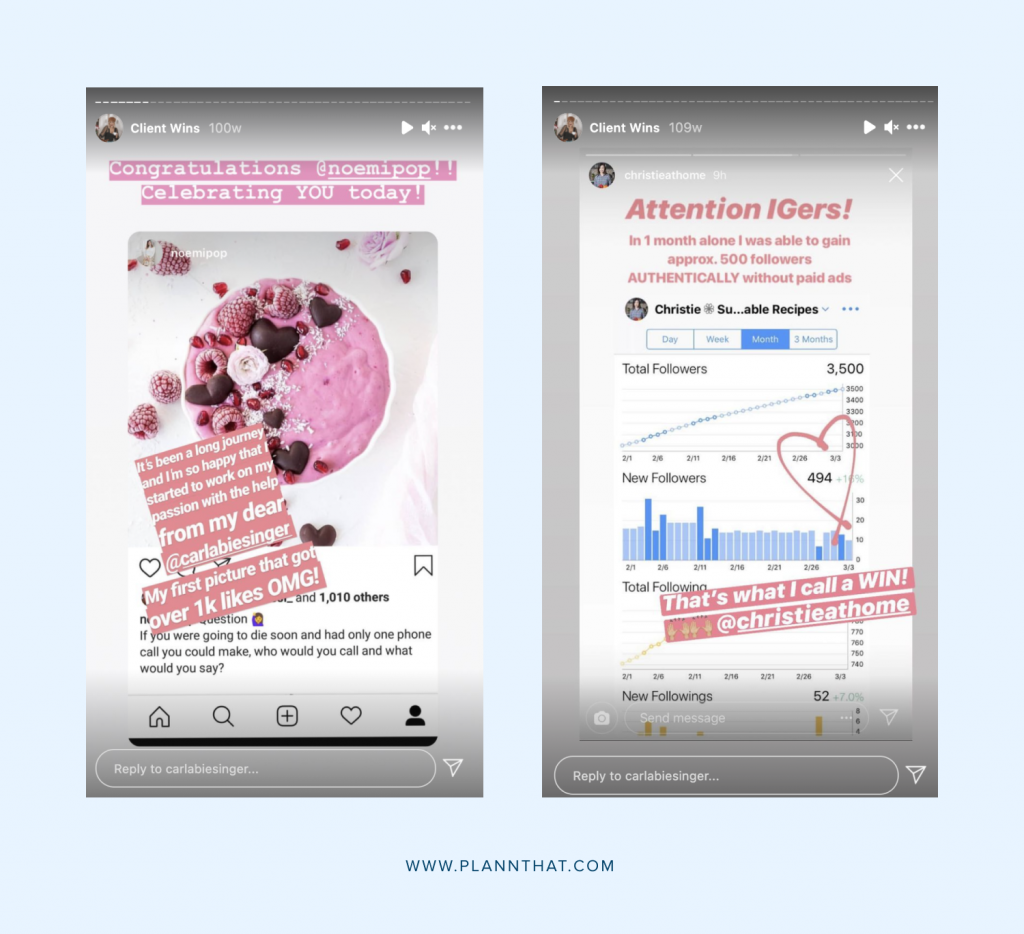 How Far From Home is run by Chanel and Stevo, two intrepid South Africans who have spent the last six years exploring the world.
With over 155,000 followers, the couple knows a thing or two about creating inspirational Instagram Stories and valuable content.
Due to the global pandemic, Chanel and Stevo are virtually travelling through their Stories. The couple created an entire guide on Kenya, including things like:
• What to eat
• The local currency
• Accounts to follow
• What books and movies to watch
• Small businesses in Kenya to support
• Photos from their last trip to the country
It's a value-packed Story (turned Highlight) that their followers will refer to again and again while planning their trip or wanting to experience the country virtually.
How to use this strategy for your Instagram Stories:
Think about how you can create Stories that will inspire and add value to your follower's lives.
If you're a sustainable fashion blogger, create a series on your favourite brands and save it to your Highlights.
If you're a clothing brand, create a lookbook around your items or create a series around how to style your outfits.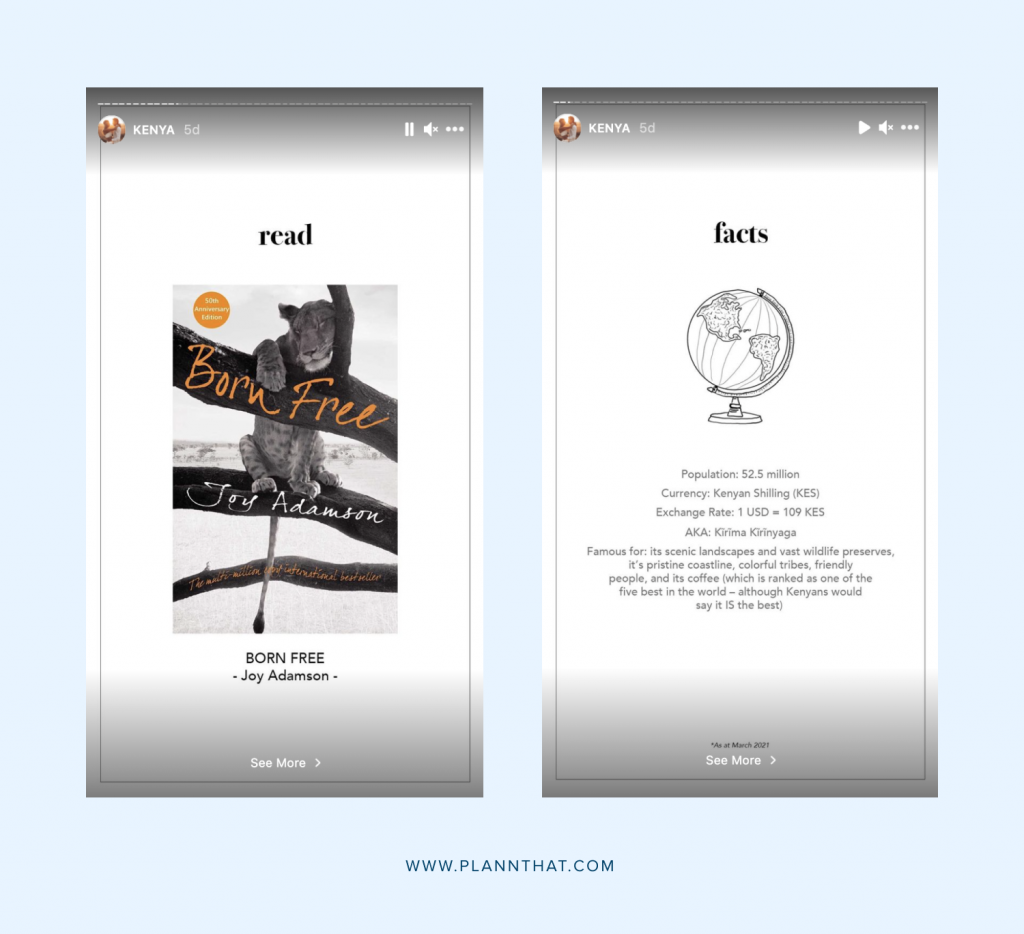 There are two things you'll notice about Erin (a successful YouTuber and business coach) when you start watching her Stories:
#1: She is a BOSS at selling on Instagram.
#2: She is a master of the pivot.
What's the pivot, you ask?
It's when you seamlessly transition from a story happening in your life or business, relating it back to what you do and then asking for the sale.
For example, Erin often talks about how she had so much fear around getting back into riding her bike. However, she pushed through because she really wanted to learn.
The result? Her fear fades away each time she shows up for lessons, and she's become super confident on her rides.
Erin then pivots this story into how you need to face your fear, start showing up for the things you want in life, and how she can help you do all that with her course, Killer Confidence Bible.
How to use this strategy for your Instagram Stories:
Start using stories from your life to sell your products or services. Think about:
• What's happening in your business or personal life
• How you can relate it to the struggles, your audiences are going through
• How your product/service are the solution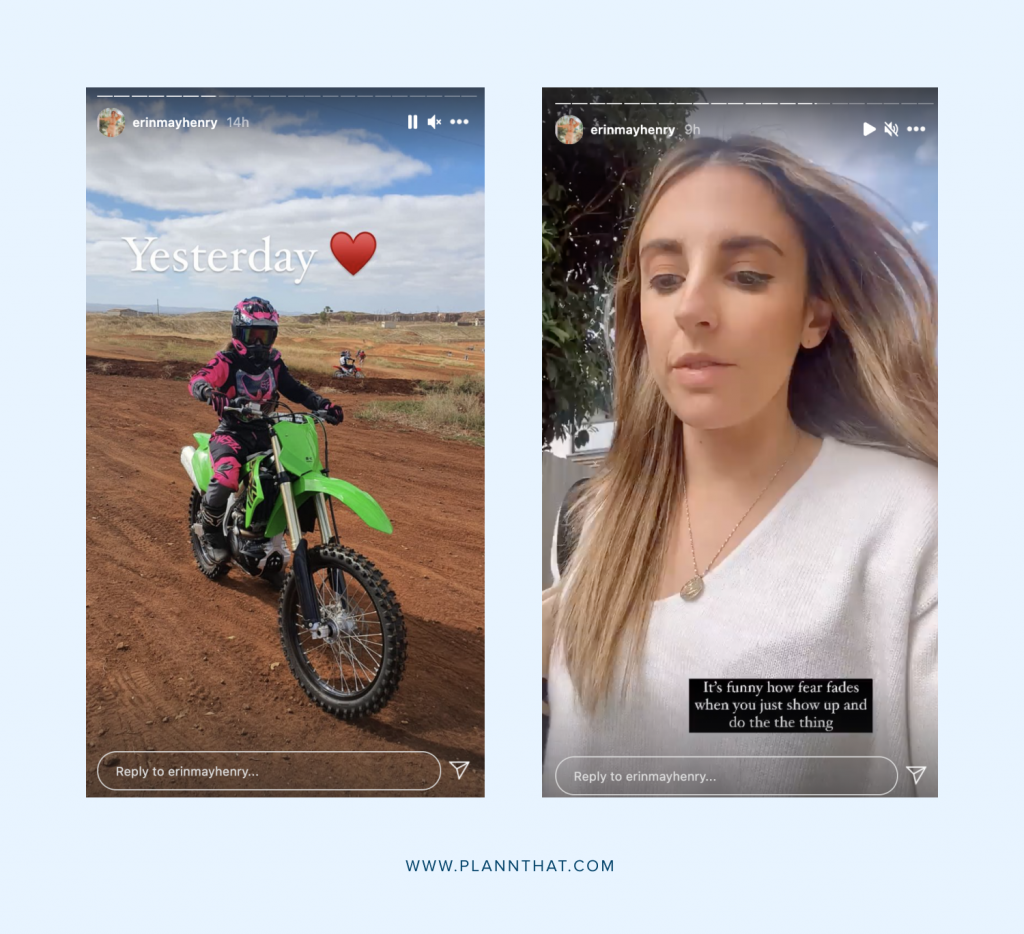 Alisha is one of our OG Plann'rs, and we've loved watching how her social media strategy has evolved. Now, alongside posting beautiful, vibrant images of her vibrant art and design projects, Alisha also supplements with engaging stories. Whether she's showing off a work in progress or announcing a new course launch, she brings her trademark, colorful aesthetic. Her account is a great example of how you can use BTS (behind the scenes) content to drum up interest and engagement in your stories.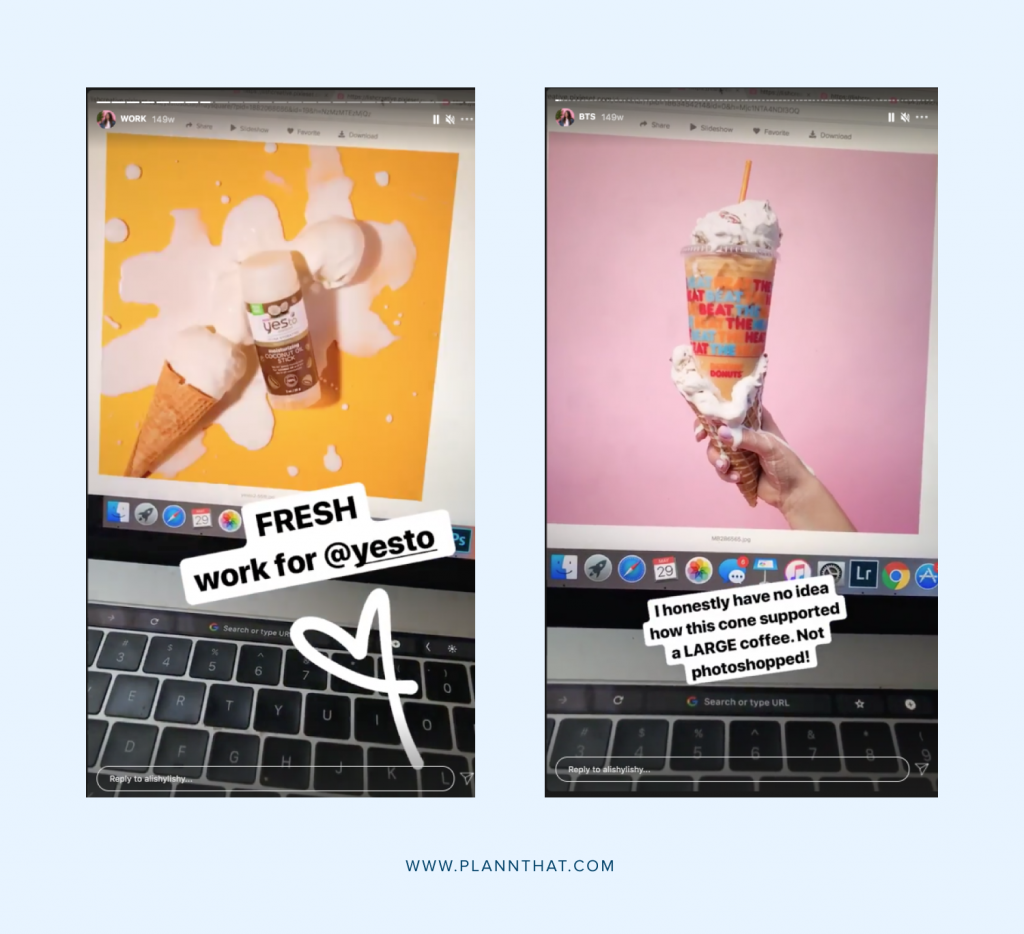 How to use this strategy for your Instagram Stories:
• Take photos and videos of your projects that you're working on, and post sneak peeks on your stories
• Find ways to replicate the same aesthetic across your grid and stories, even if it's just using similar colors. This will help tie your brand together
Start Planning Inspirational Instagram Stories to Post
Got a few ideas for Instagram stories? Great! Now it's time to create and schedule them.
With our groundbreaking Auto Post feature for Instagram Stories, you can effortlessly schedule and publish captivating content, engage with your audience in real time, and keep your brand top of mind.
Take your Instagram presence to the next level with Plann and unlock the full potential of your Stories.
Go on, and redeem your 7-day free trial of Plann Plus. If you don't like it, keep using Plann for free!