Instagram is a big player in the world of social media, so if you want to make the most of it and truly succeed on Instagram in 2019 you've got to master the art of creating quality content.
There's no room for photos of half-eaten cupcakes anymore, Gerald!
Today we're going to walk you through the art of succeeding on Instagram in this crazily competitive time, so sit back, relax and don't forget to take a heap of notes as you go.
It's onwards and upwards from here!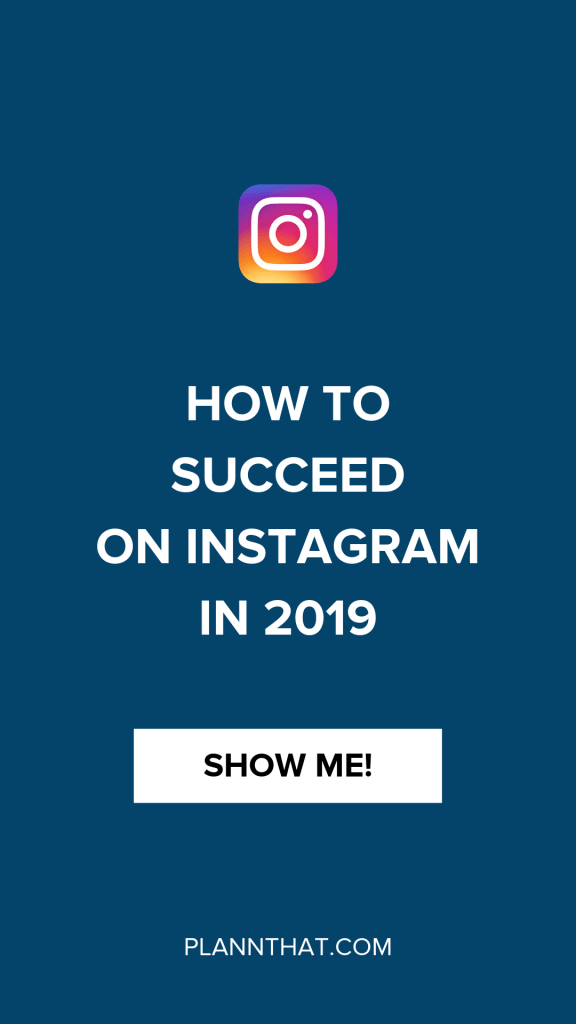 How to Succeed on Instagram in 2019
Know What Your Audience Want
Sure, it sounds easy in theory doesn't it?
But don't worry, i'm not going to leave you hanging.
Understanding what type of content your social media audience want from you can be a tricky, long-term process but once you find your magic formula you'll be on the road to Instagram success in no time.
Here's a few things you can do to figure out what social media content your audience truly love.
– Create an Instagram Stories poll with different options for your audience to choose from
– Experiment with different content types over the course of 2 weeks, and then review your analytics to see which content has performed the best
Wondering what content to experiment with on Instagram? Here's a few different types that typically work well for brands and businesses:
– Memes (create your own or repost others)
– Storytelling (share the story behind the image in your Instagram caption)
– Behind-The-Scenes
– Educational (what's something about your industry your audience would find interesting?)
– Motivational (show the results that your customers/clients have achieved)
It's also interesting to see whether your audience prefer video content or image-based content on your Instagram grid.
Experiment by reposting videos (you can do this for free using the Plann app!) for a week or so and then switch back to image-based posts. Then, review your analytics for the month and see which form of content came out on top.
Tap Into Your Authentic Voice
There are some people that I follow on Instagram purely because their images are incredibly amazing.
But (and this is a big but!) there are plenty of other accounts that post just as high-quality, if not more high-quality, images and videos than these people that I follow.
I'm probably not going to be a loyal follower of an Instagrammer whose only real 'selling point' is their images/videos.
On the other hand, if that person has amazing images/videos but also tells a story in their caption or shares funny puns that relate to what they're photographing, i'm bound to stick around for much longer.
I'll be a loyal follower if you can provide me with quality imagery and an authentic style of caption-writing and storytelling.
Dun dun dun…..
Did you just have a lightbulb moment? I sure hope you did!
You see, being successful on Instagram doesn't just come down to having a beautiful grid and stylish Instagram Stories. You've also got to share a unique perspective or showcase your personality in order to truly stand out.
That brings me to my next point…
Stop Trying to Be Like _______
Whether it's Marie Forleo or Jenna Kutcher, I know that there are probably some ah-mazing business gurus and marketing superstars that you look up to.
Or maybe you're keeping a hawk-like focus on your competitors.
Whoever you are trying to 'be' like, right now, you've got to promise me that you'll quit it!
The best way to build a loyal Instagram following that love what you do is to offer them something unique; and you can't be unique if you're trying to copy what someone else is doing.
My best advice? Unfollow your competitors (and their brand hashtags!) and focus on your lane and your lane only.
Review your analytics and recreate what your audience are loving, and make sure that you are putting out content with the intention to offer something valuable.
The key analytics you should keep an eye on are your best performing grid content (based on engagement), your engagement rate % and your best performing stories.
That way? You'll have an Instagram account worth following.
Phew! That was a whole lot of real-talk right there, wasn't it? If you enjoyed this blog be sure to share it with a fellow Instagrammer who needs a nudge in the right direction.