Deck the halls with boughs of holly!
Fa la la la la, la la la la!
Are you ready for the jolliest time of the year?
The end-of-year holiday season is right around the corner, and with retail sales set to bring in a whopping $1.262 trillion in 2022, there's no better time to rake in those sweet, sweet dollar bills.
Even if you have been less than consistent with your social media posts, it's never too late to dust off your content calendar, get into the festive spirit and follow these tips to create your best holiday campaign yet.
Ready to sleigh?
7 Festive Social Media Marketing Tips
Are holiday sales a mystery to you? Say goodbye to your woes and hello to a social media marketing campaign that'll boost your engagement and bottom line.
1. Create Your Holiday-Themed Content
Are you having a creative block?
We have good news.
Getting your mojo back in time for the holiday season is easier than you think.
Before opening your content calendar, you need a social media marketing campaign strategy. Sign up for a free Plann account, and you'll unlock Seasonal Holiday and Black Friday content prompts.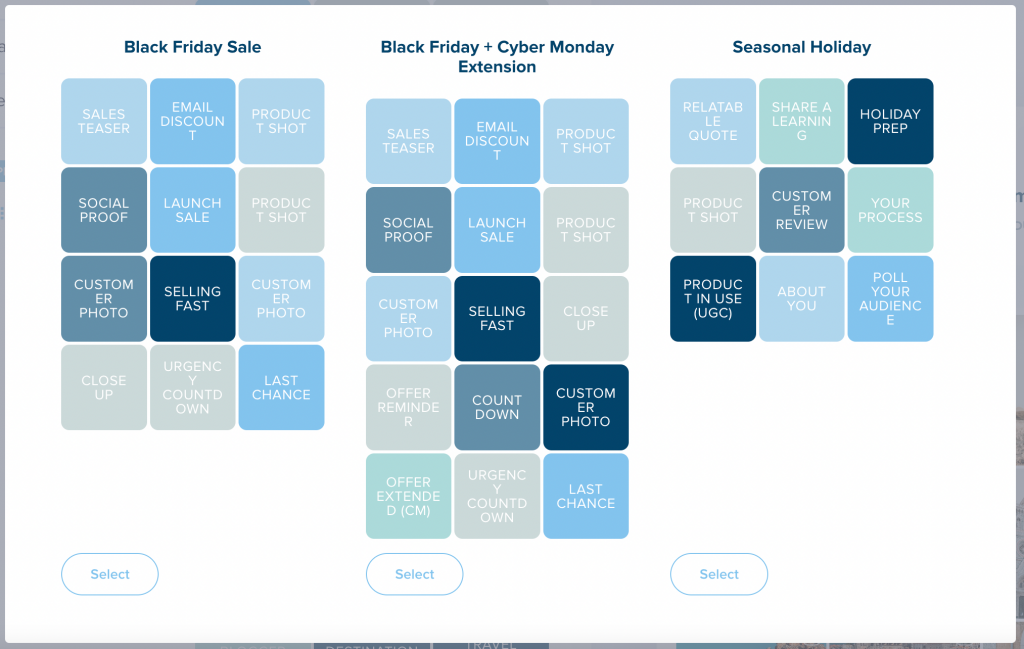 Add your choice to your grid, find or create content related to each prompt and start Plann'ing your posts.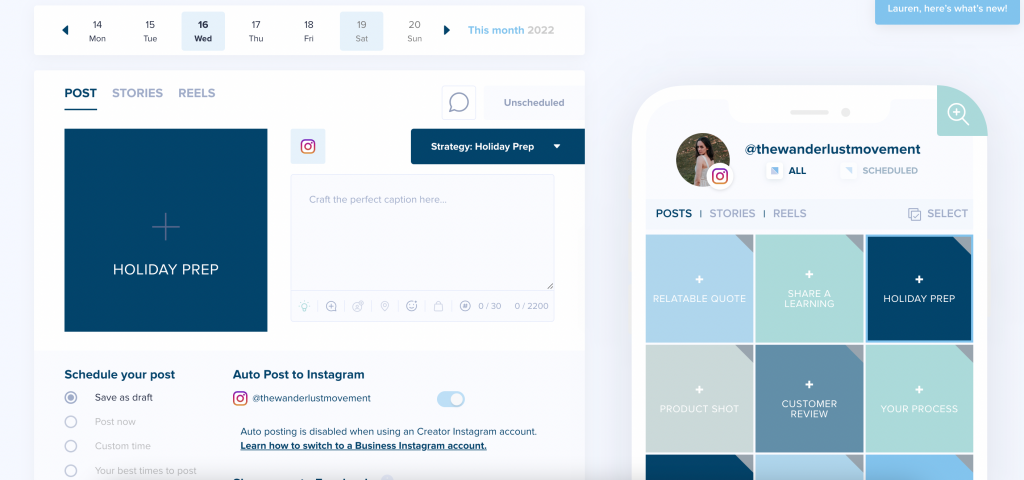 Need a little design help? Plann integrates with Canva, an online design suite. Use the free templates to create eye-catching, on-brand holiday content your audience will love!
2. Run a Festive Sale with a Twist
Black Friday (and the holiday season in general) is the perfect excuse to drop some discount codes and entice your social media followers to try out your product or service.
…But the key to success is scarcity.
What does that mean?
You want to create FOMO (fear of missing out) to drive your audience to take action. If your potential customers feel like the deal isn't urgent, you will not see many sales.
That all changes when you introduce:
• Time limits: Get 50% off for the next 24 hours.
• Expiring bonuses: Buy this course and get access to three bonus masterclasses.
• Price increases: Grab this deal for $10 before the price goes up to $20 tomorrow.
Remember, everyone is going to drop their prices for Black Friday and Cyber Monday. Using scarcity can help your social media campaign stand out and grab market share from your competitors.
3. Run a Festive Email Campaign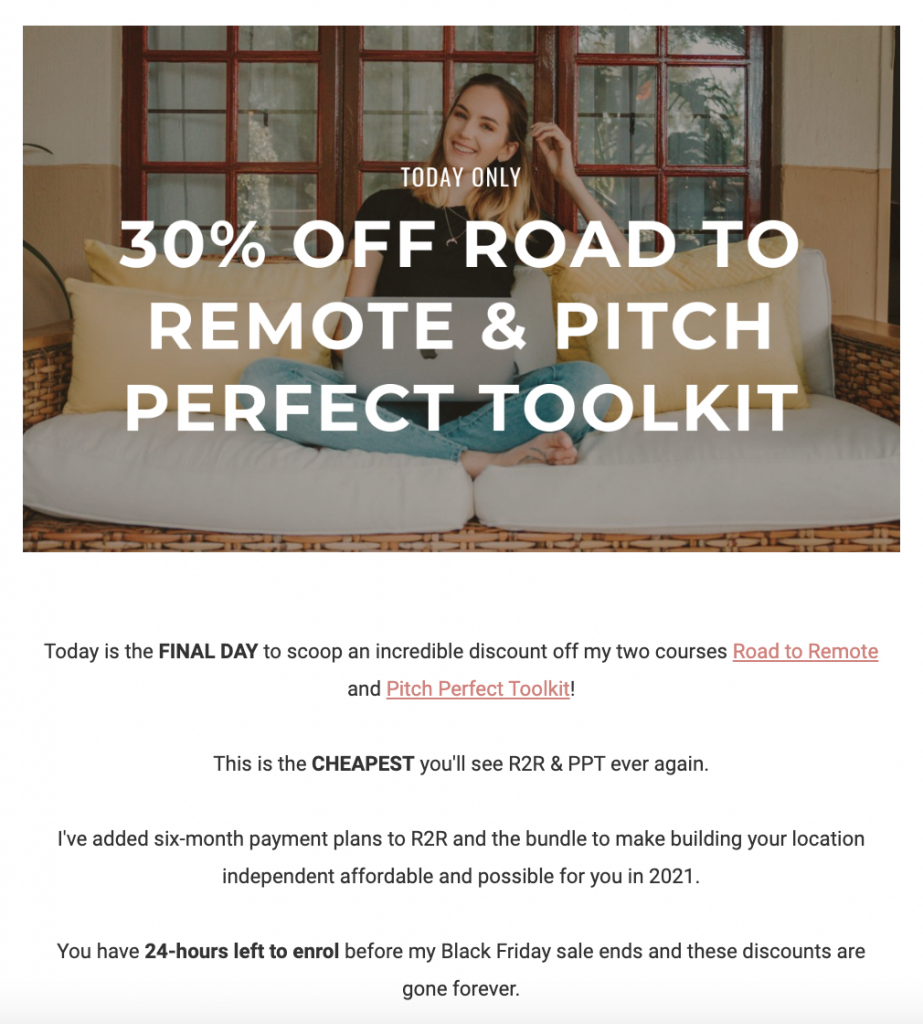 Email is not dead.
It's one of the most profitable marketing channels.
Don't believe me?
Here are some surprising email marketing statistics to back it up:
• Every $1 spent on a good email marketing campaign can result in a $42 profit.
• Email is the biggest source of ROI for 59% of marketers.
• 18 out of 100 people who open an email make a purchase.
So how can you create a winning email holiday marketing campaign and reap the lucrative rewards? Try some of these ideas:
• Run an exclusive email-only holiday promotion
• Segment your list and put together a gift guide for each target audience.
• Create festive abandoned cart email marketing campaigns.
• Create a holiday-themed email template.
• Offer an early-bird deal to bring in sales before the holiday rush begins.
• Offer a last-minute deal to snag those customers who are behind on their gift shopping.
• Include countdown timers in your emails to increase urgency.
4. Run a Festive Giveaway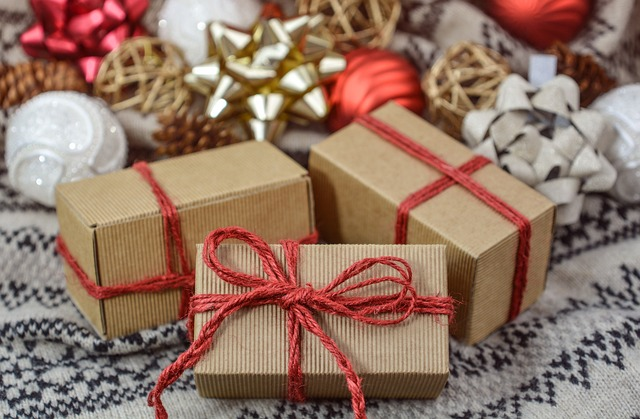 The holiday season is the best time of year to host a giveaway.
Why?
• It gets everyone into the gift-giving good.
• Creates user-generated content.
• Gives your brand awareness a bump during the busiest shopping period.
For best results, try adding a holiday twist.
• Host 12 days of Christmas giveaways on Facebook.
• Run a holiday-theme photo or video contest on Instagram.
• Ask your followers to sing their favourite holiday song with your hashtag on TikTok
Let your imagination run wild!
5. Use Instagram and TikTok Shop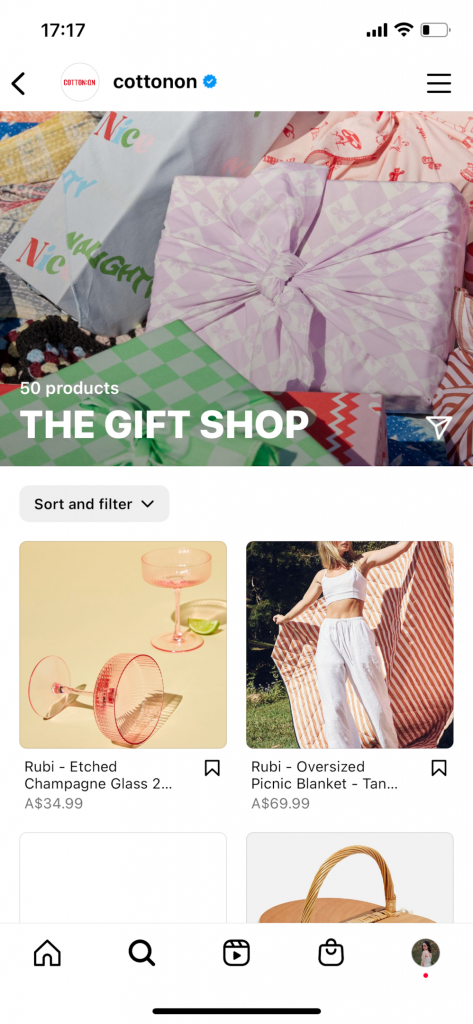 Have you set up your Instagram and TikTok Shop yet?
No?
Well, there is no time like the present to take advantage of in-app shopping, my friend.
With brands like Perfume Boss reporting a massive 368% increase in orders, monetizing your feed and making it easy for your followers to shop is the ace up your sleeve.
But before you can launch your holiday social media marketing campaign, you need to set up and submit your storefront for review.
When you're up and running, link your social media content and holiday ads to your store. You can also create special limited-time holiday collections to increase sales to your Thanksgiving, Black Friday, Cyber Monday, and Christmas sales.
Need some help setting up your Instagram Shop? Read our step-by-step guide and get your shop running ASAP.
6. Do Your Festive Hashtag Research
Listen.
The everyday hashtags you have for each one of your topic clusters are great, but when it's the holiday season, you need to go back into research mode.
Festive hashtags like #blackfridayshopping can increase your reach and surface your content to users ready to buy.
Sounds great, right?
However, you don't want to use super generic hashtags like #christmas that have billions of posts. The sheer amount of people using the hashtag will bury your post in seconds.
Instead, you're looking for the sweet spot. A hashtag that's super relevant to your post (yet festive), a decent amount of posts (so you know people are engaging with it), but not too much competition.
Some examples are:
• #blackfridaydeal
• #cybermondaydeals
• #thanksgivingdecor
• #thanksgivinggiveaway
• #christmasideas
• #christmasgiftsforher
• #christmasgiftset
• #festivegifts
• #festiveshopping
With Plann, you can cut your research time in half with our Suggested Hashtag tool. Type in a keyword, and you'll get a list of trending hashtags to use in your next post.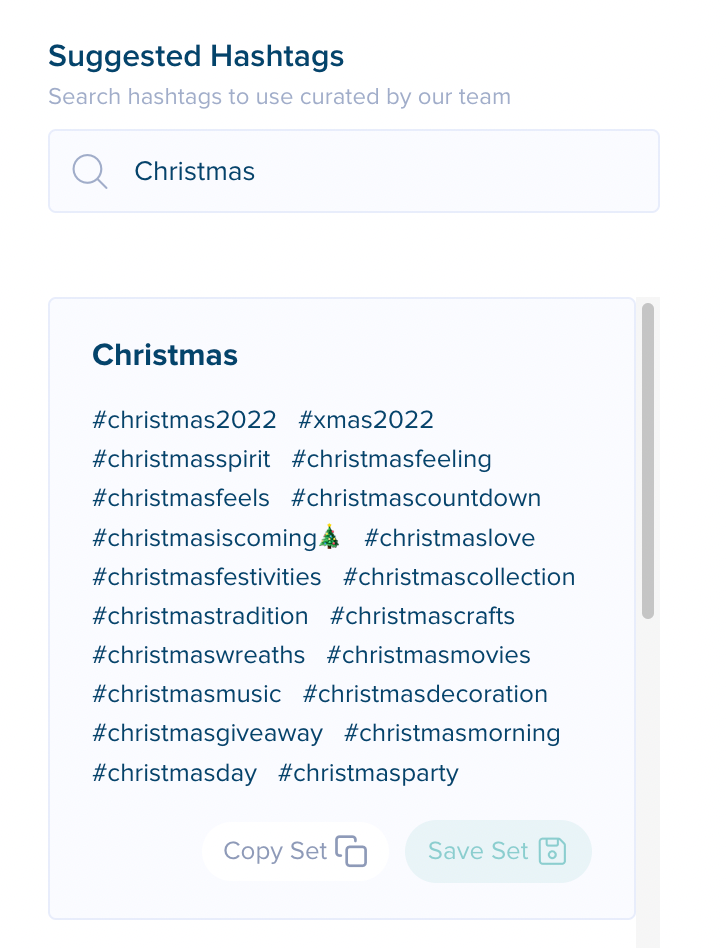 7. Analyse Your Data
Not your first time running a holiday marketing campaign? Great.
Pull up your data from last year and take a deep dive into what worked and what didn't.
Some questions you want to ask are:
• Which social media platforms drove the most traffic to your website?
• What CTA got the best response from your audience?
• Did you use psychological triggers like scarcity?
• Which social media channels had the best conversion rate?
• How many sales came from Instagram Shop?
• What content types received the most comments, shares, saves, and likes?
Scrutinizing your data will help you avoid any faux pas from the past and help you create an even stronger marketing strategy from now on.
Oh, and don't forget to snoop on your competitors to outwit, outplay, and outlast this festive season.
Let's Plann Your Next Holiday Social Media Campaign
The holiday season is a stressful time of year.
Whether it's hunting down the best gift for your nearest and dearest to running your business and Plann'ing holiday social media marketing campaigns.
While we can't help you find a present for your BFF, we can take the stress out of your content marketing efforts. Sign up for a free Plann account today, create a content calendar and schedule all your festive content.
Post when most of your audience is online, and beat your competition to the sale, all while you sip on egg nog and binge horrible Netflix Christmas movies.
Sound like a Plann?