Looking for ways to boost your TikTok followers? You're not alone.
With 1 billion monthly active users, it's the world's fourth-biggest social media platform.
If you want to launch your career as a content creator or grow your online business, Tiktok offers tonnes of potential.
The secret? Finding and attracting your target audience.
There's only one small catch. No magic formula will help you go viral and amass a sizable following.
But what you do have are take-and-tweak growth strategies to keep your TikTok account consistent, discoverable, and followable.
Below, you'll find some of the best tips to attract your tribe and gain real TikTok followers who love your content.
How to Get More TikTok Followers
Create a Consistent Posting Schedule
Consistency is key to growing your TikTok followers. Establishing a regular posting schedule increases your chances of going viral and landing on the coveted For You Page.
With more eyeballs on your videos, you'll have more opportunities to attract new organic followers on TikTok. That's not all.
TikTok's algorithm rewards accounts that consistently deliver fresh content. When you post regularly, you send the algorithm all the right signals to recommend your account to new users.
Plus, new content keeps your current followers engaged. You always want to have something new to keep users coming back and remembering your account.
How do you create a consistent posting schedule for TikTok?
With Plann's content calendar, you can effortlessly:
• Decide how many times per day or week you want to post.
• Select and harness high-performing content themes.
• Upload and auto-post your content to post when your TikTok followers are online.
By planning ahead with a content calendar, you can stay organized and keep up with a steady flow of content.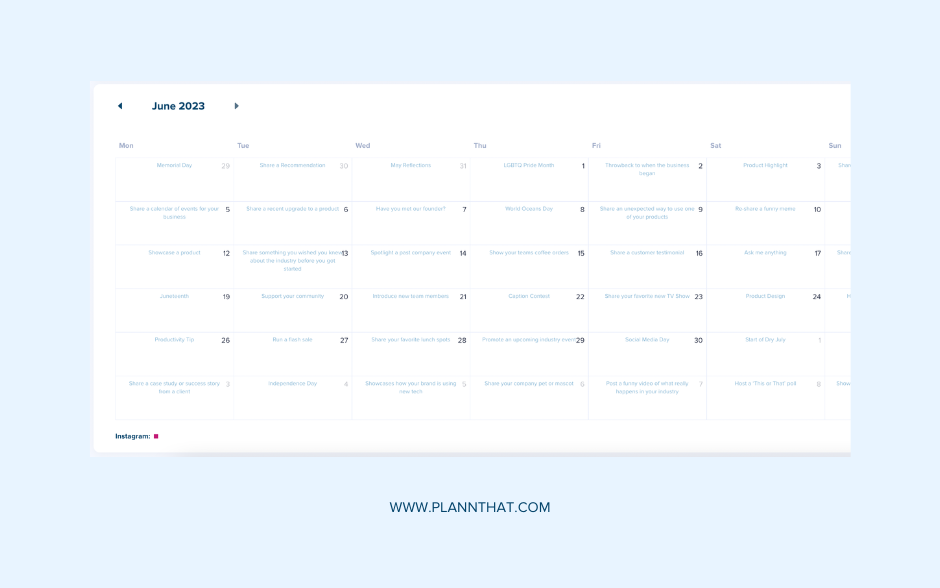 Use Viral Songs and Sounds
The songs and sounds that go viral on TikTok sometimes have a reason, and some are pure fever dreams. Remember the theme song for the Reading Rainbow that popped off on the app in 2022?
And who can forget the cult classic "my money don't jiggle jiggle" by Duke & Jones and Louis Therox?
Because of TikTok, these random songs are permanently etched into our brains along with their accompanying trends.
It's why the music industry sees the app as a powerful asset. Record labels are scheming to push certain songs, encouraging artists to create trends and tease audio clips to increase virality.
Jump onto the audio bandwagon and use popular TikTok songs in your videos. It has a greater chance of landing on the FYP and boosting your social media presence.
And the best part? You don't need to learn a TikTok dance. That part is optional.
Here's how to find trending sounds and music to boost your TikTok engagement:
1. Create a Plann account
2. Tap on New Post Ideas
3. Tap the Trending Audio tab
4. Discover the latest trends with prompts on what to do for each one.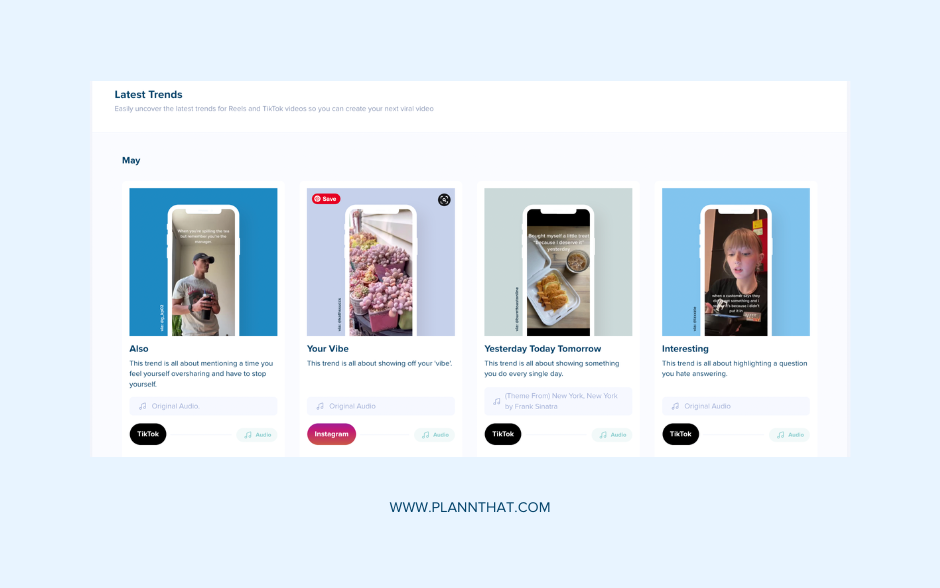 Want to know what sounds your active TikTok followers are listening to?
1. Switch over to a TikTok Pro account.
2. Navigate to your Analytics for the past seven days.
3. Tap on the Followers tab.
4. Scroll down to see what music and audio snippets your audience loves.
Try TikTok Duets and Stitching
Keep your content interesting by using the app's different features to create scroll-stopping videos and grow your TikTok followers.
TikTok Duets and Stitching are powerful interactive tools that allow you to collaborate with other creators, jump onto trends, and attract new engaged followers to your TikTok account.
Duets: Create videos alongside existing TikTok videos. You can add your own creative spin, react, or collaborate by duetting another user's video. It helps showcase your content to the original video's viewers and exposes your account to a wider audience of authentic followers.
Stitching: Use a snippet of another user's video in your own. This feature lets you respond directly to a specific moment or trend, adding your perspective or providing a unique twist. For example, you could stitch a tutorial video and share your tips or tricks.
Use Hashtags to Find Your Subculture on TikTok
Want more views on your TikTok videos? Ready to attract more followers and ensure you're gaining real TikTok followers? Up your hashtag game.
It's one of the best ways to get your content seen by TikTok users not already following you.
But here's the thing. It's not about stuffing as many hashtags as possible into your description. You want to use hashtags to connect you to the niche communities and subcultures that love your content.
That's how you'll attract authentic TikTok followers and gain credibility.
What are some of the subcultures on TikTok?
• #WitchTok: For things tarot, spirituality, and astrology.
• #MomsofTikTok: Share your parenting tips and tricks.
• #FitTok: Take part in fitness trends, share workout tips, and discover something new like acro-yoga.
• #BookTok: Find your new favourite read and connect with other book-loving TikTok creators.
Cross-Promote Your TikTok Videos to Attract New Followers
While there are many ways to gain TikTok followers via the app, a little cross-promotion can go a long way in boosting your social media growth and gaining new TikTok followers.
Think of it this way. Most of us are using multiple platforms to varying degrees.
You may hate Twitter but have an undying love of Instagram that keeps you scrolling away for hours. Sure, you dabble in TikTok, but you only go on the app a few times a week.
If an account posted their TikTok videos to Instagram, there's a much higher chance you'll see their content. It will drive traffic to both accounts and help with overall visibility.
To help you out, Plann has a handy built-in cross-posting feature.
Upload your TikTok video, write your caption, and then select the option to re-use the content on a different social media platform. It's as easy as that!
Plann Your TikTok Content Strategy
Finding a growth strategy that works for you is trial and error.
Experiment with these tips for gaining TikTok followers and see which ones have the biggest impact on your account. Once you've found the formula that helps you get your views up, rinse, and repeat.
No paying for TikTok followers required!
Ready to take the hassle out of managing your TikTok account? Sign up for a 7-day trial of Plann Pro today and manage your entire social media strategy from a single unified dashboard.