Cross-posting for Instagram, LinkedIn and Facebook

Available to Plann Plus members (our paid subscribers) immediately, you can now share content across all the platforms that Plann helps manage, Instagram, LinkedIn and Facebook – and then back again!

The best way to maximize your reach on social media is to cross-promote your content and share it across multiple platforms.
Getting your business in front of more eyes helps you stay top of mind at crucial buying times.

We know that the audiences are slightly different across all three and they might want different content, so we've made sure you have the best tools to re-create your posts quickly.
How can I create a post across platforms?

Now when you're saving a finished post, you'll find a new option to save and re-create the same piece of content for your alternate social platform.

We'll take the image and text from your original post and set it up ready for you to edit the caption to fit the new platform and new audience. We'll then help you schedule it at the right time.

Here's how!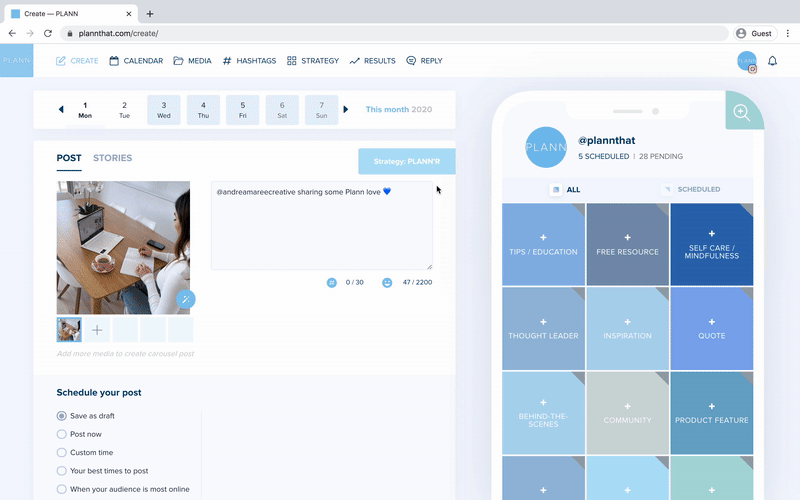 Can I re-share a great post from the past?

Absolutely!
You might discover through your analytics that a post performed really well on Instagram and you'd like to re-share it to Facebook and see how it works there.

You'll now find a menu when searching through your published posts that gives you the option to repost.
(Pssst, there are no limits on how many times you can re-share. You can re-share a Facebook post back to Facebook over and over if it's something that you know always performs!)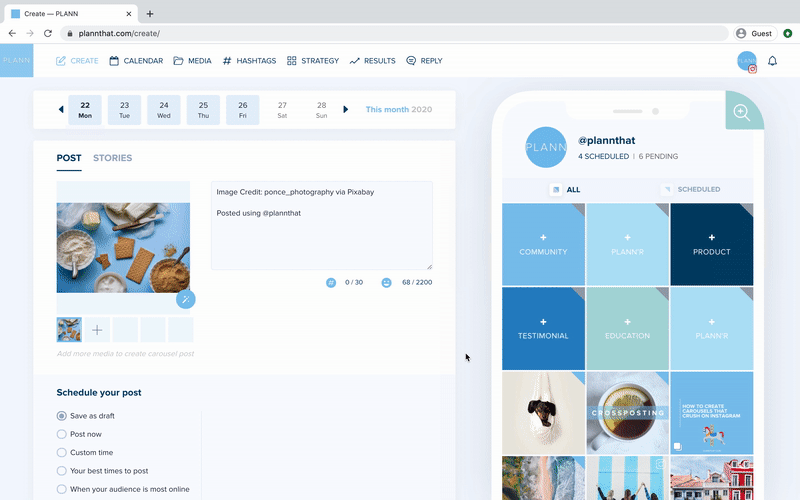 Instagram vs. Facebook vs. LinkedIn
As a general rule, most people are visiting Instagram to be inspired, and love seeing products and businesses sharing the 'lifestyle' feel of their brand. Think shorter, witty captions with strong call-to-actions, coupled with eye-catching imagery.

Those scrolling Facebook usually have a little more time to read informative articles and spend more time engaging with content. It's a great place to try adding long form copy. It's more about variety and getting meatier content out there for a more diverse audience to click to 'see more' if they're interested.
LinkedIn viewers usually have a business skew to their posts, whether it's sharing a professional milestone, keeping in touch with old colleagues or learning about what's news in the industry, it's one of the fastest-growing B2B platforms and we're excited to support them.

There are always exceptions to the rules so we recommend keeping an eye on your analytics to see what works best for you to get your audience clicking on your posts.

Accessing my Media Collections across all platforms?
Yes! Also new, we've made sure it's much easier to access your library of branded content.

Now when you're scheduling posts for Facebook, we've made sure your full media collections are available.
You'll be able to select any image from your previously uploaded Instragam collections.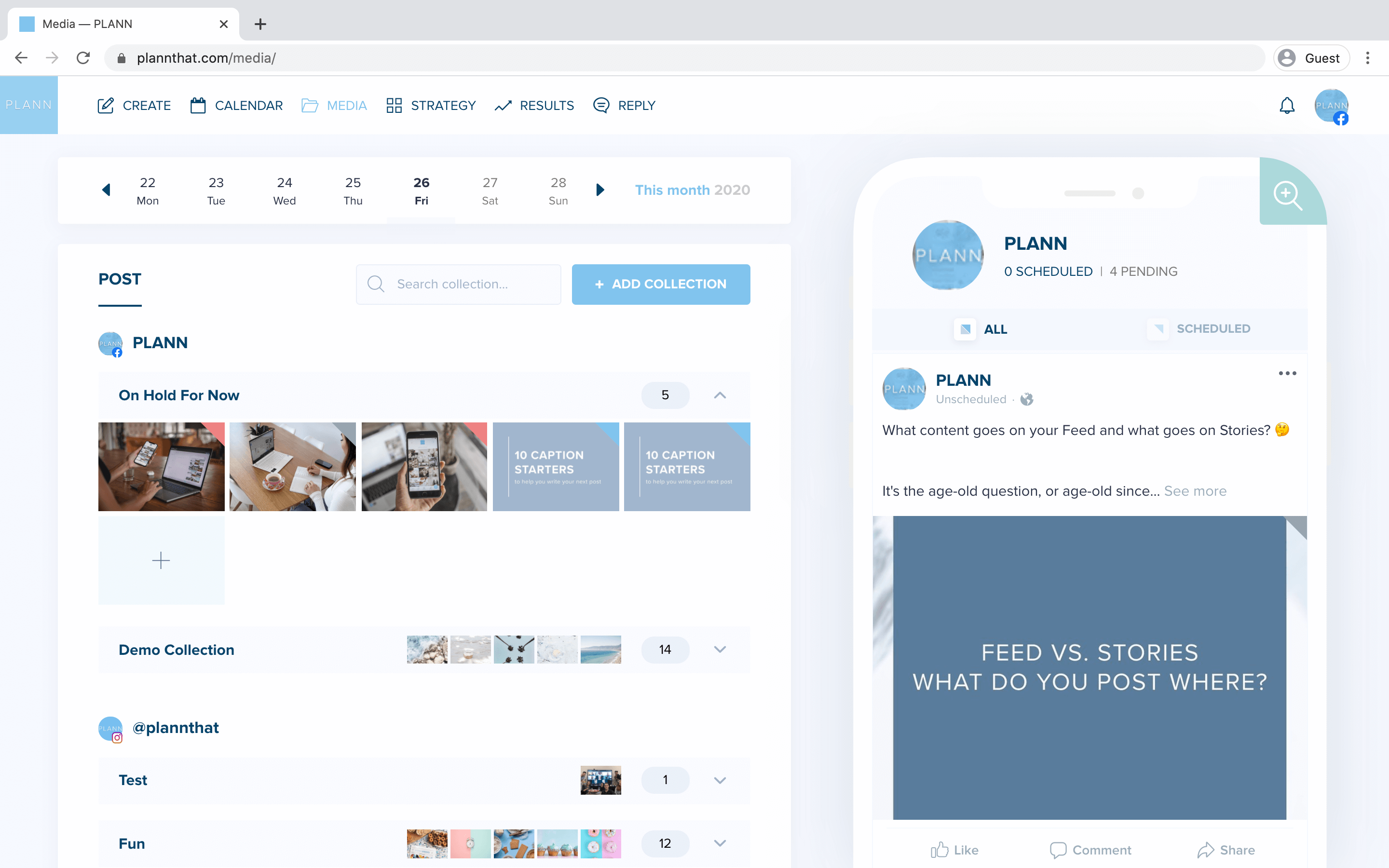 Who is this available for?

All of our Plann Plus (paid community members) have access to Facebook Autopost scheduling. We automatically added it to your subscriptions to make sure you have the best chance of success, at no extra cost!

If you're currently using the free version of Plann and you know you want this(!), you can upgrade at any time to any of our paid plans to access Facebook Autoposting features.

See what plans are right for me >>

What do I need to set up to schedule across platforms?
Once you've connected your social accounts to Plann, cross-posting is an instant feature you've unlocked!



Ok, done! But I think I missed it, how do I connect my Facebook Page and LinkedIn pages to Plann?
Select the drop-down menu from the top of your workspace and choose to ADD ACCOUNT.

Facebook: We'll prompt you by asking what type of account you'd like (personal vs. business) with easy to follow instructions to get you set up in under 1 minute.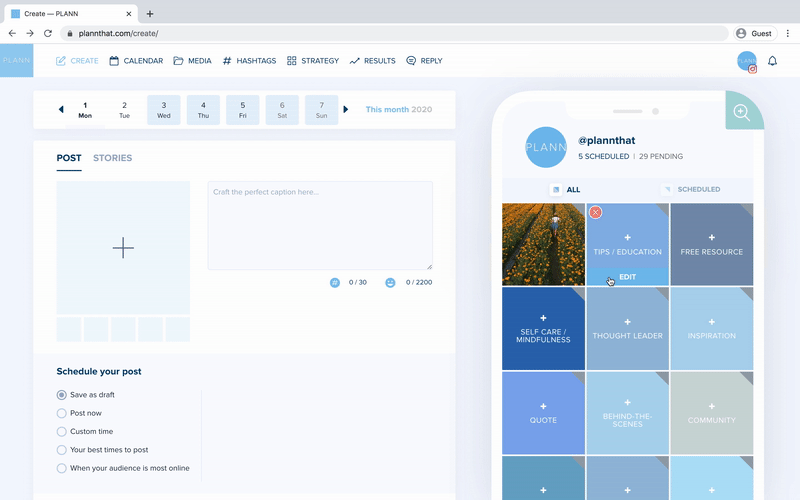 What would you like to see next?

We're always working away on something!
We're a small but crazy passionate team who really care about helping others put their best foot forward in front of millions of people online.

To share your thoughts about our product roadmap, to give us a nudge us towards something you'd love to see added, or put your hand up to be involved in BETA testing – send your thoughts through directly to our product team at feedback@plannthat.com
Happy Planning!
Christy Laurence
Plann Founder