At Plann HQ we've been taking a closer look at the 50 most followed brands on Instagram to get an idea of what their secrets to success might be. When it comes to Instagram, we already know that there are a lot of businesses and brands on the 'gram.
And no, it's definitely not their seemingly bottomless budgets. Or is it…
No seriously, they've got some great Instagram skills!
With over 1 billion users across the world, Instagram is one of the best places for brands of all sizes to get the attention of their ideal audiences with stunning visual content like photos and videos.
Today we're going to share with you a few top tips that we've gathered from taking a look at the accounts of popular Instagram brands.
To make it easy (and really helpful) for you reading, we've broken the list of 50 most followed brands on Instagram down into categories.
In this list we've included:
* Fashion Brands

* Food Brands

* Fitness Brands

* Travel Brands

* Beauty Brands
Oooh isn't this exciting? Now you can learn some nifty tips (with a few Plann jokes along the way) from the 50 most followed brands on Instagram that are doing amazing things.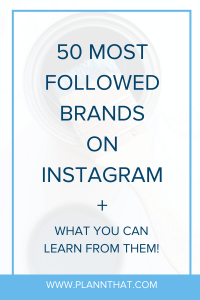 MOST FOLLOWED BRANDS ON INSTAGRAM:
FASHION
1. CHANEL
Group photos are a yes!
2. LOUIS VUITTON
Influencer Marketing isn't dead, it has been reborn, and it's wearing Louis Vuitton.
3.GUCCI
The 'it bag' of Instagram – you guessed it, it's Gucci!
4. VICTORIA BECKHAM
The ultimate behind-the-scenes candid shot. SEE! Behind-the-Scenes content really does work!
5. DIOR
Dior is schooling us in the art of the 'Flatlay'. You can see why they're one of the 50 most followed brands on Instagram!
6. DOLCE&GABBANA
Always look at life through orange-tinted glasses, or through an Instagram filter.
7. PRADA
There's nothing better than a good #Shoefie.
8. CALVIN KLEIN
Travel and Fashion is a match made in Instagram heaven.
9. VERSACE
Always be flexible – with your schedule, your hashtag choice, and most importantly, your Instagram content.
10. MICHAEL KORS
Did Michael Kors just make the '#Bagfie' the must-take photo of 2018? We think so.
TIPS FROM THE MOST FOLLOWED FASHION BRANDS ON INSTAGRAM:
Those were some pretty cool pieces of content, hey?
Well here are a few nuggets o' wisdom that we've gained from taking a look at these high-performing Fashion brand Instagram accounts.
* Get photos of the details – bags, shoes, accessories

* Have a mixture of photo angles including full outfit snaps and flatlays

* Be consistent with your posting schedule and photo/video quality
MOST FOLLOWED BRANDS ON INSTAGRAM:
FOOD
1. STARBUCKS
Video content is so hot right now.
2. MCDONALD'S
Filters are your best friend.
3. OREO
Oreo GIFs in Instagram Stories are a thing, and we're here for them.
PSST -> Did you know that you can make your own IG Stories GIFS? More details coming in a future blog post!
4. KFC
Carousel posts of Instagram memes never go unappreciated.
5. PIZZA HUT
Cute dogs are a must.
6.TACO BELL
Food flatlays make everyone hungry, including all of us at Plann HQ. A trip to Taco Bell anyone?
7. BURGER KING
Flowers make everything more Instagram-worthy.
8. SUBWAY
No seriously, flowers do make everything more Instagram-worthy.
9. WENDY'S
How do you translate 'Summer' into a food flatlay? With pool floaties of course!
10. KRISPY KREME
Wait for the 'Golden Hour' to get the perfect food photo.
TIPS FROM MOST FOLLOWED FOOD BRANDS ON INSTAGRAM:
Feeling a little hungry? We sure are!
*Excuse us while we go to get a snack…*
Okay, so here's what we've learnt from these popular Instagram food brands.
* If you're selling food, get creative with it, have fun!

* Make use of Instagram's different content styles including Instagram Stories

* For seasonal promotions try unconventional photo backgrounds and layouts
MOST FOLLOWED BRANDS ON INSTAGRAM:
SPORTS
1.NIKE
Videos with world-renowned athletes? Now THAT is a great way to increase your following and engagement on Instagram.
2. ADIDAS
Birds-eye-view photos? Now that is an interesting way to get people's attention as they're scrolling through Instagram!
3. PUMA
Quality images and childhood nostalgia.
You can definitely see why Puma is one of the 50 most followed brands on Instagram, can't you?
4. PREMIER LEAGUE
In-game photos that make players look like superheroes? We like this strategy!
5. JUMPMAN23
When Fashion and Sport meet…
6. FIFA WORLD CUP
Snippets of a game watched around the world, anyone?
7. FOOTLOCKER
Check out the details on that shoe with this super-cool Instagram Carousel post.
8. MANCITY
Capturing the best moments + encouraging fan commentating in the comments section. Genius!
9. UNDERARMOUR
Did somebody say… Influencer Marketing?
10. REEBOK
It's time for a sports #Shoefie!
TIPS FROM MOST FOLLOWED SPORTS BRANDS ON INSTAGRAM:
Did you love checking out these popular sports brands on Instagram? We had a ball!
HA! Did you get the pun? Was it punny?
Anyway, here's what we've figured out after taking a look at these sports Instagram accounts with large followings and incredibly high Instagram engagement rates.
* Influencer Marketing is definitely worth investing in

* Photo and video quality is important for all brand types, including sports brands

* Encouraging community engagement through popular events is always a great idea
MOST FOLLOWED BRANDS ON INSTAGRAM:
TRAVEL
1.NATIONAL GEOGRAPHIC (TRAVEL)
A perfect example of an Instagram account that consistently shares high-quality images to create an Instagram grid that you just can't help but scroll through.
Oh, and they asked a question in their caption – points for engaging your audience!
PSST -> Here's how you can increase your Instagram engagement with some of our top tips!
2. LONELY PLANET
Another set of high-quality images that are making us want to travel EVERYWHERE.
Grab your suitcases Plann team, we're going on an adventure!
3. CONTIKI
A travel and food photo combined? This is giving us major FOMO!
4. TRIPADVISOR
Do you want to know the secret to drool-worthy Instagram travel photos? Try following the photography tip, 'the rule of thirds'.
Take a look at the full TripAdvisor Instagram grid to see it in action on just about every single post.
5. TRAVEL + LEISURE
Taking the meaning of 'Instagram Feature Account' to a whole new level.
If you want your travel photos to be in the running to be shared with over 3.5 million people across the world, you better start using the hashtag #TLPicks on all of your travel snaps!

PSST -> Want to learn about Instagram Feature Accounts? Find out what they are, and how to get featured, in this handy dandy blog post.
6. TRAVEL CHANNEL
Video content is taken to another level on this Instagram account… wow!
7. BBC TRAVEL
SO MANY INCREDIBLE PHOTOS.
That is all.
8. NORWEGIAN CRUISELINE
Hilarious Instagram meme? We LOVE this strategy Norwegian Cruiseline! Let's be friends!
9. LOVE GREAT BRITAIN
If this isn't the ultimate Instagram photo opportunity spot, we don't know what is.
You can definitely see why they're one of the 50 most followed brands on Instagram!
10. INTREPID TRAVEL
Don't know how to best use the Instagram Carousel Post functionality? THIS is how!
TIPS FROM MOST FOLLOWED TRAVEL BRANDS ON INSTAGRAM:
For this category of most popular Instagram brands, we think it's pretty obvious what the best piece of advice is for anyone looking to grow a new (or existing) travel brand.
Can you guess what it is?
It's all about the quality of your images and videos.
They need to be high resolution, and it really helps if you up the saturation to create content that is truly breathtaking.
PSST -> You can get access to over 60+ filters and professional editing tools with our FREE app, Plann.
MOST FOLLOWED BRANDS ON INSTAGRAM:
BEAUTY
1.MAC COSMETICS
High-quality photography really is the secret to an Instagram account that gets a ton of engagement!
PSST–> Did you know that MAC uses Plann to create their feed?
2. ANASTASIA BEVERLY HILLS
Video Content + User Generated Content = Instagram Success!
3. SEPHORA
If you are a business that sells products from other brands, try to re-gram their high-performing content to save yourself some content-creation time!
PSST -> You can use the Plann app to repost images and videos from public Instagram users for FREE!
4. NYX COSMETICS
User-Generated-Content really does work wonders for brands!
5. CALVIN KLEIN
You CAN mix photos of different product categories together to create an incredible Instagram account – just take a look at Calvin Klein!
6. TOO FACED COSMETICS
Did someone say high-quality photos? They really are the best way to make your content stand out as people are scrolling through their Instagram feed.
7. URBAN DECAY
It's totally okay to have a funny caption from time to time, check out this gem from Urban Decay!
8. BENEFIT COSMETICS
Who is mastering the art of sticking to a signature color palette on Instagram? Benefit Cosmetics are!
9. TARTE COSMETICS
Video Content + Asking a Question in Your Instagram Caption = GENIUS MOVE!
10. MAYBELINE
We promise it's the last time we say it in this article… but… you guessed it… USER-GENERATED-CONTENT RULES!!
TIPS FROM MOST FOLLOWED BEAUTY BRANDS ON INSTAGRAM:
Wow, there were a lot of great tips in this list of most followed beauty brands on Instagram!
We've definitely noticed a little bit of a pattern here – allow us to share these bite-sized insights with you:
* Always keep an eye out for User-Generated Content, it really works wonders

* Try to engage your audience by asking questions and being funny in your captions

* Create a signature Instagram grid style and stick to it, it's essential for sure
Wow! That was a lot of info, wasn't it?!
We hope that you really enjoyed this breakdown of the 50 most followed brands on Instagram, and we can't wait to see how you implement these winning Instagram tips into your own Instagram Marketing strategy.