When it comes to professional networking, LinkedIn is the go-to place for businesses seeking to establish their brand authority. LinkedIn is a B2B marketing platform designed to foster connections, build trust and establish credibility for businesses and leaders.
Looking to fast-track your journey to brand authority on LinkedIn? From optimizing your profile to crafting compelling content as well as strategically building your network, these tactics are here to help you build awareness and influence at scale.
Ready to become a thought leader in your industry? Let's dive into five practical ways to boost brand authority on LinkedIn.
1. Craft a Compelling Profile
To boost your brand authority on LinkedIn, start by giving your profile a strategic makeover. Let's look at some quick steps you can take to optimize your profile on this platform:
• Start with a professional headshot that exudes confidence, approachability and leaves a positive first impression.
• Your headline should be more than just your job title: make your headline a captivating snippet that highlights your expertise and the value you bring.
• When writing your LinkedIn bio, ensure the copy mirrors your skills and areas of expertise. Tap into social SEO and weave strategic keywords throughout your profile to boost your organic visibility on LinkedIn.
• Your profile summary is your chance to tell your brand's story. Craft a compelling narrative that highlights your career journey, accomplishments, and expertise. Keep it engaging and concise, giving visitors a glimpse into what makes you a stand-out thought leader.
Remember, a well-optimized LinkedIn profile doesn't just introduce you. It gets you one step closer to being a recognized leader and trusted expert in your industry.
2. Share Thought-Provoking Content
Elevate your brand authority by positioning yourself as a thought leader on LinkedIn. The best way to do this? Consistently share thought-provoking content!
LinkedIn content isn't just about promoting your products or services; it's about adding value to your audience's professional lives. Share industry trends, expert analysis, and valuable tips that demonstrate your expertise.
As with all social media platforms, consistency is key on LinkedIn. A regular posting schedule keeps your brand top of mind with current and potential connections.
Another helpful way to position yourself as a thought leader is by utilizing LinkedIn's long-form posts and articles feature. These post formats allow you to dive deeper into subjects, giving you the space to provide in-depth analysis and establish your expertise in a comprehensive manner.
By consistently offering fresh insights, you'll gradually build a following of professionals who look to you for valuable knowledge. Want to maintain a consistent posting schedule with ease? Plann's LinkedIn scheduling tool will help you prepare your content in advance and ensure that the right content goes out on time, every time.
3. Engage with Your Network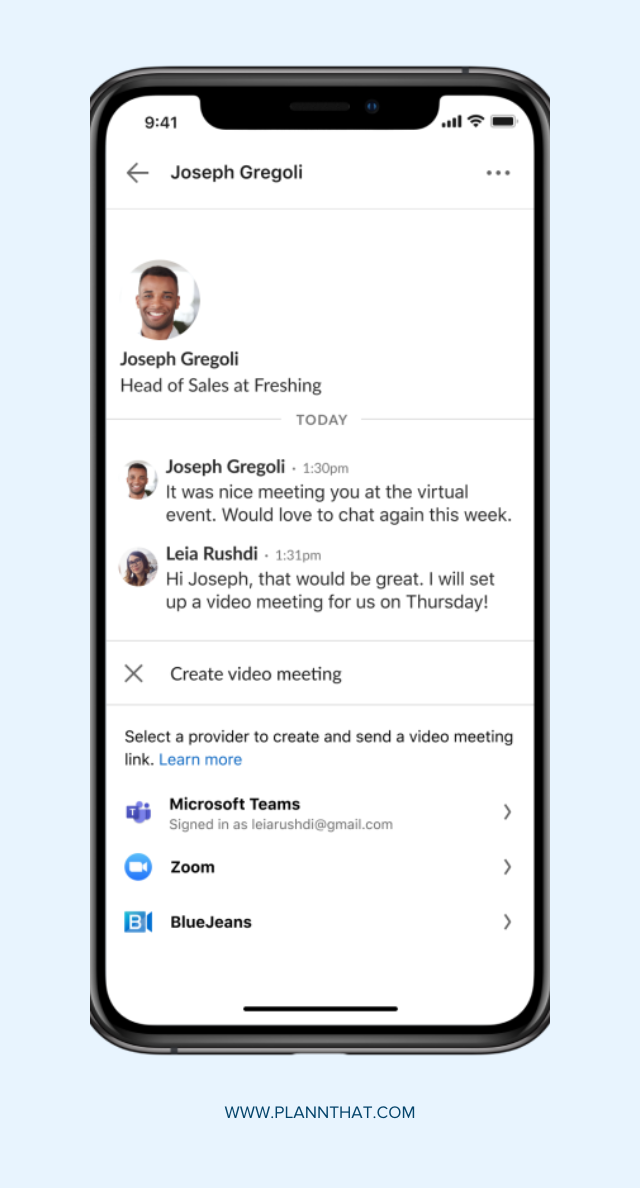 Building brand authority isn't a one-way street – it's a dialogue. Engaging with your connections is essential to solidify your position as an industry leader.
Meaningful comments and thoughtful responses on other users' posts not only showcase your expertise but also foster connections and conversations.
Proactively initiate discussions through direct messages. This personalized approach shows that you value your network and are invested in their insights. Join relevant conversations and provide insightful input that adds value to the discussion.
Plus, don't overlook the potential of LinkedIn groups. Participating in groups related to your industry allows you to connect with like-minded professionals, share your expertise, and learn from others. Sharing valuable content and engaging in discussions within these groups enhances your brand's visibility and credibility.
4. Showcase Your Achievements
Your LinkedIn profile is an opportunity to showcase your brand's accomplishments. To enhance your brand authority, make use of LinkedIn's "pinned" section to highlight key projects, articles, and achievements that underscore your expertise.
Consider curating a portfolio of work that aligns with your brand's goals and values. Whether it's a successful campaign, a groundbreaking project, or an insightful presentation, each achievement adds to your brand's narrative of excellence.
Incorporate multimedia elements like presentations, videos, or infographics to visually showcase your work. These dynamic additions not only capture attention but also demonstrate the depth of your contributions. Plus, endorsements and recommendations from colleagues and clients provide social proof of your brand's credibility.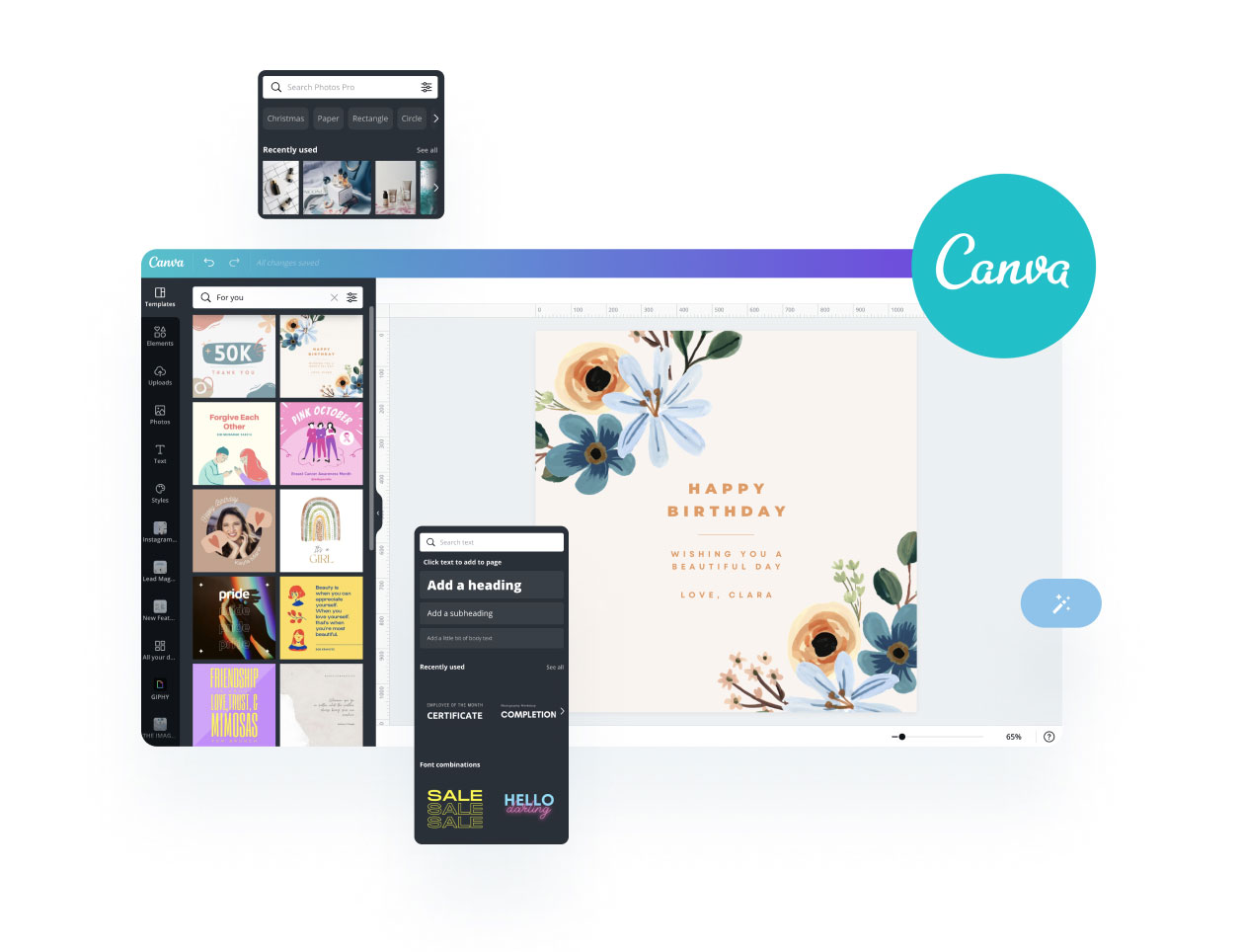 Need help creating captivating graphics to showcase your brand? Plann seamlessly integrates with Canva to provide you access to customizable templates and designs. Plus, it stores your brand colors, logos and fonts in one handy workspace to make content creation a breeze.
5. Collaborate and Network Strategically
Strategic networking isn't just about expanding your connections; it's about aligning with influential voices that can amplify your brand's message. Strategic collaborations and networking can exponentially amplify your reach and influence.
But how do you do it? Start here: connect with industry influencers, thought leaders, and professionals whose values align with your brand's mission.
Initiate connections with personalized messages that highlight common interests and potential areas of collaboration. Engage with their content to show your genuine interest in their work. By building relationships with established figures, you can tap into their networks and gain access to a wider audience.
It's also important to participate in virtual events, webinars, and conferences within your industry. Whether as a speaker or attendee, these events offer opportunities to showcase your expertise, exchange ideas, and foster new connections. You may also want to contribute meaningfully to LinkedIn discussions and forums, positioning yourself as an insightful contributor to industry conversations.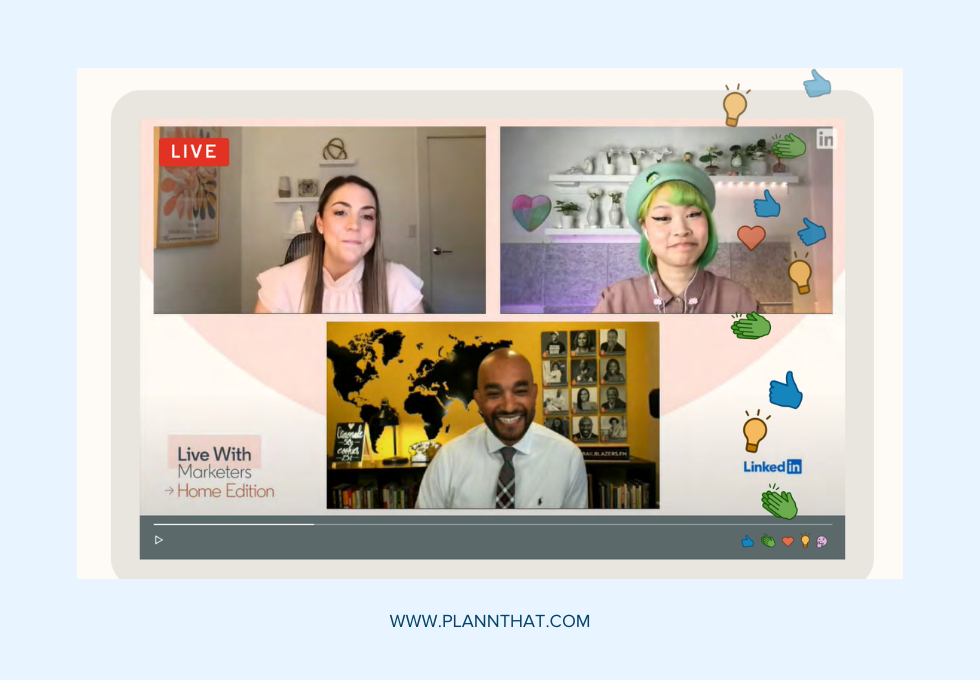 Establishing brand authority requires a blend of strategy and authenticity. By crafting a compelling profile, sharing insightful content, engaging with your network, showcasing achievements, and networking strategically, you'll create a powerful presence that resonates with your audience. Remember, consistency and commitment are the cornerstones of building lasting influence.
Ready to elevate your authority on LinkedIn?
Looking for an all-in-one content creation suite that simplifies managing your social media channels? Plann offers you everything you need to effortlessly map out your strategy, manage your content, and ensure seamless posting every time.
Go on, and redeem your 7-day free trial of Plann Plus. If you don't like it, keep using Plann for free!