Want to become an industry thought leader and make a real impact in your field?
Then it's time to level up your LinkedIn presence.
As a key networking tool for professionals with over 900 million members worldwide, LinkedIn is a powerful platform to boost your network, forge new professional relationships and establish your personal brand as a business owner, content creator or entrepreneur.
However, creating compelling content can be challenging.
That's why we've compiled a list of the top five content types you can use to boost your industry status and get noticed on LinkedIn.
From thought leadership articles to behind-the-scenes content, we'll guide you through how to attract a wider audience, boost your visibility and drive meaningful engagement on LinkedIn.
Ready to take your LinkedIn game to the next level? Here are five LinkedIn post ideas to try immediately.
1. Showcase your expertise with industry insights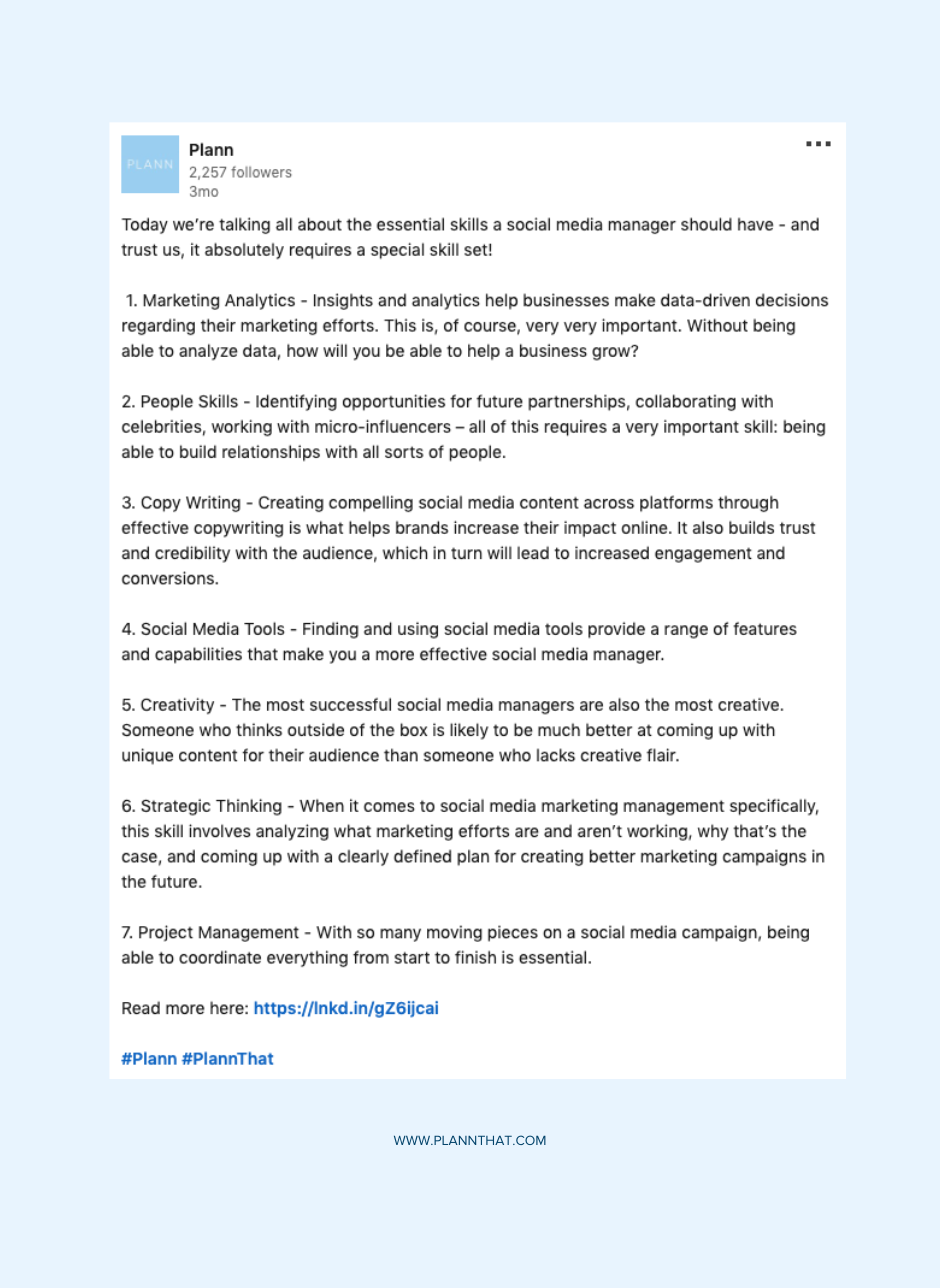 Looking to establish yourself as a go-to source for industry-related news and updates?
By sharing insights about the industry you work in you can showcase your expertise and position yourself as an expert.
Think about what topics or news stories are trending in your niche. By sharing stats, tips or opinion pieces, you can capitalize on these timely conversations.
Our tip? LinkedIn carousels are the perfect way to share your thoughts and break complex topics down into engaging bite-sized posts. Summarize key takeaways, provide your own analysis, and share your insights on industry-related events or conferences that you attend to showcase your expertise and provide valuable information to your audience.
2. Build trust with behind-the-scenes content
Looking to build trust with your audience, promote your company culture and potentially even grow your team? Behind-the-scenes (BTS) content might be the answer!
BTS posts can make your brand more relatable and engaging. These posts can take many forms, from showcasing a team event to giving a sneak peek into your day-to-day operations, it's all about building trust by showing off your brand authentically.
But BTS content can also serve a bigger purpose, especially on LinkedIn. Despite its growth as a content-sharing platform, LinkedIn is still heavily focused on recruitment and employment.
Did you know that 52 million people used LinkedIn to search for jobs each week? And research shows that 60% of all users are 25-34 years old, closely followed by their younger cohort.
That means BTS content is not just for sales or marketing anymore.
With company culture being so important to Millennials and Gen Z employees, BTS posts can help showcase the culture of your business and the people behind it. Use this content to give potential employees an insight into what it's like to work at your company.
Our tip? Make sure to share photos or videos of your next team-building or social event and showcase what makes your company such an incredible place to work on LinkedIn. The more raw and candid you can make this content, the better!
3. Stand out in your niche with thought leadership articles
Have an opinion about something? Why not craft a spicy, thought-provoking article on LinkedIn?
These native thought-leadership articles are a powerful way to showcase your expertise and position yourself as a leader in your niche. Plus, these content formats help you gain both new followers and respect from other industry leaders along the way.
According to the 2021 Edelman-LinkedIn B2B Thought Leadership Impact study, thought leadership content is one of the most effective ways to build brand awareness, generate leads, and drive revenue.
In fact, studies have shown that high-quality thought leadership content is critical to building trust and credibility with B2B decision-makers.
Think you don't have enough time to write long-form articles from scratch? Think again!
If you're already publishing blog content or articles on your own website, you can easily repurpose these into LinkedIn. We're big believers in working smarter, not harder, which is why repurposing content is a winning approach!
So if you want to attract new followers on LinkedIn and establish yourself as a trusted authority in your industry, it's time to start sharing your knowledge and expertise on industry-related topics.
4. Harness personal experiences and anecdotes to humanize your content
Ever felt disconnected from the content you see on LinkedIn? It can be tough to engage with brands that feel too corporate or distant. Make your LinkedIn content more relatable by incorporating personal experiences and anecdotes.
Sharing stories about your own life or work experiences can build trust and help you form more genuine connections with your audience.
Maybe you've experienced the challenge of balancing work and parenting, or maybe you have a funny story about a mistake you made at work. You could even share highlights from a recent trip you took.
Why? Personal stories humanize your content, build trust and foster meaningful connections.
The key is to be authentic and share content that truly resonates with both you and your audience. Try capturing candid photos of your next holiday or share a selfie paired with a heartfelt caption.
5. Leverage video content to build brand awareness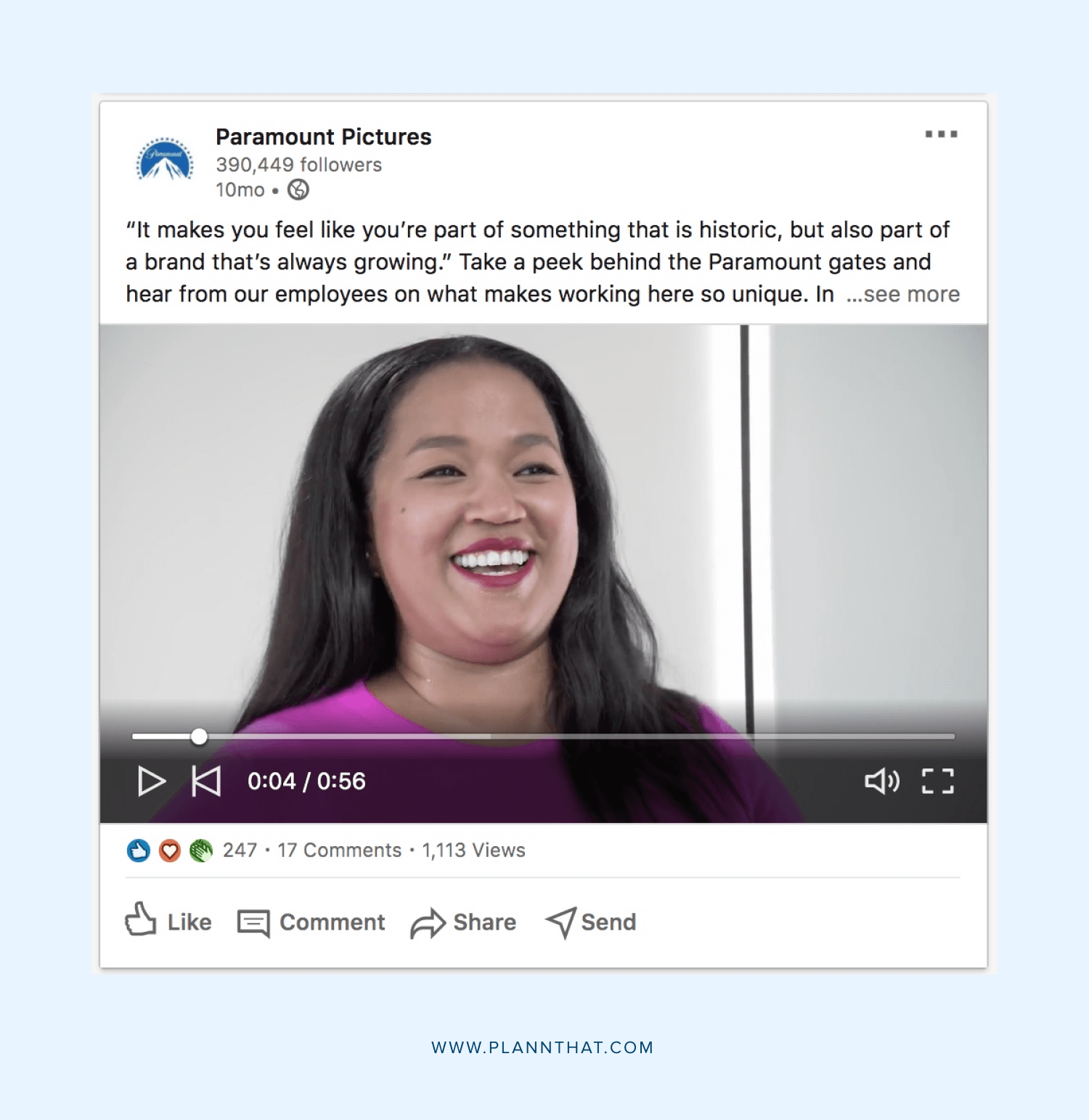 Standing out from the crowd is more important than ever, and video content can help you do just that on LinkedIn.
Not sure what to include in your videos? Start by showcasing your products, services, or company culture, focusing on creating a dynamic and engaging way to connect with your audience.
A behind-the-scenes glimpse of your brand can be especially effective, giving your audience an exclusive look at how you do what you do. And product previews can help build excitement and anticipation around new releases or updates.
With LinkedIn reporting that videos are five times more likely to generate engagement than other types of content, incorporating videos into your content strategy is a smart move.
Ready to transform your LinkedIn presence?
Now that you have some fresh ideas for creating engaging content, it's time to level up your LinkedIn game. With Plann's all-in-one social media suite, you can easily and consistently show up on LinkedIn with a variety of content.
What are you waiting for? Sign up for a 7-day free trial of Plann Plus, if you don't like it, keep using Plann for free!