New Content Prompts

No matter what industry you're in or how many photos you have in your camera roll, there's always a time when you're deep into planning your social media schedule and suddenly draw a blank.

To help get you out of any funk wondering what to post, we've added a huge library of content prompts that have been specifically tailored to over 50 different industries.
You mean like…"Welp! What should I post next?"
Yes. Exactly.

Our new content prompts have been strategically designed to cover all types of post themes, from behind the scenes, building your community, and asking for the sale.

We've even color coded them against our known top-performing themes so you can see exactly how the strategy was created for you.
We'll help you tell a well-rounded brand story with 9 prompts for each industry (which is enough to make a strong impact on your grid). Once you see them live and in action, the prompts will help you plan out similar content for your future posts.


Where are they in Plann?
Open the strategy tab on Plann desktop and you'll find our new CONTENT PROMPTS button.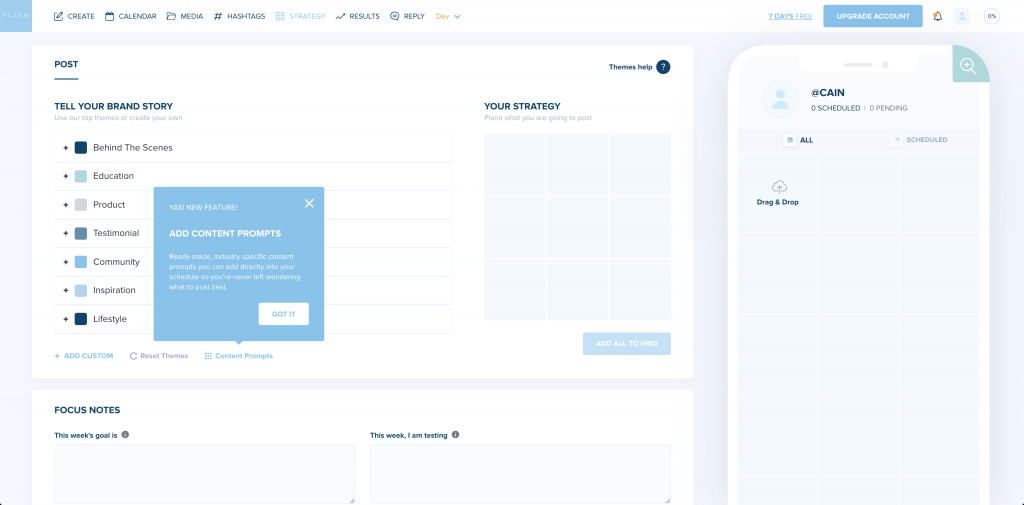 UPDATED! Updated: Seasonal Holiday, Giveaway & New Year done-for-you campaign prompts
Ready-made Seasonal Holiday, Giveaway & New Year's content blueprints for your festive campaigns are here, so that you can schedule ahead and take the break from 2020 you deserve!

Head to Plann's content prompts and insert an entire campaign, designed over both your Instagram Posts and Stories so you know exactly what to post over the holidays and in what order. We've done the thinking for you!

Where to find Holiday Campaign Prompts, DESKTOP: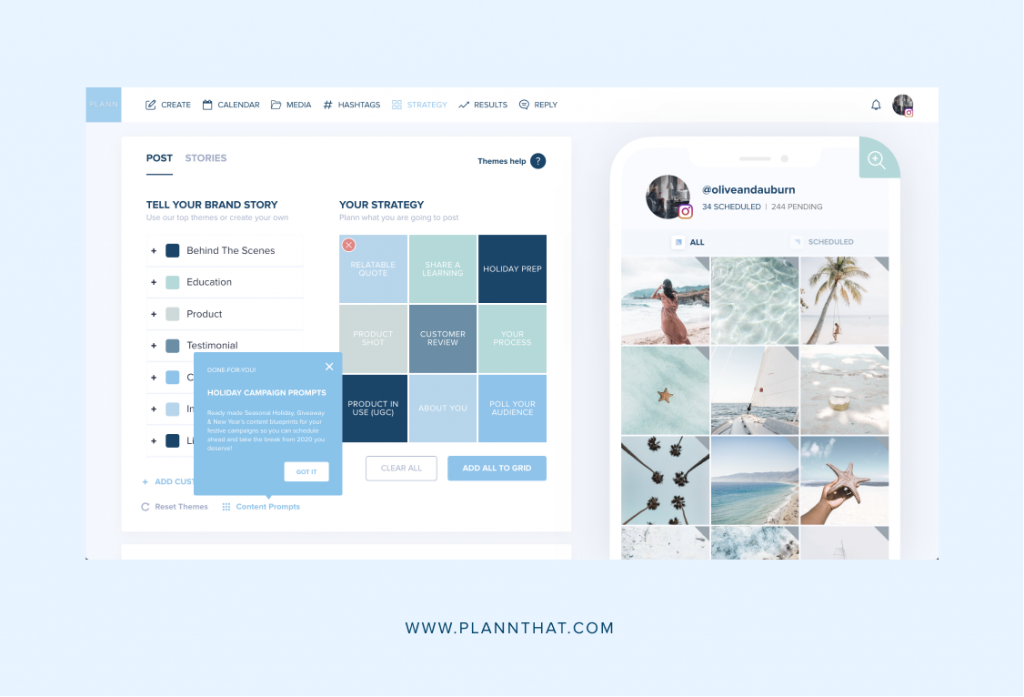 Where to find Holiday Campaign Prompts, PLANN APPS: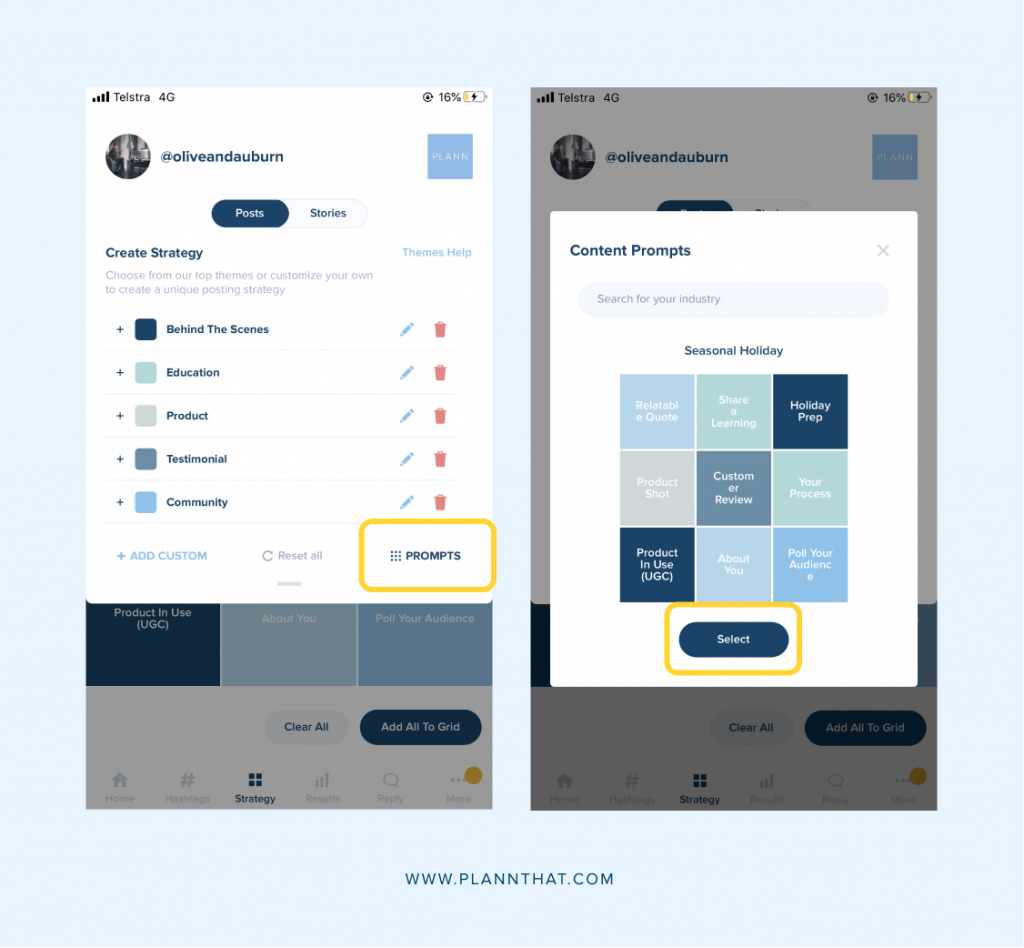 Planning your holiday content for both Instagram Grid Posts and Stories:
If you're looking for a campaign to cover both Instagram posts and stories, please remember to add the Holiday prompts to each planning section.
For example, if you import the Holiday prompts while planning posts, you'll also need to pop into your Plann Stories Strategy to import the Holiday stories prompts from there too.
Choose from 1) Seasonal Holiday  2) Host a Giveaway OR 3) New Year's Celebrations
You can access one of our image libraries,  including Pexels' stock library, to find high-quality stock festive photos and videos, edit with Plann's in-built editing suite (including Plann's beautiful new text editor) add your own flair, schedule to your social profiles, and then take the break from 2020 you deserve!
Wishing you and your family all the best this festive season! xx
What industries are covered in Planns Content Prompts?
Over 50 industries have been included, from fashion to bricks & mortar, beauty & health and all the way through to if your passion is in the creative arts.

The best part is that you're not limited to one! You can add as many prompts and placeholders into your strategy as you'd like – giving you hundreds of content ideas, so you never run out of ideas to post. 
Simply select the templates you'd like to add to your strategy, then add the placeholders directly into your grid.

(*pssst. If you're completely out of visual content right now, don't forget you can use Plann to access a HUGE range of royalty-free stock images and videos from our galleries!)
Who can access these content prompts?
Anyone!
Plann's strategy prompts are completely free, available only on Plann Desktop.

Feeling confident that you've always got something to post is something we're proud to help our community feel supported with. We know how big of a challenge coming up ideas can be.

With these prompts, you'll always be able to keep your brand online.

Do you have any more content prompts?
If you're not already signed up to our marketing emails, we make a grand habit of sending out content calendars for the month ahead. They're a little more one-size-fits-all than these prompts but we're convinced you'll be inspired either way!

You can sign up here to receive the monthly content calendar straight to your inbox.
Plus! You can easily access ALL of the content calendars we've previously published by visiting our Content Calendar history here.
We can't wait to show you what's next!

Have you got ideas for what you'd like to see next inside the Plann platform?
Email your ideas through to feedback@plannthat.com
Best,
Plann Team x