So, Valentine's Day is less than a week away.
And odds are if you're reading this, you still don't have a gift.
But before you start stress eating, we have Plann to help you out.
We've searched high and low to bring you the best Valentine's Day gift ideas on Instagram.
Whether you're looking for something sentimental, humourous, or a cup that pays for your coffee – we've got you covered.
Best Valentine's Day Gifts Ideas From Instagram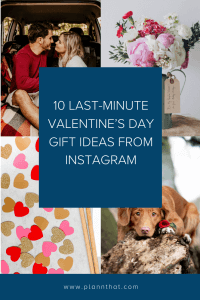 Frank Green: For The Coffee Lovers & Eco Warriors
What do you buy a coffee snob for Valentine's Day? 
An eco-friendly coffee mug with Visa payWave technology.
Frank Green creates eco-friendly reusable mugs and bottles which allow you to pay for your caffeine fix with a simple wave.
Plus, the innovative combination of stainless steel and ceramic is designed to seal in flavour and keep your beverage hot or cold – just the way you like it.
Frank Green's cups are the perfect Valentine's Day gift idea for someone who always leaves their wallet at home or loves to indulge in Melbourne's speciality coffee scene.
Pick up one of their gift sets, customise it with a range of colours and personalise your gift with a monogram of your lover's name.
Une Piece: For The Sun Worshippers & Surfers
Is your girlfriend's spirit animal a Bond girl?
Spoil her with Une Piece's Orginal Sexie Rashie. It's a stylish alternative to a traditional wet suit and is perfect for long days in the water.
For sun-worshippers who want to spend the hot Australian summer's soaking up the rays on Bondi Beach with a cocktail in hand, pick up the Classic Square Neck one-piece swimsuit.
It's an ultra-luxe piece which pairs beautifully with a pair of palazzo pants.
The best part? All of Une Piece's swimwear is made from sustainable UPF50+ fabric which blocks 90% of the sun's rays.
Love Street: For Vintage Intimates
What's Valentine's Day without a lingerie haul?
Whether you're celebrating the 14th of February solo or with a partner, you can't go wrong indulging in a set of intimates from Love Street.
The curated handmade and vintage items ooze romance and sophistication. 
The best part? All intimates are currently on a buy 2 get 1 free sale for Valentine's Day!
View this post on Instagram
Wit & Delight: For The Planners
When planning a holiday with your significant other, do they:
– Buy air tickets months in advance

– Thoroughly research and read reviews on accommodation options 

– Create detailed itineraries and lists for what to see and where to eat
Help your Type A lover stay organised with a Valentine's Day gift from Wit & Delight.
With a range of desktop notepads, checklists and journals, your partner will have everything they need to plan your next romantic weekend away.
Ettitude: For The Home Bodies
A good Valentine's Day gift isn't always chocolates, teddy bears and roses.
If you've just moved in together, or you know they have a penchant for decorative towels, spoil your beau with some dreamy fabrics from Ettitude.
The ethical brand makes sleepwear, bedsheets, duvet covers, pillowcases, robes and towels from sustainably sourced bamboo.
The result?
The world's softest bedding.
Chez Gagne: For Couples With a Sense of Humour
Is your partner #blessed to have you in their life?
Let them know with one of Chez Gagne's tongue in cheek letterpress cards, wine tags, or mugs.
There's a huge variety of gift ideas for light-hearted couples who would rather have a good chuckle than take Valentine's Day too seriously.
View this post on Instagram
Sugarfina: For The Sweet Tooth
Treat your Valentine (or yourself) to an over-the-top sugar rush from Sugarfina. 
Design a candy box with your honey's favourite treats. You can play it small with a three-piece gift set or splurge on a 24-piece tasting box.
Mix Book: For The Sentimental
MixBook is a simple Valentine's Day gift that packs a punch.
If you're dating a sentimental person who loves reminiscing, create a collection of all your favourite memories and display them on books, cards, calendars or wall art.
It's a unique gift idea that you'll both treasure forever.
Ardell Beauty: For Getting Ready
Got a hot date for Valentine's Day? Buy yourself a set of Ardel lashes and turn up the heat.
Pair your eye look with show-stopping drama and lashes that deliver on volume.
Or use Ardel's famous pre-cut Wispies to add a spot, feathery look while still adding glamour in all the right places.
Picture Polish: For Pampering
Give the gift of self-love and pampering.
If your partner always has perfectly manicured nails and loves experimenting with trends and colours, create a curated gift set with Picture Polish.
Grab a few of her favourite colours and add in some nail art tools, stamps and stencils to take her nail game to the next level.
What are you gifting your beau for Valentine's Day this year? Did you find your present through Instagram? Let us know below!