How to make the most of Plann, our new visual planning + scheduler app for Instagram.
We wanted to make you the easiest, friendliest and happiest Instagram scheduler you could get your hands on, so if you're after a few starter tips – we're happy to get you moving in the right direction.
To take you through getting started, the lovely Suze Ford has offered her fine art feed for inspiration.
Downloaded Plann and need a few starter tips?
Let's go!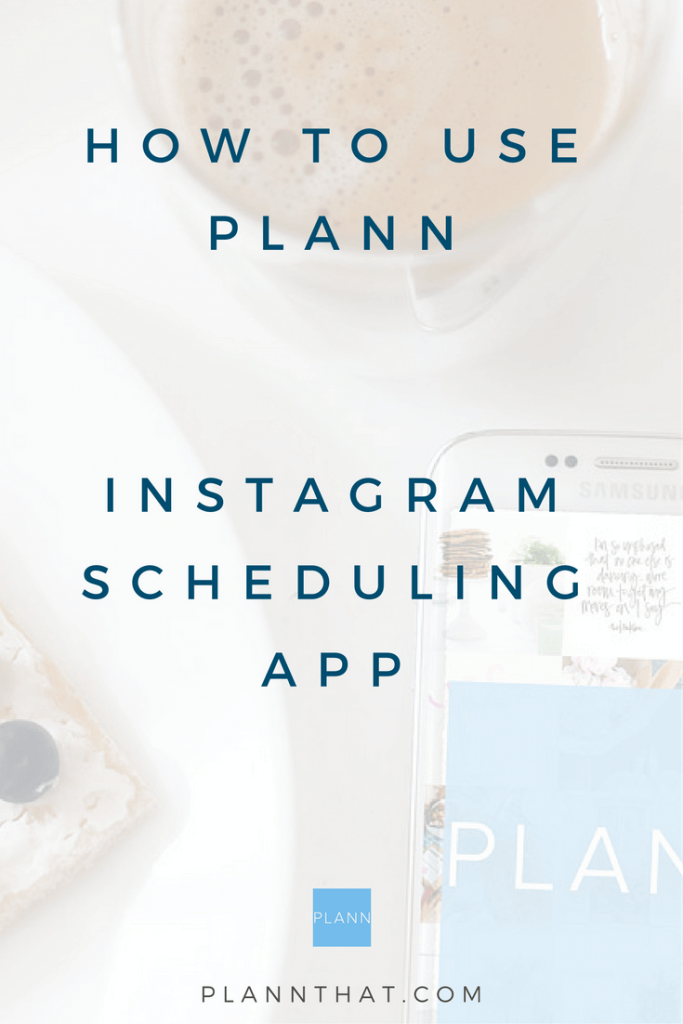 'Log-in to Instagram'
Logging into Instagram allows us to display your last 20 images posted from Instagram, from here you can see how your feed is already looking and where to next.
(As these images are being mirrored from Instagram, they're display only. If you're not happy with how it looks, the changes you make on Instagram will be mirrored inside Plann.)
It's this easy, watch how Plann works
---
Want to go a bit slower, step by step?
Once you've downloaded – you're ready.
Use Plann to search through images saved on your device to upload.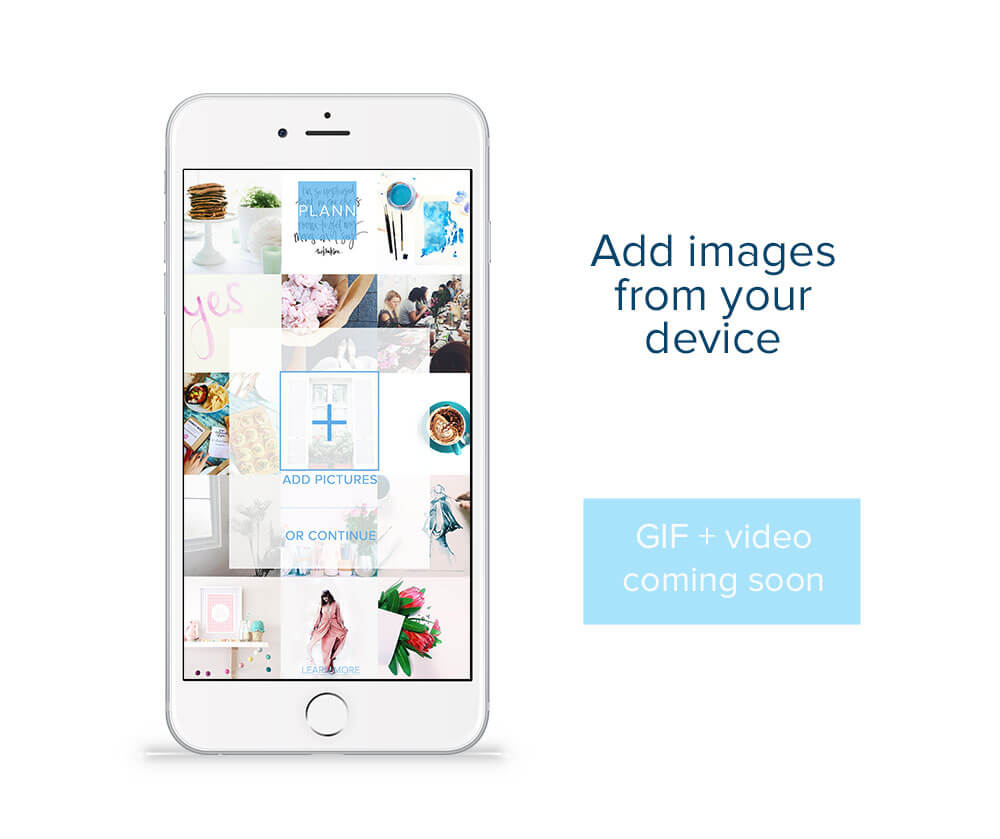 ---
Drag'n drop until your feed looks fabulous
To activate, hold down an image until they start getting 'Jiggly' – you'll be able to move each image around to ensure the best use of your galleries space.
Create a beautifully branded Instagram feed, control balance, perspectives, white space and colour schemes in seconds.
Hold up to 120 photos or videos inside with no monthly limits, scheduling restrictions or grid caps!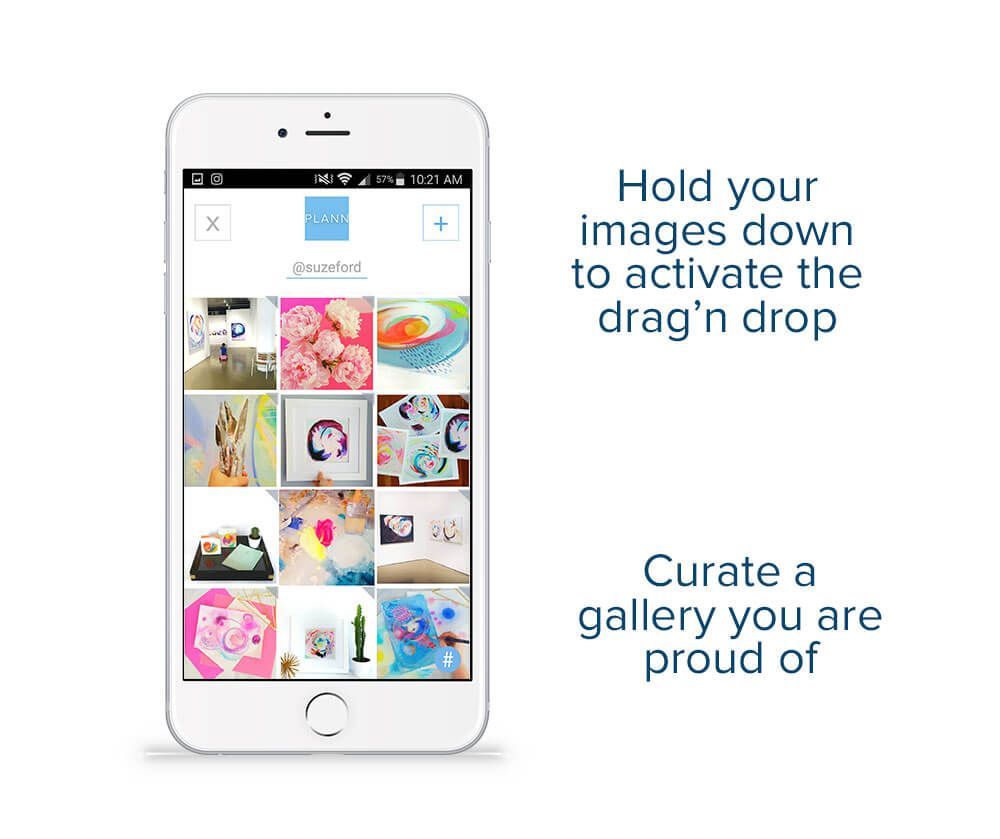 ---
Eeew, uploaded an image you don't like?
Here's how to delete.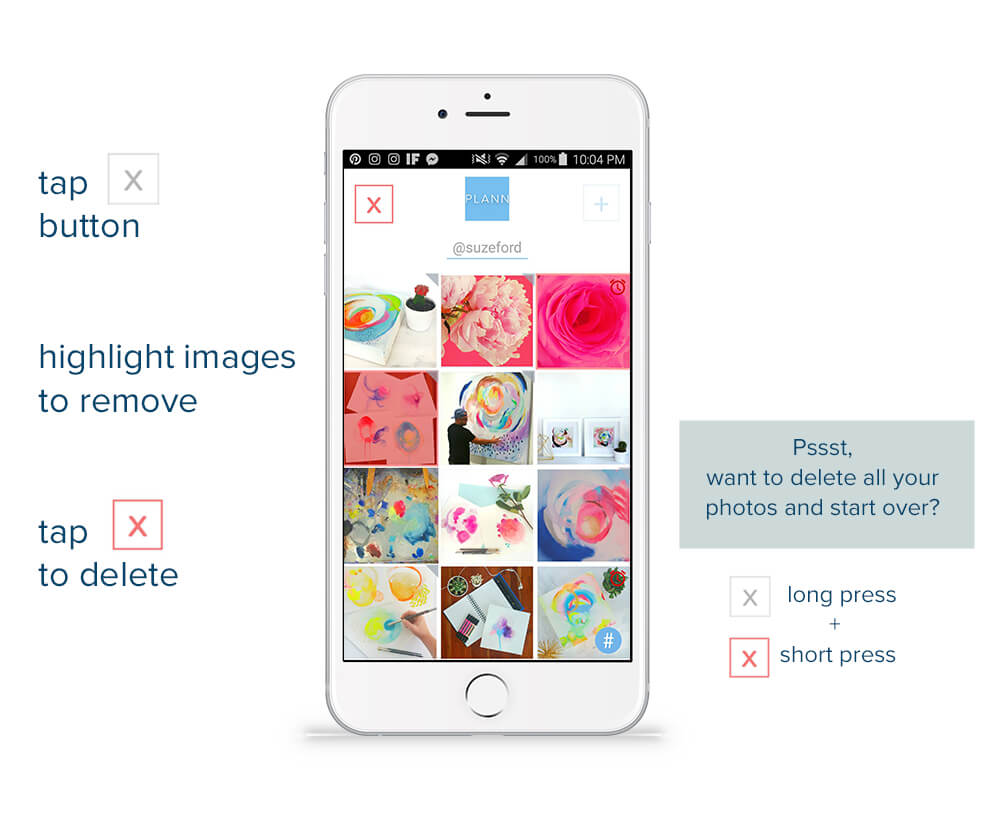 ---
Happy with your new gallery?
Time to get plann'ing and scheduling!
Simply click an image from the gallery to open the 'schedule' page.
Pre-load your instagram captions and schedule when you'd like to receive reminders to post.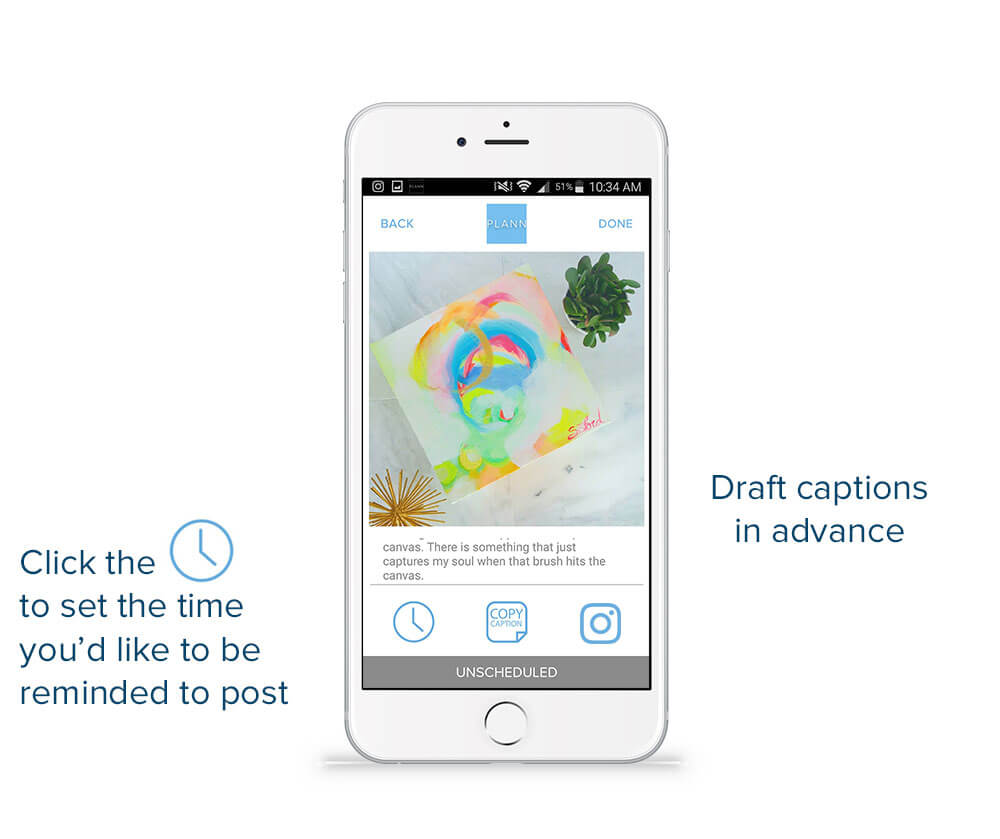 *NOTE: Instagram does not allow automatic posting, from anywhere, at all.
It is against their terms of use and could result in your account being shut down.
Plann works by sending you a notification at a specific time you've selected so you can close post yourself – which is completely safe.
---
How do you know you've set the right time?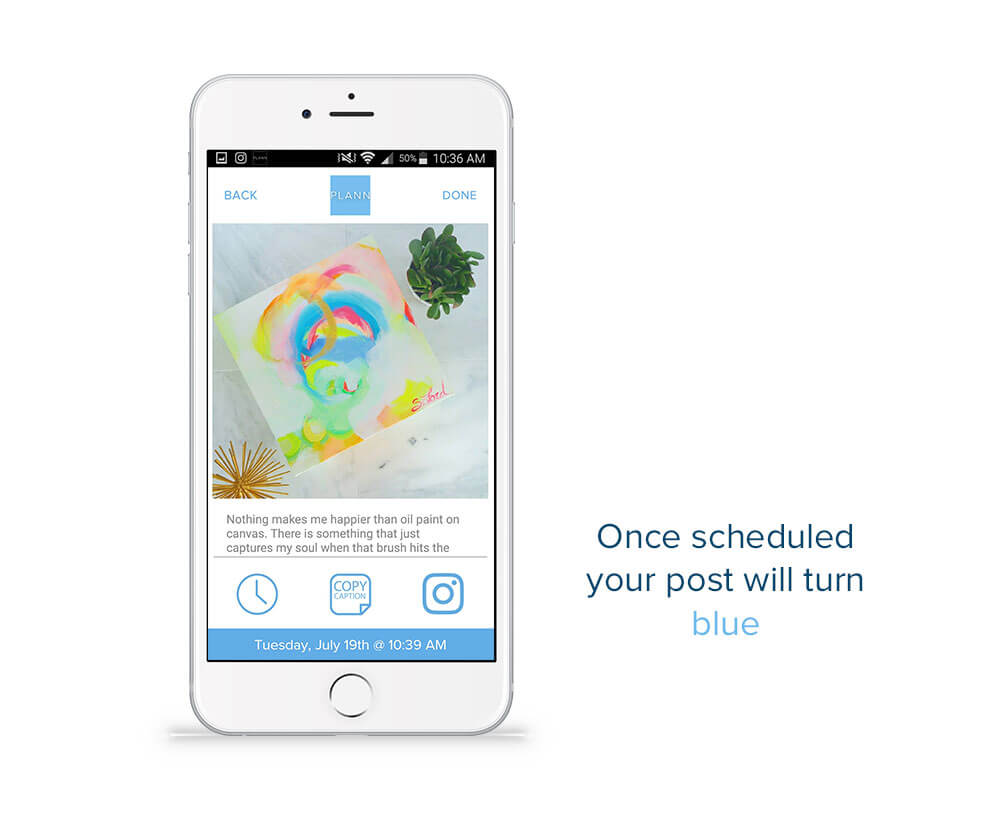 ---
What do the colours in the gallery mean?
We've designed a beautifully simplistic way for you to see your productivity in a tiny glance.
The corners will let you know if your images are scheduled or still waiting to be set.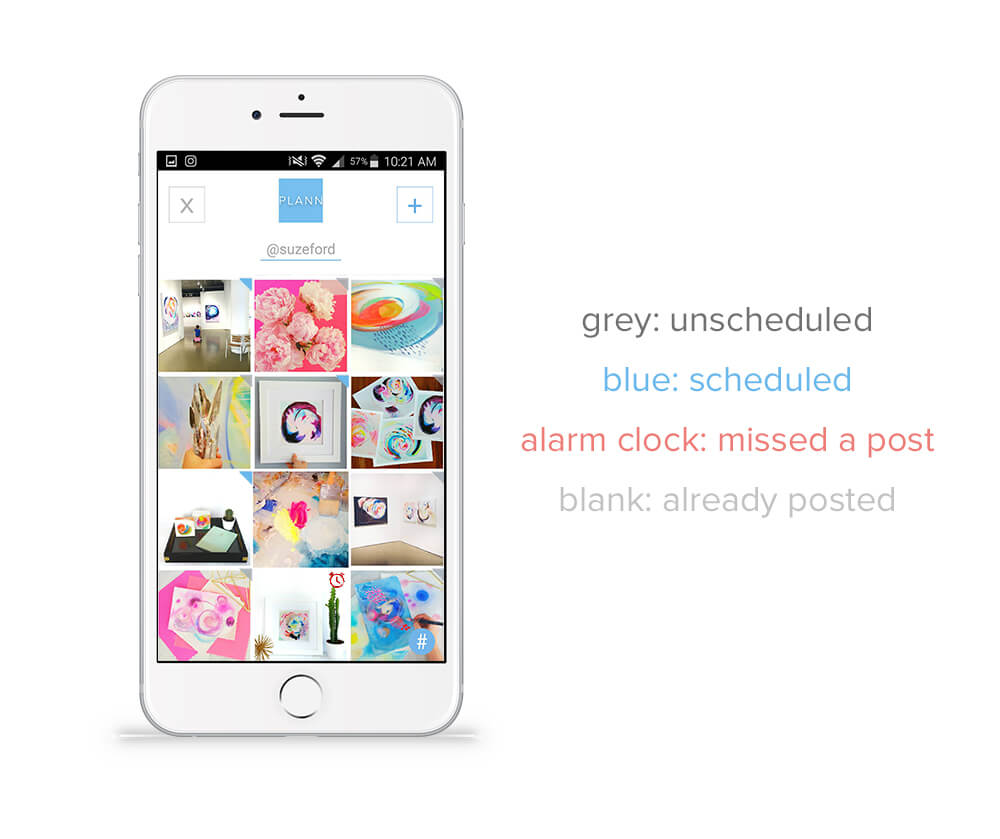 ---
Missed a reminder, or just want to set a new time?
Easy, just remove it and start over.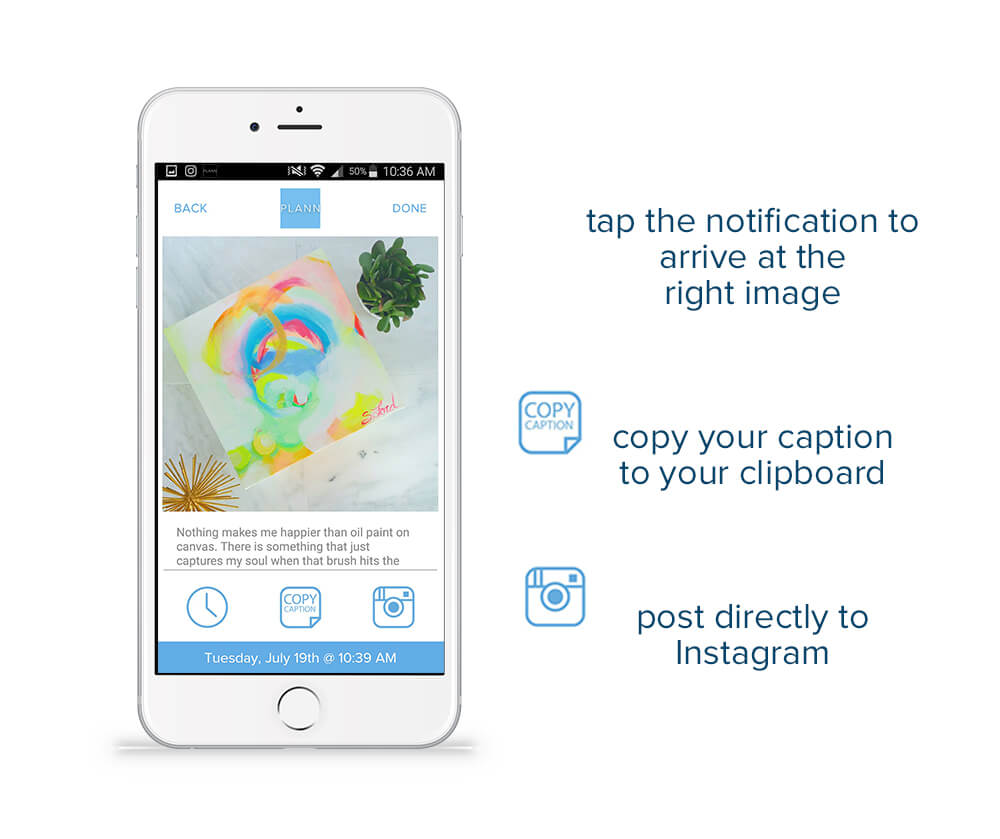 ---
Know when it's time to post!
We'll send you a notification when you ask – however if you find them annoying then you can always turn them off in your phone settings.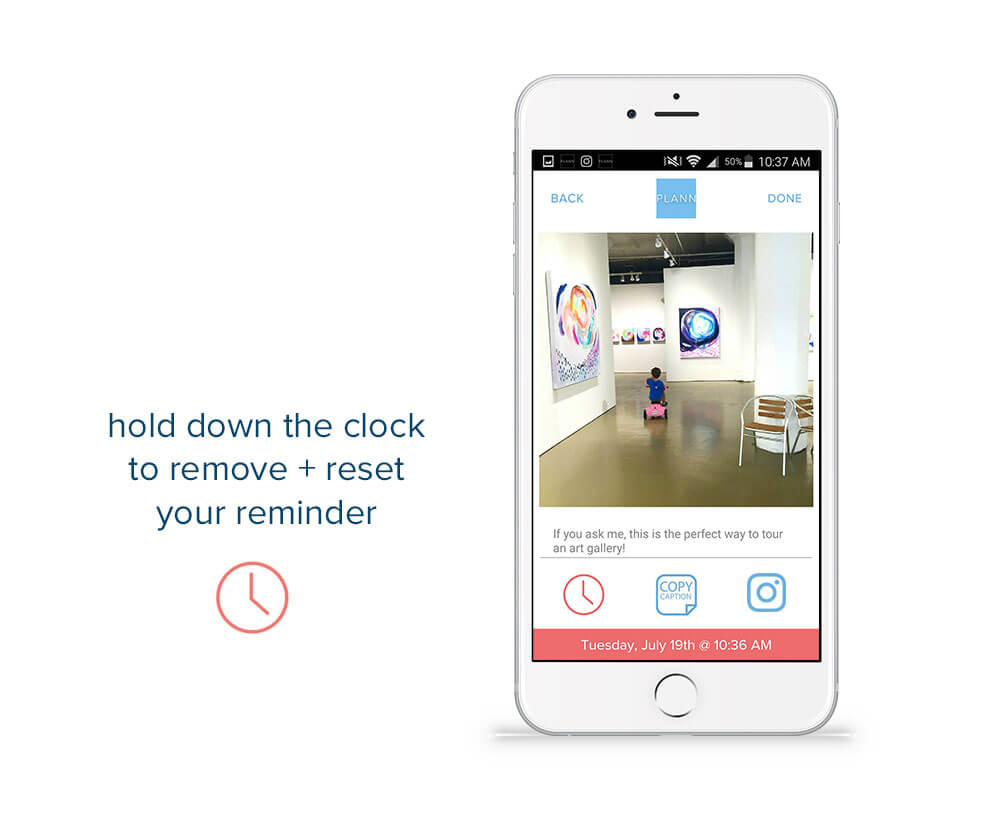 ---
What happens when it's time?
Hit the notification to be taken straight to your planned image.
Copy your caption and easily post straight to Instagram.
---
Manage more than one account?
No problem!
Use Plann to organise and design as many accounts as you need.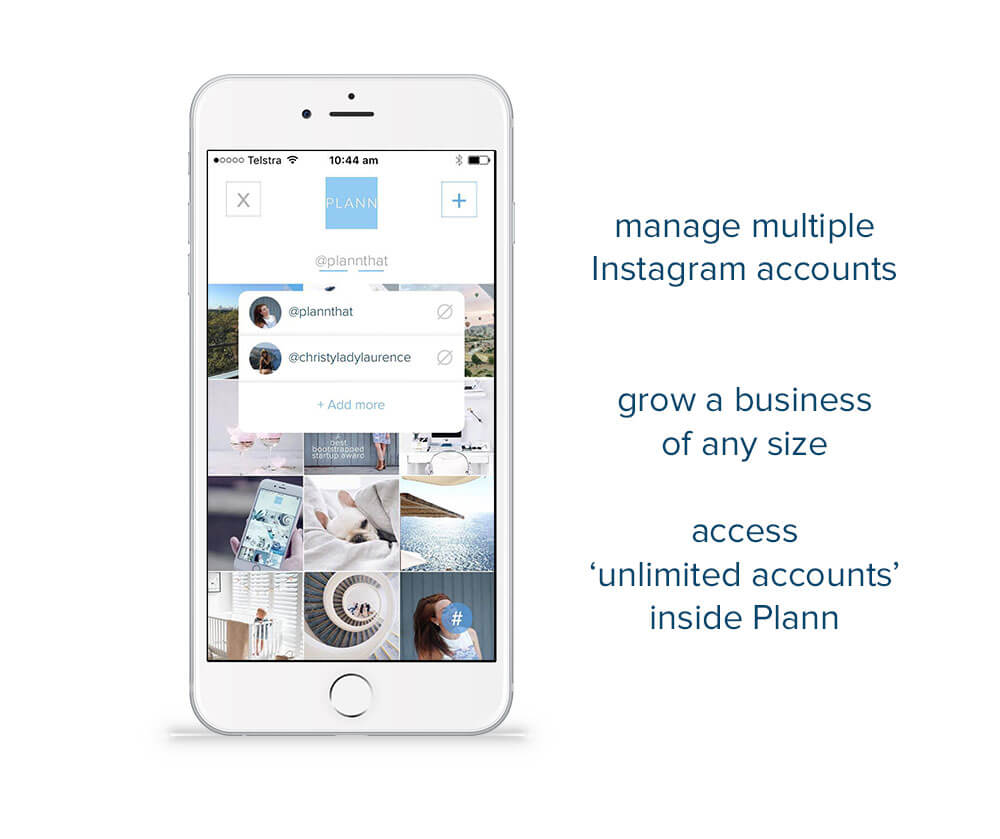 ---
Save your most important hashtags
Incredibly important to your instagram game, with Plann your favourite hashtags are never far away.
Save sets of up to 30 hashtags with a handy counter so you never go over.
Easily copy and paste your captions into the first comment of your Instagram post at the most crucial time.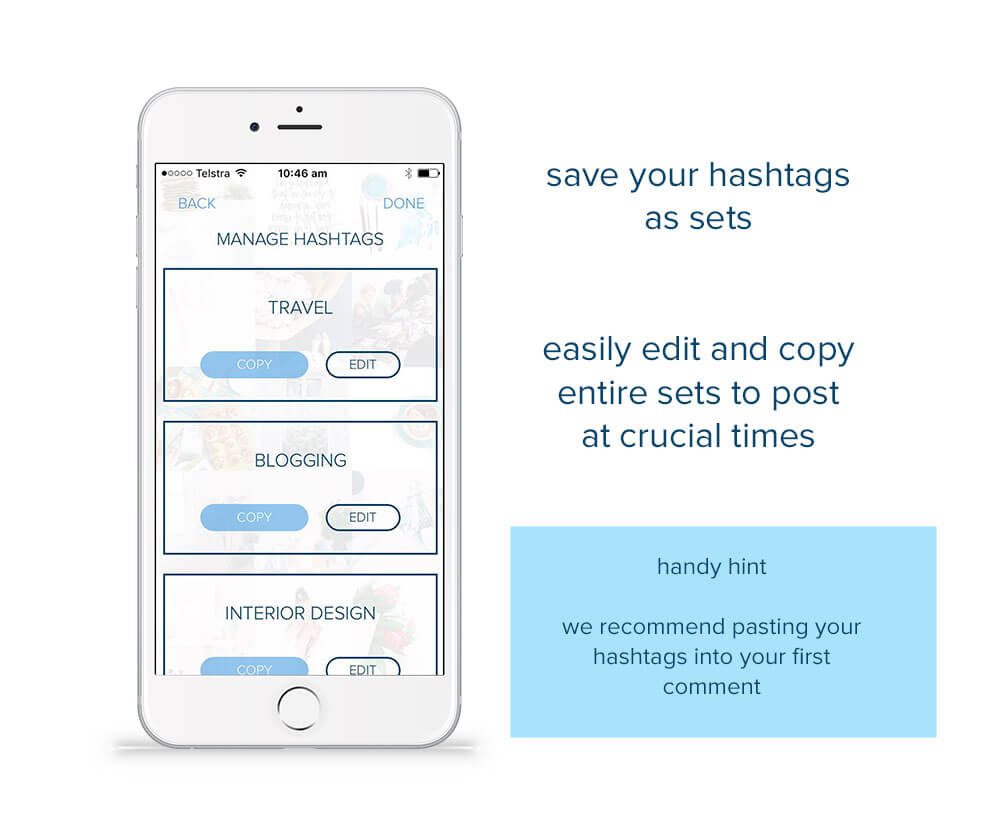 Why do we recommend doing this?
Read more here: How to Create Custom Highlight Covers For Instagram Stories
or here: How hashtags work, read our 101
---
Sit back and enjoy your beautiful feed.
Pour yourself a hot cuppa, you've earned it.
We're proud to say we have many testimonials that Plann has not only made our users look great, but we'e also helped with engagement rates, follower growth and a heck of a timesaver!