What's the fuss around Pinterest Ads? Well, it's the easiest way to reach Pinterest's 400 million active monthly users.
In fact, Pinterest one of the best platforms for social media advertising. Seriously. That's because the platform is a much more cost-effective option compared to the bigger plays like Facebook and even LinkedIn.
Plus, if your audience is already active on Pinterest and Pinning up a storm, there's a good chance you'll see a much higher conversion rate compared to Facebook, Twitter, Instagram, and LinkedIn ads.
Want to stop wasting money on social ads that get no results? Keep reading to find out everything you need to know about using Pinterest Ads to drive more brand exposure and sales for your business.
What are Pinterest Ads?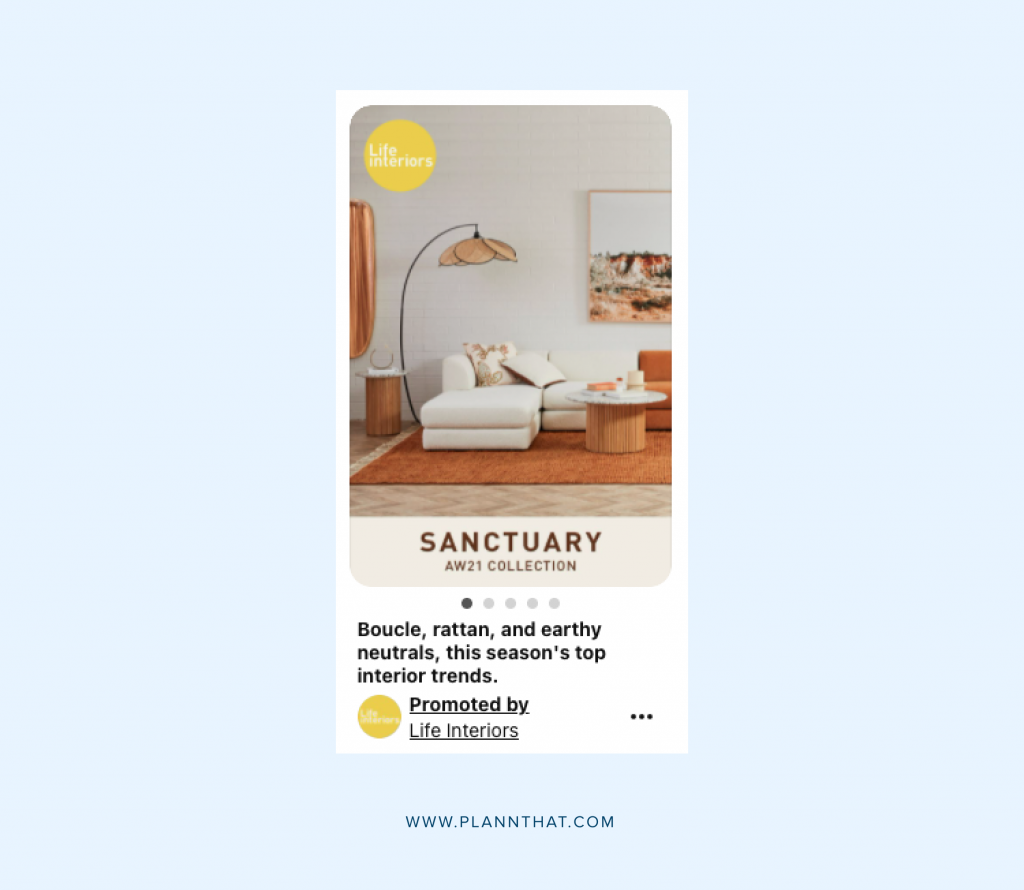 Pinterest Ads are a way to advertise your brand to users on Pinterest. Through Promoted Pins, you can drive traffic to your website, increase sales, and boost brand exposure.
Like Facebook or Instagram Ads, you can choose to promote a piece of content and ensure it gets seen by your ideal target audience. But, ads offer a 2.3x more efficient cost per conversion than ads on these big social networks.
You have plenty of control over who sees your Pinterest Ads. That means you can filter users by:
• Age
• Location
• Language
• Interests
• Categories
The result? You can make sure your ad spend is helping you reach Pinners who are the most likely to buy your products or services.
Why should your business leverage Pinterest Ads?
With 431 million monthly active users and an average order value of $154 from Pinterest Ads (the highest of all social media networks), you're leaving money on the table if you don't tap into Pinterest Ads.
Plus, there are stacks of core demgoraphics that are highly engaged on Pinterest, including:
• Targetting women? There's a good chance your future customers are pinning up a storm. Adult women make up 60% of Pinterest's global audience.
• Looking for people with money to spend? 45% of people with a household income of $100k+ use Pinterest.
• Want access to a global audience? 50% of Pinners live outside the United States.
• Interested in attracting a younger audience? 32% of users are between 18 and 29, and 70% are between 18 and 49.
Unlike Facebook, Twitter, or TikTok, Pinners are using the platform in an entirely different way.
Instead of connecting with friends or looking for entertainment, users log on to find ideas, discover new brands, and buy products.
The result? A much higher intent to purchase and an incredible opportunity to expose your business to users with money to spend.
Do Promoted Pins get results?
In short? Absolutely!
Pinterest Ads add to the Pinterest experience rather than annoy the user.
With seamless integration into search results and matching ads to a user's search history, Pinterest Ads get results like:
• 2.3x more efficient cost per conversion (CPC) than other social media ads
• 2x higher return on ad spend
Pinterest Ads: how to get started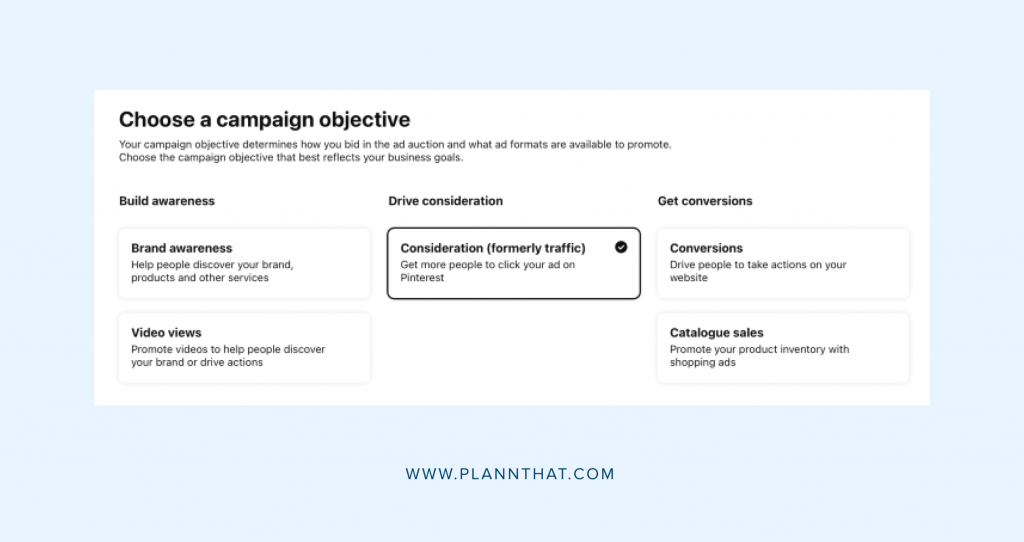 Now that you know why you need to start using Pinterest Ads, let's jump into setting up your first campaign, the different ad types available, and how to find your perfect audience.
Step 1. Set your campaign objectives
As you'd expect, the first place to start with Pinterest Ads is here: defining your ad objectives.
Here's a quick rundown on the different Pinterest Ad campaign objectives to help you reach your business goals.
Awareness
Looking to grow your audience and get more eyes on your business? Use the awareness campaign to expand your reach on Pinterest.
While you can still send users to your website, your bidding works differently. Instead of paying per click, you'll pay cost per 1000 impressions (CPM).
Choose to promote a static Pin image or a video to help people discover your brand.
Consideration
Consideration objective ads gets more people to click on your Pinterest Ad.
If you want to give your content a bit of extra love, use this campaign type to encourage more clicks or repins. For each engagement action you receive (whether that's a close-up click, repin, or click), Pinterest will take a cut from your ad budget.
Conversions
Boosting your website traffic is always a good idea, if you're looking to drive bottom-of-the-funnel action this is the ad objective for you.
Use this campaign when you have a link with a strong call to action (CTA). Promoting a blog post is a good idea, but you're spending money without getting a measurable business result unless there is some conversion (email sign up, product, freebie download).
So, make sure to use this ad objective to drive email sign ups, app downloads, new enquiries or even product sales.
With conversion ads, you'll pay on a cost per click (CPC basis and Pinterest will focus on getting as many clicks to your website as possible.
Step 2. Choose the right visual ad types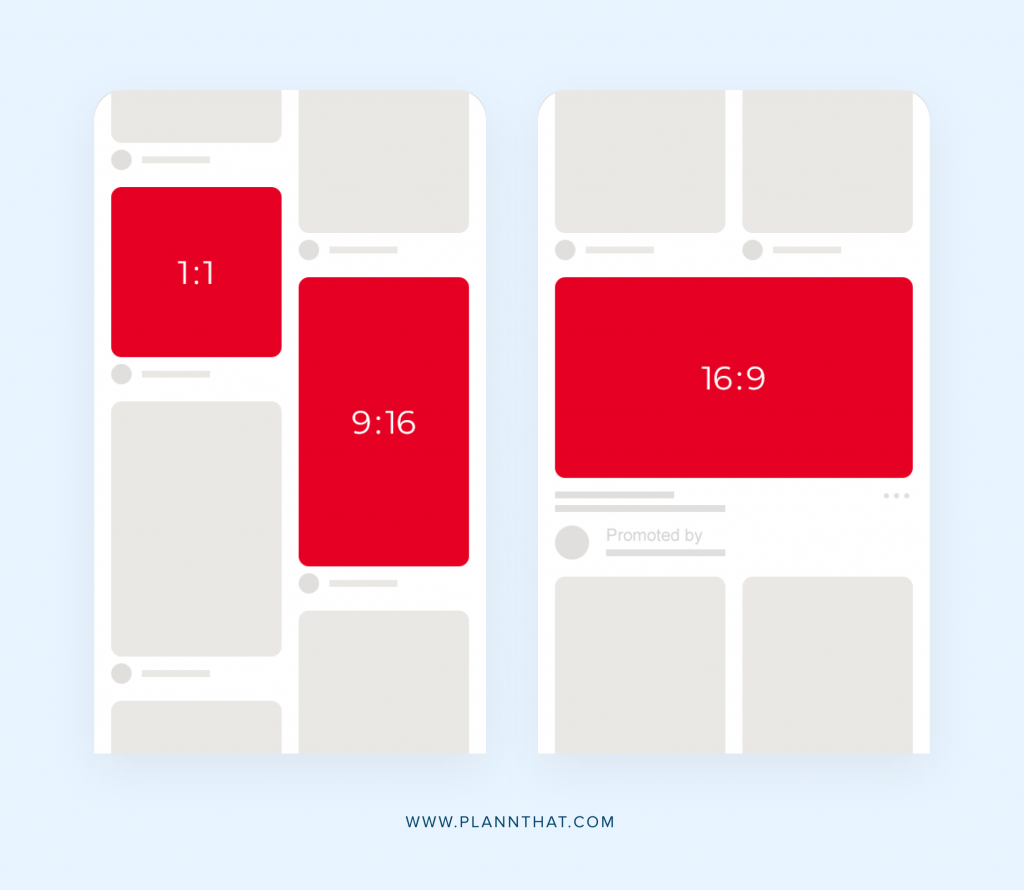 Want to find the right ad format for your first Pinterest Ad? Keep reading to discover your options.
Standard Ads
Showcase your products or Pin in the classic vertical format.
When a user clicks on your ad, Pinterest will redirect the person to your website, increasing your chances of making a sale.
Cha-ching!
Standard Pin Ad Format Specifications:
• File type: PNG or JPEG
• Ideal aspect ratio: 2:3
• File size: Max 10 MB
Video Ads
Stop users mid-scroll with a visually engaging video and tell a captivating story.
The key to a successful video ad?Make sure it's optimized for silent viewing.
Using text overlay and captions is an easy way to grab the user's attention without sound and increase your chances of getting a click-through.
Video Ad Format Specifications:
• File type: .mp4, .mov or .m4v
• Encoding: H.264 or H.265
• Max file size: Up to 2GB
• Video length: 4 seconds to 15 minutes
• Aspect ratio: 1:1 or 2:3, 9:16
Shopping Ads
Save time and convert all your shopping Pins into ads.
Use this ad format to promote your latest collection and drive sales to your website.
What makes this ad format extra valuable?The product details. You can easily add extra product information and make your selling points stand out to Pinterest users.
Plus, Pinterest lets you tag multiple products in an image and give each one a unique product link.
Shopping Ad Format Specifications:
• Shopping Ads follow the same specs as Standard Ads.
Carousel Ads
Show off different angles or options with multiple images in a single ad.
Pinterest lets you add 2-5 images, and you can give each card its own title, description, and link.
The result? Multiple conversion opportunities from a single Pinterest ad!
Carousel Ad Specifications:
• Image count: two to five images per Pinterest Carousel
• File type: PNG or JPEG
• Max file size: 32 MB per image
• Aspect ratio: 1:1 or 2:3
• Title: Up to 100 characters.
• Description: Up to 500 characters.
Collections Ads
Combine your lifestyle imagery and video content to create a more engaging Pinterest Ad. In users' feeds, the collection will appear with one main image above three smaller images.
You'll need a minimum of three products, and you can create a collection from an existing Pin, a URL or by selecting a product ID from your catalogue.
Collection Ad Specifications:
File type: PNG or JPEG.
Max file size: 10MB.
Creative quantity: 1 hero creative. Minimum of 3 secondary creatives and a maximum of 24.
Aspect ratio: 1:1 or 2:3.
File type: .mp4, .mov or .m4v.
Encoding: H.264 or H.265.
Max file size: Up to 2GB.
Video length: Minimum 4 seconds and a maximum 15 minutes.
Aspect ratio: 1:1 or 2:3 or 9:16.
Step 3. Leverage Pinterest Ads's targeting tools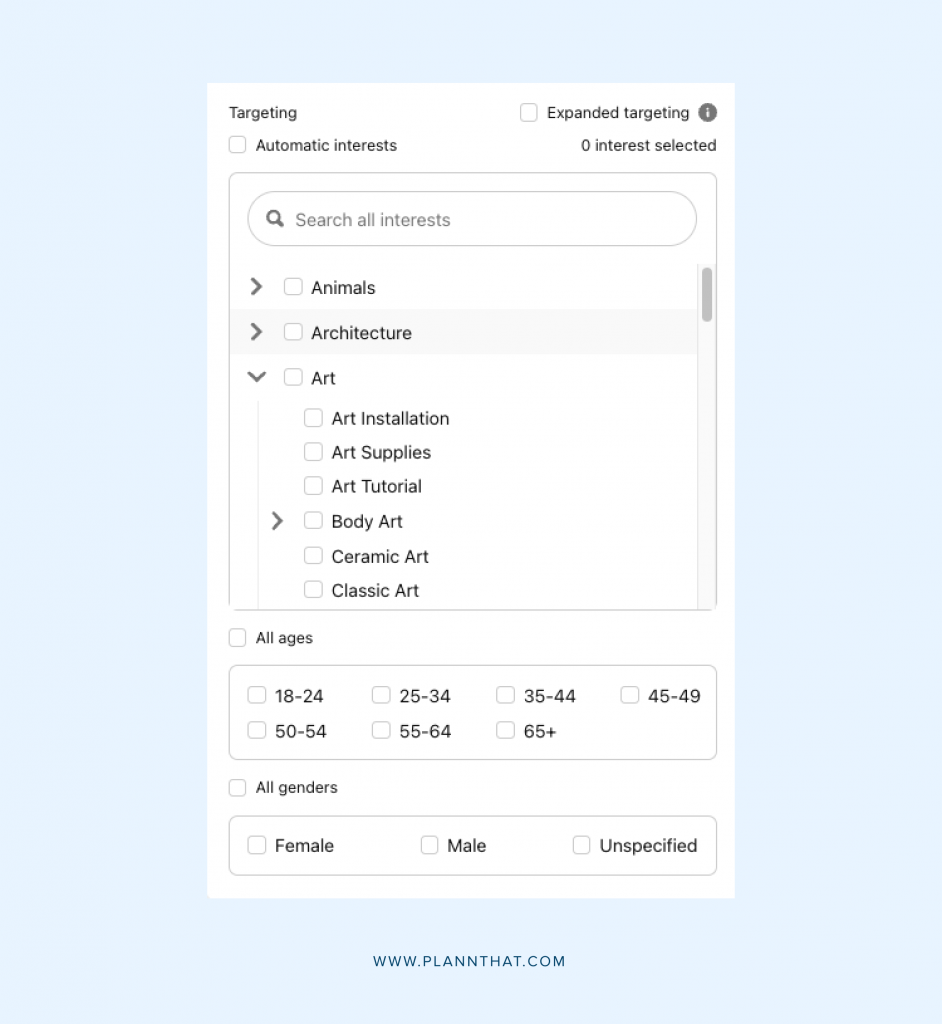 The success of your ads hinges on targetting the perfect audience.
Luckily, Pinterest has robust and precise targeting tools to get your ads in front of the right people.
• Automatic Targeting: Pinterest will pick your ad audience based on the details from your Pin.
• Demographics: Narrow your audience by age, gender, location, and language.
• Interests: Reach the right people based on the topics they like. You can choose from things like travel, recipes, home decor, or office furniture. With 420 interests to choose from, you'll find something that matches your ideal target audience.
• Keywords: Target specific keywords related to product, service, or business. Your Pin will appear in the search results for those keywords.
• Customer Lists: Already got a list of customers? Upload your customer list to Pinterest and target users who have already engaged with your website or Pinterest content.
• Actalikes: Expand your audience and target people with similar interests and behaviours to your existing customers.
Step 4. Pick your Promoted Pin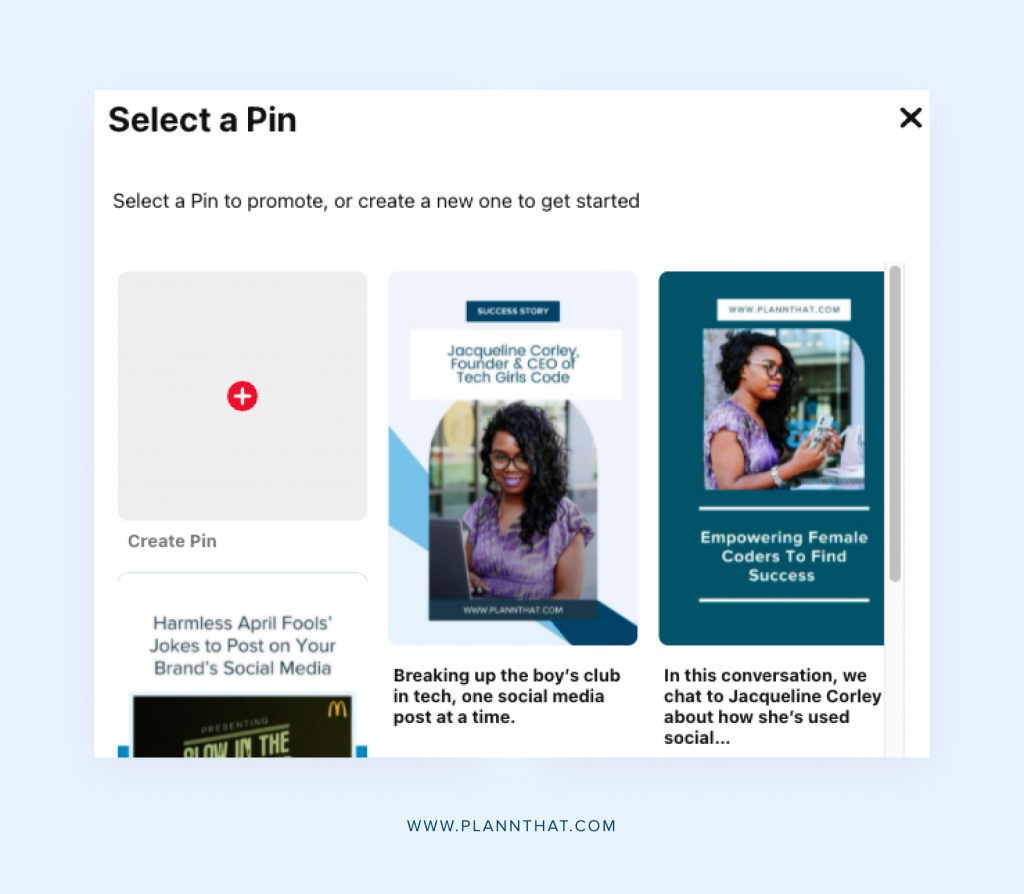 The final step in creating your first Pinterest Ad? Selecting your promoted Pin.
Choose a previously published creative from your library and use the filtering options to find your Pins with the most engagement over the last 30 days or a specific one.
Once you have your Pin, name the ad, fill in your destination URL, and you're done!
Schedule your Pinterest content with Plann
Stay consistent with Pinterest by sticking to a consistent upload schedule.
With Plann's integration with Canva, you can create your Pins from scratch, write your captions, and schedule your content without bouncing between multiple platforms.
Ready to streamline your content creation and get started with Pinterest? Go on, sign up for a free 7-day trial of Plann Pro today. If you don't like it, you can keep using Plann for free!