Now, more than ever social media platforms are being used as customer service channels. From enquiring about opening hours on Facebook Messenger to sliding into a brand's DMs on Instagram, customers are increasingly using social messaging to get answers to their questions, fast.
The stats speak for themselves: 85% of social media users expect brands to respond to their messages within 6 hours.
That means your business needs to have your finger on the pulse of what's hot and new in social messaging apps. New features are constantly being released that can help you improve your customer experience and boost the chances of your followers making a sale.
Ready to learn more? Let's run you through three exciting new messaging updates and how to leverage them as a brand or user.
Update 1. Instagram upgrades its DM inbox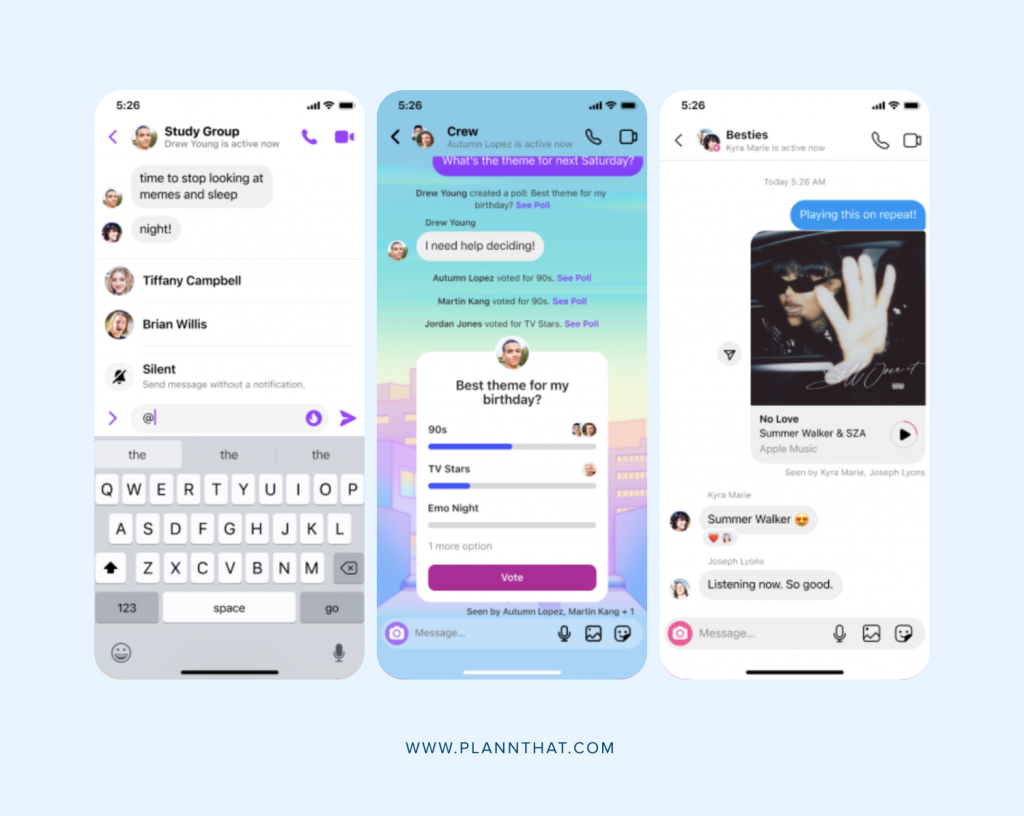 Big news out of Instagram HQ: their DM inbox has had a major upgrade. It comes off the back of Instagram launching two exciting new chronological feed options, giving users even more control over how they interact with brands and content on the platform.
But back to the Instagram DMs updates. Now, brands and users can take advantage of a stack of new features in DMs, including:

• Sharing music: thanks to an integration with Apple Music, Amazon Music and Spotify (coming soon!), you'll be able to share 30-second song previews in chats.

• Replying while scrolling: when a DM notification pops up, you'll now be able to respond without leaving the main feed.

• Quick sending: with a simple tap and hold of the share button, you can quickly reshare posts to your four closest friends.

• Status: now, you can see which of your friends and followers are online and ready to chat.

• Silent messages: want to send a message to your friends without bothering them late at night or early in the morning? Simply add '@silent' to your message.

• Lo-fi chat theme: try this new theme (designed to make conversations more personal), showcasing a cityscape and cat scene.

• Polls: use a poll sticker directly within DMs or group chats to make decisions quicker.
According to Instagram, messaging will be a big focus for the business in 2022. Giving users spaces to connect 1:1 with friends, family and even brands will be a major part of the Instagram experience in the months ahead.
Update 2. Messenger introduces a new '@everyone' feature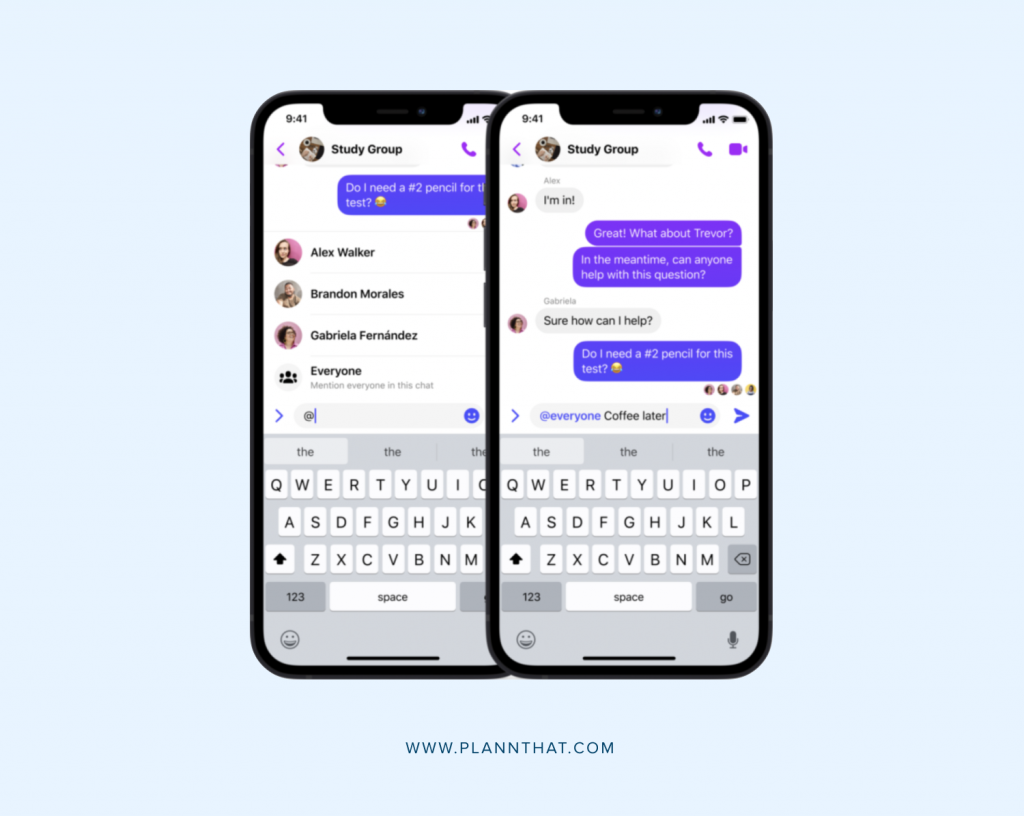 Over at Facebook, there has been an exciting new update to the way their Messenger app works.
First up, they've introduced a new feature called '@everyone'. This will be very familiar if you're a user of Slack, as it allows you to notify everyone in a chat thread at once.
Plus, they've added a '/silent' feature to allow you to send silent messages (just like Instagram).
Update 3. WhatsApp upgrades its voice message features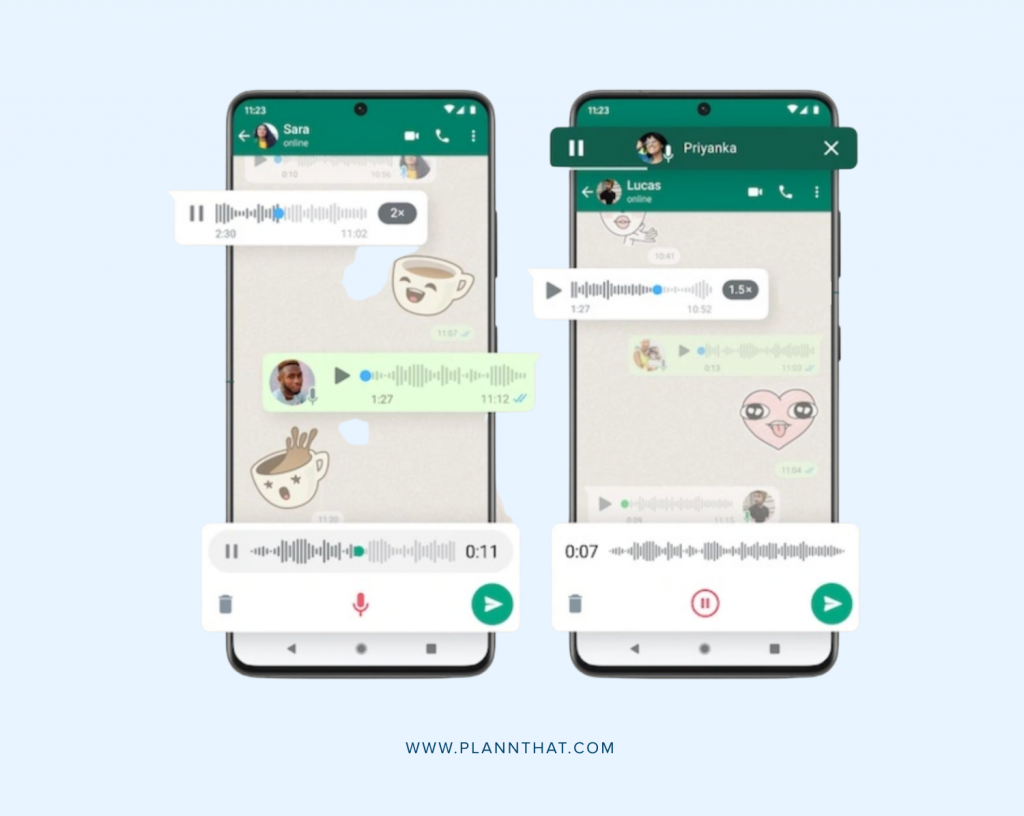 Interesting data out of WhatsApp: users are now sending 7 billion voice messages on the platform daily.
To mark this major milestone, WhatsApp has released a bunch of new features to its voice note functionality. Here is what you need to know:
• Out of chat playback: you can now listen to voice messages even after you've left the app.

• Pause or resume recording: now you can pause and resume recording when creating a voice note.

• Waveform visualization: expect a dynamic visual representation of the sound of the recording when playing.

• Draft preview: you can now listen to your voice recordings before hitting send.

• Remember playback: if you pause when listening to a voice message, you can resume from where you left off once you return to the chat.

• Fast playback on forwarded messages: now you can play messages at 1.5x or 2x speed on all kinds of voice messages.
Level-up your social media presence in 2022 with Plann
Now you've scored the latest insights about what's happening in social media land, it's time to put your knowledge into action. And what better way to do that than with your ultimate all-in-one social media suite, Plann!
Ready to expand your reach on social media with Plann? Go on, redeem your 7-day free trial of Plann Plus. If you don't like it, keep using Plann for free!