Instagram Direct Messages (or DM's) are one of the most under utilised tools on Instagram. They've been there the whole time but you've probably never thought about how you could use them to your advance?
DM's let you send private messages, pictures and videos to any user on Instagram.
You can even create groups of up to 15 people!
Because they've always been there can mean they're often over-looked as a great tool in your Instagram marketing – but here's why you shouldn't discount them.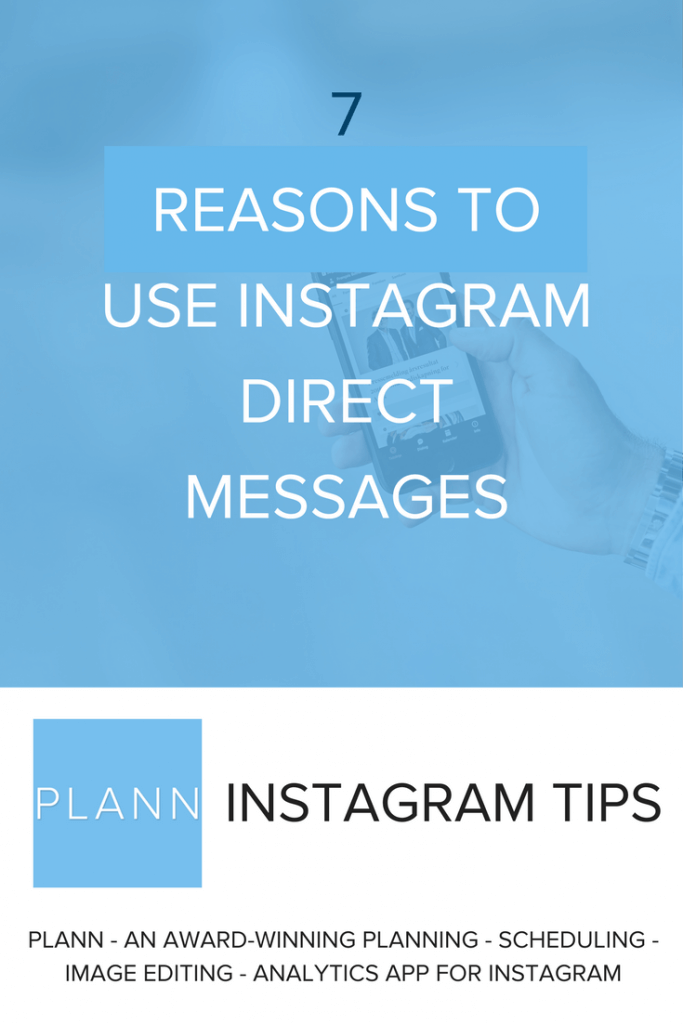 You Can Use Instagram Direct Messages To:
1. Respond To Instagram Stories
Instagram stories are regularly used to share what's happening behind the scenes, and one of the fastest ways to build a relationship with someone is to let them know that 1) you care about them, and 2) you take notice of what they're doing.
Instagram is all about building relationships (it is 'social' media after all!) and responding to a story with instagram direct messages is one of the fastest and easiest ways to make a connection.
2. Provide Better Customer Care
Once you get passed the personal photos of cute puppies and breathtaking landscapes, (ahhh! so cute!!), you'll find hundreds of thousands of brands using Instagram growing their businesses.
[clickToTweet tweet="Instagram DM connects you with your audience in a few seconds – easy peasy! https://bit.ly/2wqda1T" quote="With the help of Instagram DM, you can easily connect with your customers."]
Social Media is one of the fastest growing channels for customers to reach out for brands and ask for assistance, and Instagram has made it so much easier to connect to the person behind the brand!
Instagram direct messages is a great way to thank someone for buying from you (such a personal touch!), respond to product questions or quickly dissolve a dispute before it gets heated.
Having a private conversation with customers on the platform they are using can really make them feel like they've had great service!
Remember: It's the details that make all the difference.

3. Nurture Relationships
Instagram provides a great, different environment to create and nurture relationships. Whether we're talking about new followers or existing customers, it's all about keeping the flame alive.
Plus, your creativity has no limits when using Instagram direct messages.
Here are some great ideas you could try:
Use Instagram DM to follow-up with new contacts
Tell them you love their work
Connect with a group of people you met at an event
Send photos from the event and tell them you would like to catch up
We're definitely not condoning blanket messaging everyone that follows you, or spamming people with a copy/paste message when they find you, it's all about an authentic and personal message here!

4. Reward Top Followers
Isn't it great when you have really engaged and loyal followers?
They're the special ones who like everything you post no matter what it is you're talking about – you've got them hooked with your secret sauce and you'd love to keep it that way.
Why not pop them a quick DM to show them your appreciation?
There are many ideas you can choose from.
Send them a private thank you message
Send them a surprise behind-the-scenes photo 🙂
Tell them they've won a spot prize
Send them a virtual birthday card.
Get creative!
5. Connect With Industry Influencers
The role that influencers have played in 2017 has increased, and doesn't look to be slowing down just yet. A lot of the time Influencers either have their email listed at the top of their bio, but many are happy to be reached with a short'n sweet DM, think of it like dating!
Identify influencers in your niche and decide which ones would be a great fit for your brand, and brand values.
Pop them through an Instagram Direct Message, keep it friendly and chatty and mention why you think they'd be a good fit – and of course your idea for a collaboration (and what they are going to get out of it).
Sometimes they might not respond, but here's where we recommend 'The Follow Up', you'll be surprised what can happen when you follow someone up after a few days – and it works so well because it makes it feel like you've really thought about them and really want to work with them (and so many people don't do it!)
You might also be interested in: How to work with international brands.
6. Provide Exclusive Updates
Have a few updates that only your favourite followers should know about?
Instagram DM sure knows how to keep a secret. 😉
Instead of sharing your updates with everyone in your list of followers, you can use Instagram DM to create a select group of people. You'll get right to their hearts, believe me!

7. Creative Ways To Offer A Limited Discount
What if you had an amazing offer, it was only for a limited time and you wanted to make sure only your most engaged users got to take advantage of it?
Creativity and thinking outside the box can sometimes bring an additional wave of people, just checking out if what you're doing is working, here's an example:
Post an image that you've got a range of surprise coupon codes, and for everyone that writes a comment you'll send them a DM with a random (and unique!) promocode, that could be redeemed at your online store!
We'd recommend making a bit of a song and dance out of it, so make sure you use a 'launch strategy' to announce it's a special coming up!
Key Takeaway
Instagram Direct Messages have a boat load of advantages. It's up to you to test them and see what works best for you, we'd just like to remind you that they're there!
Still working on your Instagram Strategy? Stop posting on the fly and try our Award-winning Instagram Scheduler, everything you need to design, draft, analyse and post months worth of Instagram!