We all get a little buzz when our hard work pays off and we start gaining new Instagram followers – YAY!
But sometimes, after all of the joy, we discover the awful truth that the follow unfollow Instagram accounts are back again. Eep!
They are the stinky ones who only follow you for a quick second and then – POOF! – they're gone!
Why do people follow unfollow?
Should you ever try to attract follow unfollow Instagram accounts?
When they unfollow, does that mean that they don't love your feed anymore?
Today we're sharing some nifty tips to help you get over the headache of losing followers, and we'll also give you the secrets to stopping the follow unfollow Instagram accounts for good.

WHO ARE THE FOLLOW/UNFOLLOW ACCOUNTS?  
Who are these mysterious Instagram accounts who randomly follow unfollow your account?  
We have some ideas. They only follow unfollow you because:
1. They follow hundreds of random Instagram accounts with the hope that some of them will follow them back (only to unfollow those people a few days later. Eeepp!)
2. Third-party apps exist which are designed to create engagement. By following new accounts, it's more likely Instagram accounts will receive more likes and followers. These apps are automated and the Instagram accounts never actually see or visit your account.
We don't need any of the follow unfollow Instagram accounts to follow us. It won't help us to grow our accounts – not even the smallest bit.
Instead, we suggest that you focus your efforts on creating content that is interesting to your loyal, engaged followers instead. Don't sweat your Instagram follower count going up and down!
WHAT DO INSTAGRAM FOLLOW UNFOLLOW ACCOUNTS LOOK LIKE?
Here are some telltale signs that someone is a follow unfollow account:
They follow thousands of people but don't have any followers.

The accounts don't have any posts and no followers.

Their feed is cluttered with strange content.
If an account has one or more of these things, then it's likely that their account is a little suss and it's best to try and avoid them at all costs.
Here's an example of what to look out for: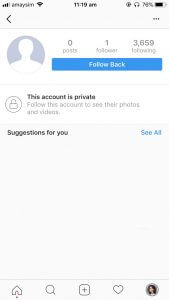 HOW DO YOU STOP FOLLOW UNFOLLOW ACCOUNTS FOR GOOD?
This may sound simple, but the secret to stopping follow unfollow Instagram accounts from annoying you, you need to make it harder for them to find you.
HOW CAN YOU STOP FOLLOW UNFOLLOW ACCOUNTS FROM FINDING YOU?
STEP ONE: MASTER YOUR HASHTAGS!
We talk about it all the time – our lovely hashtags! They are so important for SO many reasons!
When you master your hashtags, not only will you grow your account in rocket speed (YAY!), but you'll also minimise the risk of robots targeting you on their follow unfollow rampage. Huzzah!
For example, the hashtag #love has been mentioned in millions of posts – so it's very competitive. When you use a hashtag with over 1 million mentions, the chances of anyone finding your post is minimal – which won't help your account to grow.  The more popular hashtags seem to also attract the robots and the practice of follow unfollow to come straight at 'ya. Eeep!
You can find out how many times a hashtag has been used inside of Instagram. Just simply search the hashtag:

Usually, it helps to find hashtags which consist of two words. For example, instead of using the hashtag "creative" which as 42 million mentions, use the hashtag  "creativedesign" which has 360k mentions. 
To stay as far away as you can from all the follow unfollow Instagram accounts (and to grow your account with real followers) we suggest that you choose hashtags that don't have a ridiculous amount of mentions as this could be a huge spam flag!
STEP TWO: SAVE YOUR HASHTAGS  
Inside Plann you can also save your hashtags to your own Hashtag set. You can re-use the set and never have to search for the same hashtags twice!
Ever been unsure if your hashtags work? No need to worry again!
Welcome to hashtag-heaven. YAY!
IN SUMMARY
Download Plann for iOS and Android and create unlimited hashtag lists for FREE! Your Instagram hashtag game will be on point again. Psst, this is only one of many features that Plann has, check them out!