It takes just seven seconds to make a great first impression in person — and even less online. Your Instagram bio is one of the first things potential followers see when they look at your page, so it needs to be enticing yet short and to the point.
Writing a memorable, catchy Instagram bio can be tricky because you're trying to fit as much information as possible into the fewest words! It's not as straightforward as you may think and there's a bit of an art to nailing your Instagram bio.
We've put together this detailed guide (with several real-life examples and Instagram bio ideas) to help you write an authentic, cute Instagram bio that will ultimately get more people to hit that 'follow' button.
What is an Instagram Bio?
For anyone unfamiliar with the platform, here's a super quick crash course on good bios for Instagram.
Your Instagram bio is essentially a short, 150-word description of your account. We like to call it your brand's elevator pitch: your bio should briefly but succinctly describe who you are and what you do.
With just a few sentences to play with, it's important to understand what makes the best Instagram bio and the tried-and-tested formulas for success (including using a branded hashtag, a link in bio tool, frequent line breaks and add a call to action to leverage the only clickable link on your entire Instagram profile).
How Do I Make a Standout Instagram Bio?
A good bio for Instagram is genuine and makes people want to interact with you or your business. When done well, your Instagram bio should be a true reflection of you or your brand. So if you're funny, convey that in your Instagram bio. If you're a photographer, your Instagram bio should make that obvious immediately.
Use dynamic, on-brand emojis (here at Plann, we'd recommend adding two to three emojis to your Instagram bio) to draw eyes to your Instagram account bio and above all, keep it short and sweet. Remember, users should be able to read it in less than seven seconds!
A standout good Instagram bio has several key elements:
• Optimized name – Write your full name (or copy and paste your company name) in the name field, followed by your profession. For example, "Mary Smith – NASA Scientist."
• List of your skills – a great Instagram bio should explain exactly what you do and what content people can expect from your social media feed.
• Targeted keywords – using search-friendly keywords helps connect you with your target audience on Instagram. Not only do these keywords give a quick snapshot of your business or brand, but it helps your Instagram bio become a valuable tool to help new users discover your account.
• Link in bio – inserting a link in your Instagram bio is super important. If a user clicks your bio link, not only have you directed more traffic to your website, but you've also potentially gained a new customer. Plann recommends linking to a mobile-friendly landing page instead of your website, like Linktree, where you can list several relevant links and update them when needed.
• Call to action – this action-driving statement in your Instagram bio can encourage users to click your 'link in bio' or simply ask them to hit the follow button.
• Hashtags – if your brand or business uses branded hashtags, include them in your Instagram bio so users can easily browse your content.
Tips for Instagram Business Account Bios
We believe the benefits of an Instagram business account are huge, especially if you're using your Instagram account to drive results for your business. By switching to a business account, you get access to more premium features like a contact button, adding your location and even Instagram shopping!
If you have a business account, you should still incorporate all the tips for writing a winning Instagram bio we've just discussed. However, there are some additional handy features available exclusively to business accounts!
Instagram Bio Feature 1: Location
Including your location is extremely useful for businesses because customers need to know where you are! Adding your location is also one of the few ways to make your business more searchable on Instagram.
Instagram Bio Feature 2: Contact Buttons
The contact button can link to your email, phone or give customers directions to your business. Note that this feature is only available on mobile devices.
Instagram Bio Feature 3: Categories
You can choose a category for your business on Instagram, such as 'Public Figure,' 'Blogger,' etc. This displays under your name in your bio, which means you don't have to include it in the limited 150 characters in your Instagram bio. Again, this only appears on mobile.
Seven Best Instagram Bios (Examples & Instagram Bio Ideas Included!)
Here are some excellent Instagram bio examples to get your creative juices flowing. There are cute ones, funny ones, some that are strictly business and short aesthetic examples of the best Instagram bios on the internet.
Ready to level up your Instagram bio and ditch writer's block for good? Here are the best bio for Instagram examples you need to know about.
1. Cute Bio for Instagram
Writing a cute bio for Instagram should include emojis and maybe even a quote, like superstar Alicia Keys' Instagram bio.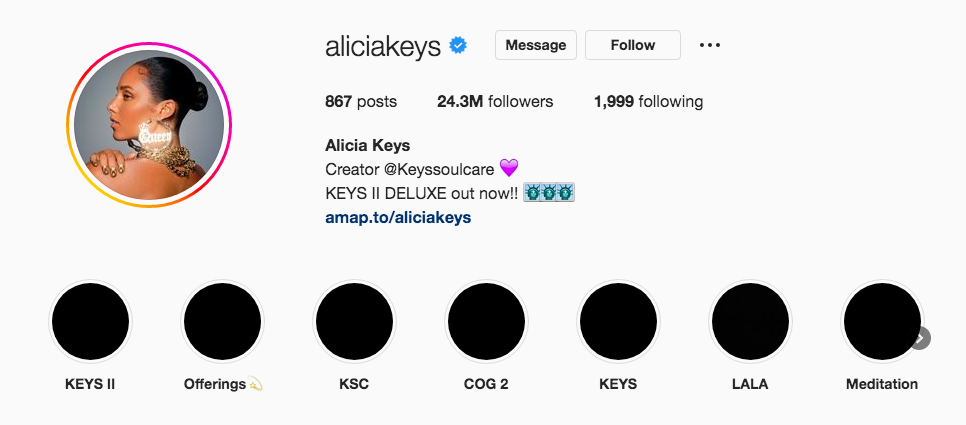 The key to crafting cute Instagram bios is to be playful and lighthearted with your copy and emojis. Make your bio engaging by showcasing your brand personality and use your bio space to connect and build trust profile visitors.
2. Short Aesthetic Instagram Bios
Poosh, Kourtney Kardashian's brand, has a good example of aesthetic bios for Instagram. It's short and to the point but also looks appealing.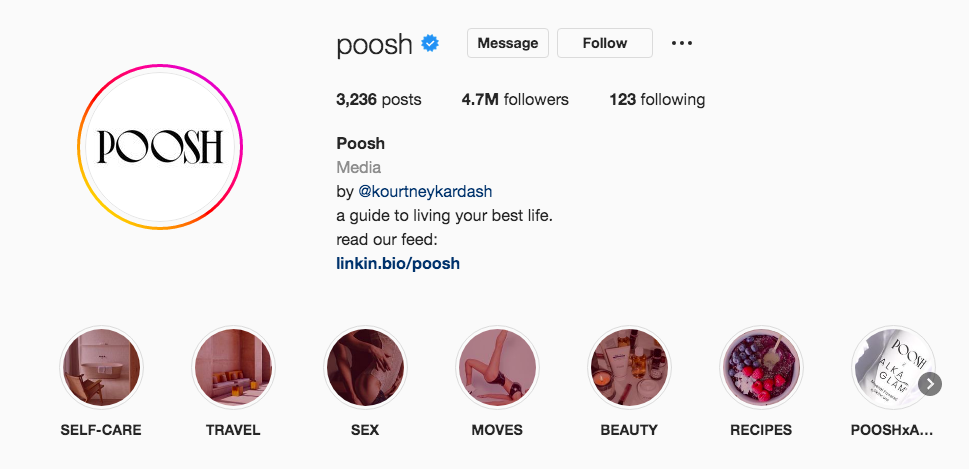 By using a short word count, this kind of Instagram bio has a cool, relaxed tone that is intriguing for people who visit your profile. Rather than trying to say too much, this kind of Instagram bio is understated and effortless – the perfect vibe for an upscale clothing or beauty brand.
3. Entrepreneur Instagram Bio
A great call-to-action is essential in a business Instagram bio. This one from Elise Darma effectively summarizes her business in a few words and clearly calls attention to where users can join her bootcamp.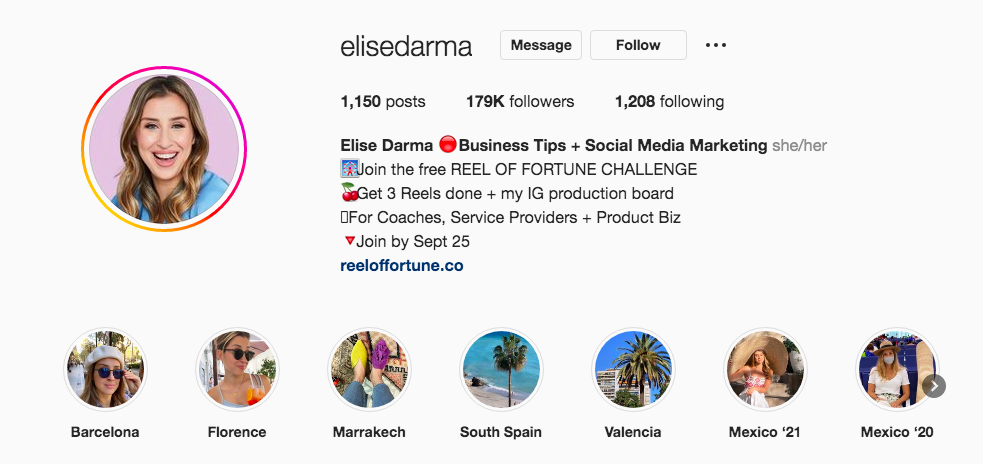 The key to nailing your Instagram bio as an entrepreneur is to showcase your skills and expertise upfront. Don't be afraid to talk about what you do best, the businesses you've launched as well as how your profile visitors can get in touch with you.
Adding a strong call to action in your Instagram bio will help you drive meaningful results from our social media presence.
4. Small Business Instagram Bio
A small business Instagram bio should have as much detail as possible so potential customers know exactly what products or services you offer. Mented Cosmetics' Instagram bio is effective because it tells customers where they can purchase Mented products and directs customers to use their branded hashtag when sharing posts on the platform.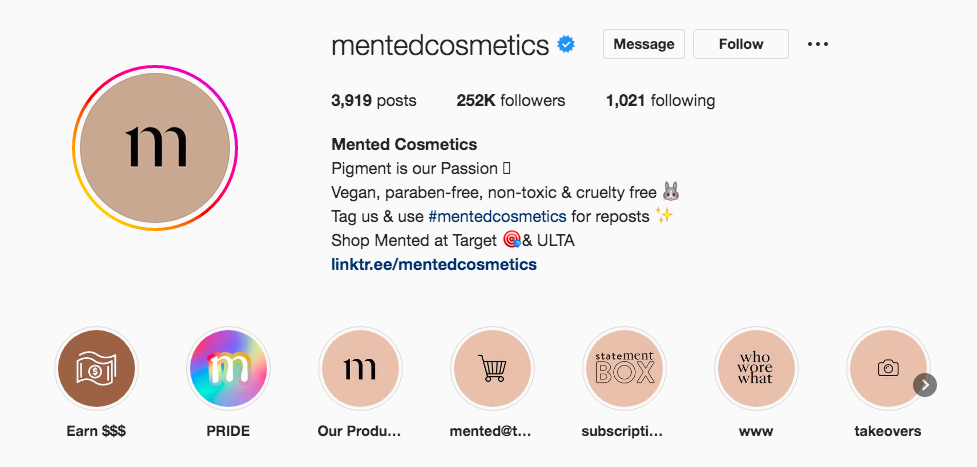 As a small business, your Instagram bio is one of the most valuable pieces of real estate you have on this platform. In just 150 characters, you need to capture the attention of potential customers, convince them to follow you or contact you for more information.
The best thing you can do when crafting your Instagram bio as a small business owner is to think like your customer: what call-to-action will be most compelling? Why should they bother clicking your link in bio?
5. Funny Instagram Bio
You don't have to be a comedian to have a humorous, relatable Instagram bio. This bio by David Dobrik will no doubt have you laughing. His statement that he's "Sexy, Gorgeous and Humble" is a great use of juxtaposition.

When it comes to crafting funny Instagram bios, the key is to make playful, witty and inclusive jokes that are inclusive. Your 150 character Instagram bio needs to showcase your funny personality, while still making sure your account is relatable to a wide pool of Instagram users.
6. Creative Instagram Bio
Creativity is the key to an effective Instagram bio. Check out this one from MailChimp, which is eye-catching thanks to the use of relevant emojis!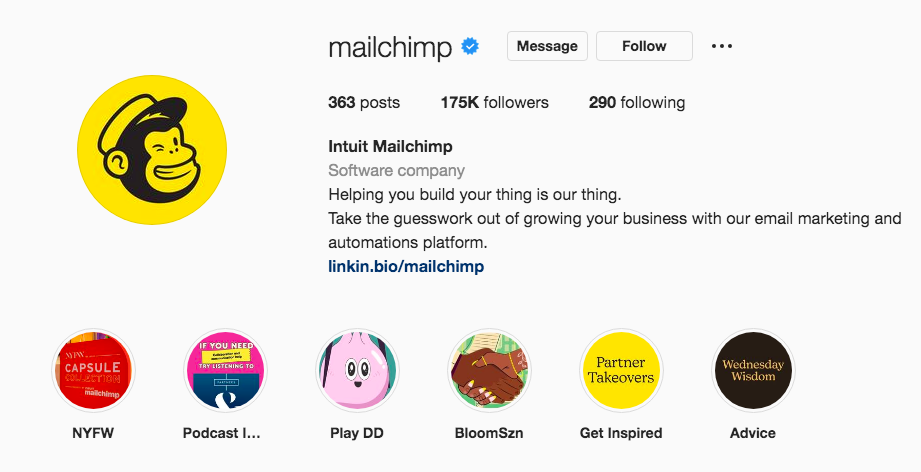 What makes cool Instagram bios like this work is that way they're imaginative and push the boundaries of what you can do in a short Instagram bio. Think outside the box, use puns and leverage emojis to help you maximize your word count on your Instagram bio.
7. Quirky Instagram Bio
If you or your business is quirky and you want to attract like-minded people, a unique Instagram bio is essential. Use this funny and memorable one from Innocent as inspiration.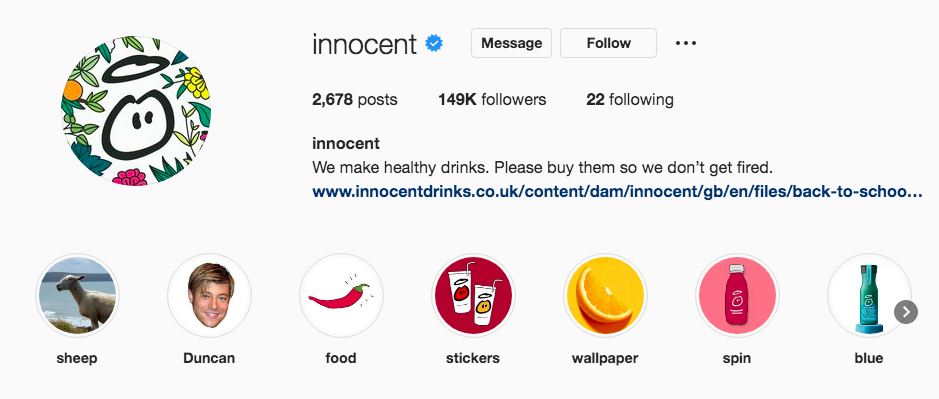 Your Instagram bio is the first thing people notice when they visit your profile. It's also where you introduce your brand or business to potential customers, so it needs to stand out.
What you need to know about nailing your Instagram bio
Now that your good bios for Instagram are all set up, it's time to start putting your feed together!
Plann is the smartest way to plan your Instagram feed, with an all-in-one social suite that allows you to plan, create and schedule all of your social content.
Ready to put your Instagram bio to work?