There's an interesting catch 22 that comes from being a social media manager.
As a marketing guru, you know ALL of the latest strategies, tools, and best practices to grow your social media accounts like wildfire. You have all the insider knowledge. But, you're always so busy managing your client's account that you often get very minimal time to actually put that knowledge into practice to grow your own account.
All the social media managers out there, we know you're with us on this one!
That's why we always love asking our social media manager Plann'rs about their secrets. How do these busy bees use the very little time available to them to incorporate ONLY the most effective strategies to grow their own accounts?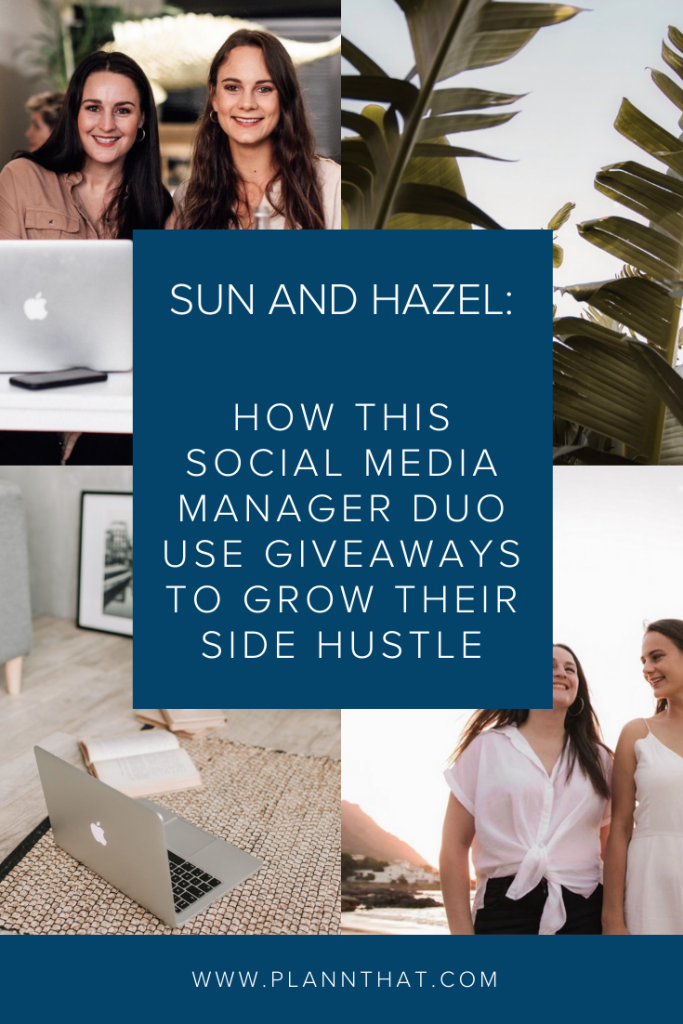 For Sun and Hazel, a social media management duo from South Africa, that perfect potion looks like collaborations, giveaways, and plenty of beautiful visual storytelling. Oh, and of course, using the right tools for their content creation, scheduling and analytics (cough: Plann!)
Since starting their side hustle (they both juggle full-time jobs) in 2018, Susan Ferreira (nicknamed Sun for her love of sunshine) and Edene Mackenzie (the 'Hazel' part of the equation due to her beautiful eyes) have helped hundreds of clients tell their brand story on social media.
So, we were super excited to sit down with the ladies to find out how they use Instagram (and Plann!) to help them attract their ideal clients and grow their accounts.
The account purpose
"Our main goal was to become visible to the local community — to reach and assist other local businesses to create an effective and visually pleasing platform on social media."
Life before Plann was…
"Unstructured, unplanned, and rushed!"
Life after Plann was…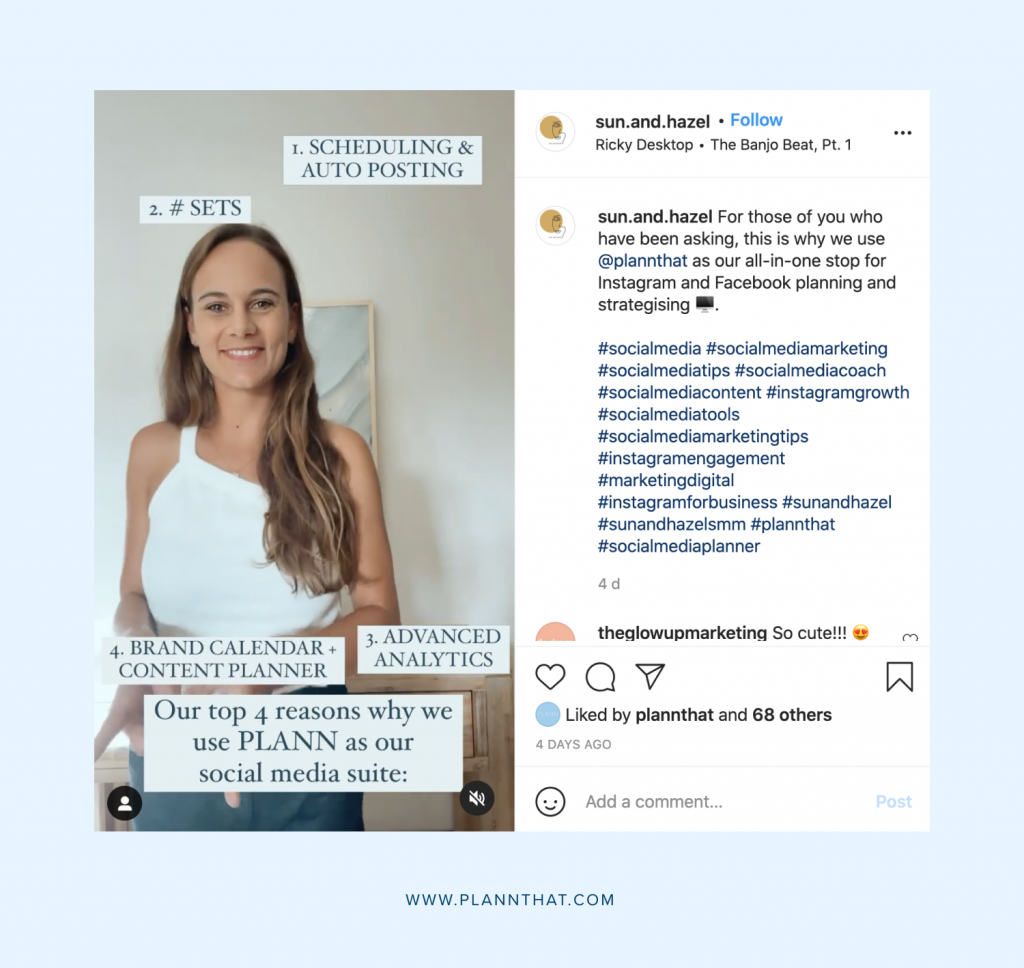 "Structured, PLANNed & effective"
Favorite thing about Instagram?
"Instagram enables us to network with people all around the globe, to reach our local (and wider) community and to showcase the visuals and thoughts that define our brand. 
The Results
"Most of our recent clients were gained by having a strong online presence.  We also launched a special Giveaway recently with some pretty amazing local SA brands, who we've been networking with on Instagram. 
We managed to put together a giveaway worth of R8500 (South African Rand – which is quite a lot considering the number of followers we have…) 
This once again proved the value of building online relationships over time as well as having loyal and engaging followers.  From Plann Analytics we could validate doing Giveaways and that it's worth the time & effort. To highlight some of our statistics: 
• Our engagement rate increased by 56% on 1 March 2021, the day that the GA was launched. 
• We got 1466 Impressions on 1 March compared to an average of 480 impressions with other posts
• Our giveaway post got 214 likes on 1 March compared to an average of 40 likes on other days
• We can also see that our giveaway post is our best performing post up until now. 
First impressions of Plann?
"It helps us to strategize, use the right hashtag and to post at the most effective times. Plann boosted us to start posting more mindfully and our interaction with our audience was brilliant when posting at the specific times that Plann proposed. 
We believe in utilising the analytics and feedback features from PLANN, as it really gives amazing tips and guidelines on when to post, who your audience is and what posts and content works best for a specific brand. 
The new auto-posting feature (YASSSS) also makes our daily lives a lot easier."
Favorite Plann features?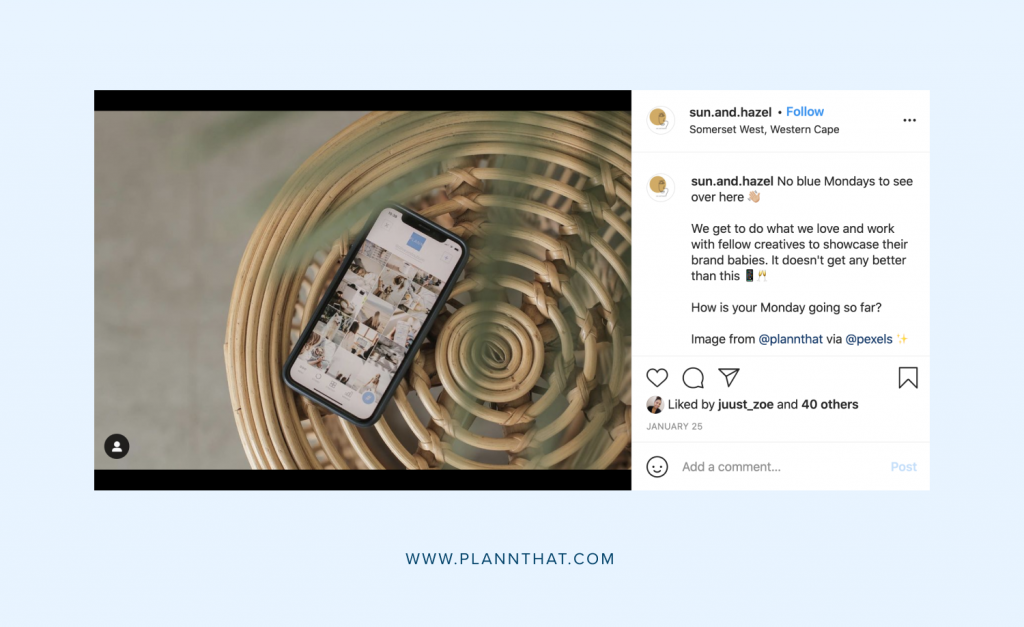 "Auto-posting, Analytics and hashtag sets!"
Tips for managing multiple client accounts
We are currently managing 4 different accounts on our Plann account and there are times where we need to manage up to 6-7 accounts at a time.
Our top tips 
• Plan in advance by using the Plann App or desktop
• Use the strategy function to guide you on what to post.
• Utilise the new auto-posting feature — it makes managing multiple accounts so much easier and less stressful
• Use top-performing hashtag advice and hashtag sets to Plann in advance and to have different sets available for different posts.
Top tips for a beautiful Instagram aesthetic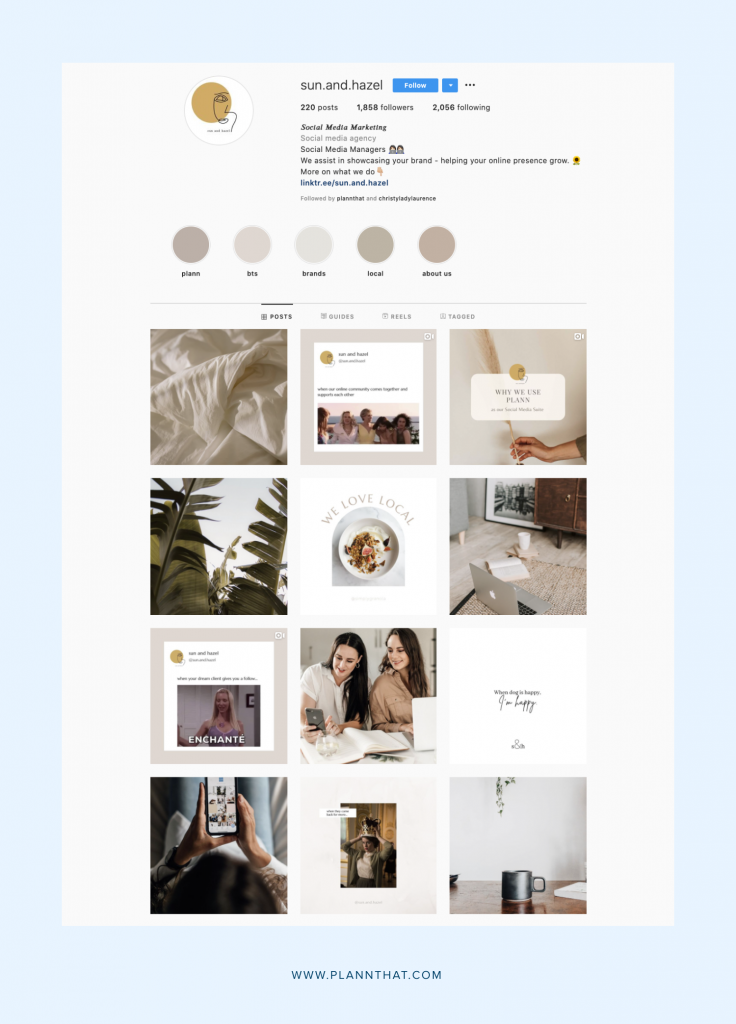 "Use a platform to Plann and schedule your layout in advance (we obviously use PLANN"

• Decide on a mood and edit for your content and STICK with it to stay consistent
• Try and stay authentic by working with a photographer to create your own content for you
• If you're on a tight budget, Use Pexels to integrate some stock photography into your feed to help with your aesthetic 
• Having a quote page in your layout often helps to create clean space/better flow of your content (the best platform for this is Canva!)"
What's working for you on Instagram right now?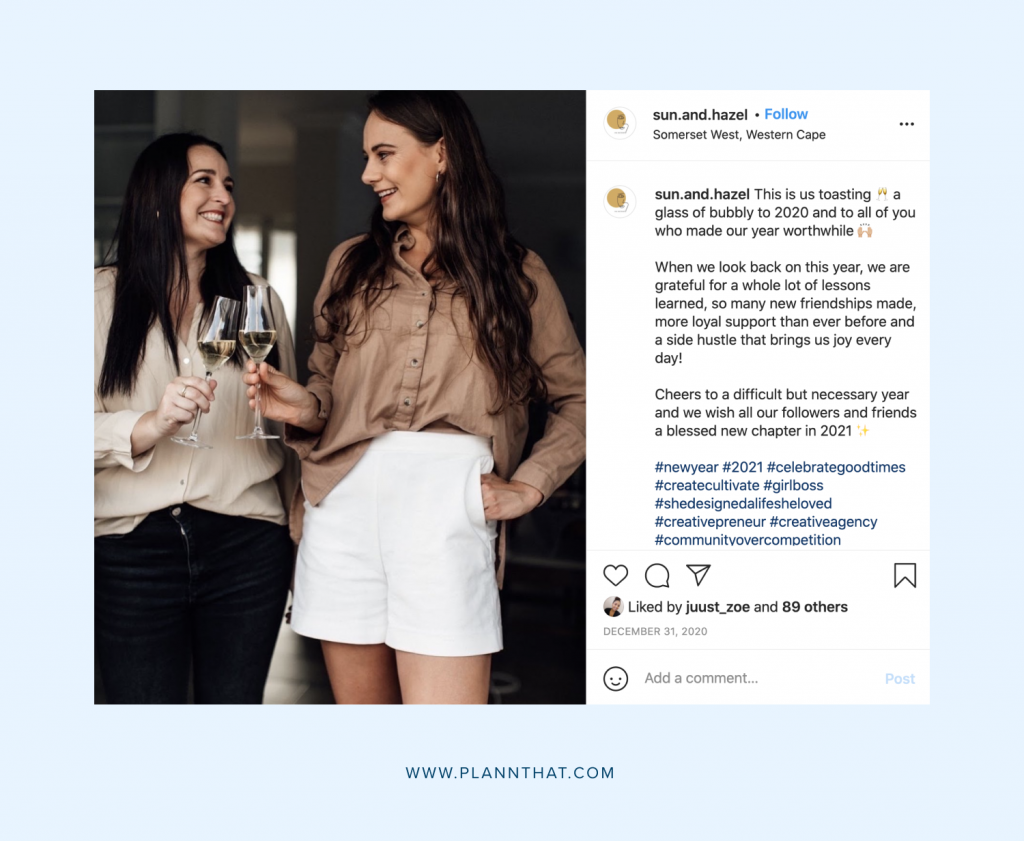 "One of our highlights was doing a collaborative takeover with Plann recently. This boosted our follows and engagement.  We've also seen that time after time, doing giveaways and collabs really helps with cross-exposure and growing our platform, as well as other profiles' involved."
What's next for you?
"For now we're still building our lil' business (We have other full-time jobs), so for now we just want to support our local community best we can and build relationships. Hopefully, it reaches a point where we can fully commit to Sun and Hazel and run this business as our main source of income"
You can learn more about Sun and Hazel here and follow them here.