Can we be honest with you guys? We have a bit of love/hate (but mostly love) relationship with social media news!
We love how the world of technology is always pivoting, moving forward and innovating. There's never a dull moment, and it means that we can continue to find new ways to make your social media experience easier, too.
But Jeepers, does it keep us on our toes! It feels like just as we've wrapped our head around one change, another one crawls out of the woodworks — leaving us scrambling to figure out our 'new normal.'
The good news is, we stay on top of the latest social media developments, so that you don't have to!  From Instagram's latest algorithm changes to new TikTok and Reels features, read on for 7 of the juiciest and most surprising updates from social media land.
Instagram launches 'Live Rooms'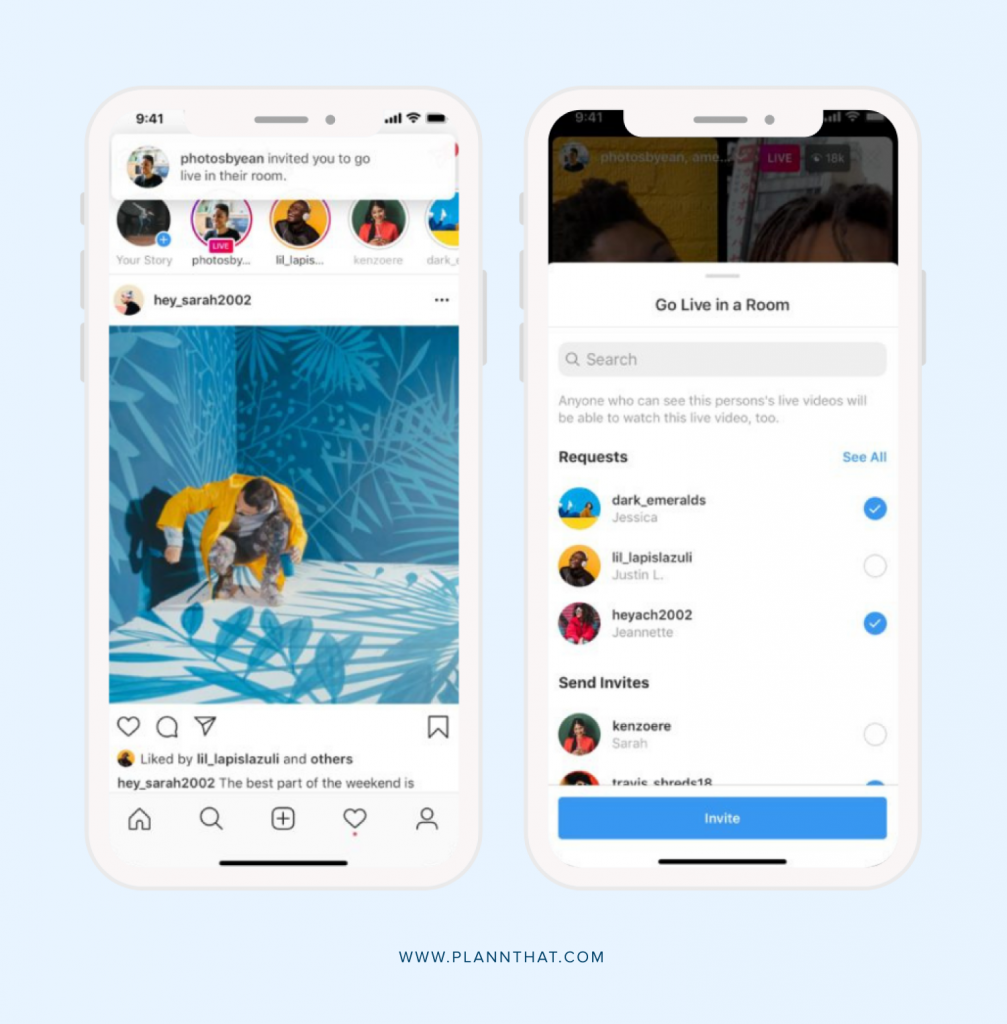 After much fanfare, Instagram recently made a big announcement that they're launching a brand new live video feature, Named 'Live Rooms' this feature will allow up to four people to go live in a room at once. Previously, the app only allowed you to live stream with one other person at a time. Think of Live Rooms, kind like a video version of Clubhouse, allowing you to broadcast conversations with more people. It's a format that will handy for facilitating things like round table discussions, Q+As, jam sessions with musicians and even live shopping events.
Instagram has already started rolling out Live Rooms across the globe. To use it, select the Live camera option, then title the Room and tap the Room icon to add guests. Here, you'll see a list of people who've already requested to go live with you and you'll be able to search for other guests to add.
YouTube is rolling out their own short-form video platform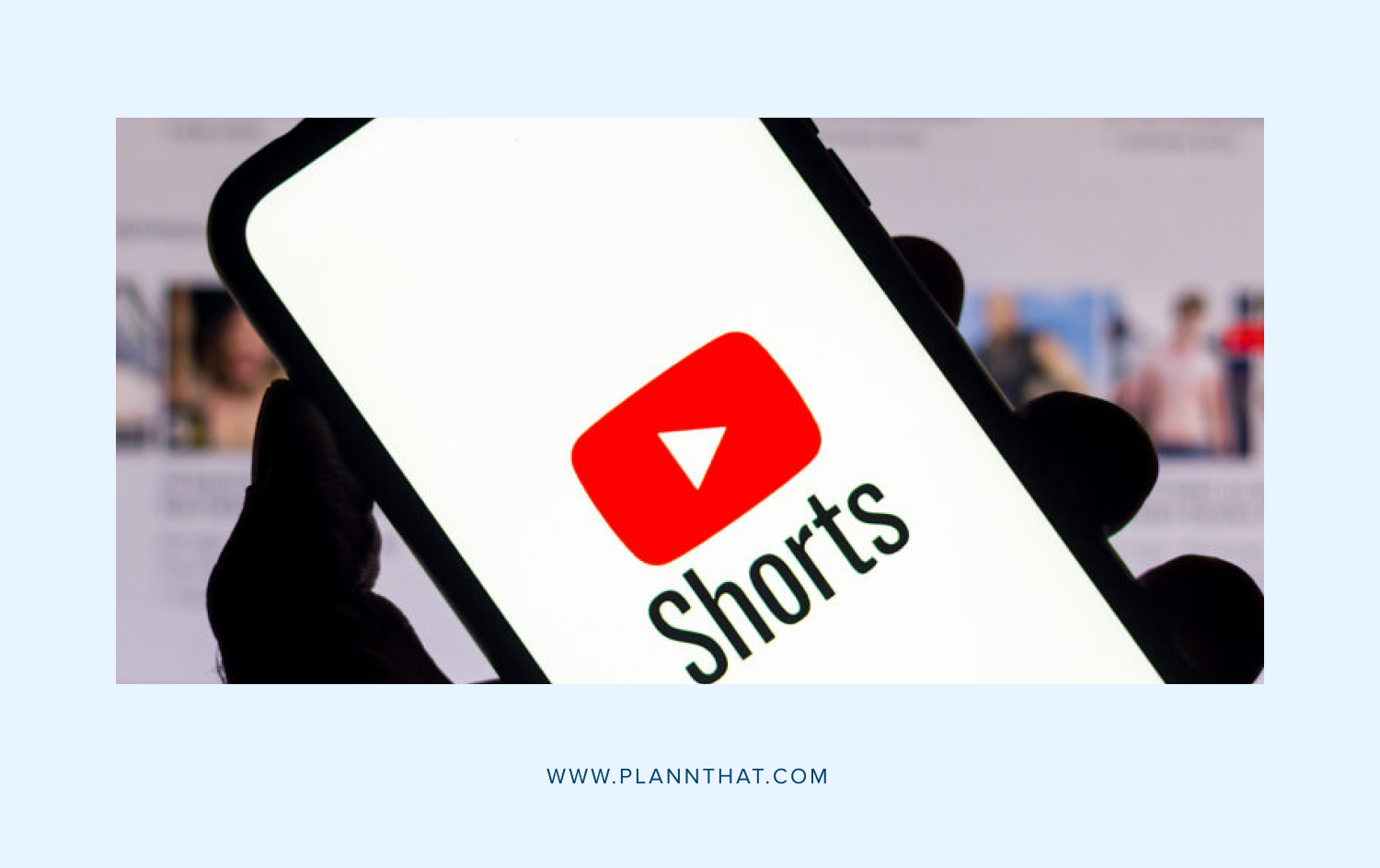 To say that it's alllll about the short-form video right now would be the understatement of the century! First, it was TikTok majorly shaking up the social media game, then it was Reels swooping in to give them a run for their money…
And now, it looks like the OG video giants are ready to claim their piece of the pie. Yep, YouTube is entering the short-form video game with their own answer to TikTok, the appropriately titled 'Shorts.' This platform will sit inside the YouTube app on both desktop and mobile, and allows users to capture vertical videos of up to 15 seconds (sound familiar!?)
Much like Reels and TikTok, you'll be able to capture the video inside the YouTube app or upload external videos up to 15 seconds long. Naturally, there are some unique benefits to Shorts being part of the YouTube ecosystem. Firstly, users will be able to add music from YouTube's entire library video, which opens up a lot of options (especially compared to Reels!) It also gives creators a more accessible entry point to YouTube, without having to shoot and edit and full-length videos. Plus, Shorts views will count toward total YouTube views, which makes it easier for creators to grow their channels.
YouTube started testing Shorts in India back in September and in the last three months, use of the short-form video feature has triple! It looks like they're about to roll it out across the US in March, before presumably the rest of the world. So, keep an eye out for Shorts on your YouTube dashboard. 
Facebook has launched online dating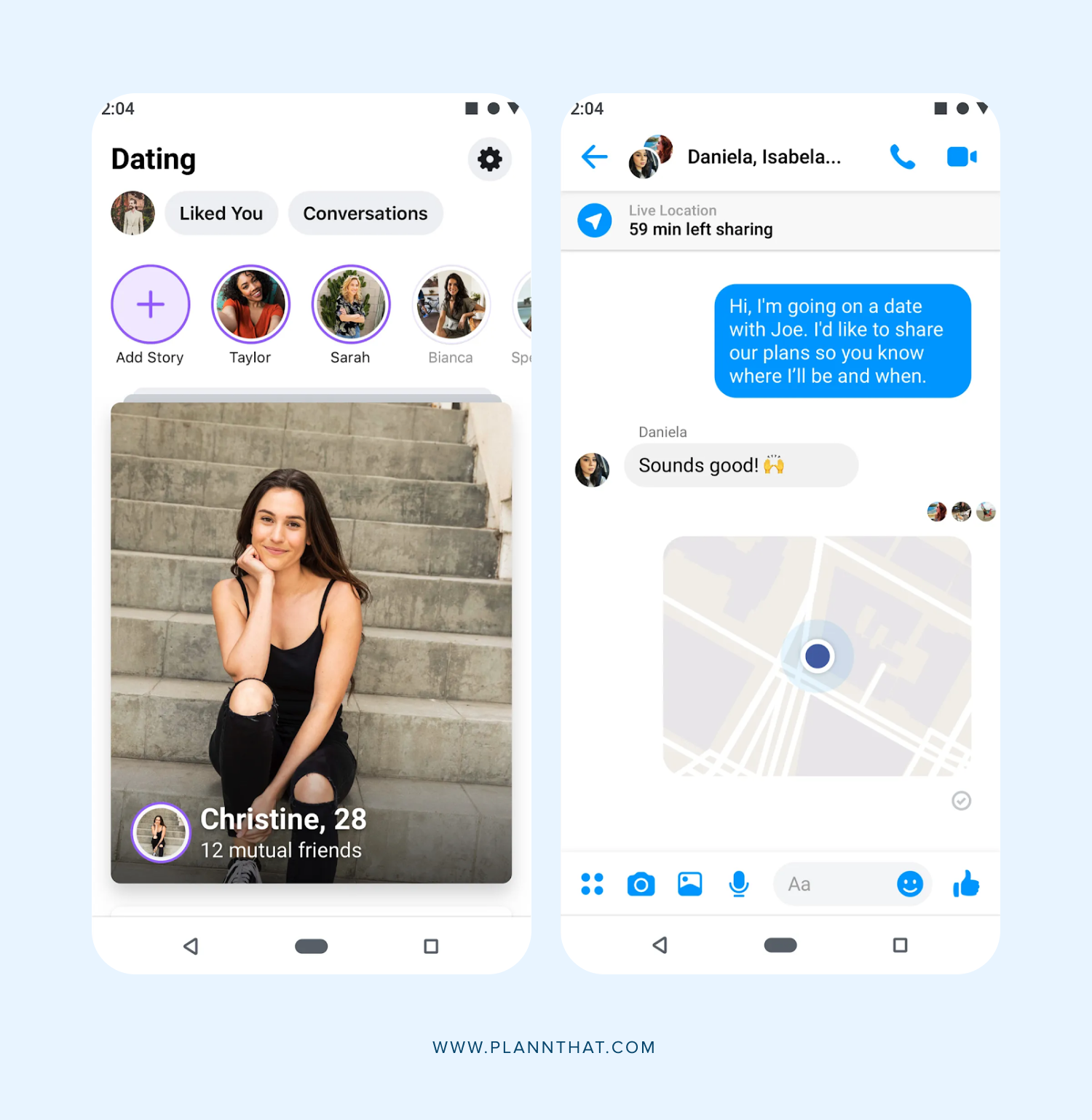 Remember when 'poking' someone on Facebook was basically equivalent to a marriage proposal? Well, it seems that the platform has gone back to its roots (well, it did begin as a platform for rating others' attractiveness, after all!) and has joined the dating scene.
Eligible singles have spotted notifications  prompting them to join up for the Facebook Dating. The new feature pulls existing information about users (based on their pages they like and groups they're in) to connect them with people in their extended network that they have shared interests with. You can also meet people who have clicked 'attending' to events you're going to.
As much as it may seem like a strange move from Facebook, it kind of makes sense! With many users having been on Facebook for over a decade, the platform almost knows more about us than we do ourselves. So, who better to match up with a perfect mate, who we have more in common with than just liking each other's profile pics?
Facebook Dating is currently rolling out across the globe. You can check out Facebook Dating here.
LinkedIn now has a creator program
LinkedIn probably isn't the first platform you think of when you think of influencers. But, that may be about to change, with news that the professional networking platform is the latest app to roll out a creator program!
In the case of LinkedIn, their influencers are less Instagram models and more thought leaders, CEOs and influential brands who share thought-provoking content. As they put it:
" LinkedIn's Influencer program is focused on executives who run large organizations — CEOs of Fortune 100 companies, large startups, or well-known brands — as well as recognizable leaders and industry experts. 
These are the people who are shaping the business conversation from the highest levels. It is an invite-only process and our editorial team is always looking for unique professional voices that meet these standards."
There seems to be a few potential objectives behind the LinkedIn creator program. Firstly, it appears to be an incentive for creators to keep creating high-quality content that keeps users on the platform for longer. But, it also hints at the the potential for a creator marketplace on LinkedIn in the future, connecting brands with influencers for advertising opportunities. 
Currently, LinkedIn's creator program is available by invite only. But, if you want to see if you have what it takes to be Linkfluencer (our words, not theirs!) you can check out the guidelines here.
TikTok is testing recipe cards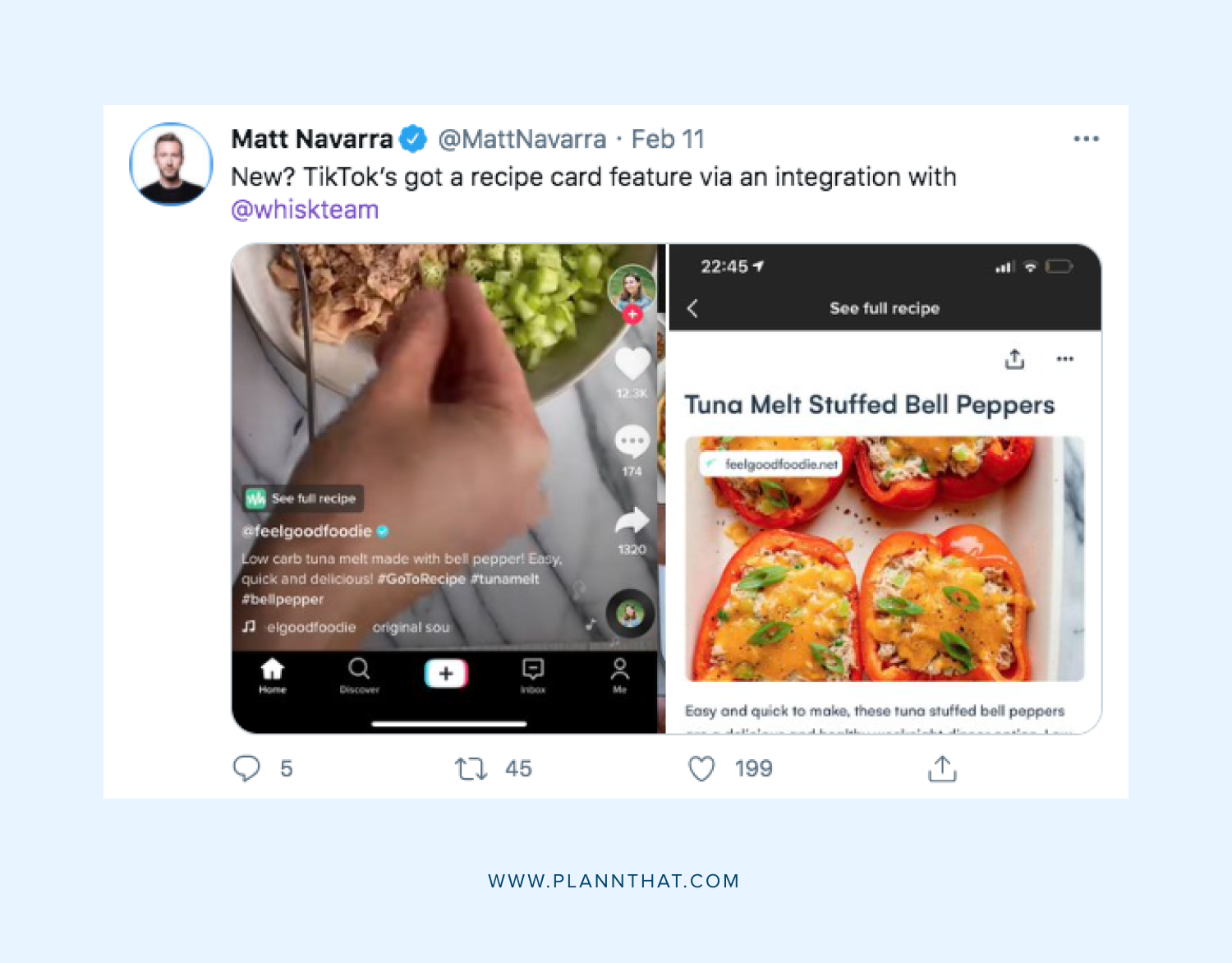 As the viral feta pasta dish proved, it's all about the recipes on TikTok right now! So, although the platform's latest integration would have surprised us, say, a year ago, it actually makes perfect sense now! 
It appears TikTok has plans to partner with cooking app Whisk, to allow creators to share recipe cards along with their video. This third-party integration would overlay recipe cards over TikTok videos, encouraging users to share and access them later to whip up themselves. 
Not only would this be a gamechanger for TikTok foodies, but it hints at more interactive features on the platform in the future. Perhaps we'll also see integration with other third-party apps that will allow content creators to easily direct their users to other types of content, like blogs and podcasts?
The Whisk integration is reportedly in 'alpha testing', meaning TikTok is rolling it out to a select handful of food influencers as we speak. Our mouths are practically watering in anticipation! 
Reels is testing a new color filter tool

Ever taken a Reels, only to realise that it's not quite as aesthetic as you'd hoped, or that you're looking a little 'Casper the Ghost'? You're in luck! It looks like Instagram has a color filter in the works, which is currently being tested in India.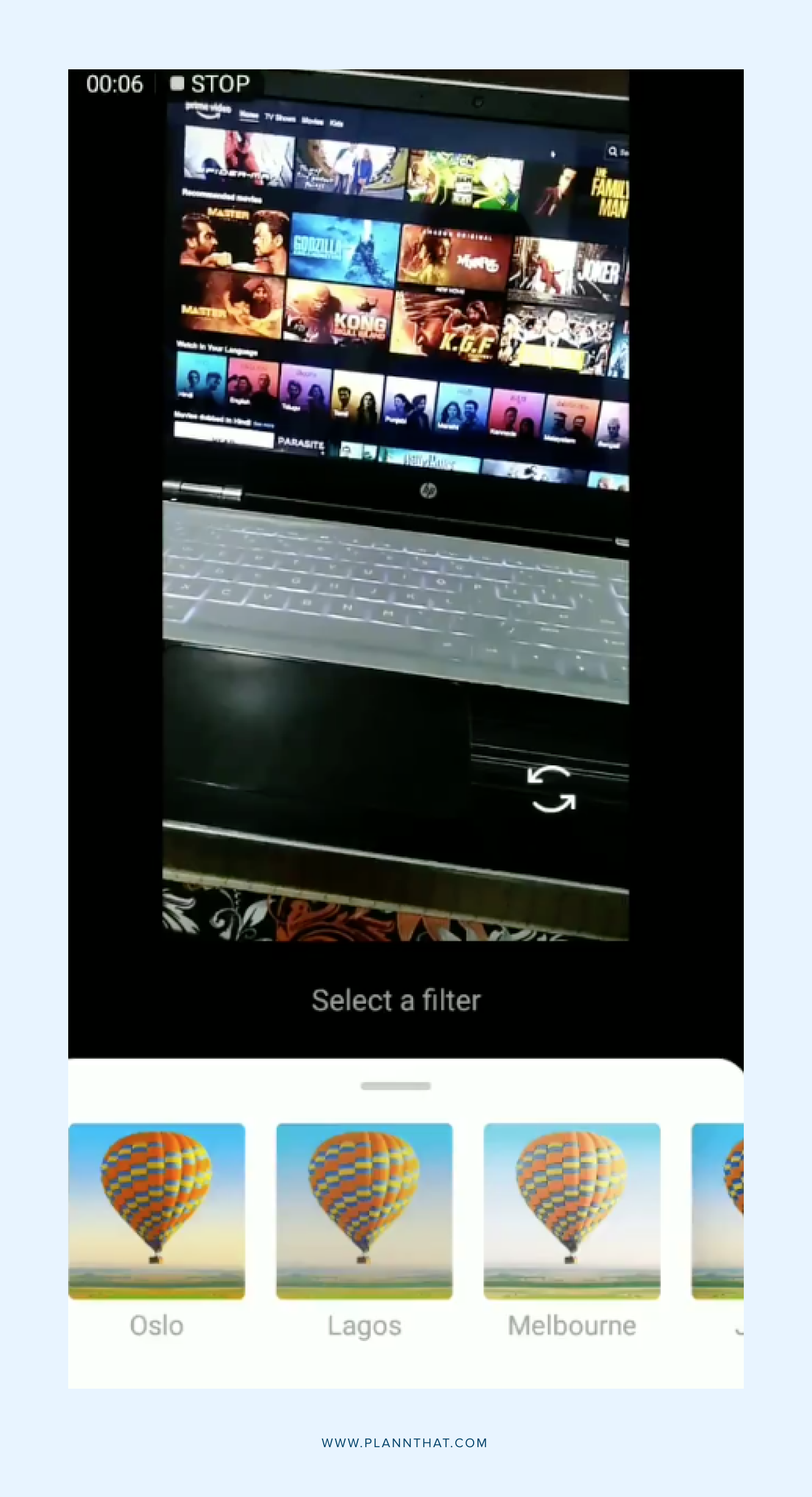 Similar to the color settings for Instagram grid posts, this allows you to overlay filters to help you achieve a certain look on your videos. Overall, the filters are pretty similar to the OG grid filters, so it's nothing too groundbreaking. But, overall, it will be a handy and convenient way to touch up your videos!
Instagram may be blocking some popular features
When Instagram can giveth, Instagram can also taketh away! Word on the street is, they're looking at blocking/removing two popular features. The first is the ability to repurpose your TikTok videos across Reels. Instagram recently posted some 'tips' for maximising the reach of your Reels on the platform.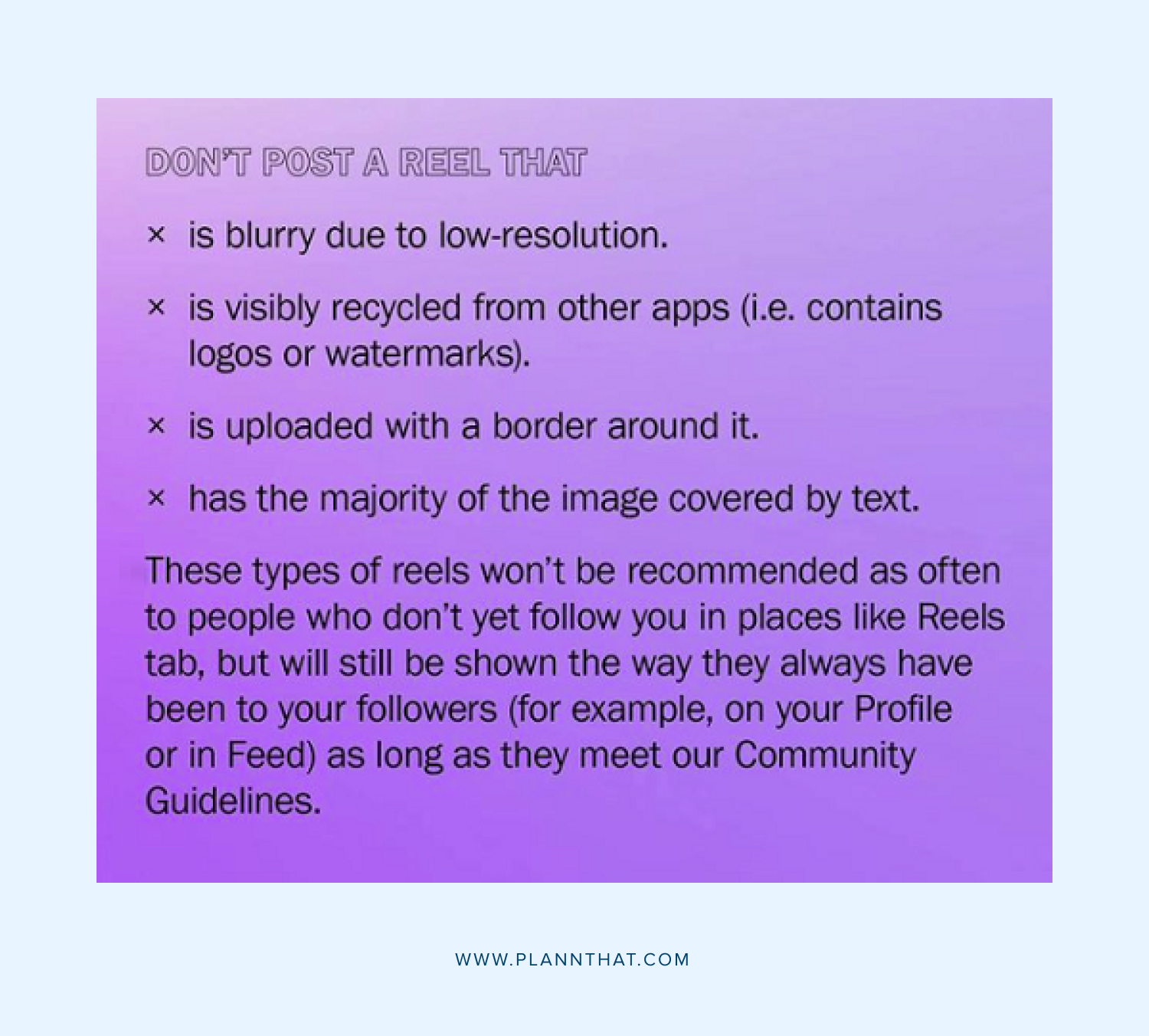 Amongst this list is the point, visibly recycled from other apps (ie. contains apps or watermarks) Gulp! That sounds like an awful lot like a threat to restrict the reach of Reels that have been originally posted on TikTok!
While this hasn't been confirmed by Instagram themselves, it wouldn't be surprising given that Reels has already been preventing users from using videos with music from external sources. But don't worry if you rely on TikTok's simple editing tools to create Reels videos — we'll soon be covering alternative options, so you don't have to put all your eggs in one basket.
You may have also noticed that Instagram has removed the ability to share your grid posts to stories. If so — congrats, you're part of a test group! After reportedly receiving feedback that their users want to see fewer feed posts on their stories, Instagram is currently testing removing this feature. While there's no word yet on whether this will become a permanent change in the app, we hope not — as it's an excellent way to amplify the reach of your feed posts!
The world of social media moves fast, but we're faster! Make sure you're on our mailing list so you never miss a social media update.