On social media, it can be easy to get caught up in the look and feel of our content. But before we consider what color palette we want to use or what filter to add to our posts, we need to consider how we're measuring and tracking our social media analytics. 
Nobody knows the importance of social media insights better than Fizza Mir, founder and curator of the luxe mood board, Luxury Princess on Instagram. Now with a whopping 157,000 followers, Luxury Princess is the go-to destination for refined fashion and lifestyle inspiration. 
Growing her social media presence from the ground up involved regularly reviewing her social media stats, assessing what is and isn't working and refining her approach along the way. 
We sat down with Fizza to chat about the benefits of building a brand on social media, how she's built such as engaged audience and her top tips for brands looking to succeed on social in 2022.
Growing a community of like-minded people on Instagram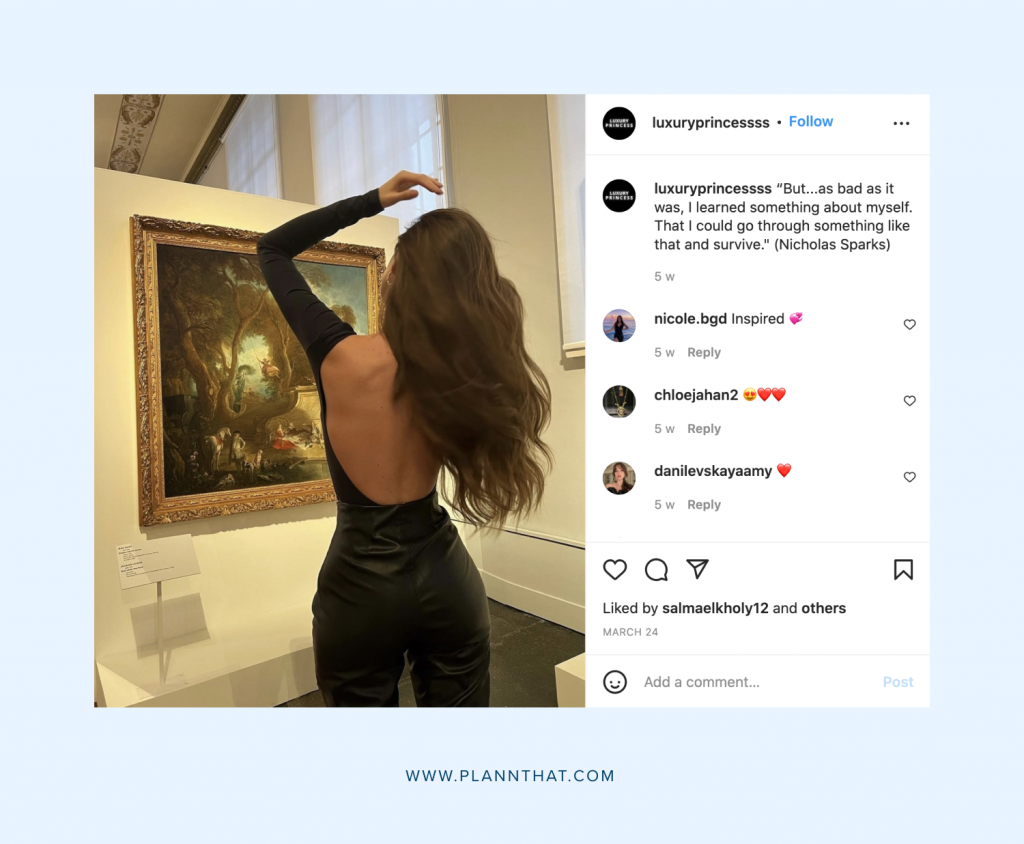 "When I first started my page, Luxury Princess, it was just a mix of all things I loved, from food to fashion.
Social media has definitely helped me grow a community of fashion and luxury-lovers and has allowed me to grow a following of people around the world.
Plus, I've been able to grow my community on the go, too. My favorite thing about social media is the flexibility. Last summer I was able to travel and stay on top of all my socials. All I needed was wifi and my laptop."
Life before and after Plann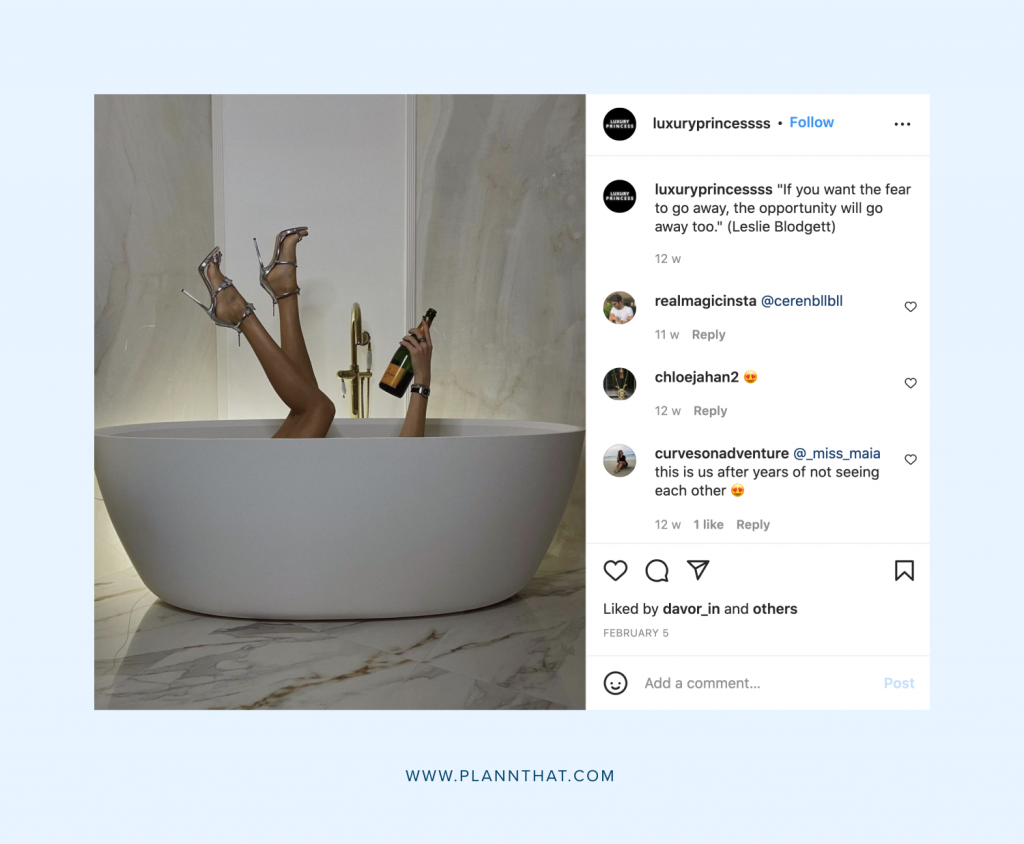 "Life before scheduling and auto-posting on Plann was hectic, to say the least. I was scrambling to post content. I took Plann seriously last year and started scheduling and auto-posting all my content. 
I no longer have to get up at 5 am to post content (my best time to post). Instead, I can focus on other parts of my business.
The very first thing I noticed when I started using Plann was the analytics feature. For me personally, Instagram doesn't provide a detailed enough look at analytics and what times are best to post. 
Not only does Plann tell me when most of my followers are online, but what the winning color palette is for my page. This has definitely helped me decide what content I should post.
Plus, when I found out Plann had an option to auto-post, I knew I had to get on board. All I had to do was compile content and captions at the beginning of the month, and I wouldn't have to think about it until the next month. 
In many ways, Plann has helped me catch up on sleep and focus on other parts of my business."
And Fizza's favorite Plann feature?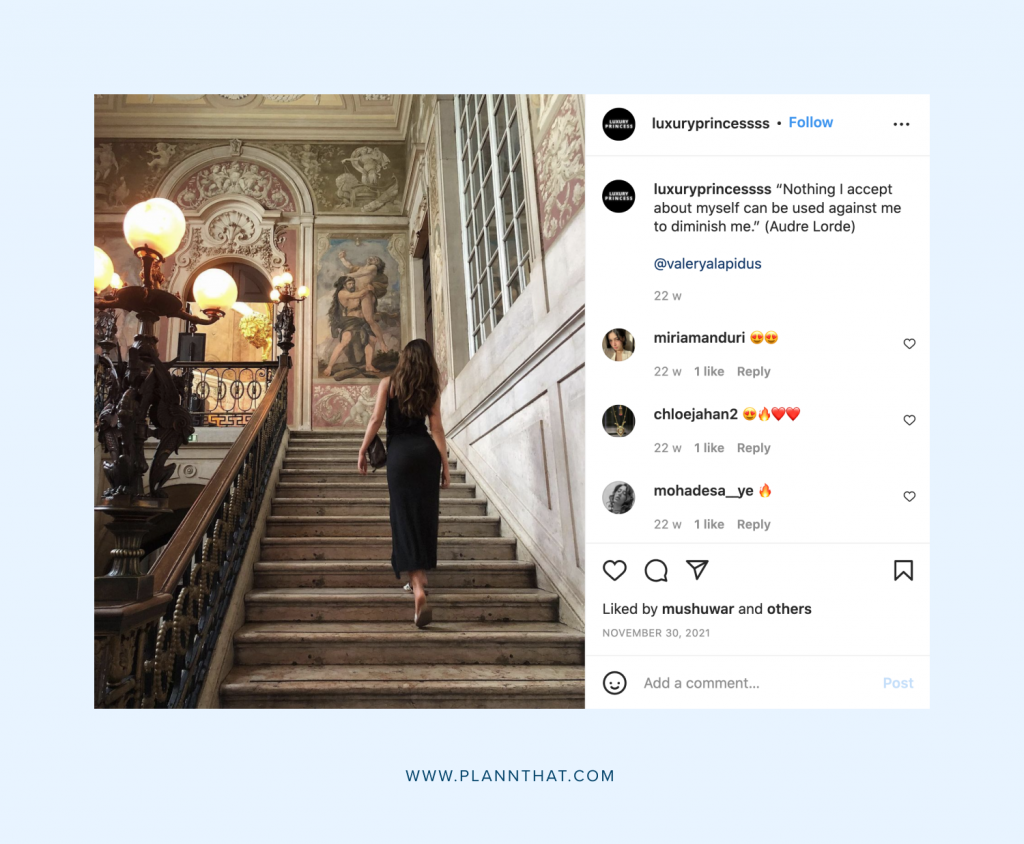 "Auto-post, auto-post, auto-post! It has been a lifesaver. Other than that of course, scheduling Reels and stories have helped. 
In business, it's important to automate anything you can so you can put energy elsewhere and scheduling has allowed for this. Now all I need is auto-post for reels and I am set for life."
Top tips for brands looking to succeed on social media in 2022
"If you're starting out, don't chase an aesthetic. Do what comes easy and you enjoy doing. My aesthetic on Instagram used to be all over the place: bright colors, locations, food, etc. Over time I learned what content my followers respond to, so that's what I stuck to.
It's quantity over quality, and after that, it's quality over quantity. This is actually something I wrote on top of my content sheet as a reminder. 
Starting out on social media when you have no idea what aesthetic, content style, or timing works, you have to just decide on a number and get started. 
Last year I decided I would put out 1 post, 1 reel, and 3 stories every day. Doing this for three to four months, helped me figure out what content and timing work best for me. Having put out all that content has helped me narrow down what works so now I can focus on quality rather than quantity."
What's next for Luxury Princess?
"Since I love sharing inspirational quotes for my captions, I would love to create products that are meaningful. Maybe candles or office decor that can motivate and inspire people since those are things that I love having around my desk."
Ready to supercharge your success on social media?
Looking for an all-in-one content creation suite that allows you to effortlessly manage your social media channels? From mapping out your strategy and designing your graphics to saving plug-and-play hashtag sets, you'll find everything you need inside Plann. 
Go on, redeem your 7-day free trial of Plann Plus. If you don't like it, keep using Plann for free!