Social media marketing is a wide-open world full of opportunities for you and your brand. However, with so many avenues available for you to market yourself, it can be very overwhelming to start. Thankfully, the basic concepts of social media marketing aren't as vague as the experts (many of whom seem to be hoping you'll get frustrated and hire them) would like you to believe. 
We've broken down the basic concepts that go into marketing your business successfully on social media. If you're ready to stop the overwhelm and finally get started with social media marketing, read on!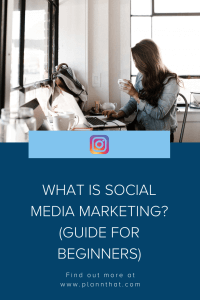 The Benefits of Social Media Marketing
Over time, social media has become an indispensable part of our lives. The wealth of information and entertainment available on social media, along with the ability to communicate with friends and loved ones around the world, is addicting. We check our social feeds, again and again, convinced we'll miss out if we don't.
There are stats to back this idea up: more than a billion people use Instagram every month, and 42% of daily users check their feed multiple times. The average user spends 28 minutes a day browsing Instagram!
You can see the main benefit of social media marketing in these stats. With a proper social media strategy in place, you can incorporate your brand into the daily habits your followers are already comfortable with. Engaging, informative, and entertaining content from your brand on social media will leave a much better impression than a television advertisement ever will.
Not only will marketing your brand on social media help increase recognition, you'll be advertising exactly where your audience expects. 37% of consumers use social media to inspire their purchases. 
The keyword here is inspire – your marketing won't succeed if it's too bland, too promotional, or too pushy. So, how do you market your business successfully on social media if you have to walk such a fine line?
Why You Need A Marketing Strategy
For personal social media use, it's completely fine to throw up post after post to see what your followers like. Experimentation among friends is never a bad idea; however, when you're using social media to market your business you should start with a plan. The best plan is one that's well suited to you and your brand, but also one that's flexible enough for the landscape of social media.
One concept that never fails to apply to social media is the concept of constant change. If you were around for the rise and fall of MySpace, you'll know firsthand that social media dominance comes and goes. This is why many expert marketers give the same advice: start with the tried and true platforms that have been around for years.
There is no single social media platform that is superior for all types of marketing, but a solid social media strategy incorporates at least two of the most effective platforms for your brand.
The most effective platform for your brand is the platform your target audience is already using
Very few people enjoy signing up for new services, and even if your brand is incredible, it's very unlikely that you'll convince people to join a new platform solely for your content. 
Many brands find success marketing on only a handful of the most popular platforms, mostly because they've found where their customers like to hang out in the world of social media and have no desire to waste resources chasing followers on platforms where their brand feels out of place.
In short, the reason that you need a strategy to market yourself effectively on social media is simply that there are so many ways to go about it. A strategy keeps you focused on the efforts that will bring you results, rather than the latest marketing trend.
In order to use your plan effectively, you need a marketing strategy that answers two essential questions: which social media platform will you market on, and how will you be doing that marketing?
Building A Successful Social Media Marketing Plan
Itching to get started? We're right there with you! Marketing your business on social media is an exciting and beneficial adventure, and it's time to start drafting your first marketing plan.
Identify Your Goals
Before you start, you need to ask yourself why you're planning to start using social media marketing in the first place. What do you want to achieve with your marketing? Common goals include:
– Build brand awareness

– Drive traffic to your website

– Direct promotion of products/services

– Create a like-minded community

– Increase customer engagement
However, your goals may be more specific and completely unique to your brand! As long as you know what you're trying to achieve on social media, you'll always have a purpose to point to when the initial excitement of trying something new for your brand dies down and you need a bit of motivation. 
Your goals will also help define your entire strategy and may even define which platforms are right for you.
We'll use an example here: Claire is a cosmetologist specializing in wedding and bridal parties and is known throughout her small town for her beautiful work. Her goals are to create a like-minded community of brides-to-be and promote her services to expand her clientele. 
Finding Your Platforms
There's a plethora of research available on the Internet about the demographics on various social media platforms. As we mentioned earlier, you're looking to focus your efforts on the platform where your target audience already hangs out, and we'll be taking full advantage of this research to find the right platforms.
Resist the temptation to create a profile on every major platform; it's fine to make a profile to reserve your brand name, but if you try to go from no social media presence to an expansive presence on every platform, you'll likely burn out.
Back to Claire. Her target audience is young brides-to-be between the ages of 22 – 28 who are interested in beauty looks inspired by nature, have well-paying jobs, no children, and plenty of time on their hands to plan their dream wedding. Through her research, she finds that Pinterest will be the best place to reach her audience and connect on all things wedding-related. She decides to add Instagram into her plan as well, using her profile there to promote her own work more heavily than she will on Pinterest.
Essential Research
Once you've found the platform where your target audience already hangs out, it's time to view it through their eyes and take a peek at your "competitors." 
What are the most popular brands in your niche posting? How often do they post? How do they engage and respond to comments? How does the brand present their own products or services? Can you spot patterns in their feed that you could replicate in your own?
Use this information as inspiration to help you define your own strategy. If you notice that every brand in your niche heavily employs the use of polls, for example, start brainstorming questions of your own. There's no need to reinvent the wheel here; if you see a strategy that works, make it your own and use it to its full advantage.
Claire spends a few days browsing the Pinterest boards and Instagram feeds of some of the most popular bridal companies, professional hairstylists, and make-up artists. She begins to notice patterns that she can replicate in her own marketing strategy. Video tutorials are great for engagement, but she notices that brands are careful not to post them too often. Likewise, sponsored posts are carefully worded and spaced out between regular content.
Drafting Your Strategy
Now that you've done your research, it's time to start developing your strategy. Every brand and social media platform will require a different approach, but your strategy should answer the following questions:
– How often will you post?

– When you do post, what kind of content will it be?

– Will you post pictures of your work? Links to informative blog posts about your niche?

– Infographics on why your product is useful? Diversity in content is important, but your audience will also appreciate knowing what to expect.

– What tone will your brand posts take? Friendly, funny, informative?

– How will you engage with positive comments?

– How will you handle negative comments?

– Will you automate your social media marketing using a tool?
One extremely useful thing to do with your strategy is to use it to make a content calendar. Simply take a calendar, physical or digital, and map out your social media posts for the next few months. For example, you could schedule a new picture of your work to be posted every Monday afternoon and promote your weekly blog posts every Thursday.
Claire decides her Instagram strategy will be to post a picture of her own work twice a week on Mondays and Wednesdays. Thursdays she'll promote content from other creators in the bridal niche, and on Saturdays, she'll create a text post designed to get a conversation going with her followers. Her Pinterest strategy is much the same, but she'll focus more on promoting the work of others and starting conversations.
As you can see, there are many moving parts to social media marketing. The landscape is constantly changing, and in order to succeed you must keep up with it. However, the beginning is always the hardest part – once you've built a following you can branch out and let your creativity thrive on your social feed. Successful social media marketing can take some time to get the hang of, but the benefits are immense once you have.