Marketing is crucial to the success of any brand and marketers and social media managers wear many hats, from posting across various social media platforms to running marketing campaigns, tracking analytics, and more. 
Each year new platforms are popping up, promising to improve workflows, take your social media to the next level and make your life easier. It's important to find tools, platforms, and social media apps that will allow you to boost engagement, drive traffic and sales and help to simplify your marketing efforts. 
If you're looking to elevate your marketing strategy as a creator, brand or business owner, we've rounded up the tools and platforms to optimize your workflow and help you work smarter, not harder. Ready to dive in? Let's go!  
7 Social Media Apps You Need If You're a Marketer
1. TikTok

TikTok is one of the newest, yet immensely popular social media platforms and its reach and popularity aren't slowing down anytime soon. 
Business owners can be a little reluctant to jump on TikTok, given it started as a platform to share dance challenges and it can be a little daunting to jump in front of the camera. 
But, TikTok is a social media marketing powerhouse, giving brands the ability to reach diverse audiences, build brand awareness, drive sales and even go viral. In fact, people are turning to TikTok as their preferred way to search instead of using Google. 40% of young people use TikTok to search for places to eat instead of using Google Search and 37% of users find a product on the platform and immediately want to buy it. 
If you need any more reason to jump on TikTok in 2023, the popular hashtag #TikTokMadeMeBuyIt has 38.6B views, showing the power of TikTok in helping audiences discover new products and ultimately driving sales for your brand. 
2. Slack
What started as an internal communications platform, Slack has moved to include external communications thanks to its public channels. 
Public channels allow you to find and join communities related to your interests and industry. Business owners can join marketing channels on Slack to share tips, network, and stay on top of best practices. 
Plus, Slack allows you to automatically flow industry news and social posts into your channels so you're constantly updated on the latest news, share information with your team and incorporate it into your marketing and social media strategy. 
Thanks to Slack integrations with Google and Salesforce you can also optimize your workflow and marketing performance, align KPIs, get feedback on marketing and communications projects (such as your next batch of social posts) and take action without ever leaving the platform. 
3. Google Analytics
If you're looking to enhance your marketing strategy, using Google Analytics can help you get to know your audience better, measure and track important metrics and analyze marketing and communication efforts. 
With Google Analytics you can understand who your customers are with important information including demographics, location, retention, and more to help interpret who your marketing efforts are having an impact on. 
Google Analytics also helps you understand how your customers are landing on your website, whether that's through organic search, social media, email marketing, or ads. This can help you narrow in on specific channels that are working best for you and what channels can be improved. 
Conversions are another important aspect of marketing. At the end of the day, you want to sell your products and services. Google Analytics measures the actions customers are taking that you want them to take which can give you a better understanding of how well your website encourages sales conversions. 
4. Pinterest

When people think of Pinterest they tend to think it's only used for planning your wedding, getting outfit inspo, or creating mood boards. But, Pinterest is a marketing powerhouse that not enough brands and businesses are taking advantage of. 
83% of Pinterest users have made a purchase based on content from brands they've seen on the platform and 70% of users say Pinterest is where they turn to find products, services, and ideas they can trust.  
Pinterest is a great way to share organic content and re-purpose your Instagram, TikTok, and Facebook content while still reaching a new audience and potential new customers who have a lot of buying power. 
5. Loom
Loom is a video messaging and communication tool that allows you to record using your webcam, microphone, and desktop simultaneously. These videos are fantastic for sharing step-by-step tutorials, creating quick explainer videos or easily giving feedback to team members – easily shared through one clickable weblink.
We all know that video content is the most engaging content on the internet, which is why it's no surprise that social media platforms like Instagram are pushing Reels content. In fact, 81% of marketers say that video content has directly increased sales, and 84% of people say they've been convinced to buy a product or service after watching a brand's video. 
For marketers, Loom makes it simple to create quality video content like product demos, DIY videos, and more. From onboarding new clients and team members, videos for social media, and even turning your blogs into video content, Loom can help you educate your audience, drive traffic to your website and increase conversions. 
Plus, Loom gives you analytics and SEO insights with the ability to see who watched your video, and how long they watched it, and monitor call-to-action (CTA) performance. 
6. ClickUp 
ClickUp is an all-in-one project management tool allowing you to plan, track and manage all your marketing needs. 
ClickUp makes it simple to produce content calendars, with easy-to-view boards to help plan, execute and track content creation. ClickUp even does the hard work for you with pre-made templates where you can view from four visual views including calendar, list, board, and timeline views.
Whether you're working in a team or on your own, ClickUp allows you to track the progress of goals and projects, work with other teams and departments to complete campaigns, and see who's doing what and when. 
7. Plann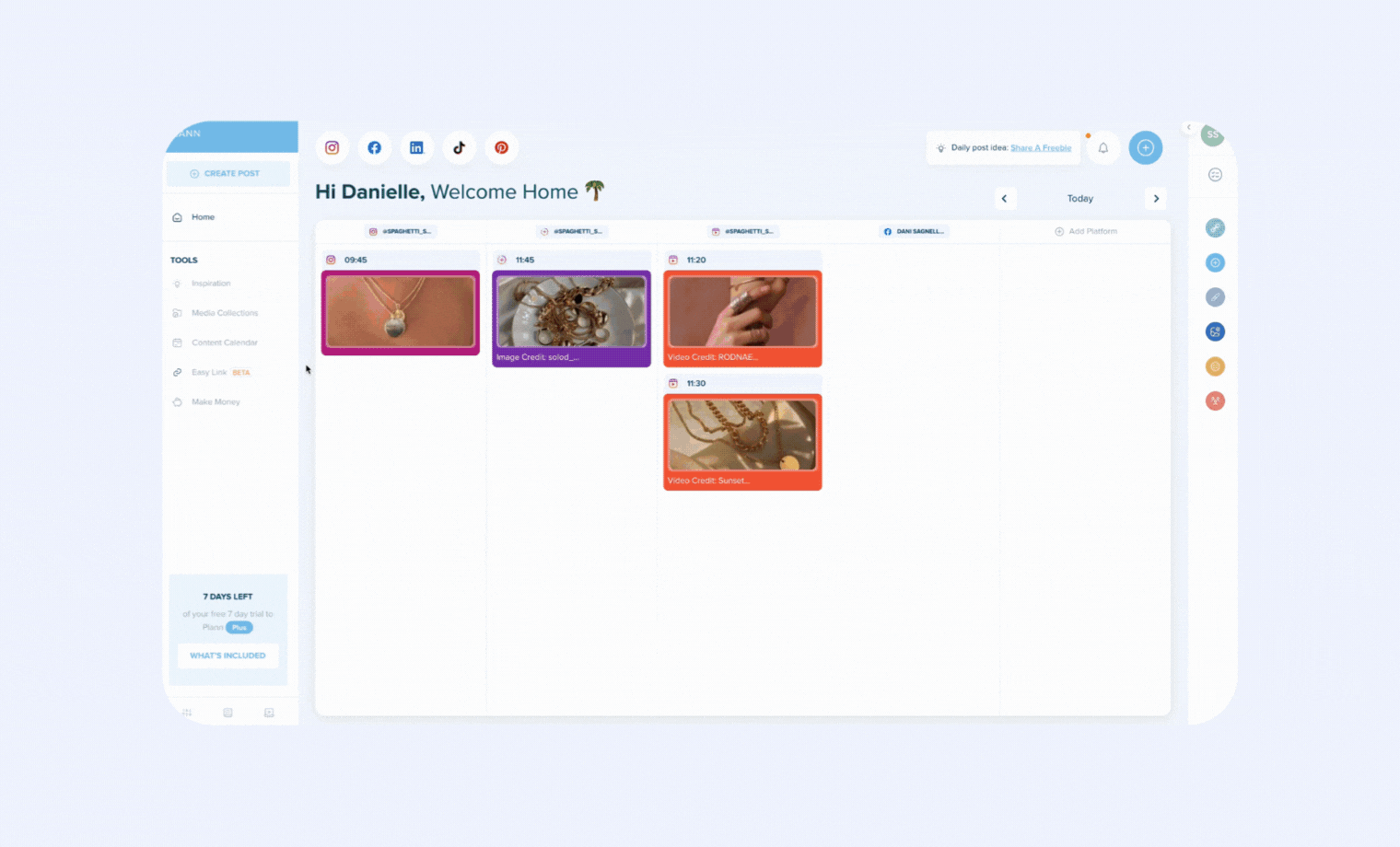 Most brands use a stack of social media platforms to build brand awareness, boost engagement, promote their products and services, and ultimately drive sales. Being across so many platforms can make it difficult to stay on top of posting consistently. 
That's where Plann comes in. Plann is an all-in-one social media management platform that allows you to create, schedule, and publish content across all your favorite social media platforms all through one single interface. 
Plus, Plann has a stack of features that take your social media game to the next level including 
• Visually arrange your Instagram feed with a simple drag-and-drop workspace 
• Auto-publish your posts to Instagram, Pinterest, TikTok, Facebook, and LinkedIn 
• Integrations with Canva, CloudSpot, Pexels and more
• Hashtag management with hundreds curated hashtags sets for your niche 
• Analytics including your best times to post, your best-performing color palettes, hashtag analytics, engagement rates, and other important metrics 
• Edit image posts with stunning filters, overlays, borders, and text overlay tools.
Ready to supercharge your success on social media in 2023?
Looking for an all-in-one content creation suite that allows you to manage your social media channels effortlessly? From mapping out your strategy and designing your graphics to saving plug-and-play hashtag sets, you'll find everything you need inside Plann. 
Go on, and redeem your 7-day free trial of Plann Plus. If you don't like it, keep using Plann for free!