When it comes to making the most of Pinterest marketing, the secret to success is knowing what tools are at your disposal and how you can use them to grow your account.
They might be an often overlooked feature, but Pinterest categories offer great potential to improve your in-app SEO and increase your reach on the platform. In the long run, this can help you boost sales and build a larger, high-intent audience on Pinterest, too.
If you're using Pinterest to build your businesses' presence online, it's important that you choose the right Pinterest categories to categorize, index and distribute your content.
Here's everything you need to know to make Pinterest categories work as hard as you do.
What are Pinterest categories and how do they work?
Pinterest categories are a great tool to help you organize your Pins and Boards clearly and effectively.
Using categories, you can align your content closely with your niche, making it easier for users to find your posts and to navigate your account.
Well-chosen categories provide the Pinterest algorithm with the information it needs to analyze and understand your brand.
This means that the app can be purposeful when recommending content to users, making it more likely that your Pins and Boards will be shown to people who are interested in them.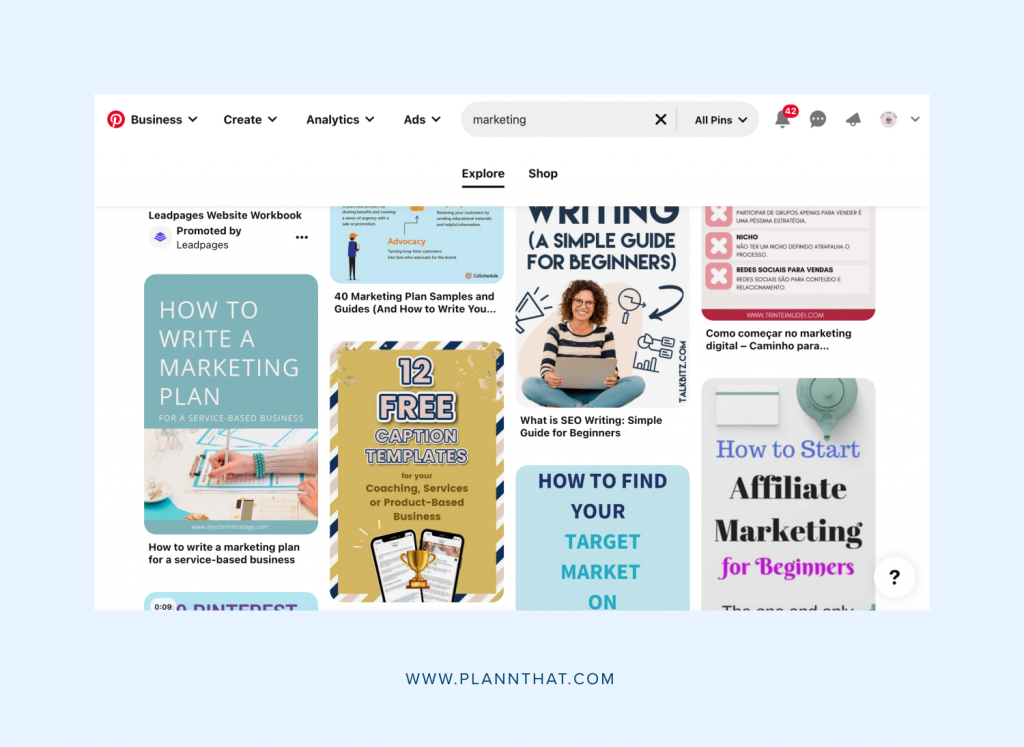 What are the most popular Pinterest categories?
There are stacks of Pinterest categories to choose from, so it's easy to find a relevant category when you need it.
It's always best to choose Pinterest Board categories that relate directly to your business and the Pins you share. This will help to teach the app what you do and what you can offer Pinterest users.
It's also worth remembering that some Pinterest categories are more popular than others. The most popular Pinterest categories include:
• Home décor
• Art
• Food and drink
• DIY and crafts
• Beauty
• Education
• Entertainment
• Women's fashion
• Design
• Sports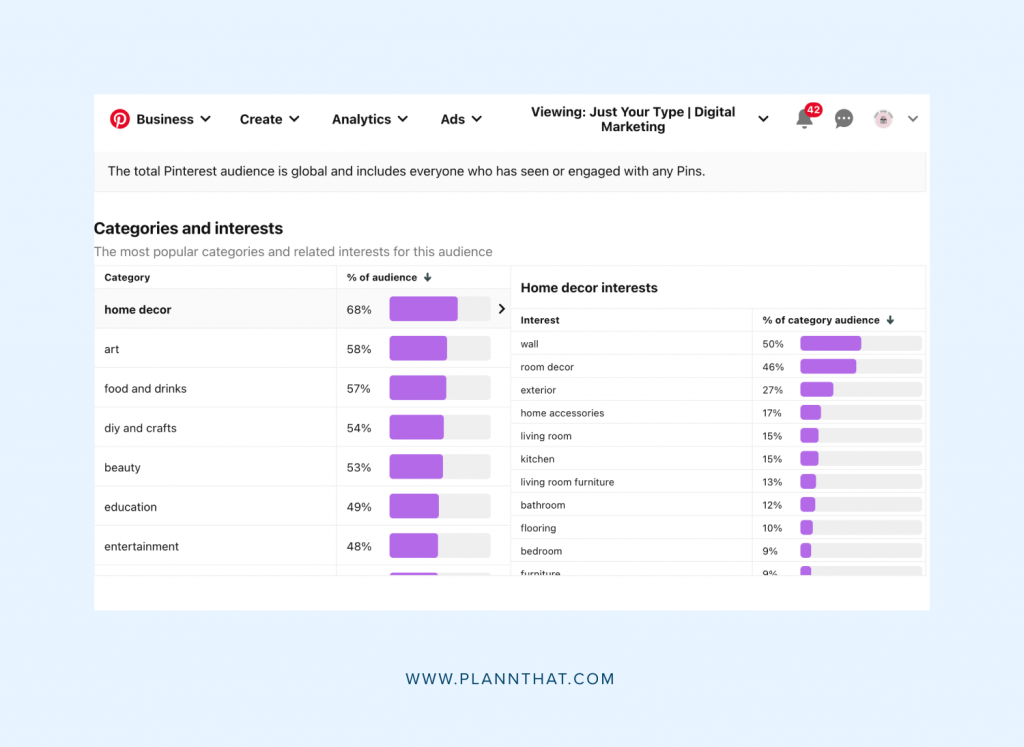 While it might be tempting to stick to these well-loved categories, this isn't always the best course of action.
Popular categories do offer high search traffic, but it can be tough to cut through and gain traction in these competitive categories.
Instead, it's worth scouting out highly relevant niche categories with lower Pinterest traffic. This will give your content a better chance of ranking well in searches. You'll also reach a niche-specific audience, increasing the likelihood of meaningful engagement and even sales from Pinterest!
Why are Pinterest categories so important?
Using Pinterest categories has many great benefits for expanding your reach, building brand awareness and getting your business in front of high-value audiences. So why do they matter so much?
Targeting high-intent audiences
By grouping Pinterest Pins and Boards together based on content types and topic similarities, you can make your Pins more convincing and compelling. Clear and relevant categories provide information to help Pinterest show your content to audiences who are likely to care.
This targeted reach offers excellent engagement potential, and it works as an extra channel of SEO when combined with keyword-rich headlines and descriptions. Relevant reach means more followers, more website clicks, and ultimately, an increased likelihood of making a sale.
Improving user experience
From a user's perspective, Pinterest categories are a great tool to improve their experience with your brand online. Effectively categorized content is easier to find when you're searching for something specific.
Using categories, Pinterest users can search for highly relevant Pins and Boards quickly and easily, and they can find similar content with just the click of a button.
Building an effective Pinterest strategy
On social media, a strong strategy is always the key! Pinterest categories are a valuable tool that can be used to inform your Pinterest marketing strategy.
You can rely on category trends to better understand your market and niche. You can use your knowledge to reach users with exactly the categories and content they're looking for, all from an organic marketing point of view.
How do you search for Pinterest categories?
When searching for specific content on Pinterest, using categories can save you time, allowing you to access relevant Pins quickly and easily.
To search for specific categories on Pinterest on mobile or desktop, visit the search bar at the top of your screen. Here, you can type in a keyword.
Next, navigate to the top right of your screen, and filter to search for Boards. This will allow you to see a list of Pinterest Boards that are titled and categorized in line with your search.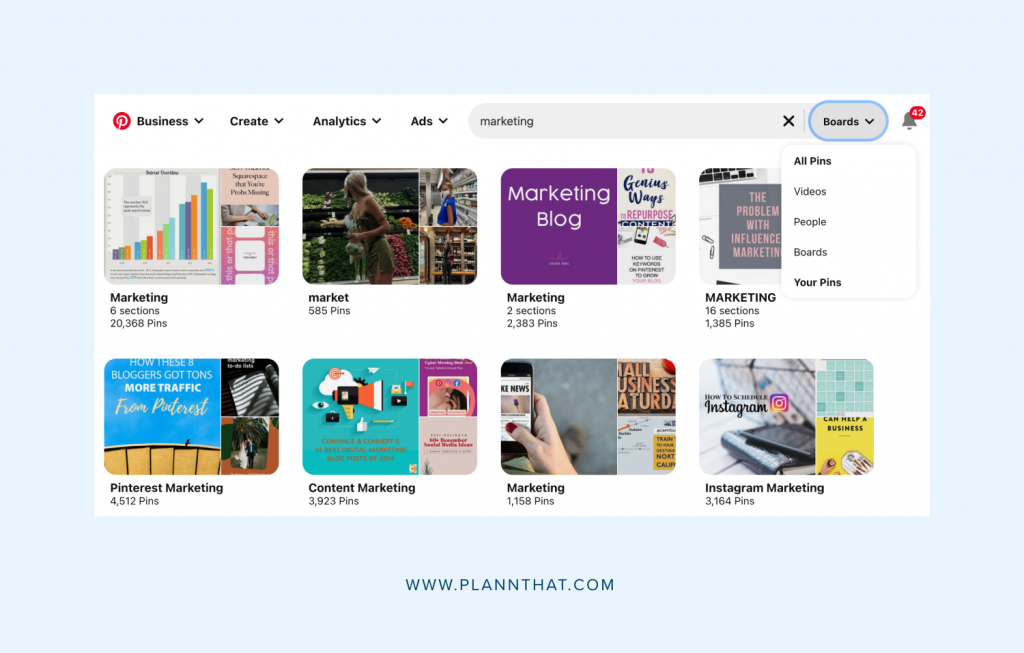 How can you find and add Pinterest categories?
Finding and using Pinterest categories is easy when you know what you're looking for.
You can add Pinterest Board categories when editing a Pinterest board. The category option is displayed beneath the Board's name and description. Here, you'll find an alphabetized drop-down list of all the available Pinterest categories.
If you want to see Pinterest category trends, you can do this too. Start by visiting your Pinterest profile and clicking on the "Analytics" tab at the top of your screen. This feature is available for Pinterest business accounts.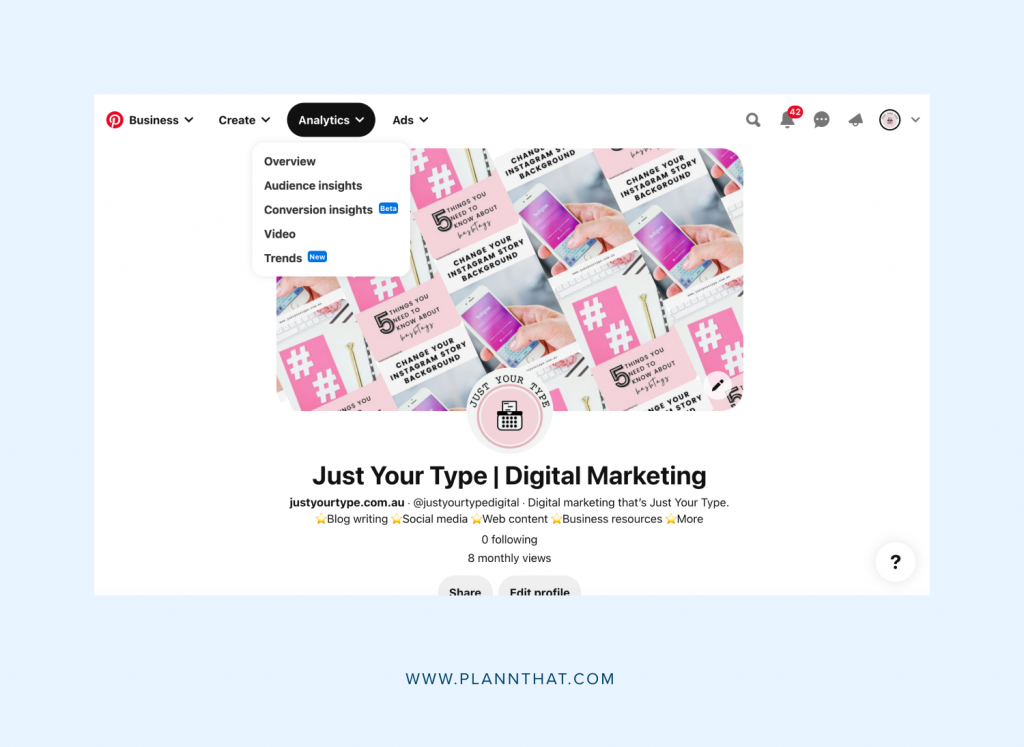 Select "Audience Insights," choose "All Pinterest Users," and scroll down to see which categories are generating most interest. Click on each individual category to view popular subcategories and searches!
Where should you start with Pinterest categories?
When creating a Pinterest Board, choosing the right category is all about purpose. What does your brand offer? What is the purpose of the Board you're creating in reaching or serving relevant app users?
To get started with Pinterest categories, read through the Pinterest category list and make a note of all the categories that are relevant to your niche and content.
Next, log in to your Pinterest account, and set a relevant category for all of your current Pinterest Boards. It's a good idea to choose a few different categories across your account!
Plann your Pinterest categories and content with ease
Have you heard? Pinterest is now available on Plann! We're so thrilled to give Plann'rs more tools to succeed on social media, especially on such a booming platform like Pinterest.
Now, you'll score a faster and easier way to schedule your Pins, easy ways to connect your Pinterest account on your device and save and share your Pins together in one place. Plus you can even plan and design your Pinterest strategy directly in Plann.
Ready to expand with reach with Pinterest on Plann? Go on, redeem your 7-day free trial of Plann Plus. If you don't like it, keep using Plann for free!