Just like Instagram, Pinterest is a social media platform that's all about the visuals. But unlike Instagram and other social media platforms, Pinterest wants to help users find inspiration and discover new ideas and products.
How? Well, Pinners are able to create Boards, share and save Pins and even shop within the Pinterest platform.
And while you may think that Pinterest is only a tool for planning your new home's interiors or finding delicious recipe ideas, Pinterest is an excellent platform to grow your business online.
So, let's run you through why your business should be on Pinterest and a stack of practical strategies to discover new Pinterest trends.
What's so Special About Pinterest for Businesses?
Pinterest has over 700 million views per month and more businesses are turning to Pinterest as a powerful tool to drive brand awareness, engagement and conversion.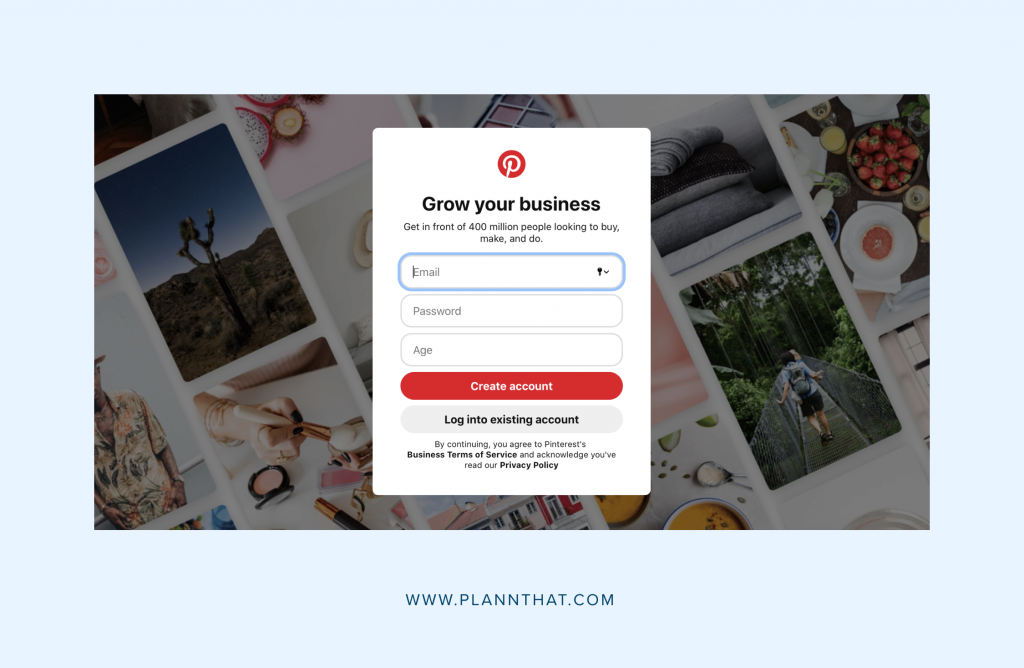 What's most impressive about Pinterest is that a single Pin can have a lifespan of years if you get the keyword usage right. Plus, with Pinterest's unique search engine capabilities, you can craft a winning SEO (search engine optimization) strategy that ensures your content reaches your ideal customers.
Pinterest is basically a search engine that will show your Pins to your audience when they look up keywords related to your business.
By sharing high-quality visual content that leverages SEO keywords, you can boost the reach and visibility of your business (without paying a cent on social media advertising).
5 Ways to Find New Pinterest Trends
Want to get the most out of your Pinterest marketing strategy? A powerful way to cut through the noise and reach new audiences is to harness popular Pinterest trends.
To keep your business a step ahead of the pack, here are five ways to make your Pins go viral. Let's dive right in!
1. Check Out the Pinterest Predicts Reports
Pinterest Predicts is an insightful report that Pinterest publishes each December. It contains trend predictions for the following year, helping you boost your Pinterest presence and keep your finger on the pulse of the platform's latest features.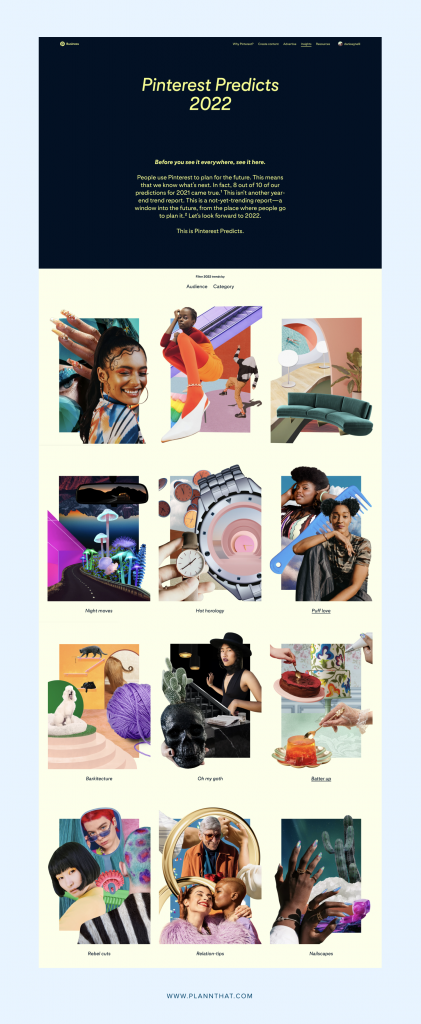 "Pinterest Predicts isn't your typical trend report. It's a not-yet-trending report," says Andrea Mallard, the Chief Marketing Officer of Pinterest. The report basically helps you create content that your audience may want before they even know they want it.
The key idea behind Pinterest Predicts is to inform businesses (like yours) of new trends coming up in the year ahead so you can plan your Pinterest strategy accordingly. In fact, Pinterest claims that 8 out of 10 of their predictions for 2020 came true.
2. Visit Pinterest Trends
Pinterest Trends is a relatively new feature Pinterest offers to anyone interested in learning what content is popular on Pinterest. It shows a historical overview of the top search terms and topics in the U.S., U.K. and Canada.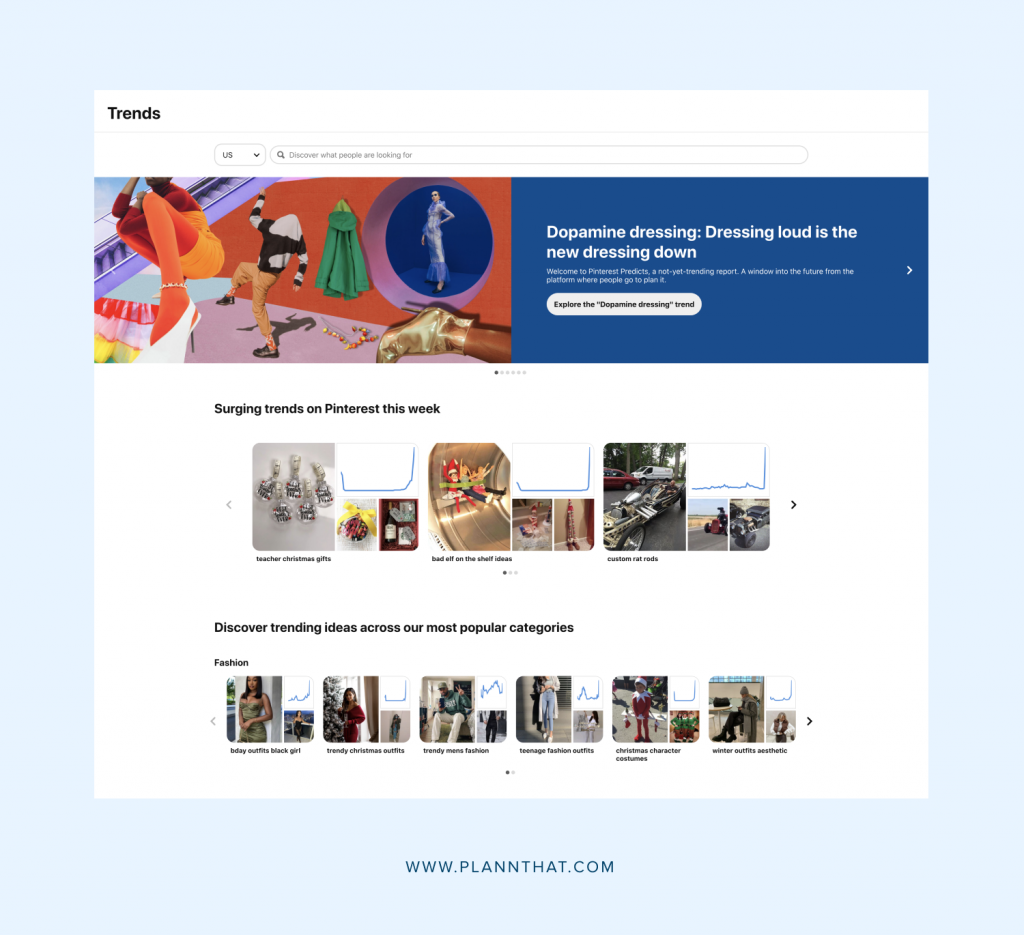 Here's how you can access the latest trends on Pinterest:
1. First, open Pinterest Trends on your desktop or mobile web browser.
2. Then select the country you want to see data from.
3. Finally, enter a term in the top search bar or click "See now" on one of the featured topics below.
As you type into the search bar, you'll see a list of suggested terms, which are real searches that appear on Pinterest. The search bar shows common and trending search terms that are relevant to the topic you've entered.
What's more, the Pinterest Trends tool lets you compare multiple keywords by entering up to four terms in the search bar at the same time. The tool will compare the popularity of the keywords you've entered over the past 12 months and show you the comparisons in a graph.
3. Use Pinterest Search Engine
Pinterest's search engine is a golden opportunity for you to find and leverage new Pinterest trends. All you need to do is start typing in a topic you're looking for in the app and take a look at the suggested terms that show up. The search terms Pinterest suggests are what people search for the most.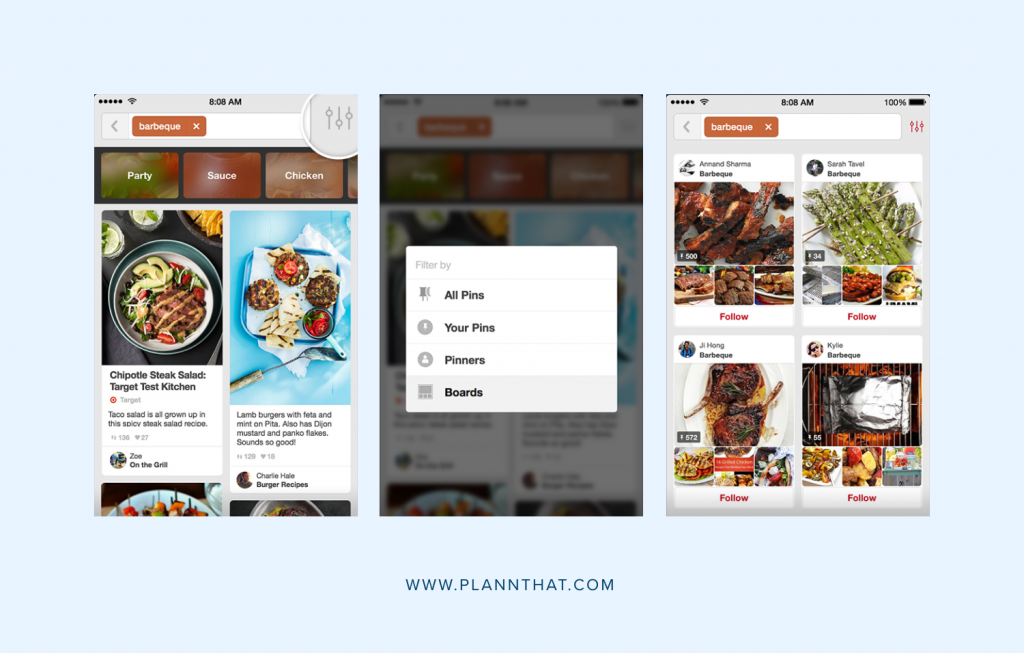 Next, take note of the most relevant keywords to your business and use them when you publish your Pins.
Finally, add the keywords you've noted to your Pins and Boards. There are a few places you can include relevant keywords to your niche. Let's take a quick look:
• Alt-text on images: when people save or share your Pins, the system will pull up the specific alt text as the Pin description. By adding a strategic SEO keyword as your alt-text you can increase the chances of our content showing up in the Pinterest search results.
• Your Pinterest profile: you can incorporate the main keyword in your niche in your actual name and add a few relevant keywords to your profile description too.
• Board titles: add a niche-specific and descriptive title to your board. For example, instead of titling your board "decor", create a more specific title like "minimalistic home decor".
• Pin descriptions: upload an image or a video, add the URL to your website and add relevant keywords in the description field.
4. Research Your Competition
Like any other platform, researching your competition on Pinterest can help you create content that your audience is looking for.
The best way to do competitor research is to search for the terms related to your business or topic on Pinterest. Once you get the results, analyze what your competitors are posting and try to find new ways to approach these topics that are unique to your business.
The more unique and authentic your Pinterest content is to your brand, the more likely users are to remember who you are.
5. See What's Performing Well in Your Overall Social Analytics in Plann
With Plann, you can schedule your Pinterest posts with ease, while also gathering advanced analytics from your posts. Plus, you can use Plann to manage all your other social content, from Facebook to Instagram.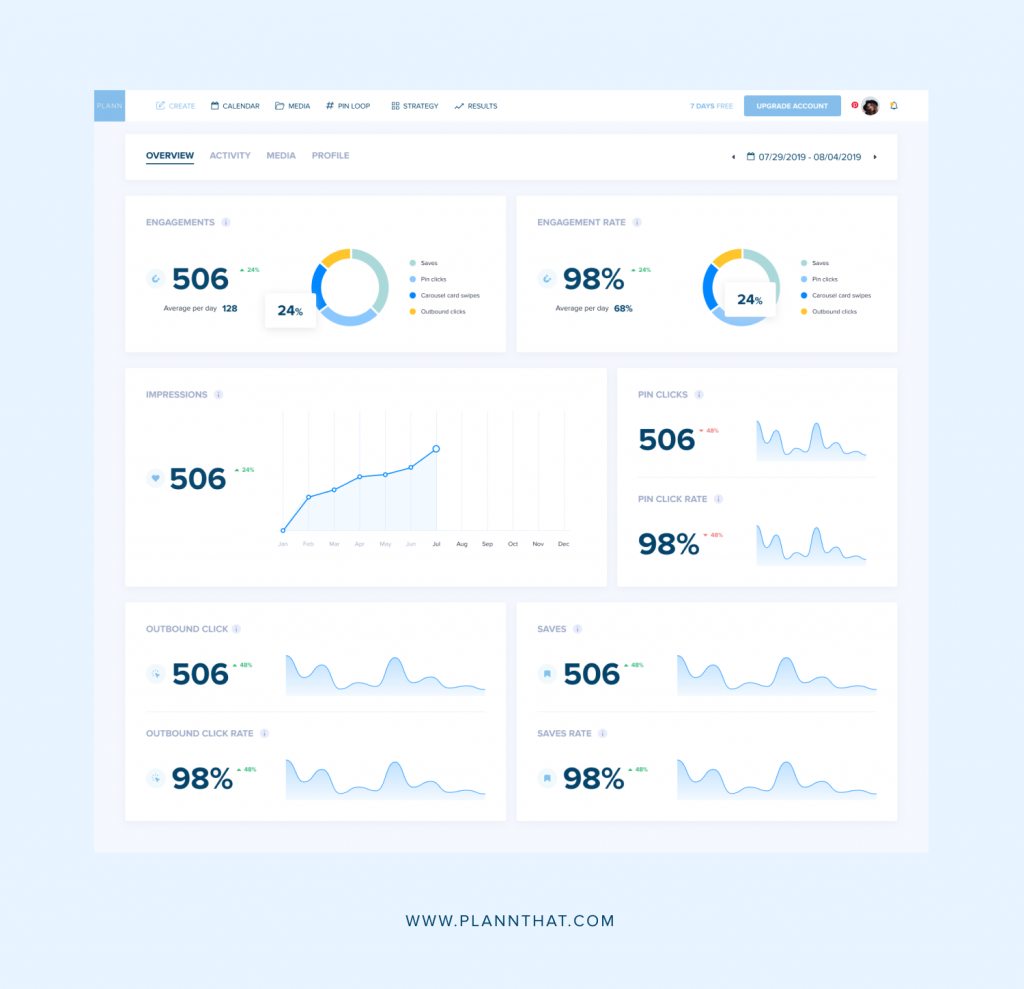 Simply connect your Pinterest and any other social media accounts to Plann to fetch your engagement data. Once set up, Plann will show you which pieces of your content perform the best or the poorest across each channel.
By reviewing this data, you can assess which types of content or topics are your best performers and use this to craft impactful content on Pinterest.
Level Up Your Marketing Using Pinterest Trends and Plann
Pinterest has the potential to be an important platform for small businesses in 2021 and beyond. So if you haven't dipped your toes into Pinterest marketing yet, now is the perfect time to get started.
After reading this article, you already know where to find Pinterest trends. But don't forget to schedule your Pinterest posts with Plann to keep on track with your social media marketing strategy. Plus, the advanced analytics tool Plann offers can help you create content that your audience loves.
Sign up for a free 7-day trial of Plann today and you can manage your entire social media strategy from one effortless dashboard.