Done-For-You Strategy Improvements
Coming up with a posting plan on social media is easy with Plann's in-built strategist, a feature found right from the STRATEGY tab of your Plann workspace.

You'll now find a simple, highly effective improvement where you can drag and drop your strategy ideas to re-order, re-prioritize and have full control over your brand themes.

Simply create your own custom themes or choose from Plann's done-for-you options, and then edit, drag and drop, or color coordinate to create your own brand themes (or 'content pillars' in marketing speak) that you can easily add directly to your grid, the perfect way for you to intentionally design your posting schedule.
What Is A Social Media posting Strategy?
No matter what industry you're in or how much brand content you have created, it's easy to get stuck not knowing what to post or getting overwhelmed when you constantly have to come up with ideas, and sometimes on the fly.
Plann's unique strategy feature allows you to plan your posts with intention, allowing you to think ahead about your social presence so you can stay consistent and always moving toward your goals.

This feature allows you to schedule and plan out your Instagram storyboard so you know exactly what you need to post next (it's also a great way to work out what you need to take photos and videos of at your next content shoot!).
Why Should I Create A Strategy for My Brand?
Building your brand on social media can be challenging without a defined strategy.
Creating a strategy that's unique to your niche can benefit your brand by saving you time trying to figure out what to post, helping you build a compelling, organic presence online, and stop you falling off social media entirely when you get busy or caught up running your business.
How Do I Create A Custom Strategy?
Simply visit the STRATEGY tab at the top of your Plann workspace to find themes that we've identified as the most engaging storytelling themes that you can use straight away, already prepared and uncovered for you.

You can choose to use our pre-made strategy ideas or customize your own!

You'll be able to think ahead to your goals, to map out the posts you'd like to share across your different social media platforms, making it incredibly easy for you to write captions for your future posts.

Hit Your Goals With Plann's Done-For-You Content Prompts
Have you tried Planns' content prompts?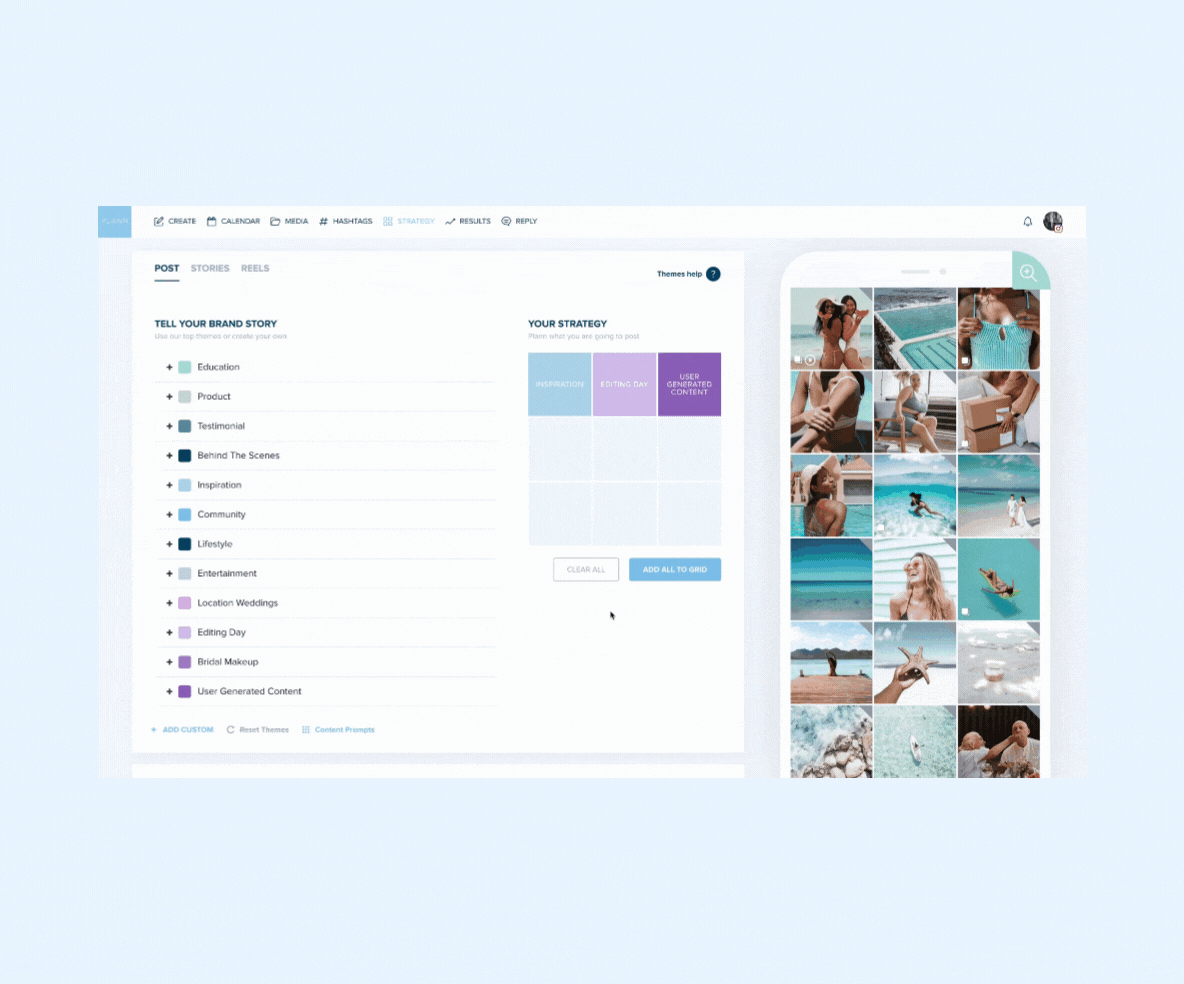 Designed to be mixed and matched, search through hundreds of ideas, industries, and sales techniques created by professional social media marketers. Map out your content weeks ahead using Plann's content prompts straight out of the box across all of the social media channels that Plann supports.

Use them to kickstart your own inspiration; these content prompts are like your very own social media strategist working inside your team with you.

Here's how to find Content Prompts and automatically plan your week ahead: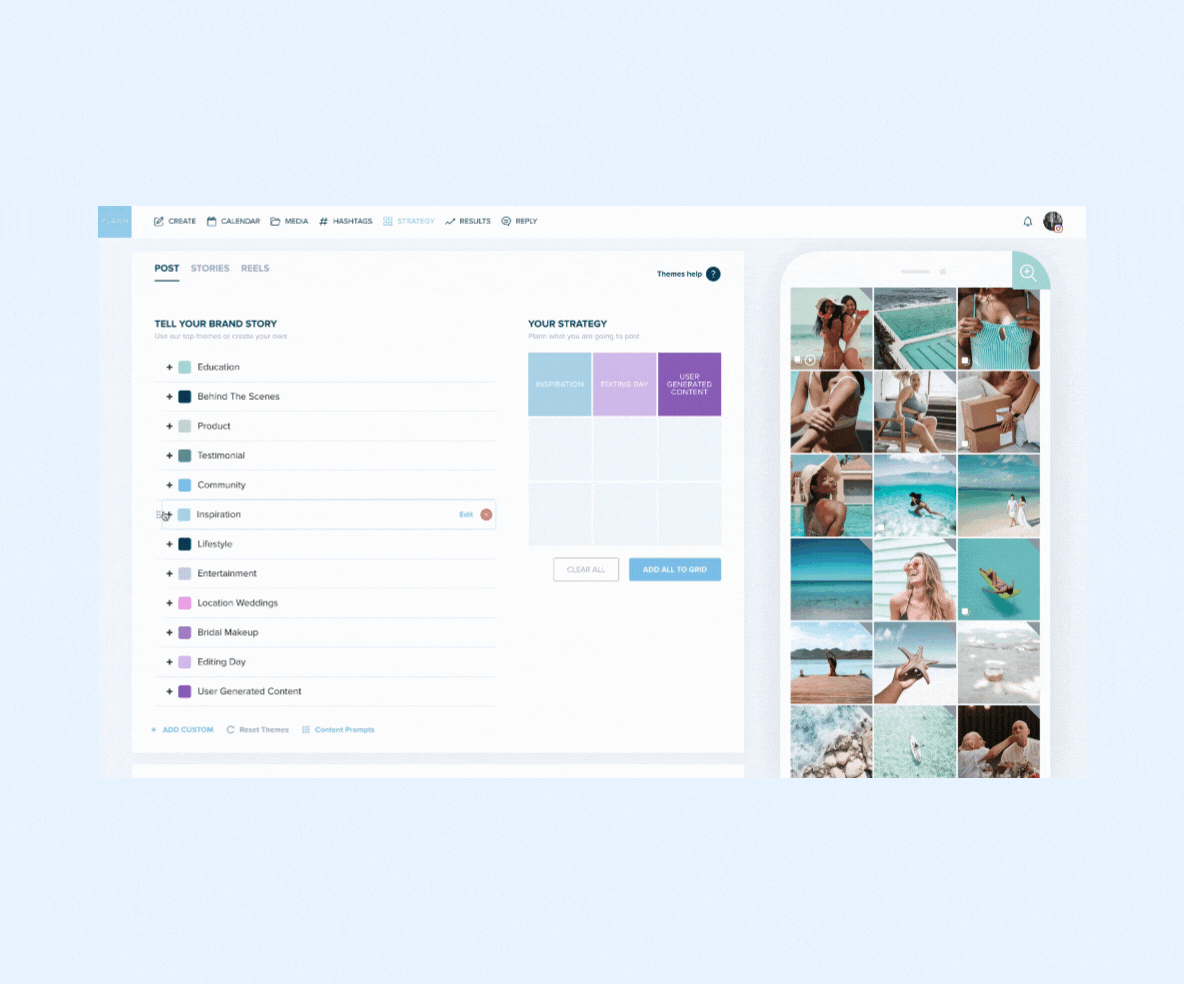 On the top navigation bar, select the 'STRATEGY' tab

Click the 'CONTENT PROMPTS' button

Select and search through different strategies

Drag + Drop your strategy tiles if you'd like to re-order, then select 'ADD ALL TO GRID'
Watch Christy Walk-Through How To Create A Custom Strategy With Plann In Less Than Five-Minutes

Available Now With Plann Plus, You'll Get:
– Social Starters, our done for you caption solution where you'll find hundreds of pre-written captions that are purpose-led you can use as your own (no one will know you didn't write them!)
– Custom events on your calendar to design your own content, editorial or brand schedule with prompts from the Plann team to help you map out what to put on your calendar.
– Placeholders so you can add one-off ideas on the go.
– Pre-tag usernames, suppliers and business besties in posts for when they're published live to Instagram.
– Auto-post your first comment at the same time as your Instagram post to help instantly include hashtags.
– Auto-posting (and re-posting) across TikTok, Instagram, Facebook and LinkedIn social media platforms.
– Unlimited media uploads and scheduling tools so you can plan weeks ahead and then focus on your busy business.
Gift Plann To Your Friends, Followers & Family!
You lovely human you!
Gift your friends, family, or followers $10 off Plann with your unique referral link!
You'll gift them a month of Plann free; PLUS, you'll get a $10 Plann credit for sharing a favorite tool.
Find your unique link in your Plann settings to gift the sunshine in someone's day.
How To Find Your Referal Link: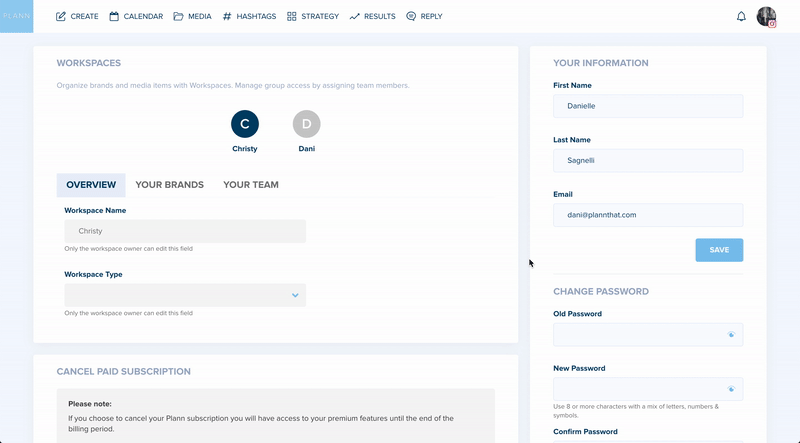 We genuinely love hearing from you and all of your ideas for Plann.
Reach out to the product team directly at feedback@plannthat.com
Christy Laurence
Plann Founder
@plannthat