Available on Plann Desktop as an extension to your Pinterest scheduling tools, you can now organize and schedule Pinterest video pins to be auto-posted directly from Plann.

To access, connect your Pinterest account to Plann and you're instantly ready to go!
What is a Pinterest Video Pin?
Video pins are an emerging format that can stand out from still images that display in Pinterest search results when someone is looking for content like yours.
Instead of posting still images, you can now schedule videos to grab the attention of those trawling the worlds biggest, searchable and discoverable content in the world (Pinterest!) for ideas.
Should I Be Publishing Video Pins?
Video Pins are great for drawing attention to your content and if your video is captivating as they can draw attention faster than images. They're a great addition to your Pinterest strategy and easy to learn even if you're only getting started building traffic to your site, offer or product.

You can use both videos and images on Pinterest and learn what style of content drives the most valuable traffic to your website, or gets re-pinned by others.
What Would I Use As Video Pin?
There are multiple wonderful, attention-grabbing ways to get attention on Pinterest, here's a handful of ideas to help get you started:

– Product moving in slow motion
– Stop motion clip of you gift wrapping a product ready to send
– A spinning product to give a 360-degree view
– Someone using your product
– A beautiful lifestyle
– Decorating a shelf, or designing a table centrepiece
– Someone using your product in a beautiful environment

Anything you would normally post on Pinterest, but make it a video! Anything goes!
Start publishing and see what brings you the best results.
What Could I Use As a Cover Image?
For example, if you're publishing a Pinterest video with a link to your 'Top 5 Recipes With Lamb' or, 'Spring Fashion Ideas in your 30s', you might want to add a cover image to your video so as someone is scrolling, your title grabs their attention and stops them passing by.

Alternatively, if you know there's a beautiful and attention grabbing 'still' from your video, you can upload this still as an image and Plann will make sure you've got your best foot forward, publishing both your cover image and your video together.
Whether you are showcasing your product or service, establishing your brand as a thought leader, or even creating educational content, lists or just beautiful inspiration – Pinterest video pins can help increase your engagement, increase conversions, and boost sales – all without leaving Plann.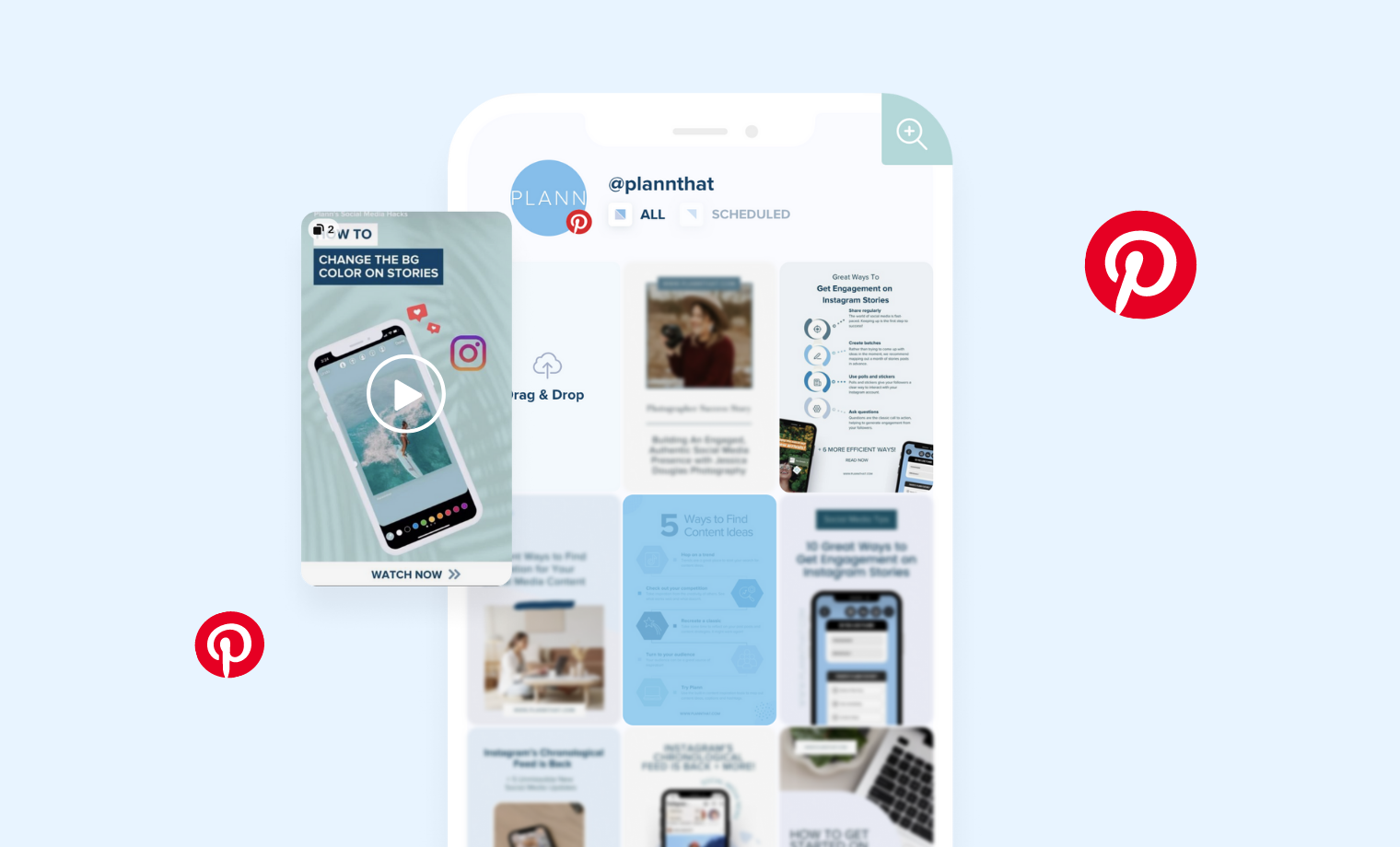 What Type of Videos Can I Add to a Pinterest Video Pin?
Pinterest supports the following files to be scheduled via Plann:

File Types: .mp4, .mov or .m4v
File Size: 2GB max
Length: 4 seconds to 15 minutes.
Shape: 1:1 (square) or 2:3, 4:5 or 9:16 (portrait)
Note: Recommended length for Pinterest Video Pins is 6 to 15 seconds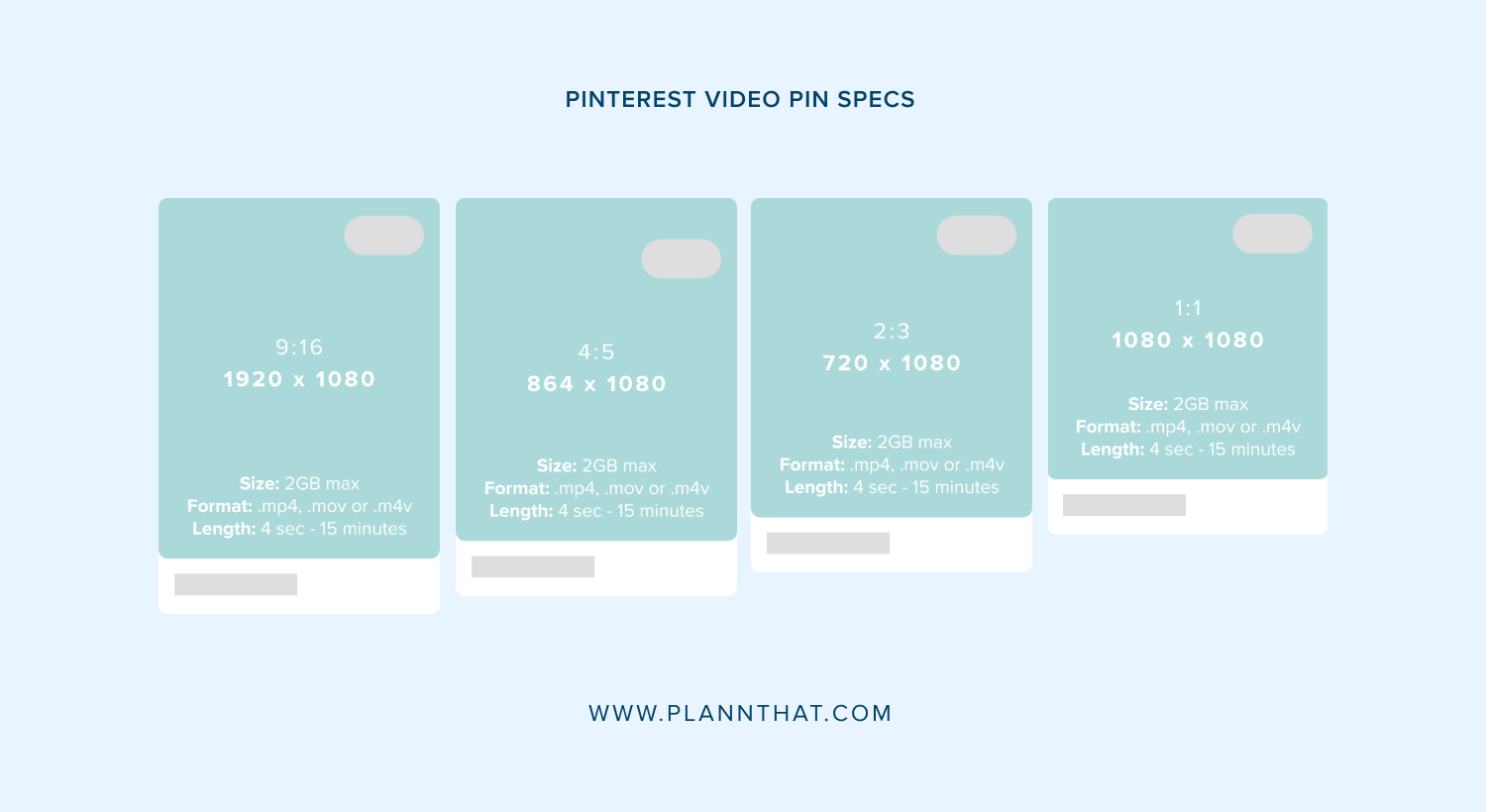 How Do I Schedule Pinterest Video Pins with Plann?
Navigate to Pinterest and connect your account to Plann, one you're connected you're ready to go!

Here are 5 easy steps to create and schedule your next video pin from scratch:
Upload your video content and cover image if you wish

Craft a Pin title + description

Add a Pin URL

Schedule your Pin

Select a Board (or create a new one!)
Watch Customer Education Manager, Ashley, walk through how to create + schedule Pinterest Video Pins with Plann in less than 5 minutes:
—
Available now with Plann Plus, you'll also get:
– Auto posting (and re-posting) across TikTok, Instagram, Facebook, Pinterest, and LinkedIn social media platforms.
– Unlimited media uploads and scheduling tools
– Create unlimited media collections to house all of your social media content together
– Schedule Instagram Reels videos and repurpose them to TikTok
– Social Starters, our done for you caption solution for when you don't know what to post
– Custom events to add to your calendar to design your own content, editorial or brand schedule.
Gift Plann to Your Friends, Family or Followers <3

Gift your friends, family, or followers $10 off Plann with your unique referral link!
By using your unique link, you'll gift them a month of Plann free, PLUS, you'll get $10 Plann credit just for sharing a favorite tool.
Find your unique link in your Plann settings to gift the sunshine in someone's day
HOW TO FIND YOUR UNIQUE REFERRAL LINK: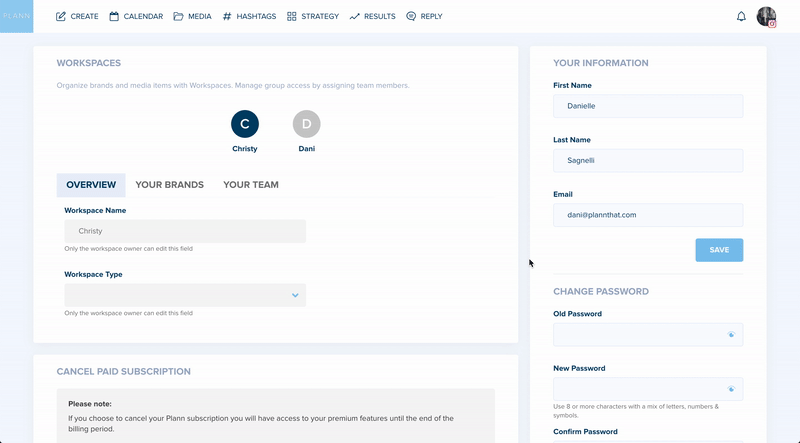 We genuinely love hearing from you and all of your ideas for Plann.
Reach out to the product team directly at feedback@plannthat.com
Christy Laurence
Plann Founder
@plannthat