Working with a team across your marketing and social media is an exciting growth milestone in any business.
Whether you're adding a Virtual Assistant to your team for a few hours a week or already have a fully firing marketing team, we're excited that you can now keep your communication clear and concise and in one simple place right here inside Plann.
A New Dedicated Chat for Each Social Post!
You'll now find the option to start a conversation about any social media post you're planning right across Plann.
Simply create your next post, then start a conversation with your team members, a streamlined and fast place to ask them for;

– Help with getting your caption right
– Double-checking your creative is 'on brand'
– Sending the right, intentional message
– Assistance with scheduling your post at the right time

The perfect place to work together, or ask for an extra set of eyes to spot if you've missed added a call to action or a spelling mistake when your heads down running your business.


New Approval Process to Keep Everyone Informed – and Accountable!
No more spreadsheets or lost chats; you can now create your own approval process right from inside Plann, keeping your entire social media workflow together in one place.
Designed to work for any sized team, create your own approval flow using Plann's newest approval tools.
Simply create a conversation, and those in your team who you've discussed internally have the approval or final sign-off, and can now do this inside Plann.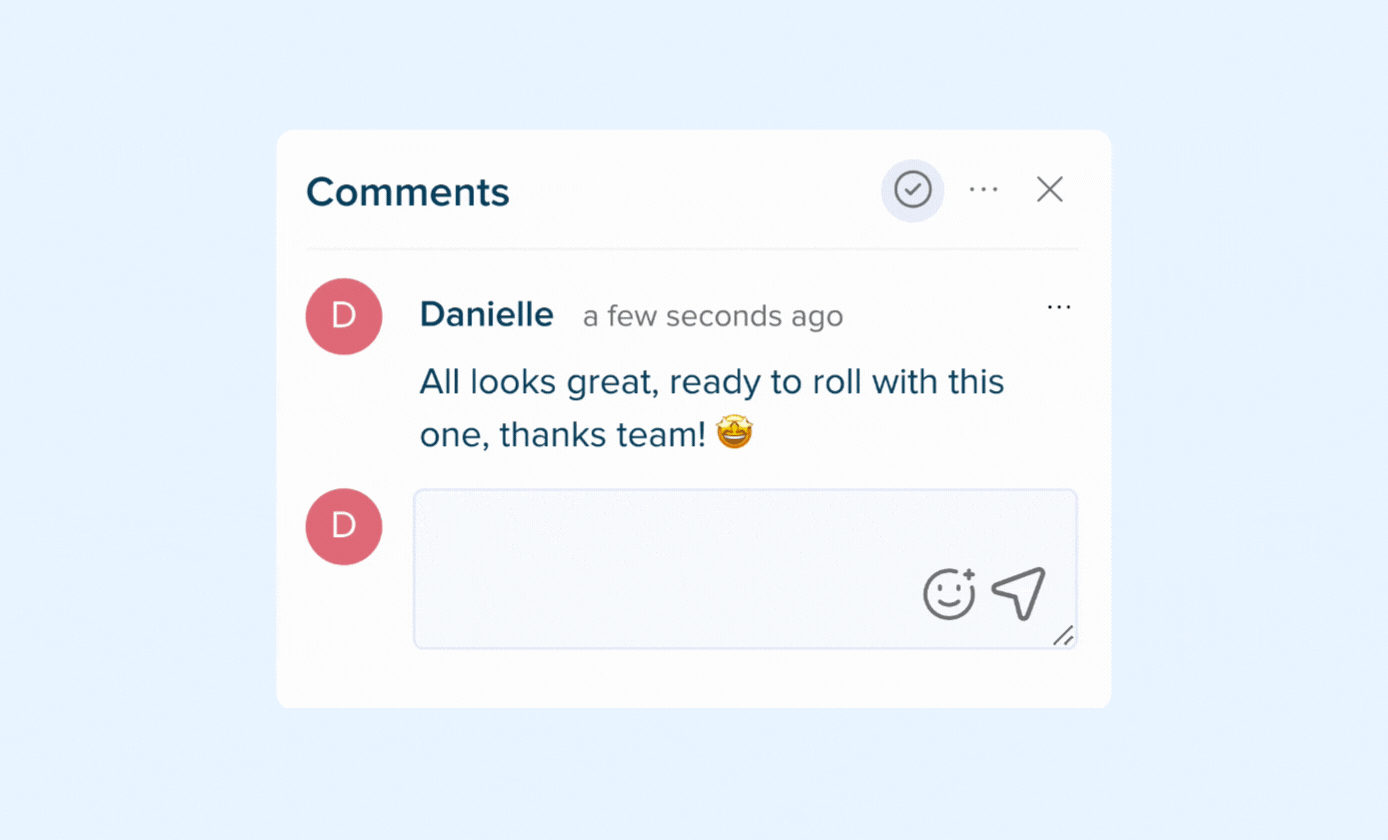 Note: Plann does not limit who can approve or un-approve posts; we've provided a space that tells you who the approver was so you can work together.
Whether you have read-only access clients or a flat-level team where everyone works together to approve posts, you'll find Plann works for you – you'll just need to agree on your own internal process first.
How Can I See Comments or Approvals On Social Posts?
Social media is a very active, bustling world and sending you emails every time there is a comment on your upcoming social posts we agree would be too much for everyone.
Each time you open Plann, you'll see a new icon displaying if you have any new messages to check or if a post has been approved.

Here's what you'll see if a conversation has been started on a post: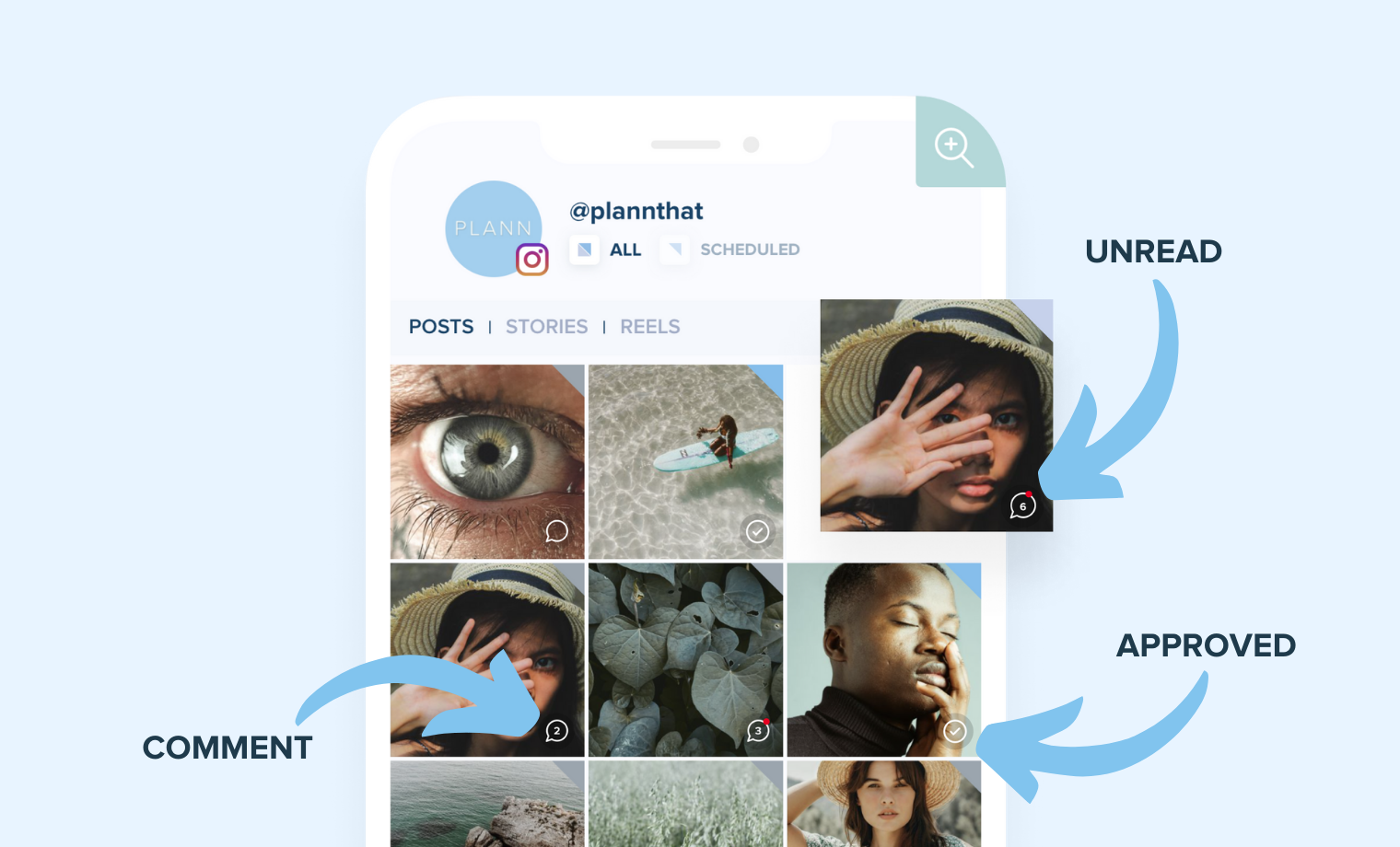 I Like to View Everything From the Calendar?
We completely understand the need to view everything over an entire week or month in one view, and your approval process is no different!
We've made sure you can also see the conversation status of each social media post from your calendar view too.

Here's what you'll see if a conversation has been started:

FAQ
Can I Mark Comments as Unread and Come Back to Them Later?
Absolutely!


Can I edit comments?

Of course, you can! Psst, you can also delete your comment.

Can I un-approve a post?
Yup, you can!

Can I view my chat history on a published post?
Absolutely! On your Plann grid, locate your published post, click on the three dots, you'll see an option that says "View Chat History".
**Currently not available for Instagram Stories or TikTok video past posts.


Who is this available for?
Any paid subscription with more than 1 team member.

What Other Team Sharing Tools are There With Plann?
We're thrilled to be adding team communication and approval flows to our existing team tools to ensure you can work with Plann to grow your business – and your team.
These two new features add to:
– Real-time sharing and updates across Plann on the web and Plann App.
– A free companion App so you've always got your social posts on the go.
– Team Permissions that let different people in your team have different control, perfect for a larger team or if you've got clients wanting to feel involved.
– Strategy note sharing so you all know what you're working towards.
– A shared brand calendar to map out your entire team workflows, so you all know what's happening for the day, week and month ahead!

How Much Does Teams at Plann Cost?

Our plans are designed to grow with you, so it's easy to either upgrade your plan OR simply add new team members as you need them.
Add your team members from as little as US$9 a month!
Available now with Plann Plus, you'll also get:
– Social Starters, our done-for-you caption solution where you'll find hundreds of pre-written captions that are purpose-led you can use as your own (no one will know you didn't write them!)
– Custom events on your calendar to design your own content, editorial or brand schedule with prompts from the Plann team to help you map out what to put on your calendar.
– Placeholders so you can add one-off ideas on the go.
– Pre-tag usernames, suppliers and business besties in posts for when they're published live on Instagram.
– Auto-post your first comment at the same time as your Instagram post to help instantly include hashtags.
– Auto-posting (and re-posting) across TikTok, Instagram, Facebook and LinkedIn social media platforms
– Unlimited media uploads and scheduling tools so you can plan weeks ahead and then focus on your busy business.
Gift Plann to Your Friends, Family or Followers <3
You lovely human you! Gift your friends, family, or followers $10 off Plann with your unique referral link!
By using your unique link, you'll gift them a month of Plann free; PLUS, you'll get $10 Plann credit just for sharing a favorite tool.
Find your unique link in your Plann settings to gift the sunshine in someone's day
How to find your unique referral code here: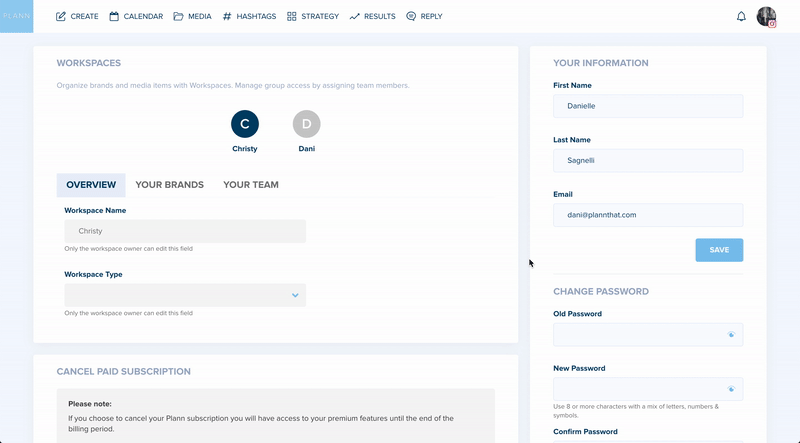 We genuinely love hearing from you and all of your ideas for Plann.
Reach out to the product team directly at feedback@plannthat.com
Christy Laurence
Plann Founder
@plannthat