Introducing Auto Post for Instagram Reels
Easily boost your engagement rate (and sales!) by adding Instagram Reels to your schedule – one of Instagram's top performing post types.
Supporting both your 'Main Grid' and your 'Reels tab', Plann now helps you manage exactly where you'd like to publish your Reels, giving you full control of how your Instagram account is going to look – before Plann automatically publishes them live for you! The same applies to your cover images for reels, which was once manual is now available through auto posting.

Check out both Plann Desktop and Plann Mobile App on iOS to upload, plan and auto post your Instagram Reels + cover images from anywhere! (Android update coming soon)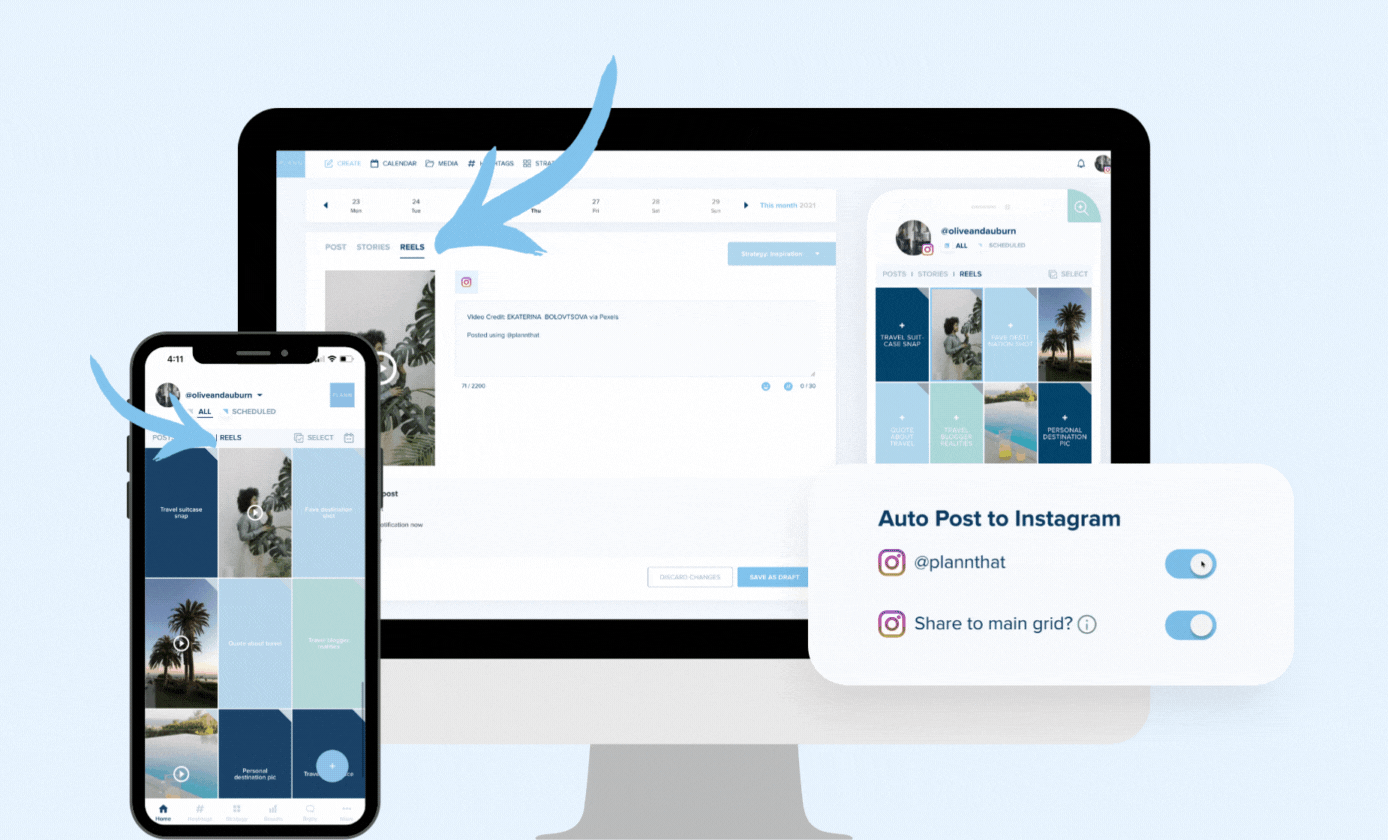 How do I Auto Post My Instagram Reels?
The next time you upload and schedule a vertical video inside Plann, you can select that you're publishing a Reel.
Whether you like Reels in your main grid, prefer them featured just in your Reels tab, or perhaps shared across both, Plann can help you do all three!
Simply upload a vertical video to Plann, and you'll be able to set your Reels to auto-post so you can continue with your day, knowing you've got strong social media coverage ready to go.
Previously Posted an Instagram Reel? You'll Now Find Them Displayed In Your Grid!
New in this update, too, you'll now discover your previously posted Reels appearing in your grid so you can see your entire presence in one glance.
As this is a brand new update, we've noticed a few small tweaks that Facebook (Instagram) still need to make – just in case you're a heavy Reels user and notice your Reels are not all quite in the right place.
How Do Reels On Instagram Work? Where Can I Post Them?
If you're new to Reels or haven't published many yet, here are the options you'll find on Instagram that we've replicated inside Plann so that you have full control of your social shopfront:
1) Share your Instagram Reel to your main grid, which will also automatically share to your Reels tab.
2) Share your Instagram Reel to your Reels tab only.
3) Share your Instagram Reel to your Reels tab, and choose to share it to your main grid at the same time.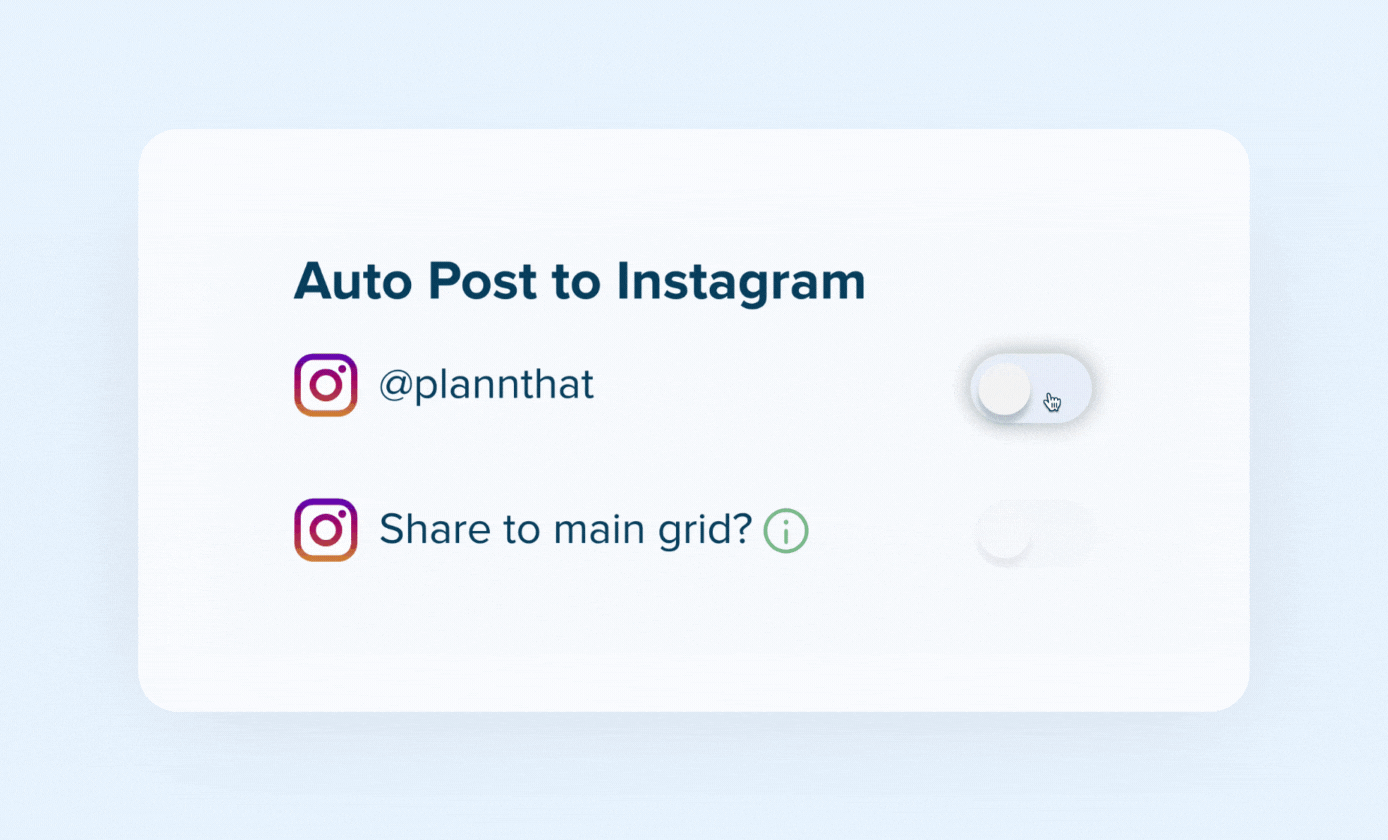 What Type Of Files are Supported for Instagram Reel Auto Scheduling?
Instagram allows auto-scheduling videos for Reels that meet these requirements:
– File Types: Mov or Mp4 only
– Maximum File Size: 100mb
– Video Length: must be a minimum of 5 seconds, up to a maximum of 90 seconds
– Aspect Ratio: 9:16 only
What is the Best Image Upload Dimensions For a Reels Cover Image?
We recommend 9:16 to avoid cropping or blank space. If the aspect ratio of the original image is not 9:16, we crop the image and use the middle most 9:16 rectangle as the cover photo for the reel. If you share a reel to your feed, we crop the image and use the middle most 1:1 square as the cover photo for your feed post.
Note: Cover Images are now supported for Instagram Reels Auto post!

I Was Using Placeholders Before; Now I Have Duplicates!
You're right; just in case you added placeholders to Plann for any other reason (for example, for Instagram Collab posts or other types of content not supported by our connection to Instagram), we didn't want to remove any of your hard work by accident.
If you spot, you've now got a Reel displaying AND a placeholder, and now it feels like you have a duplicate, please feel free to remove the placeholder that no longer suits your account.
Who is Auto Posting to Instagram Reels Available for?
Reels auto posting is now available for everyone with a Plann Plus (paid) subscription and an Instagram Business Account that is connected to their Plann workspace.
Plann Plus starts from as little as $9 a month, one tool to cover your entire social presence!
Note: Facebook's API does not currently support Instagram auto-posting for Creator or Personal accounts.
Read more: How do I set up an Instagram Business Account?
How Do I Turn on Instagram Auto Posting with Plann?
Once your Instagram Business account is connected to Plann, setting up auto posting for Instagram is easy. Simply log in to your Plann workspace, navigate to your 'Settings' and make sure auto post is toggled on.
You'll now be able to auto-post your Instagram:
– Image Posts
– Video Posts,
– Carousel Posts, and
– Instagram Reels!
Read more: How do I Turn on Auto Posting?
Read more: Having Trouble Auto Posting for your Instagram Business Account?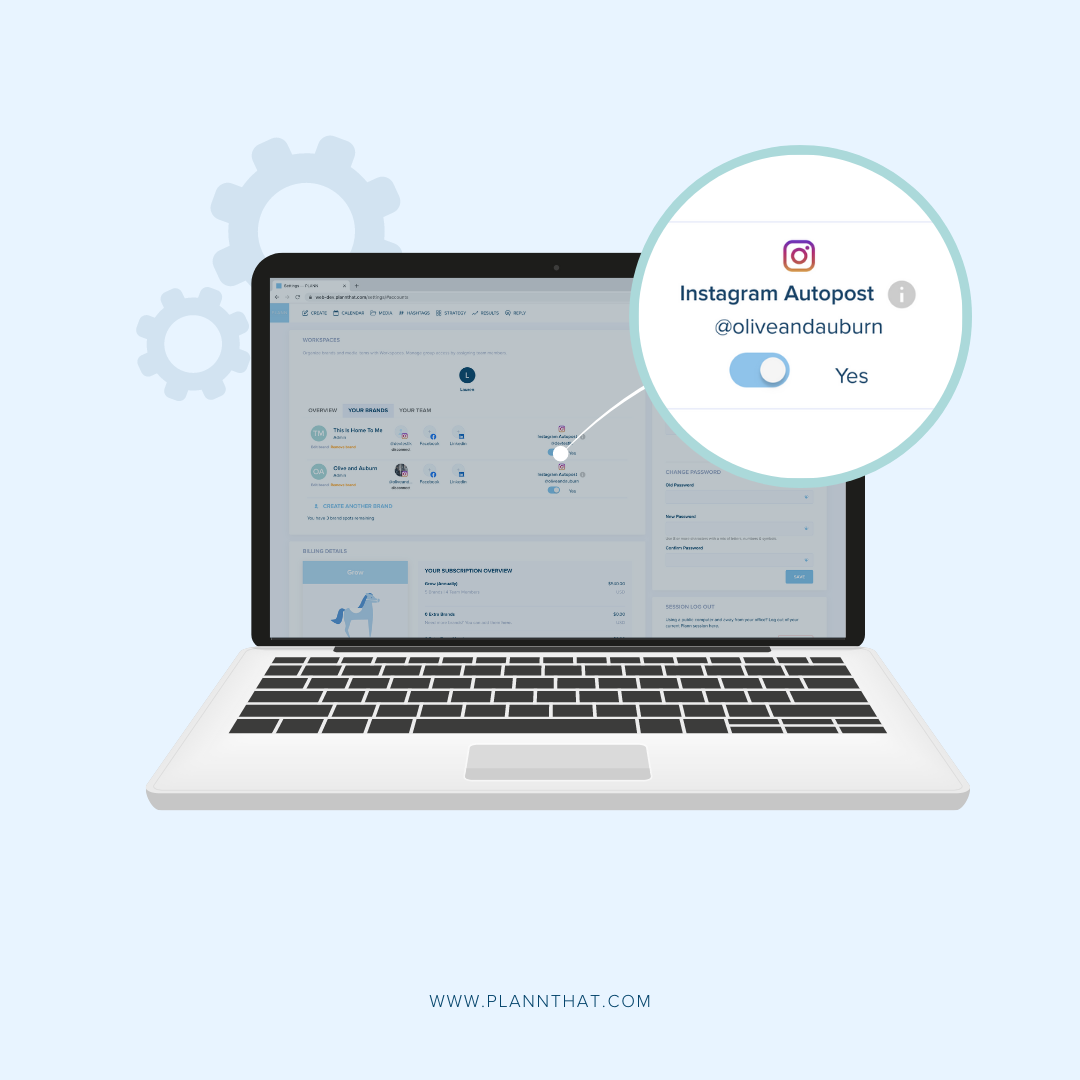 Perfect for when you need a weekend away, are stuck in meetings or just enjoying that little social holiday.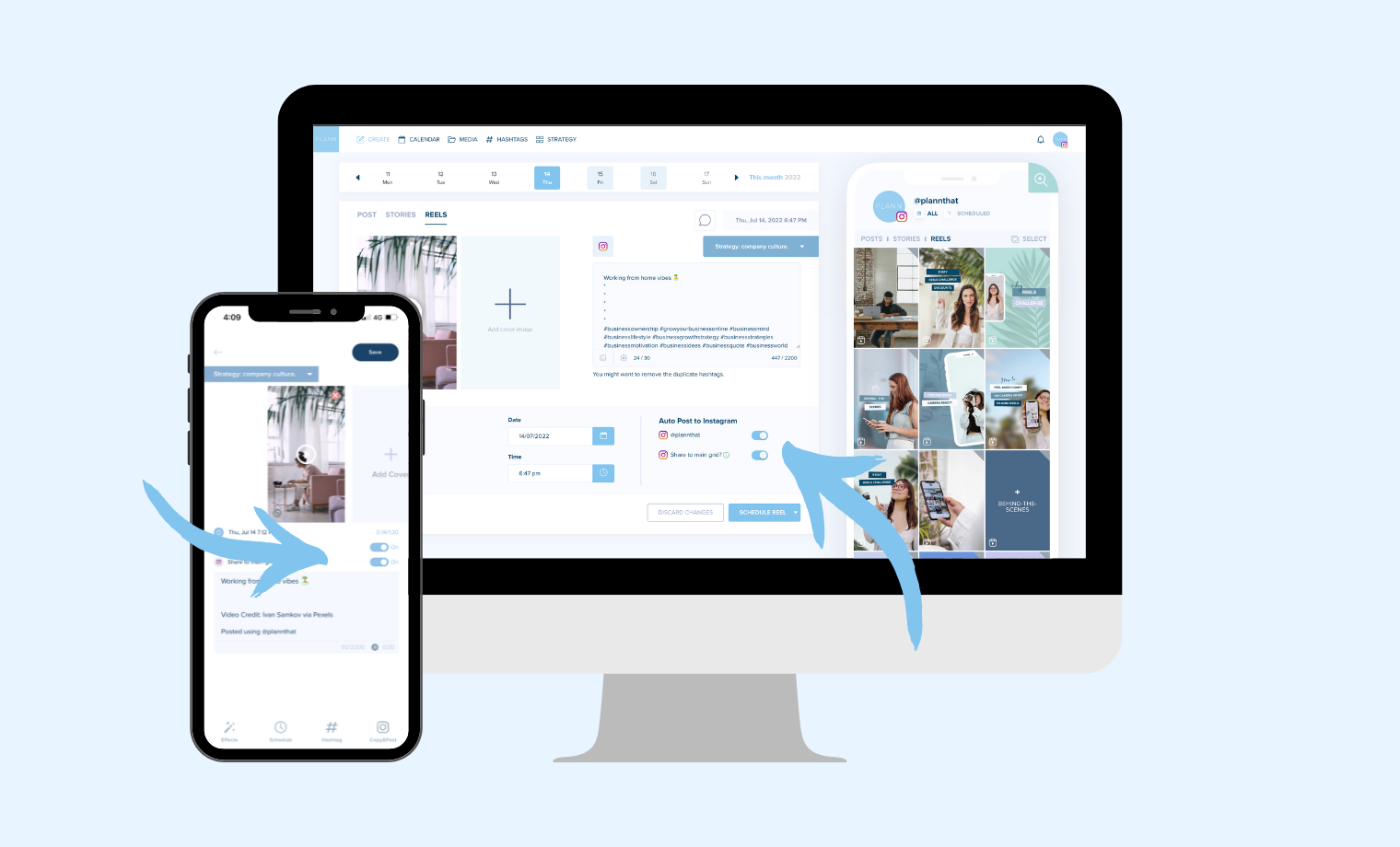 Available now with Plann Plus, you'll also be able to:
– Pre-tag usernames, suppliers and business besties in posts for when they're published live on Instagram.
– Set a location before auto-posting your Instagram Posts and Carousels
– Auto post your first comment at the same time as your Instagram post to help include hashtags instantly.
– Unlimited amounts of hashtag sets (to auto post into your first comment!)
– Auto posting (and re-posting) across TikTok, Instagram, Facebook and LinkedIn social media platforms
– Unlimited media uploads and scheduling tools
– Social Starters, our done for you, pre-written caption solution!
– Custom events on your calendar to design your own content, editorial or brand schedule
Gift Plann to your friends, family or followers 💙
Gift your friends, family, or followers $10 off Plann with your unique referral link!
By using your unique link, you'll gift them a month of Plann free; PLUS, you'll get a $10 Plann credit just for sharing a favorite tool.
Find your unique link in your Plann settings to gift the sunshine in someone's day.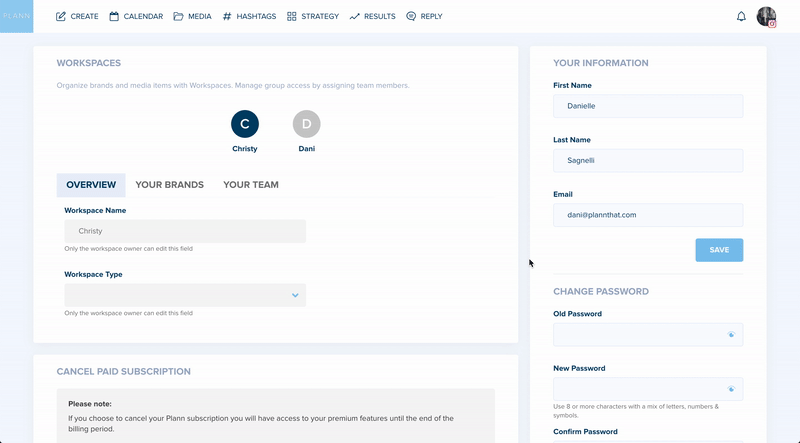 We genuinely love hearing from you and all of your ideas for Plann.
Reach out to the product team directly at feedback@plannthat.com
Christy Laurence
Plann Founder
@plannthat