Have you been thinking about creating a new Instagram account, or are you looking for fun new ways to change up your Instagram feed theme? The best thing to do is get some inspiration from a huge range of Instagram feed themes and get started – you're in the right place.
Sometimes you can bump into someone's feed and feel instant envy because of how beautiful their Instagram feed is! You'd love to try using a similar Instagram theme – but you might not have any idea how to re-create the look!
Remember that your 'messaget' and 'follow' buttons are located at the top of your main feed, not on your individual posts. Instagram feed themes play a freak'n massive role in increasing your followers – it's what people are looking at when they decide whether to follow you or not!
Let's dive into these 24 great grid ideas for Instagram and how you can get started making your next theme! To make things easier, or if you'd like to skip to the most relevant to you, here's the entire list –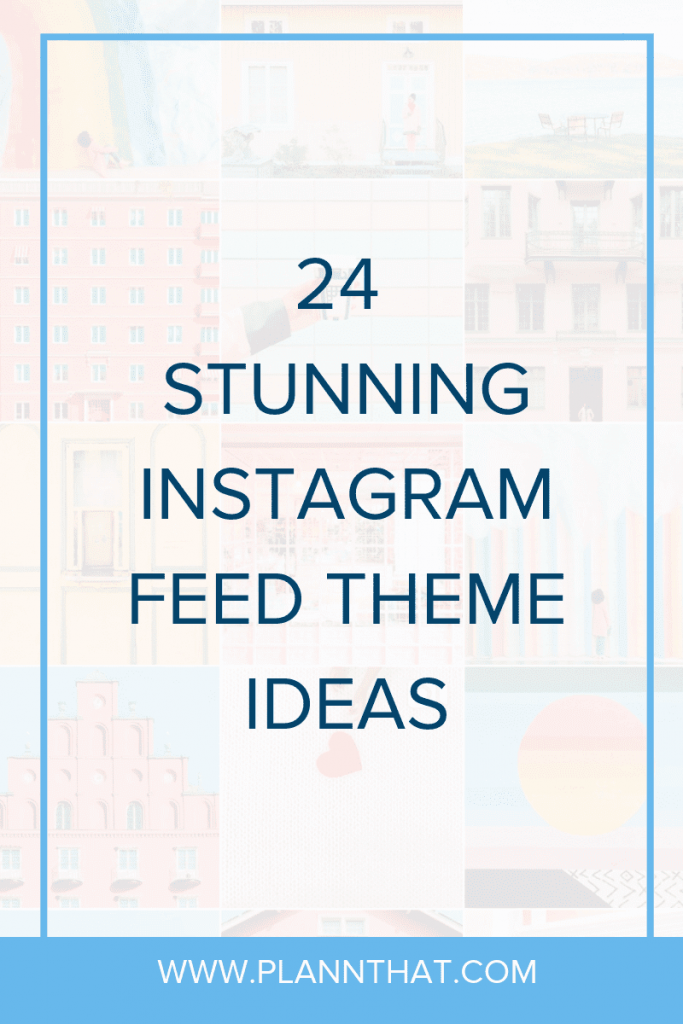 1. Color Block Instagram Feed Theme
This is a very popular theme idea on Instagram right now!
A color popping gallery which gives off a young and playful vibe.
Just take photos of anything colorful and fill the entire tile as much as possible with bold colour – the brighter, the better.

2. Minimalist Instagram Feed Theme
This is one of my personal favorite Instagram feed ideas.
It leaves your entire gallery looking neat and very organized. If you believe in less is more, then Minimal is the way to go!
We recommend editing images like these with our own STEEL filter with desaturates images for a 'cooler' feel.
Find over 60+ professional image editing tools inside Plann our Instagram Planning App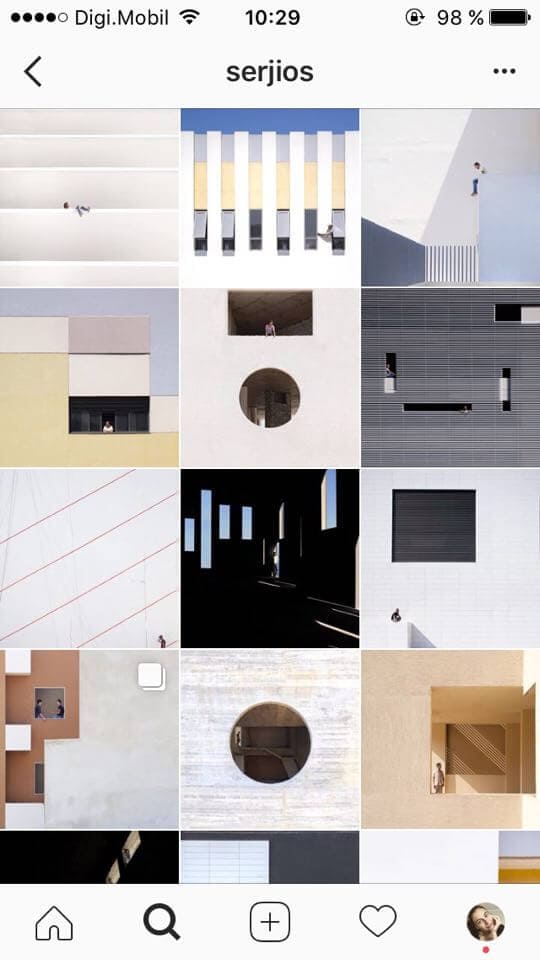 Love the minimal look? See 16 of the Best Minimal Instagram feeds here!
3. Black and White Instagram Feed Theme
You can never go wrong with black and white! It's classic and classy, and you can easily produce content.
It's perfect for portraits and street photography as blacks and whites can really show the rawness of your subject.
If you don't want extreme Blacks and Whites, Plann has 5+ different variations to achieve different levels.

4. Color Splash Instagram Feed Theme
This one takes a bit of effort – but probably one of the most creative themes there is on Instagram! The concept of color splash is making everything in the photo black and white except highlighting one or two colors.
You could get really creative with this by highlighting the color of a balloon, lipstick, sunflowers, etc.
This theme is something that might require a special app, or photoshop, and something we're working on bringing to Plann soon.

5. Flatlay Instagram Feed Theme
A lot of successful brands use Flatlays regularly throughout their feeds as they're still one of the best ways to showcase a product.
Need a hand with your Flatlay game? We'd love to help you learn how to tell a story in your photos.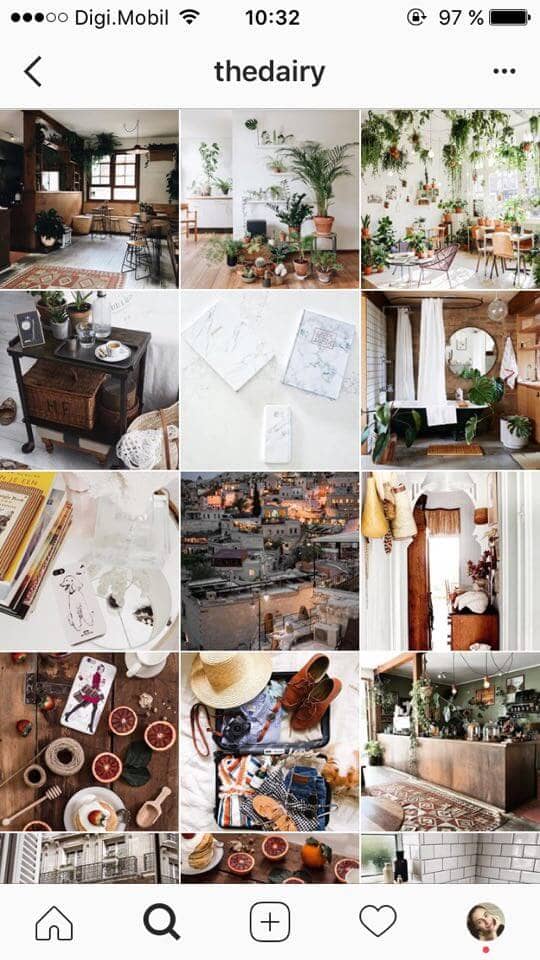 6. Monotheme Instagram Feed Theme
This type of Instagram feed themes is perfect to stick with if you are overly obsessive and passionate about a particular thing.
Monotheme is where you post about the same subject over and over again like Chloe here and her palm trees!

7. Dark Theme Instagram Feed Theme
If there are colorful Instagram themes, and there are also amazing dark themes if you look hard enough.
If you want a mysterious and heavy feel to your feed (and potentially a little more masculine), this is the best theme for you.
Grab a piece of dark cardboard, dark props and choose a filter that highlights the accents you've chosen.
(Pssst! We'd recommend our K6 Filter for you!)

Moody Instagram Themes that will inspire you to turn to the dark side

8. Color Co-ordinated Instagram Feed Theme
Pink and blue palettes are two of the most common colors being used for a color-coordinated theme.
To achieve this theme, you have to decide on a color first. Other influencers use two or three colors. This needs strategy and planning.
You have to see to it that all of the photos you take for your Instagram have the color of your palette in it.


9. Instagram Feed Themes – Sticking To The Same Filter
This is probably one of the easiest ways to achieve consistency in your feed.
Applying the same filter can keep your gallery organized in an instant, play with a few filters until you find one that inspires you.

10. White Borders Instagram Feed Theme
Using white borders create space in your photos.
It looks simple, yet it makes your post stand out in the newsfeed.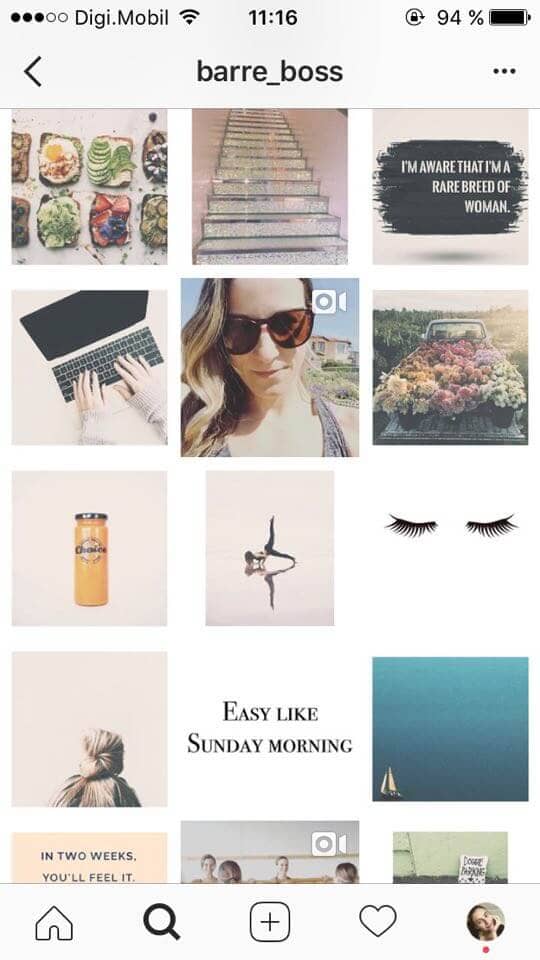 11. Black Borders Instagram Feed Theme
Well, if we have white, we definitely have to show you black borders as well!
These would look your gallery like it is a page from a magazine- very sophisticated and neat.


12. Mixed White Border Instagram Feed Theme
You can take and upload photos either in square or rectangle format for this theme.
Mix it up and you will achieve a unique feed that is full of white spaces which help highlight the photos.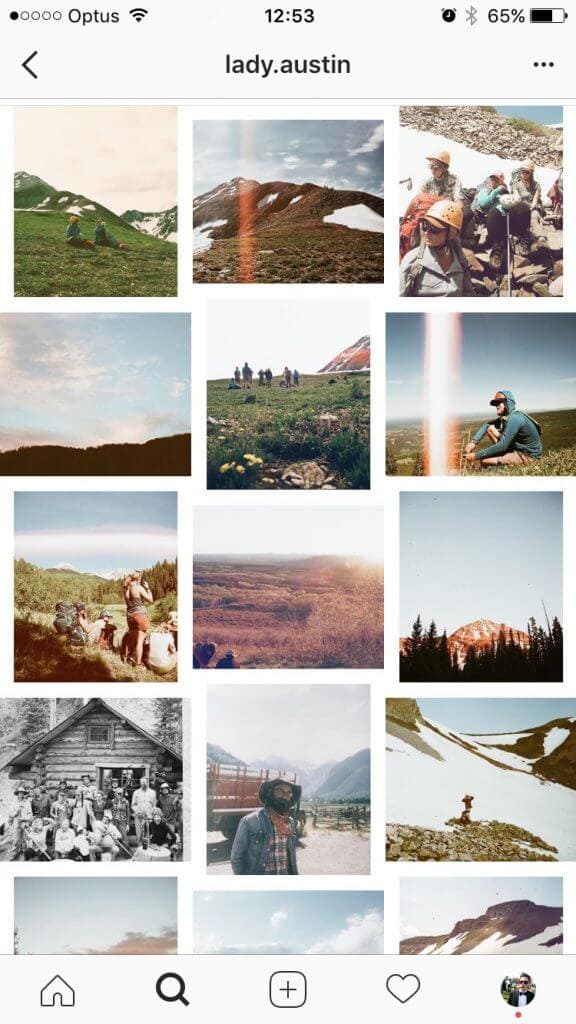 13. Squares Instagram Feed Theme
This works perfectly for eliminating a lot of headroom in the photos.
Brands that require taking close-up photos would benefit from this theme.

14. Pretty In Pink Instagram Feed Theme
If there's black and white for Instagram feed themes, there's also pink!
You can choose any colour, but this example shows how you have a regular colour for your props, and also add the same colour overlay to really pull it together.


15. Pastel Bright Instagram Feed Theme
Pastel is a cute and calm way to organise your Instagram grid.
Using pastel colours allows you to be as wonderfully colorful as possible without that 'COLORFULLL!!!' feeling that some of the brighter feeds might bring. The top color choices are rose, lavender, olive green and baby blue.

16. Patterns Theme Instagram Feed Theme
Fill your gallery with photos that have patterns on them.
This is not an easy task, but this is good for accounts who are taking photography, illustrations or creative work seriously.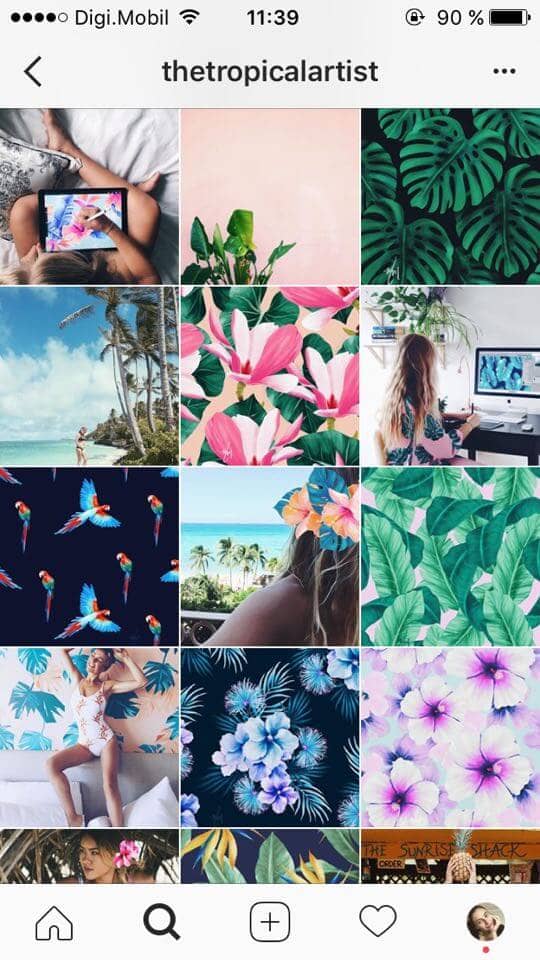 17. Vertical Lines Instagram Feed Theme
There are a couple of very common, and standout feed themes for Instagram, and this vertical lines theme idea is one of them!
Creating vertical lines as a theme would make your entire feed look very organized, but also helps you stick to a posting schedule.
The trick is to post content that is aligned with the brand's theme but use the middle feed to stand out. You can do so by posting quotes with the same background color. Once you stick to this theme, your quotes would from a vertical line which would catch the audience's eye right away.

18. Puzzle Instagram Feed Theme
This is one is quite a major undertaking.
Your feed could fit 9-12 photos before you need to scroll to view the next posts. How do you feel about filling all of those tiles with tiny splits of the same photo? You need to carefully have them organized, but if done successfully, it would be a total eye-candy.
Brands do this, especially for big announcements.
If you're considering adding this idea, we suggest you also read our thoughts on why you shouldn't slice your images regularly.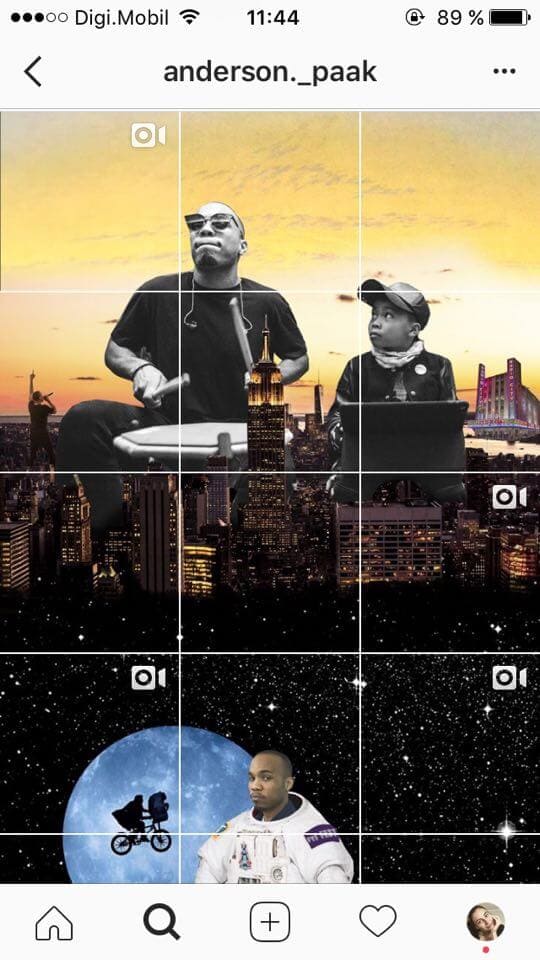 19. The Checkerboard Instagram Feed Theme
Or more commonly known as tiles or checkerboards.
This looks very chic and can be done with quotes, 2 colours, two photo ideas, contrast, perspective and people mixed with backgrounds!
One of the most common ways you'll spot a checkerboard theme is when someone alternates quotes with an image.


20. Floral Instagram Feed Theme
Bloom'ing gorgeous!
With this type of Instagram feed themes, you can post just about anything – just make sure you've always got that floral element in each post!

21. Grayscale Instagram Feed Theme
Keeping your feed clean without any color distractions. Keep all photos in all shades of gray.

Want to know how to create it? See how our filter STEEL brings this style to life!
22. Horizontal Lines Instagram Feed Theme
This is the new "rule of thirds" on Instagram. You post three consecutive photos with the same subject or mood. Make sure all of these have the same color or filter. Then, you will be telling a story from left to right.

23. Across the Grid – Instagram Feed Themes
This is not something you would see on Instagram on a daily basis, but when you come across one done well it looks fabulous!
Curating this theme takes a whole lot of effort and editing skills, but if you'd like to know how to create one for yourself – we'll hook you up with the PSD template for how to create this look from @wildbloomcreative.
Find out how to get the PSD here.

24. HDR Instagram Feed Theme
The high dynamic range is popular among travel accounts on Instagram. It captures great details of the dark and bright areas of photos.
Use the 'portrait' mode on an iPhone7 if you don't have an SLR camera.

Feeling inspired to level up your Instagram feed theme?
Plann has over 60+ Filters, typography and image overlay tools to make sure you've always got your best foot forward.
Download the app now or register an account on desktop and create your new look (don't forget to show us what you create for your Instagram feed themes, we're always loving seeing what you create!)