Want more eyes on your blog content? The first thing you need to focus on is community building on Instagram.
As a blogger, one of the best Instagram features that will help you to increase engagement and build a sense of community is the Instagram Poll sticker in stories.
Today I want to share with you 12 creative ways to use Instagram Stories Polls to grow your blog.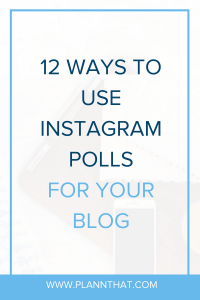 1. Choose My _____ of The Day Poll
This is a trend that is perfect for bloggers to take on board for Instagram Stories. Basically, for the day ahead you could ask your Instagram followers to help you choose your Makeup of the day, your meals throughout the day, or perhaps your music playlist.
PSST -> With the new Spotify integration for Instagram Stories, you can have a lot of fun sharing your favourite tunes with your followers!
2. Ask About Upcoming Events
Not sure whether you should pay the big bucks to go to an upcoming event? Ask your Instagram community if they'd like to follow along as you attend, or whether they think you should skip it.
This can actually help you to avoid wasting your cashola, which is SUPER DUPER helpful!
3. Grow Your Email List Subtly
Okay, we all love Instagram (I mean, why else are you here?) but growing your email list is just as important.
You can subtly ask a yes or no question in stories like, "Have you signed up to get new blog post updates?" or "Are you on my VIP list?".
Then, to everyone that responds "not yet" you could send a message telling them more about what they'll get by signing up and also giving them an easy link to get them to sign up on the spot.
4. Book Your Next Holiday
This one is for my travel bloggers out there! If you are having troubles trying to decide on your next destination, why not let your community help you out?
Give a selection of locations and then narrow it down as the poll continues.
Then you could even do a fun announcement on your Instagram feed to let people know the result from the poll, and which destination is next on your list!
5. Come Up With Content Ideas
No idea what you should post about on your blog? Maybe you want to introduce a new category like beauty or fitness.
You can use Instagram Stories polls to ask your audience what content ideas they like the most. This will mean that you don't waste time writing content that your audience don't want to read!
6. Updating Your Blog Design
Just like with content ideas, if you are thinking of changing your blog design, run it past your Instagram followers first.
Get their opinions on new blog layouts, new about pages and even a new logo or color scheme if you are thinking of changing things dramatically!
This is a sure-fire way to improve the sense of community with your blog readers.
7. Deciding Who to Collaborate With
Maybe you're trying to decide which of your fellow bloggers to collaborate with on a blog series or collab video.
Why make that your difficult decision when you can crowdsource the answer straight from your amazing community of Instagram followers?
This is also a great way to get people excited about your collaborations – win win!
8. Learn What Brands Your Readers Love
On the other side of collabs, maybe you are thinking of which brands to email to work with.
By asking your audience a few simple polls of different brands in your niche you can narrow down which ones would create the most enjoyable content for your audience.
More enjoyable to your audience = More blog readers!
9. Choose Which Blogs to Upload First
Maybe you have a few blog posts ready to go and just can't decide what to put up first.
Well, ask your audience! Find out what they're most excited about and build hype so that the moment you push "Publish" you have people running to your website to have a read.
10. Take Your Followers Shopping
You know those Youtube videos where bloggers buy a bunch of clothes from random online stores? Why not get your IG followers to help you shop by voting in a poll?
This is a fan-tabulous way to get your audience excited about this content. It also works as great behind-the-scenes content to feature in the video you are creating.
11. Do a Fun Quiz
Maybe you've done a few Q&A style videos or blog posts in the past and want to test your Instagram community (in a fun way).
Why not create a fun Instagram Stories quiz to see if your followers remember fun facts that you've mentioned about yourself previously?
Even if you *haven't* yet done a Q&A, maybe this could be a way to get your audience excited about getting to know more about you.
12. Subtly Promote Another Social Media Profile
Let's say you've just started a Youtube Channel, Facebook Page or Twitter account and you desperately need to grow your following.
Why not mention it in an Instagram Stories poll, asking if people knew you had a profile?
Just like earlier in this list, to everyone that says no, you can send them a fun little DM that gives them more info on what you'll be sharing on that other profile with the direct link to your profile.
BOOM! If you didn't have any ideas for Instagram Stories before, now I think you may have a few to keep you going for a while.
Loved this blog post? Make sure to share it with your blogging buddies!