Whether you're just getting started on the 'gram or you've been doing it a while, it can be really handy to create your own Instagram style guide to have on hand.
(see what I did there?!)
But what is an Instagram style guide? We would explain it like this; it's a document that outlines the unique way that you 'run' your account. It would include a break down of your signature brand colors, brand fonts, the way you style your grid and the way you write your captions.
Soooo….
Why would you need one these things?
If you ever plan on bringing on board someone to help with your Instagram (or expanding your business in the slightest) it can really save a bucket load of time in training to simply have an Instagram style guide at the ready.
Ready to make yours a reality?
Let's tuck right into it!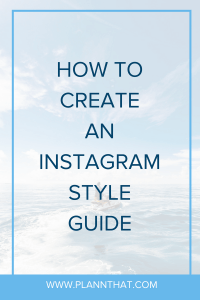 STEP ONE: YOUR DOCUMENT
To get started on your Instagram style guide you'll need to figure out how you're going to format your document.
Will it be made in Canva? Or, will you whip something up in Microsoft Word?
It's really up to you!
Once you've made your choice… it's time to skip to the fun stuff.
STEP TWO: YOUR DESIGN ELEMENTS
This is a super important part of your Instagram style guide, so don't skip over it!
Your design elements include your brand fonts and brand colors. This is helpful to list out so if you ever bring on board a graphic designer or a social media assistant, they know what to use to create your own signature graphics and promotional materials.
Can I get a woop woop?!
If you have any signature patterns that you often use, include these too.
PSSST -> Want to see how the 50 most followed brands on Instagram get such great results? Check out this blog!
STEP THREE: YOUR GRID STYLE
Love styling your Instagram grid to perfection?
We sure love getting our hands dirty with dragging-and-dropping our content in the Plann app!
A few things to include in the grid style section of your Instagram style guide are:
✔ A screenshot of the best section of your current Instagram grid
✔ List out any accounts or hashtags that you frequently repost content from
✔ Include a brief description of what you look for in content that you share to the grid
Here are are a few grids for inspiration: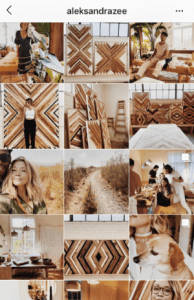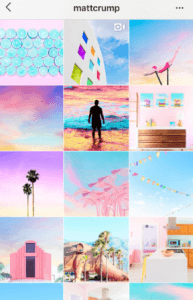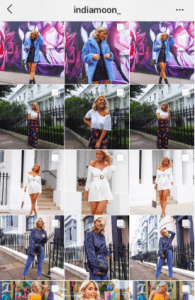 PSSST -> Here are 25 of the best stock image sites to inspire you!
STEP FOUR: YOUR BRAND VOICE
Another part of your Instagram style guide that you won't want to skimp on is your brand voice.
It makes the biggest difference to someone new joining your team if you have a clear outline of exactly what makes your brand different in the way that you communicate with your audience.
Here are a few things to include in this section of your Instagram style guide:
✔ Phrases you use frequently
✔ Words that you avoid using (make it clear you avoid these with a color code or note!!)
✔ Promotional content pointers
✔ An outline of your most common content themes
PSSST -> Want to become the ultimate Instagram expert? Here's a run-down of everything you need to know.
STEP FIVE: OPTIONAL EXTRAS
Want to know what else you can add to your Instagram style guide to jazz it up a bit? Here are a few ideas to get your creative juices flowing.
1. Hashtags – which ones perform the best for you (you can find this in Plann!)
2. Influencers – which ones you have a relationship with already
3. Instagram Stories – a guide to what you post, how often
4. Schedule – how often you post to Instagram, your best times to post
5. Strategies – what things you do to increase engagement and followers
Wowza – now you've made your way through this blog it's time to whip up your very own Instagram style guide. Are you keen as a bean? We hope so!
Seriously… having an Instagram style guide is going to save you so much time in the future, and it really helps you to solidify what you're doing in your Instagram strategy right now that is working well for you.