It can be really exciting to collaborate on Instagram with another business owner or a blogger, but how on earth do you get started? Well, in our experience, the best way to start out a collaboration is to approach someone with a flipp'n amazing idea. Something that is beneficial for the both of you, and above all, something that would be valuable for your audiences.
Now, to the drawing board…. What are your collaboration ideas?!
Today we're going to break it down into eight different collaboration ideas; four for businesses collaborating with other businesses, and four for businesses collaborating with bloggers. Sound like a dream come true?
Woohoo! Let's jump on into this collaboration goodness…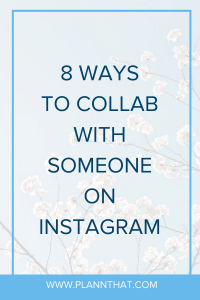 4 WAYS TO COLLABORATE ON INSTAGRAM WITH BUSINESSES 
COLLABORATIVE PHOTOS
One of the most cost-effective and in our view, one of the smartest, ways to collaborate with another business on Instagram is to pair up with someone with a similar target market and complementary product to get some flatlays taken.
Hire an awesome flatlay or product photographer (or even an incredible blogger) on Instagram to take photos for the both of you and when sharing those photos on Instagram you can tag one another's brands to get the most bang for your buck.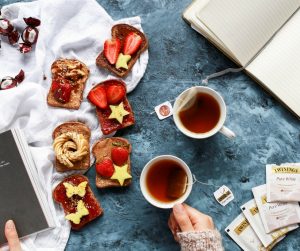 This will not only make your content shoot cheaper (you can split the costs). But, you will also be able to share audiences by tagging and talking about one another in your captions.
PRODUCT BUNDLES
If you really really really love another business and their products make sense to bundle with some of yours, you could put together a new offering on your online stores featuring both of your businesses.
It could be a seasonal offer (like a Fall pamper pack) or a limited edition collection. Whatever way you choose to approach it, this is a great way to add some variety to your stores and share audiences and websites.
INSTAGRAM MARKET DAY
Something that has been really successful on Instagram (that we've witnessed with our own eyes!) are virtual market days. They're a really effective way to collaborate on Instagram, that's for sure.
Basically, you pair up with a small group of other similar businesses and all offer a special discount for a certain 24 hour period. Ideally, you'd also share what each other business is offering on your Stories or grid throughout the day so that you all can get your products in front of new audiences.
Now isn't that a fun idea?! AND you get to have a market stall without actually setting one up… easy peasy squeezy.
INSTAGRAM STORIES TAKEOVERS
Instagram Story takeovers are one of the quickest ways to collaborate on Instagram and it's something you can coordinate within a matter of minutes.
The idea is to create content that is valuable for one another's audiences and to share it on a set day on your stories.
A few stories 'slides' might link back to their account so that they can gain some new followers at the end of it, but overall it's a fun idea if you both have a similar target market and love sharing stories content.
Keen to get started? Make a list of people who would be a good fit to collaborate on Instagram with and start chatting with them!
Asking won't hurt…
4 WAYS TO COLLABORATE ON INSTAGRAM WITH BLOGGERS 
EXCLUSIVE COLLECTION
There have been some incredible success stories with online stores collaborating with well-known influencers on exclusive product collections that they have a hand in designing.
Of course, the influencers will take a cut or be paid for their contribution to the collection, but if you pick the right influencer this kind of exclusive collection can get you some incredible real-world results.
It could even lead to a round 2 of the collection in the future… woohoo!
This one is a more costly way to collaborate on Instagram, but, if you have the budget it's well worth a try.
INSTAGRAM STORIES TAKEOVERS
Again, if you want something easy and quick to try as a way to collaborate on Instagram, stories takeovers are your go-to.
They're fun and you can be really creative with them. It could be the blogger doing a tutorial with your products, a look-book, a transformation (i.e. promoting your hairdressing services) or something completely different!
The best thing about Stories takeovers as a way to collaborate on Instagram is that you can repurpose the content and share the videos on your website or YouTube to get the most bang for your buck.
Heck, you could even do an Instagram Stories advertisement if you wanted to give that a crack.
Yippee!
PSSST -> Here are our best tips for repurposing content, we know you want them!!
EXCLUSIVE GIVEAWAYS
One of the best ways that we've seen brands and bloggers collaborate on Instagram is through an exclusive giveaway. It could be a gift bundle of your products, a subscription or membership to your services or even an experience with the blogger themselves!
For example, if you're a local hairdressing salon and you know a local (incredibly sweet + kind) blogger you could tee up a competition where one of their followers could win a pamper day at the salon WITH the blogger so that they can meet in person and have fun.
#WINNING
Which blogger would YOU want to win a pamper day with? We'd love to chillax with @jennakutcher and @rclayton to name a few!
PSSST -> Want to become an Instagram influencer in your own right? Check this handy dandy guide out!
BLOGGER PICKS
If you have a fantastic blogger relationship and a variety of products on your online store it can definitely be worth teeing up to collaborate on Instagram with a blogger picks collection.
It could be shared in a blog post, in an Instagram Carousel post or even as a landing page on your website.
Whichever way you choose to go about it, make sure that the blogger is able to pick at least 3-5 items of yours to include in their 'blogger picks' list. This is so their audience can shop it and find something that they love too.
Phew! That was a whole lot of ideas for how you can collaborate on Instagram.
I think I need a nap after writing this one…
If you enjoyed this blog leave a comment to let me know if you want more ideas for collaborating with others on the 'gram. You know, I've got a tonne more up my sleeve!